FPL INTERVIEW: The Secret of Success
During my 'FPL holiday' I wanted and needed time away from the site – not just because the post lockdown period was intense and over the top, nor indeed that I wanted time away from you guys. I needed to stop, 'freshen up', think about the site and how to start the new season on FF247. I needed to 'get away' and to focus rather than get involved in CL Fantasy or indeed Scottish Fantasy. Credit to those that played or are still playing, but I needed that breathing space.
It has dawned on me for a long time that I am not a great FPL player. Sure I've had one great season and a load of fun along the way. But good managers deliver again and again and again. What am I doing wrong? I searched 'The Secret of Success' and this is what popped up:
"The secret of success is not one single, pithy tip. The "secret of success," if there is one, is that success is brought about by a combination of smart habits, a tenacious spirit, and a whole lot of luck. Making a few conscious changes to your behaviour and attitude could prove to quite rewarding."
The blueprint of success.
But what do all those things mean in FPL speak? Smart habits. Tenacious spirit. I needed counselling. To speak to a real FPL expert.
Hence I took the ferry to the Isle of Wight and spoke to a dear friend of the site.
Consistency in FPL seems so hard to achieve for most, but for some it appears to be second nature. You won't find many more consistent than today's very special guest, who has now ranked in the top 30k in eight successive seasons.
We are honoured and lucky to be able to delve into the brains of an FPL mastermind.
If you want the secret to FPL success, then just listen to what Horse has to say.
Horse, welcome my friend. Would you open by sharing some of your history of playing FPL?
Hi Cookie. I started playing FPL in 2011/2. I had literally no clue what I was doing.
In January with my rank around 2mln, I discovered Fantasy Football Cheat (the predecessor of FF247) and was blown away by people's knowledge of football and FPL. I could not believe how many layers there were to FPL.
By the end of the season my rank had climbed by 1.4m and I was hooked.
After the season was over, I sat down one afternoon and wrote down all the things that I had learned. I asked myself what did I observe with my own eyes? How can I learn from this for the next season?
I came up with a set of guidelines to follow. They are only guidelines so I break them when I find something better to do. They are MY guidelines after all. In the 8 seasons since then I have not finished out of the top 30k.
If anyone wants to become a better FPL manager, I would strongly recommend spending a couple of hours reflecting on what you found out this season and combined with your own style what you can put in place next season.
FPL Season Horstory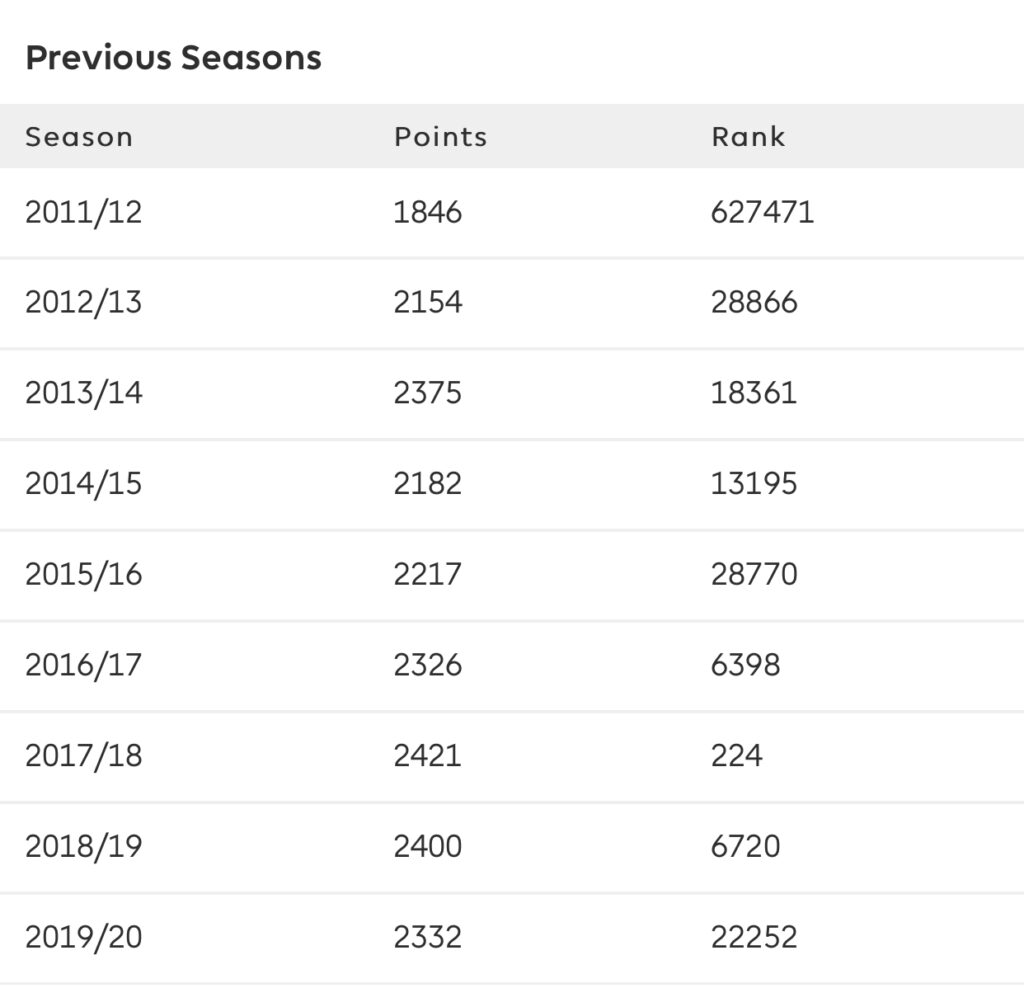 Your consistency is ridiculously impressive and something we all strive for. Does it get boring being so good?!
Every season is different and the way to do well is to discover its trends and rhythm. That's what makes it interesting.
I try to have a different focus each year and I teamed up with Brooky to play in the doubles league, which was fun and gave FPL an extra dimension.
I enjoy the Head to Head leagues and I am looking forward to mixing it with the sharks in the FF247 Premier League next season.
Looking forward to the new season, how do you set up your team for GW1? Do you look to have players that you want for the whole season?
Cookie, do you remember back in the day, when we only had one wildcard and no other chips? (Kids these days don't know they're born …)
The wildcard was best saved for the DGW's around GW34. So, any ill-chosen player in the initial squad would stink your team out and fall in price until you used a precious transfer to get rid of him. You had to choose wisely and have a very long-term view of players. I have tried to keep that mind set.
It takes me forever to set up my GW1 team. I mull over it for days until I feel happy. I settle on a team that I would have as a ghost team for 6 game-weeks. That frees me up to make transfers for whichever form players emerge.
The most important thing at the start of the season is flexibility. I prefer to have at least one premium priced defender and a couple of premium priced attackers who will take the initial responsibility of the armband.
For the third or fourth midfielder I will have a popular price point so I can easily move to a new shiny player.
It sounds obvious but I like to have 11 players on the pitch each with a good chance of picking up points. It is quite difficult to achieve this though.
In terms of team set up I like to minimize the amount of money on my bench and at the same time I want players to be nailed on.
A typical bench for me is four 4.5m players who are nailed on or even another 4.0m defender, if GP finds us all another jewel after his successes with Wan-Bissaka and Lundstrum over the last two seasons.
In the aftermath of GW1, I am happy if 15 of my players (14 in a 4-4-2 set up) play 85mins or more, my captain returns alongside 5 more players and I can save a transfer for GW3. I will take 500k OR and anything better is a bonus. After GW1 the real work begins.
Is anyone an automatic choice for your team for next season?
Trent looks good but beyond that I have not really thought about next season. I need to know fixtures, prices and how nailed on any players are.
At the start of a season do you look for a 'set and forget' keeper or do you play the fixtures as you would with other positions?
I have only had a set and forget keeper once. Mourinho's Man Utd had a great opening set of fixtures and it was hard to see which defenders were nailed on so I went for DDG.
Each season there is a team with cheap goalies/defenders that I like to have in my team. In the past there have been Wolves, Sheff Utd, Burnley, Southampton, Newcastle, Swansea and Stoke amongst others. I usually start a pair of cheap goalies who rotate well for the first 10 games or so.
Last season I had 4.5/4.5 rotation of Pope and Heaton up to GW12 and I scored 58 points. Playing Heaton alone would have given me 38, Pope on his own 55.
Playing a 4.5m goalie alongside a non-playing 4m goalie can be nearly as good as a 4.5/4.5 rotation IF you choose the right one.
I broke up the rotation to bring Hendo in for some strong Blades fixtures as I am happy to make goalie transfers when I don't need to do other transfers.
Goalies are particularly useful in DGW's as they will invariably play both games.
Do you like the 'powerhouse' defence?
Absolutely! Some defenders can get ridiculous returns and it's like having an extra midfielder with 4 points for a clean sheet too. It's great fun to watch players like TAA, Robo, Doherty, Mendy, Walker and Alonso etc. If they 'only' get a clean sheet it's the same number of points that a much more expensive striker gets for a goal. What's not to love?
I started GW1 last season with Pope; Robo, Virgil, Digne and Zinchenko which gave me 30 points.
Is a midfield five the way to go?
I am not sure. I expect 3-5-2 will be better for some parts of the season and 3-4-3 for others.
Big money strikers (Aguero, Kane etc) or cheaper forwards (Jimenez, Ings, Rashford etc)?
Cheaper forwards.
I love Aguero as a player but I have barely owned him as an FPL asset for the last 3 seasons due to his minutes being restricted. It seems that there are very few out and outright selfish strikers as they are all expected to put in a defensive shift. I only owned Kun and Kane for 1 game-week each last season. I owned PEA for those strong Arsenal fixtures and he did pretty well but did not deliver as a captain. For the outlay they have all been a bit underwhelming. It will be very interesting to see what FPL Towers do with premium strikers' prices this season.
The other three were better to own. I had the misfortunate of watching Ings at Fratton Park scoring a brace against Pompey in the League Cup which was at the start of his run. It took me a few game-weeks to forgive him but in the end, he got me loads of points.
Are you set on any particular formation and do you find it pays to be adaptable?
Last season I set my team up in a variety of formations:
4-5-1 4-4-2 4-3-3 3-5-2 3-4-3
It's best to be flexible. The best formation is the one which lets you gets the players in who are clocking up the points.
If money were no object, I prefer 3-5-2 or 3-4-3, depending on who is firing, as you have more players further up the pitch.
At the start of the season when budget is tight, I have used 4-4-2 for the past 3 seasons and move to 3-4-3 or 3-5-2 when I have the funds.
Do you believe team value is important? And if so why and what is your strategy to building team value?
Anyone who follows the Premier League will know that clubs with better finances have an advantage over their competitors. I believe the same is true for FPL.
Imagine starting the FPL season with 102mln. Would you feel more confident or less confident of doing well?
In my first season of FPL, I ended up with around 5.2m to spend on a fourth midfielder. Good midfielders cost more than that especially towards the end of the season. Whoever I bought only got me 2 or 3 points. Every single game-week. There was no way to improve that situation as I just did not have enough funds. One of my first guidelines was to have enough money so I could buy players that I rated.
The key thing about additional team value is not getting it just for the sake of it. It's crucial not to lose sight that more team value allows you to buy better players which accrue you more points in the long run. That's the theory anyway.
A few seasons ago, Chelsea were looking very solid at the back. They had a great run of fixtures ahead and points beckoned. There were two main options really:
Azpilicueta 6mln nailed on, attacking returns, bonus point magnet or
Christensen around 4.7m but not nailed on.
'Dave' was definitely the better option. So, who did people buy? They bought whoever they could afford. For many managers this was Christensen.
Chelsea got lots of clean sheets and Dave kept hauling whereas Christensen was regularly substituted around the 55 minutes mark.
By about a third of the season in, I hope to have made my money and have a decent squad. If my OR has dropped a bit by then I don't get too stressed about it. As the season progresses, I make my transfers more and more often on Friday which gives me the advantage of more information but I also have the financial clout to get the players I want. With more funds than the teams around me, I can recruit better players who will (hopefully) return more points. It's often a case of two steps forward and one step back but overall, my OR will keep improving until the end of the season. When I play my chips my additional TV further increases my advantage.
When do you typically make your transfers?
In an ideal world, it is best to make transfers as late as possible in the game-week. That way you get to hear of any injuries, the team news and you get to read the excellent articles which advise the best players to buy.
On the other hand, from a purely financial point of view, it is best to get on bandwagons as soon as possible so you make more money to spend on other players. There is this constant tension between these two things.
The timing of my transfers varies week by week. It is either the very start of the week or on Friday. If I am uncertain of a transfer I wait until Friday. If I am sure, I leave it as late as I can but will buy the player before he rises in price.
To minimize the risk of an early transfer I do my research and have a mental watchlist of players I like. For example, I was already pretty well sold on Jiminez. Then he scored on the Saturday and I had him safely in my team before the theme tune to Match of the Day had ended! He rose 0.2m before the next game-week. I cannot see the point in hanging about when it is an obvious transfer.
In the early transfer frenzy, I regularly make my transfers really early in the game-week so typically Saturday or Sunday night to grab as many 0.1 rises as possible. This can be a risky strategy and it is not for everyone but it works for me.
Going aggressively for early transfers can go wrong from time to time and a transferred in player may get injured before he has time to play and I will have to bench or take a hit. I have to take it on the chin.
However, in a normal pre-Covid season, not many players get injured before December so the odds are in my favour. It is a risk worth taking for me, to boost team value.
I find it really useful to save a transfer when I can and use two the following game-week.
Do you keep a close eye on price rises/falls?
Yes, especially at the beginning of the season.
After GW1 and for the opening part of the season all hell breaks loose. The best part of 7 million FPL managers are trying to get rid of 'underperforming' players and replacing them with 'essential' ones. There are huge bandwagons and price changes galore, just when it would be good to quietly reflect on the start of the season. I embrace the madness and channel my inner Redknapp. Now is the time to wheel and deal, pick up bargains and make some money.
What factors do you base your transfer decisions on? Form, fixtures, eye test, stats?
I base them on a combination of them all plus the articles and comments on FF247 forum. At the start of the season, it's mainly about fixtures but as the season progresses it's more about form especially for attacking players.
I often look out for a good run of fixtures for a team, the way a surfer may look for a big wave, then gets set and goes for it. This season Leicester had a good run, so I watched them and got in Vardy and Soyuncu picking up loads of points. As their fixtures and form were good few managers sold them and lots more joined the bandwagon, pushing up their prices. So, when I decided to sell up to jump on a new 'wave' I had made a tidy profit to reinvest in new players.
The stats I probably take most notice of is minutes played. I like my heat maps and Bonus Points too. I read a lot of articles and if it is raving about a player's shots in the box etc I take it on board.
Don't get me started on XG and XA etc!
I watch Match of the Day and sometimes Sky on Sunday. I look at teams' defensive organisation for a cheap defence to invest in. For attacking assets, I watch who's taking set pieces, which players are furthest advance and how many touches they get in dangerous positions.
You took a hit in just four game-weeks last season. Are you generally 'hit-averse'?
This was me cutting loose Cookie! Four is actually the most hits I have every taken in a season. Hits work for some managers but I have never done well with them. We have all experienced buying a player only to be outperformed by the old player. Taking a hit to do that only adds salt to the wounds. I took a hit to get KDB early on which worked out, but I also took a hit twice to captain PEA, once for his great fixtures and again for his ill-fated DGW. They seemed good plans at the time but neither paid off.
Points are hard to come by, so when possible, I avoid taking hits. Best to get the right players in my team in the first place.
I did a bit of research and saw that at the beginning of last season this 3-4-3 team could have been made this team for 83.5mln:
Pope, TAA, Lundstram, Egan, Salah, KDB, Martial, Mane, Ings, Jimenez and Vardy. Add a cheap bench to make 100mln. This team, if left it alone and perma-captained Salah would have scored 2397pts and finished in 650th place.
Now I'm not saying we should just have stagnant teams for the season, but do we overthink or over complicate things by second guessing manager's potential rotations, or looking at sequences of good fixtures etc when sometimes it's possibly easier and more effective to select good players and sit back, show some patience and allow them to deliver – which invariably they do?
Just had a think about that. That's a really ballsy team to start with. That's 4.5/4 for the goalies and alongside Trent 4.5/4/4/4 at the back. It goes to show that playing your own game can reap rich rewards and the importance of having the money on the pitch rather than the bench. Apart from the Blades all of the players have good FPL pedigree. Ings, Martial and KDB have had injury concerns in the past.
I totally agree that it's best to show some patience with proven players. Best to keep the faith.
Horse this is fascinating insight into the playing of the game.
A lot has been spoken in the past year or so on mental health. Even for some FPL managers. Can we touch on that side of things with you, Horse?

Sure.
A couple of seasons ago you nearly walked away from FPL. However you came back and had your best season ever. Why did you almost call it quits and what made you carry on?
I felt that I had cracked the code of FPL and it was time to move on. I was spending too much time on FPL and it was like having a part-time job. If I had invested the same amount of time and effort into cooking, I could be on Masterchef by now!
I came back for a number of reasons really:
Firstly, football has always been a big part of my life and Saturdays are not the same without it.
When I was a kid, I used to play a lot of chess. Briefly, I was in the England Junior Chess Squad. I love strategy games, puzzles and problem solving. FPL is the king of strategy games.
Finally, I live on the Isle of Wight and FPL is a decent thing to do in the winter. Eating a Sunday Roast in a pub watching a match with friends is a good way to spend time.
What is your 'coping mechanism' for those times when FPL seems to be going against you?
I go for a run with friends. It clears my head and reminds me that at the end of the day FPL is only a game. Then I log off for a few days and make any transfers on Friday.
Last season I tried to win a cash league to give £500 to the local RNLI. I was comfortably clear at the top until the team in second placed played 4 chips in consecutive GWs and overtook me.
On the last GW I was 20 points behind and played my FH and I really went for it.
My FH team scored 39 LESS than my original team. I couldn't believe it.
I thought 'If I had done… I would have… blah blah blah.'
After running I thought 'Yes, it would have been nice but it really doesn't matter.'
Mrs Horse is a nurse at the local hospital. That I somehow tripled my OR in the last 3 game-weeks of the season was annoying but it doesn't matter. It really doesn't.
So true.
Do you have any particular captain strategy?
At the start of the season I ensure that I have a strong captaincy option for the first 6 or so GWs and after that I keep an eye on the options for a few GWs in advance.
When I check my team scores, I set up my next week's team and pick my captain then.
To be honest I do not know if there is much difference in me taking 5 minutes to choose a captain or 5 hours reading articles, looking at captain polls, bookies odds for anytime scorer etc.
I do like that the other 10 players on the pitch still have an opportunity to get a good score if I suffer a captain fail.
Would you ever captain a defender?
Yes, I have a couple of times but best of all I have successfully captained a goalie!
Mourinho's United had an enticing DGW against West Ham and Stoke, I think. They looked like picking up more points at the back than up top. Jose was rotating his defenders so DDG was the way to go.
Two clean sheets later, I had 24 points from my captain, a healthy green arrow and a big smile on my face.
Do you play FPL using specific rules or guidelines that you can share with us that hasn't already been mentioned?
Try not to captain goalies too often and have fun!
Haha. And finally. Why the name 'Horse'?
When I was younger I used to have a Mohican. It was about 8 inches high. It was a faff to spike it up all the time so sometimes I used to leave it flat and it looked like horse's hair. Thus I got the nickname 'Harry the Horse'. I was also born in the Chinese Year of the Horse.
Thanks for reading FPL INTERVIEW: The Secret of Success.
Follow @stevecook9
Follow @harryhorse2
Fantasy Football 247 League Codes: