FPL Tips Gameweek 1
2019/20 had it all, VAR, Covid-19 and Liverpool won their first title in 30 years. What can we expect from 2020/21? Well neither VAR nor Covid-19 have gone away. Neither have Liverpool! Can they repeat last season's heroics? I'm not so sure, but that's for another day.
What of FPL? Apparently, the prices have gone up and we can't afford all of the players we want. I must be suffering from Déjà vu. In all seriousness though, we moan about the prices at the beginning of every season and once GW1 starts, we find something else to moan about. Something else that never changes is my hatred of writing an intro, so onto the main show…

Goalkeepers & Defenders
Historically I always treated goalkeepers and defenders separately. However, what invariably happens is I end up discussing keepers & defenders from the same team, which in turn leads to me repeating myself! I hope that this in turn allows me to keep the article a little shorter than usual.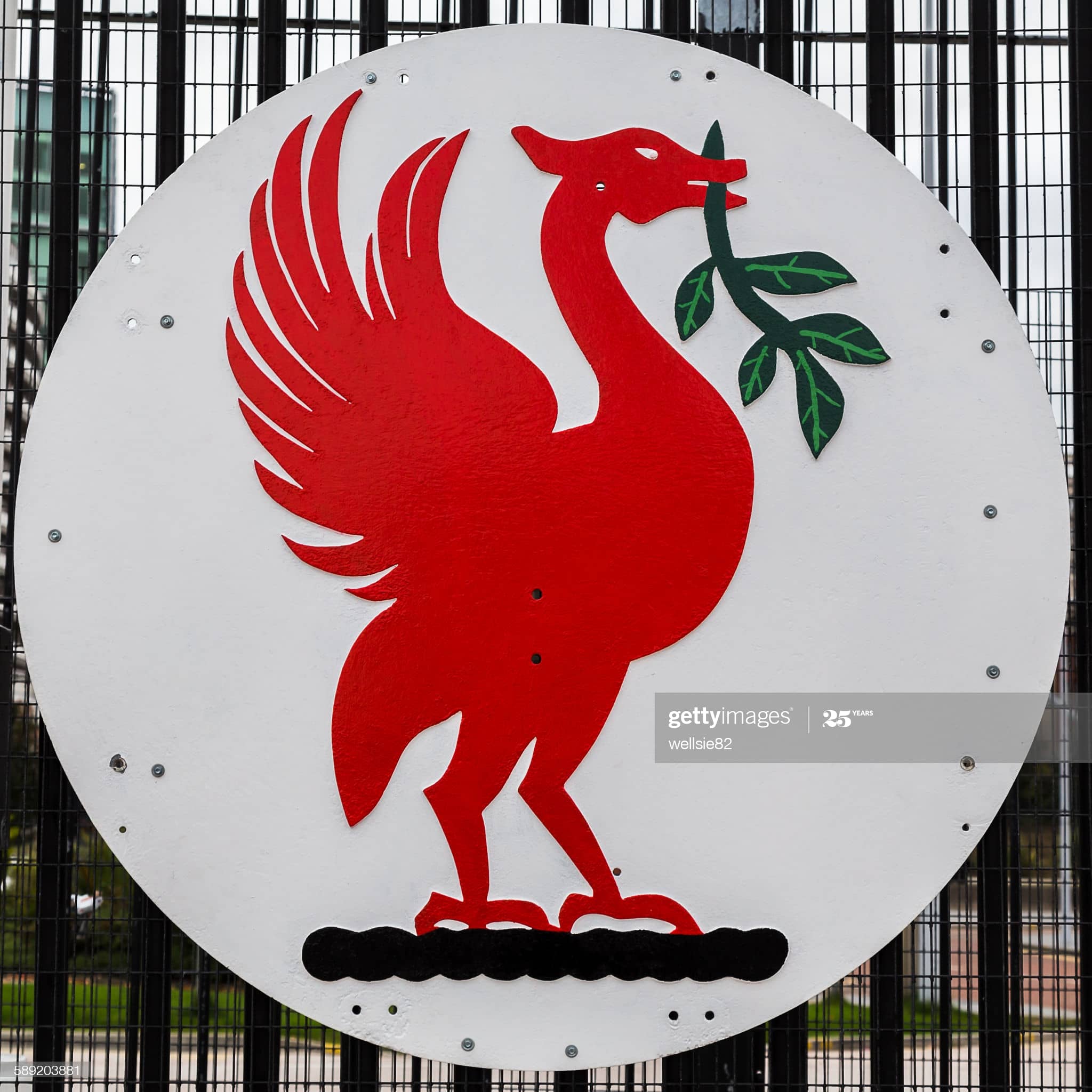 Let's start with the obvious. Liverpool. Looking at the current ownership figures it would appear as though the majority of FPL managers will have some representation from the Liverpool rear-guard. That's hardly surprising given that they kept 15 clean sheets last season, 21 the season before and 17 the season before that. An average of 17.66 clean sheets per season over three seasons is quite impressive in my book.
For now I'm going to rule out Alisson because unlike those in front of him he's not in a position to pick up attacking returns. Therefore, that leaves us with TAA, Robbo, VVD and Gomez. Actually, I'm also going to ignore Joe Gomez, for now, as he offers nothing in the way of an attacking threat.
TAA is not just the most popular defender at present, he's the most popular player in the game. However, is he worth £0.5m more than Robertson and £1.0m more than van Dijk? Let's look at a few stats. Last season Trent scored four and claimed 13 assists, van Dijk had five goals and two assists while Robertson had two goals and 12 assists. In terms of attacking returns, Trent is certainly worth the money. What about underlying stats? In terms of touches in the opposition area Robbo is streets ahead of the other two with 83, Trent had 55 and VVD 49. Trent had 44 goal attempts with 13 on target, van Dijk 31 goal attempts with 14 on target, while Robertson had 22 attempts with six on target. Trent created a massive 87 chances, Robertson had 60 and van Dijk just seven. The underlying stats also suggest that Trent is worth the money.
I'd have van Dijk ahead of Robertson. While the stats might slightly favour Robertson, it's worth remembering that van Dijk started every league game last season compared to Robertson's 34. Earlier in the summer Liverpool added Greek international Konstantinos Tsmiikas to the squad as cover for Robertson, which gives Klopp the option to rest the Scot when needed. It's highly unlikely we will see van Dijk rested occasionally, if at all, given his importance to the team.
Finally, for those of you considering doubling up on the Liverpool defence I wouldn't completely ignore Joe Gomez. Granted he's not going to pick up any attacking returns but priced at just £5.5m he's the cheapest route into the defence and I expect him to start the season ahead of Joel Matip.
Southampton have the potential to be quite beneficial to many fantasy managers in the early part of the season. Bar the visit of Spurs in GW3, their opening four games potentially offer up a couple of clean sheets. To be honest, their fixture list up until mid-December is somewhat enticing. In addition to their fixtures, they also offer up a number of options at £4.5m. The options that I feel warrant some consideration at this early stage are goalkeeper Alex McCarthy and defender Kyle Walker-Peters.
Over the course of last season Southampton claimed a total of nine clean sheets with McCarthy being responsible for seven of these. He came into the side following the 9-0 humiliation at the hands of Leicester and played 28 games. This works out at a clean sheet every four games and over the course of the season, this would work out at approximately 10 clean sheets. This might not sound like a lot but the only £4.5m keepers to better it last season were Nick Pope and Dean Henderson.
I've opted for Kyle Walker-Peters over Jan Bednarek, as he is a guaranteed starter whereas Bednarek potentially faces competition from new signing Mohammed Salisu. With KWP it's his potential you're looking at as he only made 12 appearances for Spurs across three seasons. He didn't exactly set the world alight while on loan at Southampton last season but he was steady & reliable.
McCarthy v KWP? Definitely McCarthy.
Burnley don't feature in GW1 but with a number of their defenders enticingly priced at £4.5m, you could very easily include one in your GW1 squad and just bench him. There are five options priced at £4.5m and my choice is Charlie Taylor. Kevin Long may well start GW2 but as soon as Ben Mee is fit, you would expect the Irishman to be back on the bench. Who will win the ongoing battle at right-back between Matt Lowton and Phil Bardsley is anybody's guess. Admittedly, Taylor also faces a battle with Erik Pieters at left back but when both were fit last season Taylor got the nod more often than not. Pieters was actually used in midfield at times but with all midfielders currently fit, this is unlikely to happen this season. Burnley have only played one pre-season friendly* when their entire squad was present and it was Taylor who started ahead of Pieters. Of all the aforementioned players Taylor probably offers the least attacking threat of all but if he's a regular starter in a defence that kept 15 clean sheets last season he could prove a shrewd option.
*Since writing this Burnley have subsequently played another friendly with Pieters starting ahead of Taylor and played the 90 minutes. I still expect Taylor to start GW2 but I'm not quite as sure as I originally was!
We can't discuss Burnley and not briefly mention Nick Pope. At £5.5m is he over-priced because he plays for Burnley? He's not if he can come to replicating last season's form! Top scoring keeper with 170pts and the 3rd highest save count in the league. Obviously, he misses GW1 and you're not going to pick a keeper for £5.5m and bench him in GW1 so it's unlikely that many will own him early doors unless he's brought in on a WC.
Something that has come to light while writing this article is that I'm not overly enamoured by this seasons goalkeeping options. I've already ruled Alisson out, while their non-appearance in GW1 rules out Ederson, Pope and the United keeper, whomever that might be. I've already tipped Alex McCarthy and Orjan Nyland gets a mention below. Given Spurs' early season fixtures, Hugo Lloris is likely to come in for some attention. Spurs never found their form last season, eventually falling over the line in 6th. They only managed eight clean sheets, which was poor, but they actually had the 7th best defence in the league. A look at the final six weeks of the season shows that they had the 2nd best record with just three conceded in that period. Perhaps that was an indication that Jose was having an effect. A positive effect. On paper their only difficult fixture in the opening eight game-weeks is a trip to Old Trafford and I for one will not be surprised to see Lloris with more clean sheets than any other keeper in that space of time. What of their defence? The addition of Matt Doherty would suggest Jose is potentially going to play a back three. Playing as a wing back for Wolves last season Doherty claimed four goals and eight assists. Can he replicate this at Spurs? I'm not sure and at £6.0m I want to see proof that he'll be given the same freedom he had at Wolves. Should be opt for 3 at the back it will be interesting to see who he opts for on the left wing. If, and I appreciate it's a big if, Ryan Sessegnon gets a chance he could provide great value at just £5.0m. Back in 2018-19, he managed two goals and seven assists in a struggling Wolves side. The consensus among Spurs fans is that Spurs will stick with a back 4.
With the threat of games being called off due to Covid a possibility over the coming months I suspect many managers will opt to have two goalkeepers to call upon. I've already discussed Southampton's Alex McCarthy and one keeper who rotates quite well with him is Brighton's Mat Ryan. Ryan claimed nine clean sheets last season and made 117 saves with only five keepers making more. Brighton had the 9th worst defence in the league last season but I expect them to improve this season as the side becomes more comfortable with Graham Potter's desire to play out from the back. Should you choose to pair him with McCarthy your fixtures for the first eight game-weeks will be cry, new, bur, WBA, cry, WBA, avl, NEW. Given their opening fixtures, the Brighton defence is being ignored and that is understandable. However, Adam Webster scored three & assisted one last season, and is someone I expect to do well over the season.
Ask any Evertonian and I'm sure they'll tell you that last season was a disappointment. They were disappointing at both ends of the pitch but particularly at the back where they conceded 56 goals and kept just nine clean sheets. However, Carlo is in the process of adding quality to his midfield and this should help their much-maligned defence. I'm going to go out on a limb here and tip Yerry Mina. I realise he's not a guaranteed starter but with Mason Holgate apparently leaving Goodison on crutches last Saturday I expect Mina will start the season. His attacking stats caught me a little by surprise. Despite starting just 25 games, last season he registered 29 goal attempts which was only bettered by nine defenders and 11 of these attempts hit the target, a tally only bettered by three defenders.
I don't want to sound like the harbinger of doom but at this early stage there really isn't any standout budget options. Of course, they will soon show themselves but, perhaps, for now maybe we should opt for safety in guaranteed starters. Newcastle's Jamaal Lascelles is one such option. Newcastle have a reasonable start to the season and there actually appears to be some optimism emanating from St. James' Park following a couple of signings.
At £4.0m, Orjan Nyland warrants some thought. Granted he plays for a Vila side who had the 2nd worst defence in the league last season conceding 67 goals, while he also misses out in GW1. However, let's stick with the bigger picture. He's £4.0m and with Tom Heaton set to miss the opening 5/6 weeks of the season, the young Norwegian looks set to get the nod between the sticks. If you're keeper strategy is to go with a set & forget option with a £4.0m keeper I see no reason why that £4.0m fodder should not be Nyland, particularly if you plan to WC Early. I'd ignore their defenders for now.
You'll have noticed I haven't included a £4.0m defender. There's a simple reason for this, I'm not convinced any of them will feature for more than a game or two. Crystal Palace's Tyrick Mitchell is probably your best bet as Patrick van Aanholt has not featured in pre-season and his return date is unknown. However, with PvA being a key player for Palace I expect Hodgson will want him back in the team as soon as possible.
Before moving onto the midfield, I want to briefly talk about Arsenal. They have become something of a laughing stock over the past few seasons but it's clear they're moving in the right direction under Mikel Arteta. He seems intent on making them solid at the back but for now it's very much wait & see. I expect Leno to start the season between the sticks but this isn't guaranteed. Much has been made of centre-halves Gabriel & William Saliba but I just can't see Arteta starting the season with two new guys in the centre of defence. Kieran Tierney is guaranteed to start at left full and while some Arsenal fans seem to believe he's the second coming I'm not quite convinced. Look at the last six game-weeks of last season and you'll see he had just five touches in the opposition area, just four goal attempts (although he did score from one of these) and just one chance created. I want to see more from a £5.5m defender. His day may come but it's not in GW1.
Midfielders
After being fielded on the left flank for much of last season, Pierre-Emerick Aubameyang has been reclassified as a midfielder. Without going into great detail, had Auba been classified as a midfielder last season he would have scored an extra 32pts although he would have been down seven bonus points so he would have finished the season on 230pts. This would have seen him finish 3rd behind Kevin de Bruyne and Mo Salah. Therefore, it's hardly a surprise to see that he's currently the most popular midfielder. Having finished 8th last season Arsenal went and won the FA Cup last season so once more they have Thursday night football to contend with, although this is something they're used to by now! Will this lead to Auba being rested? No, he wasn't exactly rested last season as he started 35 league games, which compares quite favourably to Salah's 33 and KdB's 32 . Arsenal start the season with a couple of plum fixtures but these are followed by a run of difficult fixtures between game-weeks 3 & 8. Last season 20 of his 27 attacking returns came against sides who finished in the bottom half of the table so he's what is often termed a 'flat-track bully'. He's therefore perfect for the opening couple of game-weeks and what you do with him after that will depend largely on how both he and Arsenal have performed in those two games. It might be worth keeping an eye on Bukayo Saka who shone last season while more experiences players around him floundered. If he can get regular game time he could be value for money at £5.5m.
Had the two Manchester clubs not blanked in GW1 I'm not sure I would be including a Liverpool midfielder this week. Perhaps it's just because I'm a pessimistic Liverpool fan but I suspect Liverpool could start slowly this season. Nevertheless, the Manchester clubs do miss out and Liverpool start with a home game against newly promoted Leeds so both Mo Salah and Sadio Mane are undoubtedly decent options. Over the course of last season Salah beat Mane by just 12pts. Not only did Salah score more (19v18), his underlying stats were also more impressive, 132 goal attempts compared to 77, 59 attempts on target compared to 36 and 60 chances created compared to 59. However, as we all know Salah does not do well on bonus points due to the chances he misses and this saw Mane pick up 27 compared to Salah's 26. Over the past six game-weeks of last season, Salah recorded two goals & had three assists compared to Mane's three assists, the underlying stats over this period are along the lines of the season as a whole. Mane was the slightly cheaper option last season, which helped to separate them but with both now priced at £12.0m there is little to split them. They've both had the same amount of minutes in pre-season with Mane probably impressing that little bit more although, to be honest, neither have really impressed. Which one am I tipping? Salah, solely on the basis that his ownership is at 30% compared to Mane's 12.5%.
What of the aforementioned Manchester clubs? I'm not going to into detail on them as neither feature in GW1. However, I do believe it's necessary to have a loose plan in place as to how you're going to deal with their assets, particularly United as they have some great early season fixtures and while City's fixtures aren't as easy we all know what they're capable of. There has been plenty of discussion of having a player from either squad on your bench in GW1 and this is not something I have a massive issue with. At United I see it as a choice between Bruno Fernandes & Mason Greenwood while the options I see at City are KDB, Raheem Sterling and Phil Foden.
Given Spurs' early season fixtures we need to give their attacking assets some consideration. Heung- Min Son is the one who is attracting early interest. I suspect that this is largely down to the four goals and two assists he has claimed in pre-season. However, before we all get too excited it's worth noting that Son has essentially played as a centre forward in the absence of Harry Kane. Kane isn't injured and was simply quarantining following his return from the Bahamas therefore, he should be available to start in GW1. What does this mean for Son? It certainly means that he won't be playing as a centre forward and as we saw last season, the Korean is far more productive when Kane isn't on the pitch. It remains to be seen if Jose sticks with a 4-2-3-1 formation, if he does Son will be stationed out on the left flank. There were a couple of occasions after the restart last season when Jose played them as pair up top but history suggest Jose plays one up top. I'm not suggesting he be ignored but I don't think we should expect the goals to flow as they have in pre-season. At £8.0m, Dele Ali is £1.0m cheaper than Son and is largely being ignored at present, featuring in just 2.6% of teams. Given his fitness & form over the past two seasons, this is perhaps not surprising. However, in pre-season, he has been playing off the shoulder of the striker (Son) and we have to assume that he will continue to do this once Kane comes back into the side. Should he regain his form and fitness of seasons past he could prove great value for money. Before moving on, I should highlight Spurs' European fixtures. They begin their European adventure next Thursday night in Bulgaria, and assuming they progress in the competition, they will play three consecutive midweek games, and there's also the small matter of the league cup to fit in. Between September 12th and October 1st they stand to play eight games! Just something to factor into the equation.
When I drew up a list of players who I could include this week, Allan-Saint Maximin made the cut. I then ditched him because I didn't feel as though he was good enough to carry all the dross around him. However, the additions of Calum Wilson and Ryan Fraser means that he's now got a couple of quality players around him. He managed three goals and five assists last season, from just 23 appearances, and I expect an improvement on these numbers this season. At £5.5m you'll struggle to find better potential.
No matter what formation you've opted for you are going to need a cheap midfielder. I consider cheap to be £5.0m and below. Unsurprisingly there are no options to get excited by. If you're going to bench this player most weeks you are looking at a player priced at £4.5m. My advice here is to pick a player you know will start every week and will deliver those all important two points as and when called upon. The best options I can see are the Brighton duo of Dale Stephens & Yves Bissouma, and Southampton's Oriel Romeu. Should you need someone who you will start from time to time you may need to push the boat out to £5.0m. The (best) options here are the West Ham pair of Tomas Soucek & Mark Noble. Unfortunately, Soucek plays as a defensive mid but that doesn't stop him getting forward. Over the last six game-weeks, he registered 22 penalty area touches and 15 goal attempts and scored twice in that period. Noble plays further forward but isn't a renowned goal scorer, he is however on penalties and chips in with four or five goals each season. To be honest, for now I'd stick with one of the £4.5m options as West Ham's fixtures are horrendous!
Forwards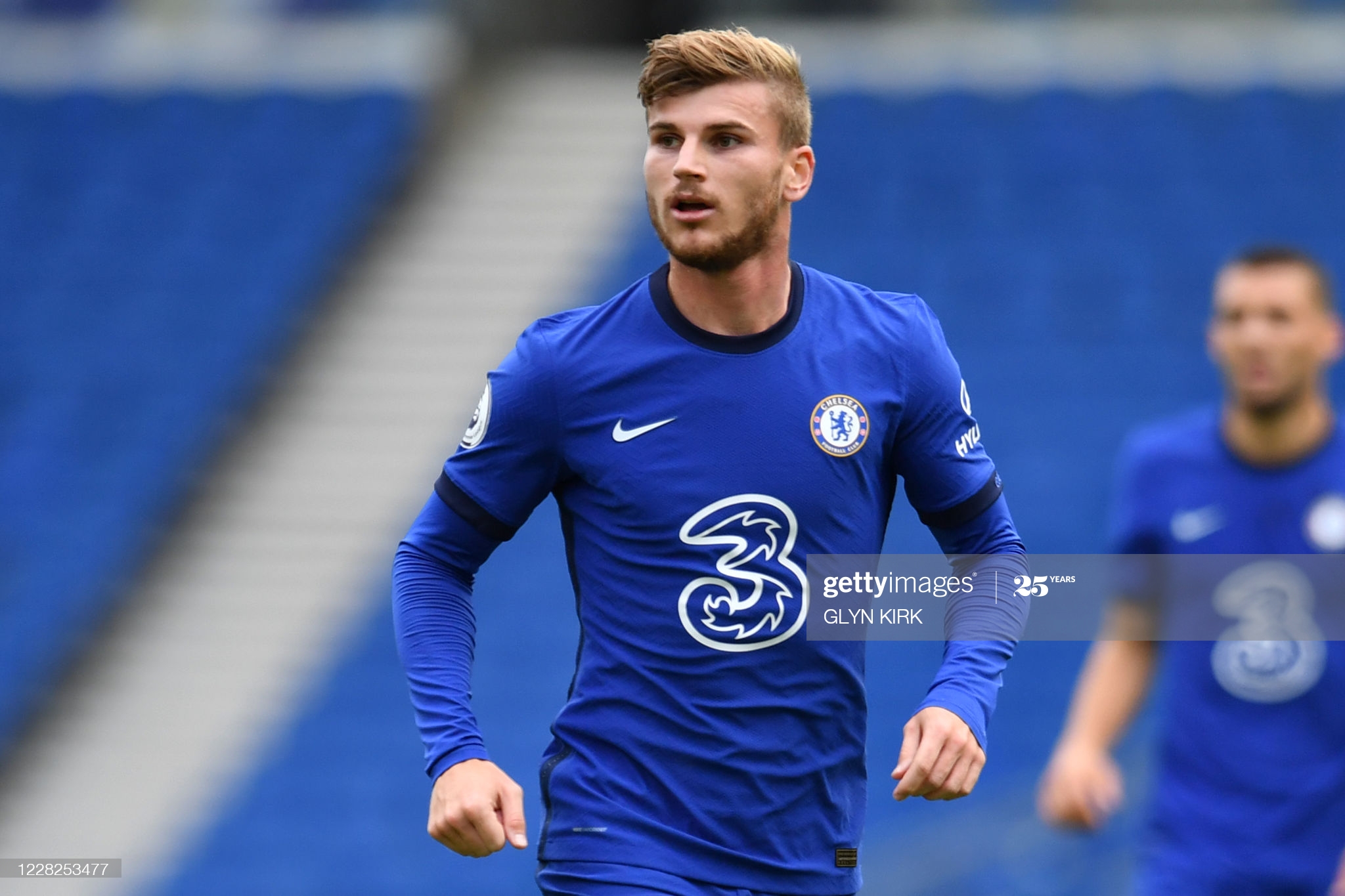 I'm sure it hasn't escaped your attention that I did not include any Chelsea midfielders. For good reason. Ziyech & Pulisic are injured while Kai Havertz will only have had a couple of training sessions with his new teammates and therefore may not start GW1. As a result, I see Timo Werner as the go to Chelsea option, at least in the short-term. So what do we know of Werner? Simply put, he knows where the goal is. Despite scoring just 13 times in 95 Bundesliga games for Stuttgart he moved to RB Leipzig in 2016 and it was then his career took off, 127 Bundesliga games later and he had scored 78 times for Leipzig. He has also scored 11 times in 29 international appearances. It's always said that players take time to adapt to the PL but Werner appears tailor made for it. He's pacy, is known to be a clinical finisher and having started his career as a winger has the ability to bring his teammates into play, he averages eight assists per season over the last four seasons. It's also expected that he will be on penalty duty. He has a career record of 13 from 16 and hasn't missed a penalty since October '18.
Two forwards who have had significant price increases are Wolves' Raul Jimenez and Danny Ings of Southampton. These increases have not dented their popularity, with Jimenez currently featuring in 20% of teams and Ings in 25.9%. Jimenez was a machine last year playing more minutes (3244) than any other forward and on top of that there was Wolves' Europa League exploits, and in total he made 55 appearances. Granted there was a significant break due to the lockdown but his minutes are still impressive. He scored 22 goals, which was joint 5th amongst forwards and produced six assists, which was 4th amongst strikers. His underlying stats were also impressive. His 205 penalty area touches were only bettered by Firmino, he had more goal attempts (118) than any other forward and his 43 attempts on target were only bettered by Jesus and Rashford. He also created 48 chances, which again was only bettered by Firmino.
We all expected Danny Ings to breakdown at some stage last season but it never happened. He was one of only four forwards to appear in every game and played a total of 2812 minutes. He finished the season with 22 goals just one shy of golden boot winner, Jamie Vardy. Ings' stats weren't quite as impressive as the Mexicans were but they were still impressive. Both are undoubtedly great options again this season. Wolves have no European football to contend with this season and after a couple of tricky games to start the season they then have a great run of fixtures. It has been a strange summer at Molineux with the departure of a key player in the shape of Matt Doherty. On the other flank, Jonny is potentially out for the entire season. It remains to be seen how this effects the team but NES is one of the best coaches in the league and I expect him to have them firing from the off. It's been a quieter summer at St. Mary's and I fancy they'll build upon the strong finish they had to the last campaign. There is another Southampton forward who warrants a brief mention and that's Che Adams. Having moved to Southampton from Birmingham in July 2019 he endured a horrid start to life on the south coast and didn't score his first goal until GW33, a worldie against City. He subsequently went on to score a further three goals over the last five game-weeks. Look at his stats as compared to other £6.0m strikers over the final six game-weeks of last season and you'll be pleasantly surprised.
By the standards he had set in previous seasons the most recent two seasons have been something of a disappointment for Harry Kane. The majority of forwards would happy with returns of 18 & 17 goals but don't forget that in the previous three seasons Kane scored 29, 29 & 25. Like him or loathe him, if he can stay fit this season he will break the 20-goal barrier. If he can refrain from dropping into midfield, he could go over 25! As I've already alluded to Spurs kick off the campaign with a tasty fixture list, games in which I would expect Kane to score. What's more, there's no August for him to deal with. At £10.5m he's not cheap but should he struggle at the beginning of the season it will be easy to jump from him to whichever forward has started well.
Fulham forward Aleksandar Mitrovic is currently the 2nd most popular forward with an ownership of 27.1%. Is this a surprise? On balance, it's probably not. He's been here and done it before. Two seasons ago when Fulham were relegated he was their standout player with 11 goals and four assists. Unsurprisingly he scored with regularity last season in the Championship, finishing with 26 goals. Given Fulham have just been promoted we can't exactly look at their fixtures and point to any being easy but with Leeds & Villa in game-weeks 2 & 3, they can't ask for much more. He's £6.0m, on penalties and guaranteed to start.
Thanks for reading FPL Tips Gameweek 1. This article was written by Kop.
VOTE ON THIS WEEK'S CAPTAIN POLL GW1
FPL FIXTURE TRACKER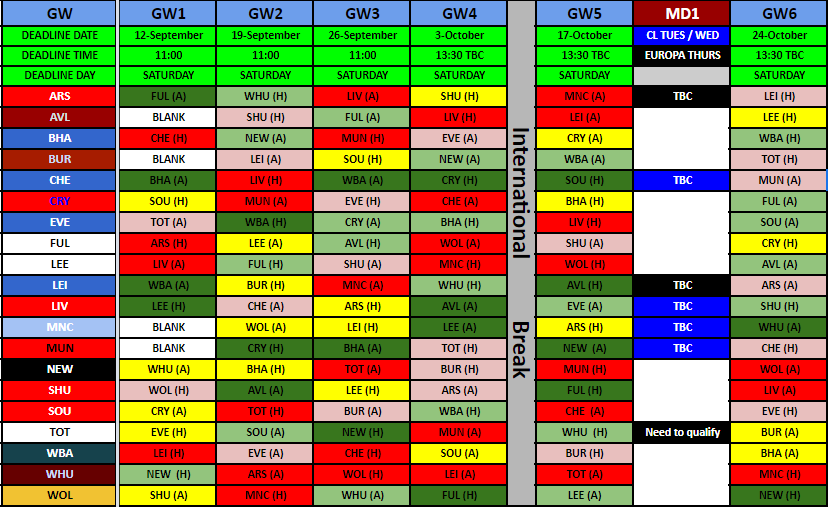 FIXTURE TRACKER LINK
For those who want their own tracker to play with, just make a copy using the link below;
Fantasy Football 247 League Codes:
All prizes must be claimed within 30 days of the final GW.