FPL Tips Gameweek 10
Welcome to FPL Tips Gameweek 10
In recent weeks we've had a 'Stick/Twist/Bet-the-house' system of Tips from Rosco (GW9), Kop revisiting the earlier youthful version of himself (GW8 but poking fun at him in GW1), superb Smash brilliantly debuting in GW7, James and a differential-angled list (GW6) and a Tiered System of Tips AND an FPL-themed pop song from Swirly in GW5.
I'm sitting here thinking (sic Charlie Nicholas) what can I do and I gave up after a minute. I'll tell you below who I'm tipping.
Not that I am at all dismissive of my predecessor's work – I loved them more than you – but you need to be big and clever to top those or even come close. And I might be big but I'm not that clever.
I've been very self-aware in the past of how long my piece has been (steady on), so I thought I'd cut the waffle and simply tell you who I think may be the next big thing or (God willing) things (plural).
Goalkeepers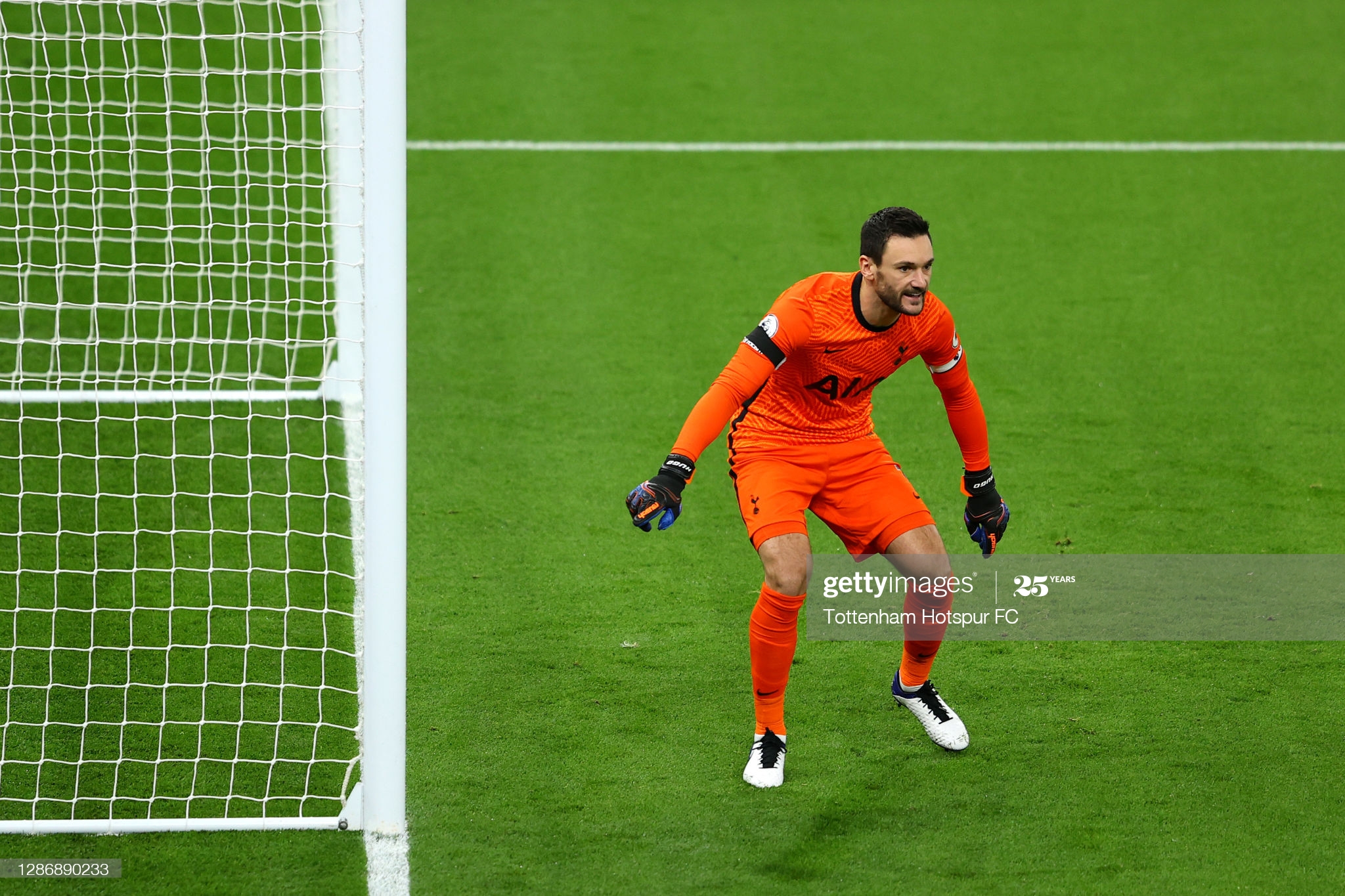 Hugo Lloris
5 Bonus Points and only 5.4% ownership
Whisper it but after the one year anniversary of Jose Mourinho at the Lane, this may just be a title contending Spurs who have the best double act in Harry Kane and Heung-min Son since, well, Jamie Vardy and Riyad Mahrez (and we all know what happened there).
Even in defence Spurs look complimented excellently at wingback with the signings of Doherty and Reguillon and the repositioning of another player who we'll come on to very soon. Alderweireld is an injury doubt at time of writing but there is strength in depth centrally with Sanchez, Rodon and even Ben Davies to come in if required. The safest way into the defence may just be the goalkeeper who now has 3 clean sheets in four and consecutive ones including maximum bonus points in the latest. He could be in for the season if you grab him.
Emiliano Martinez and Alex McCarthy
Four clean sheets each – joint league high
I would suggest holding either if you are an existing owner but would suggest you buy McCarthy if you have neither at this time. At the 4.5-5.0mln range, these are the two best bets in my humble opinion. I wouldn't toggle between them as they are very similar with only one solitary FPL point separating them – in Martinez's favour. McCarthy has 5 bonus points to Martinez's four with the Argentine playing fewer minutes (meaning less appearance points) but his tally is boosted by a penalty save.
I think I trust Southampton a little more so I would take the Saints McCarthy off the shelf who also happens to be 0.3mln cheaper and is owned by fewer – 20.2% to 27.5% – both of which of course also help.
Defenders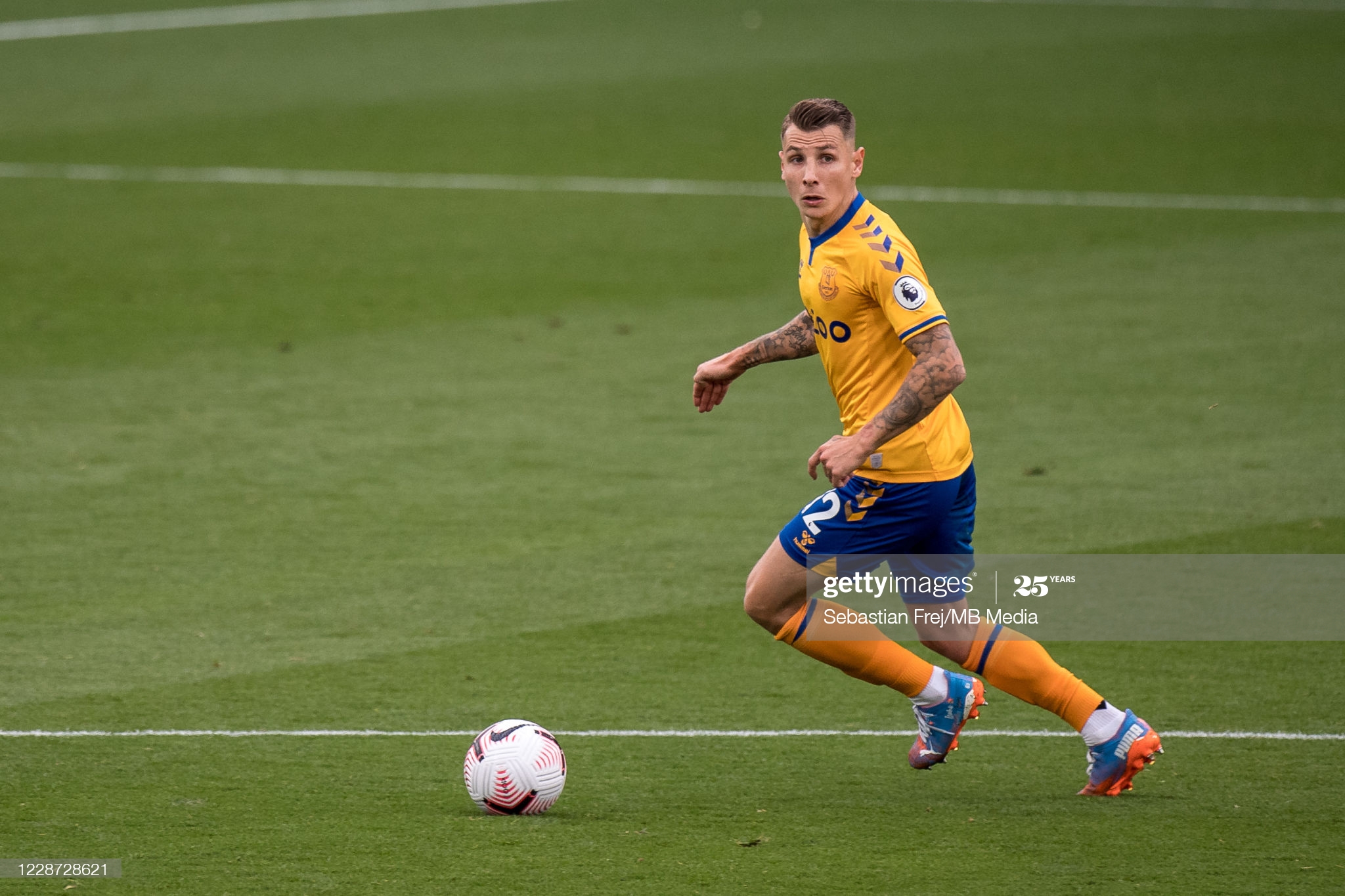 Reece James
37 crosses attempted and 85.7% of aerial duels won – both third best in the league
It looks like the handover between Cesar Azpilicueta and Reece James is slowly becoming permanent. That is not to say that there won't be the odd surprise thrown by Frank Lampard as this season is unlike any other when it comes to keeping players fresh and content, but I think with four league starts in a row, three of which leading to clean sheets, Lamps has found the blend in defence and won't want to disturb that too much or too often. Consider as well that Lampard started wtih Azpilicueta in the away match against Rennes – is it as simple as that is the less important game this week and our Reece is kept for the important one? He can still be bought for only £5.1mln and for an improving Chelsea defence (refer to his aerial duels) and being the wide outlet on the right (refer to his crosses), that price could be made to look very generous by season's end.
Eric Dier
Near-ever present, 1.5% ownership
The England international appears to be the rock upon which Jose is building his Spurs team this season. He has missed only one match this season and that was the 3-3 draw with West Ham! Being only 4.9mln, he is perfect for that scenario where you are trying to make something happen and need to squeeze a defender in at that price. He hasn't scored or assisted yet, nor does he have any bonus points but when the clean sheets come along, he's as dependable for those six points as you might get.
Vladimir Coufal
Averaging TWO shot creating actions – dribble key pass or drawing foul – per 90 minutes
The eye test was passed on Sunday – I was 'lucky' enough to watch the Hammers win at Sheffield United and the overlapping Czech full back Coufal impressed me. Luckily I had already bought him in pre-eye test (based on stats) and was rewarded with 6 points. Nailed-on to play every match and just 4.6mln with three clean sheets and two assists, he has only scored LESS THAN 4 points once and even that was against Liverpool in a narrow defeat. Value indeed.
Lucas Digne
Attempted a league high 44 crosses
The Frenchman leads the way in crosses into the box so far this season and this has translated to 34 FPL points – an average of 4.25 per 90 minutes played. This includes his -2 performance at Southampton when he was red carded and accounts for him missing the following game through suspension. With deliveries from certain corners and free kicks, the two assists at Fulham last week won't be his last of the season. He has five so far this season – he had 8 in the whole of last!
Whilst Everton don't have the rosiest of fixture runs and clean sheets appear foreign to them, there is always that attacking threat which, let's be honest, is more exciting than biting your nails waiting for a boring clean sheet.
Midfielders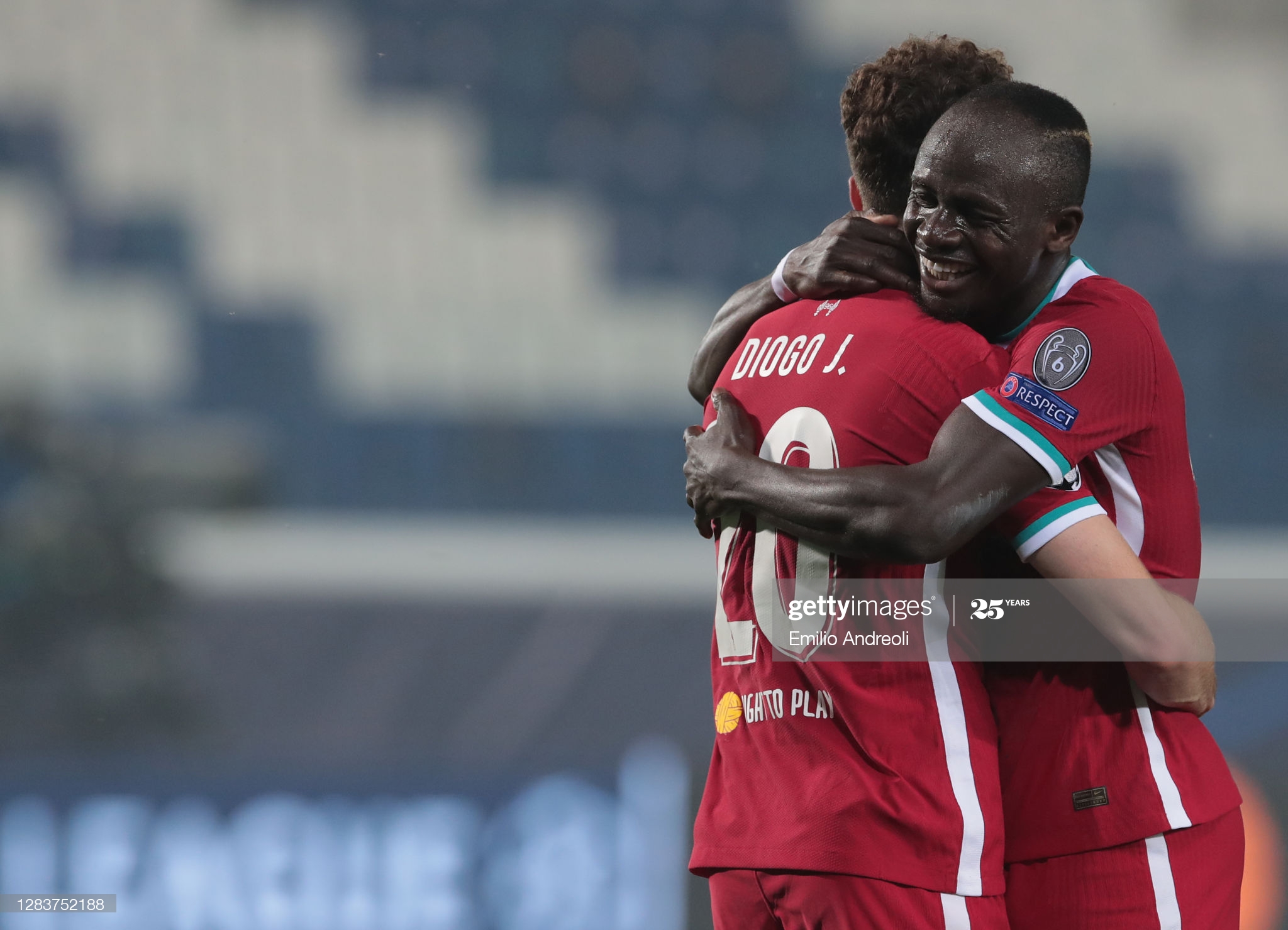 Kevin De Bruyne
Club best assists and expected goals AND assists
Whilst (and excuse me here…. *checks notes*) THIRTEENTH place Manchester City have hardly started the season apace, there is only one man really who is on the lips of FPL managers ahead of a stretch of games which sees Burnley, Fulham, West Bromwich Albion and Newcastle United traipse to the Etihad and that is Kevin De Bruyne.
Priced at £11.6mln those who have him already will have the armband washed, ironed and ready to pass to him for the next month, those who can afford him in one move will likely do the same, whilst others will be sacrificing elsewhere to ensure he is in their sides ahead of this Friday's deadline. With Jesus and Aguero vying for the striker role, you are taking a risk there either way and Sterling isn't in Sterling form so for me, you take KDB, his club best stats and his penalties and relax in the knowledge you probably on balance have City 'covered'.
Sadio Mane
0.67 npxg (non-penalty expected goals) per 90 minutes – Better than Diogo Jota and Mohamed Salah
The Senegalese has had mixed fortunes of late. He scored the winning goal in the last match which helped his county to become the first team to qualify for the 2021 Africa Cup of Nations (to be held in 2022 – don't panic he's not off this January!) but in the domestic front, he has gone a career-worst 4 games without a goal after his blank against Leicester – in fact, he is so good that his 3 game run of blanks before last Sunday was his worst ever.
The underlying stats tell us not to worry – taking out penalty kicks which provides a better comparison with Mo Salah – Mane is in fact the most likely to score with the chances he is finding in open play. He leads the way on this ahead of all his team mates so so long as he is fit and playing, he's too good to keep blanking.
Diogo Jota
Leads the way on shots on target per 90 minutes so far this season with 2.26 – a league high
Mane's team mate Diogo Jota is on course to be the signing of the season when you consider how useful he has been and how instant his impact on this team has been. Four goals in both the league and Champions League. With two of those EPL goals coming off the bench in 10- and 20-minute cameos points it could be suggested that you wouldn't even need to worry about him when he doesn't actually start a game. However, now that Klopp appears to be utilising most of his first choice attackers alongside the Portuguese and with great success, perhaps Jota now can't really be left out the starting line-up. He is still just £6.6mln and is fantastic value and like heroes of the past – Lundstram (£4.0), Michu (£6.5) and Greenwood (£4.5) we may be wondering how they were ever that price initially.
Pablo Fornals
4 goal involvements (2 Goals and 4 Assists) – club best
The Spaniard appears to be finding his feet in England now with a difficult first season out of the way. In this new look West Ham United under David Moyes (I had to re-read that sentence myself don't worry) we see the labours of his creativity coming to the fore with two goals, four assists and 5 bonus points so far this season. In fact with 48 FPL points so far, he is the highest scoring sub-6.5mln midfield player. Now with West Ham about to face a run of reasonable fixtures through to January, he could of course add to that regularly. Only Fabianski has more points than him for the Londoners so far.
Forwards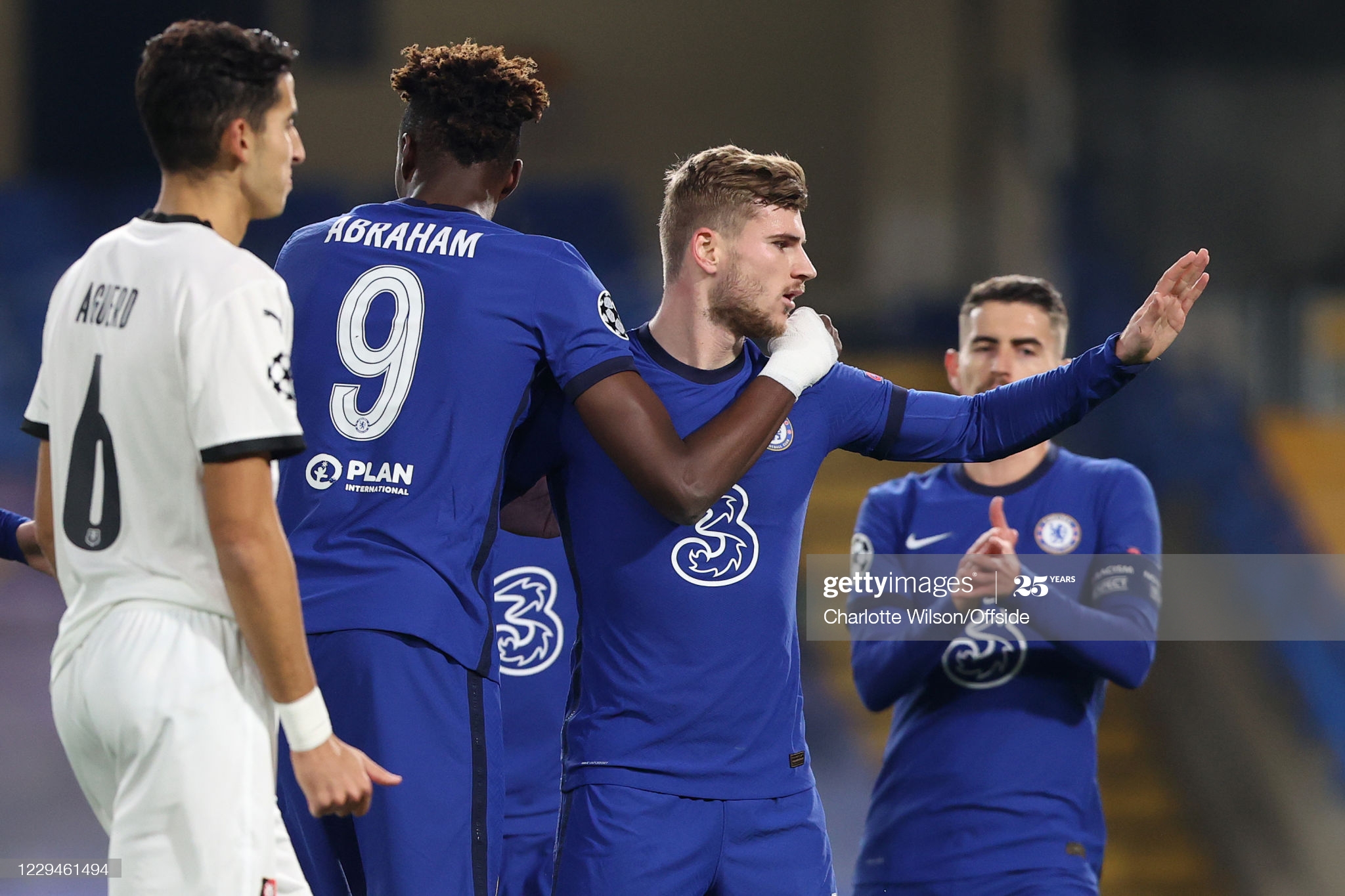 Harry Kane
35 shots and fourth for npxg at 4.4. Also 9 assists from an expected 3.8 – a league high for both Assists and Expected Assists
The man is on fire and I can't fathom out anyone willing to sell him right now. An eye-watering 84 points in FPL so far which is only matched by …..
I'll let you find that one out for yourself but it is another reason why I wouldn't sell him!
Timo Werner & Tammy Abraham
Abraham 3.26 shots per 90 mins – Chelsea high
With four goals for the German and three goals for the England international there is not much to split these two given that they both also appear to be playing together these days. What will happen when Havertz, Pulisic get back etc. I can hear you say? I don't know. Abraham at just £7.2mln and with the highest shots per 90 minutes amongst his colleagues has to be paid attention to if he continues playing. That Werner is over £2mln more expensive is one where you have to have faith in him or sell him. I've kept him and he's chugging along getting me points without having a massive blast so he's staying. I honestly don't buy the theory that Lampard will automatically play his new signings just because they were bought for big money. If you play well for him, I think he'll stand by you. I think Abraham has a place to lose just now.
Dominic Calvert-Lewin
Only Patrick Bamford by 0.1 is better league wide than DCL for npxg at 6.0
The Everton duo are just better together. OK so Richarlison has the penalties but surely that says more for DCL that they are now the same price (there was a £1mln difference at the start) in FPL but the England man has 43 more FPL points. His expected goals stats show him in a brilliant light without the need for kicks from 12 yards. Imagine if he ever got them? This may be that one case where you don't buy the penalty taker.
Weird huh?
Other observations
Burnley
The familiarity of Pope-Lowton-Tarkowski-Mee-Taylor returned consecutive clean sheets – and let me assume Nick Pope probably got full bonus points did he? Yep, he did. *yawn*
Sometimes having your best, most experienced players on the pitch and regaining the familiarity is all it takes. Back on Burnley? After this week, yep why not.
Southampton and Walcott.
Theo Walcott is out of position but in very familiar surroundings. Back at Southampton and playing as striker whilst Danny Ings is out, he seems to gel well with Che Adams. He has four attacking returns in four starts.
**wide eyes emoji**
Andy Robertson
Is looking very good. He was on some free kicks on Sunday evening and his advanced positioning saw him to an assist and maximum bonus points. If you have held him until now then well done and keep holding him and if you have cash slushing about, then only two midfielders – Fornals and Ward-Prowse – have more points in the £7.1mln category and Liverpool have a nice little run until after Christmas.
Summary
I sign off by telling you to enjoy all this football! The players are falling to pieces but you can soldier on – get another beer quickly for there is another game in five minutes.
Whilst it is easy to criticise managers, players, referees, VAR consistency, the offside rule, the handball rule, let's remember this; PPV has been ditched (for the time being), we have a title challenge including teams not exclusively named 'Liverpool' or 'Manchester City', there is Champions League every week, we have barely time to collect ourselves before the next deadline.
This is relentless and brilliant. It won't be this hectic again, strap in, ride the bumps, drink in the highs and enjoy.
Keep well everyone
Thanks for reading FPL Tips Gameweek 10. This article was written by GP.
VOTE ON THIS WEEK'S CAPTAIN POLL GW10
FPL FIXTURE TRACKER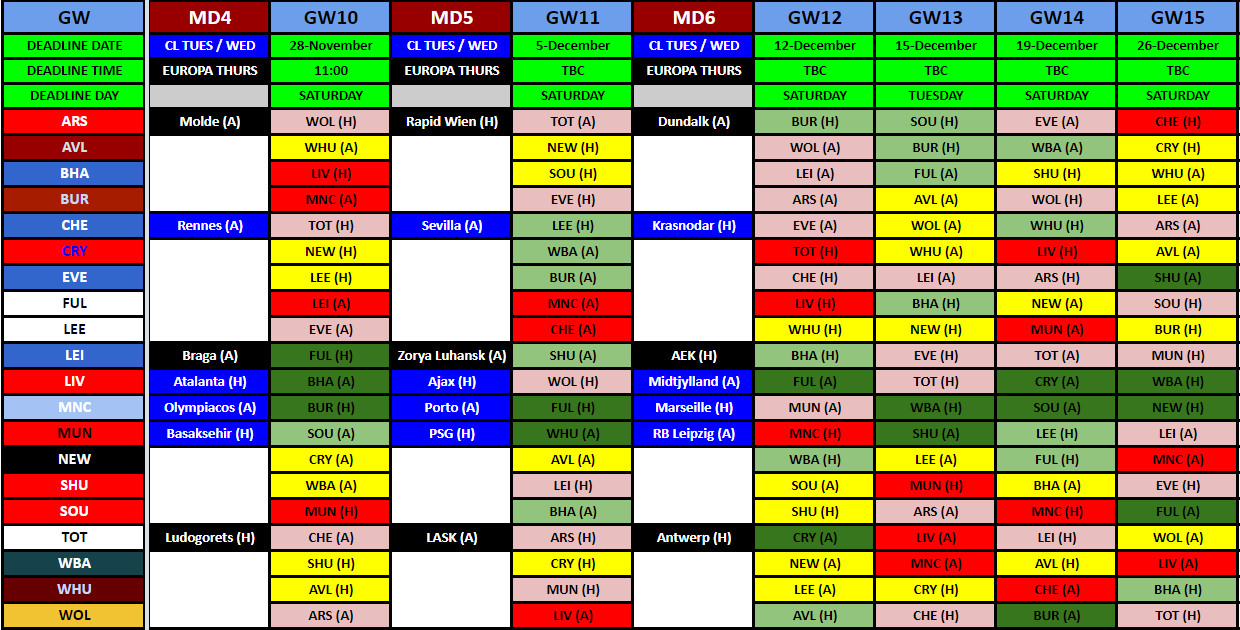 FIXTURE TRACKER LINK
Fantasy Football 247 League Codes:
All prizes must be claimed within 30 days of the final GW.