FPL Tips Gameweek 26
Welcome to FPL Tips Gameweek 26
It's double GW season and this is the biggest one of all. There will be hits galore everywhere, as well as chips being played right, left and centre. This is where the fun really happens, it's where you can catch the leaders in your mini leagues and make big gains on your overall rank. If you had Dallas or Barnes in GW25 then congratulations, you probably had a great week. If not it's time to shake it off and get your head in the game ready to go again!
Goalkeepers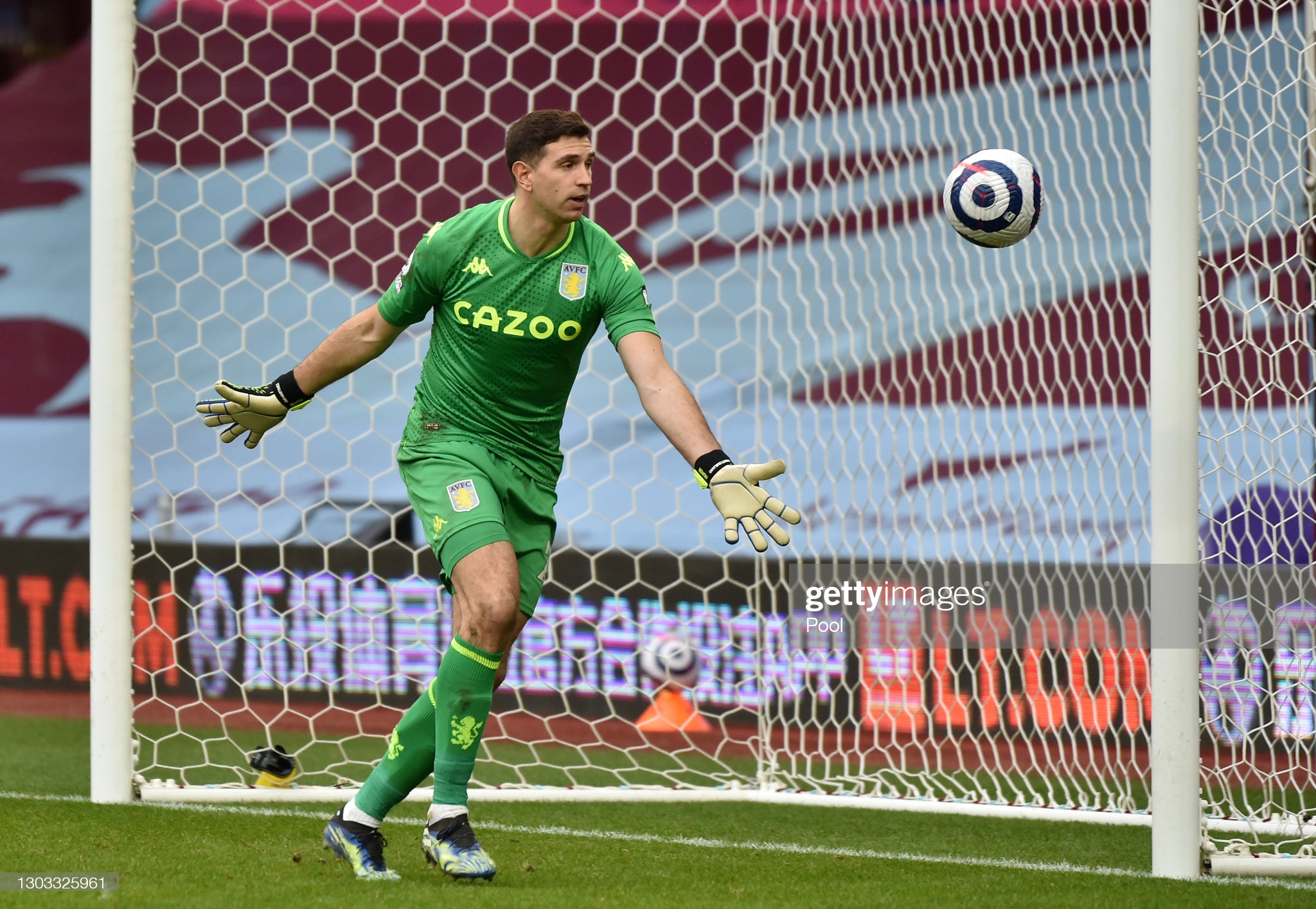 Martinez (now 5.3m) is the stand out pick for a keeper. He has a double GW this week against Leeds and Sheffield United, he has another double on the horizon and he even plays in GW29: the big blank. Martinez is the highest scoring goalie in the game with 130 points and the last 6 game -weeks he's also made the most saves with 29 and is a magnet for BPS.
I know a lot of people will already be on Martinez and they might be looking for another keeper for a bench boost or still might own McCarthy of Southampton, who lost his expected DGW, if so then Areola at Fulham (4.5m) has looked really good. He's cheap, he has an ok double vs goal shy Crystal Palace and then Spurs who are not posting the greatest attacking stats. Areola also plays in GW29. Fulham have massively improved defensively in recent weeks with only Chelsea, City, Wolves and Brighton conceding less goals than them in the last six game weeks.
Sanchez (4.5) at Brighton is also offering great value, he only has a single this week but it's against WBA. Brighton have only conceded three goals in their last six matches.
One final tip for a keeper is perhaps Forster (4m), who might be worth a punt on a wildcard. Yes I know he's not playing currently but McCarthy was at fault for more goals against Leeds and there are growing cries for him to be dropped by Saints fans.
Defenders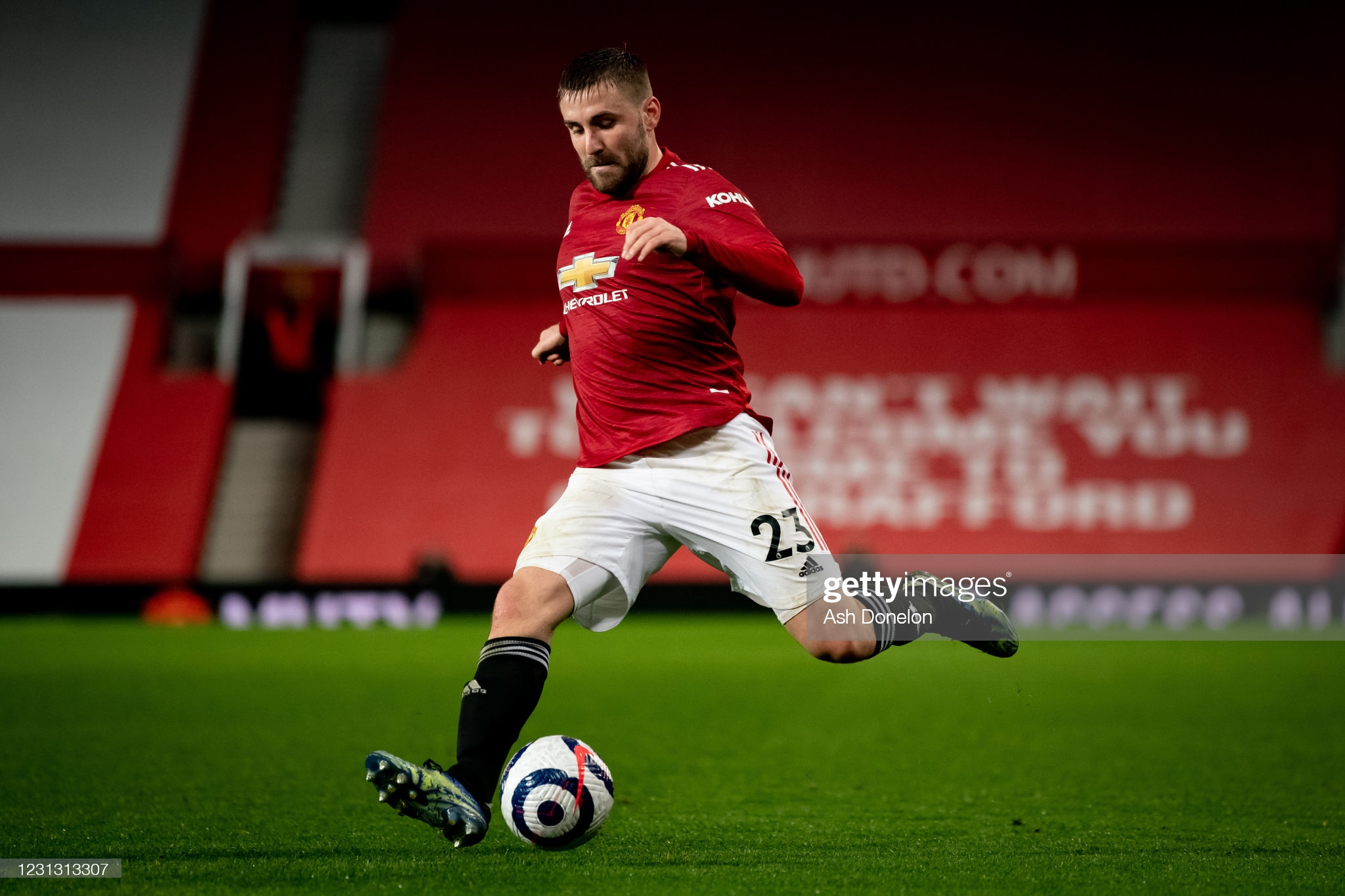 The obvious picks are Man City when it comes to defence. You would back them to keep clean sheets vs anyone in the league on current form. They have conceded just two goals in their last seven games. During that time they have only conceded 35 shots on goal which shows how solid they are looking. They have back to back double game weeks against Wolves and West Ham this week and then United and Saints the following week. All home fixtures too. Stones (5.2m) and the more nailed Dias (5.7m) are looking fantastic assets. If you want someone more attacking Cancelo (6.1m) is your man! No defender has recorded more goal attempts in the last seven matches, with 11. He's also 6th for chances created for a defender so is certainly threatening attacking returns.
My stand out pick for a defender elsewhere is Luke Shaw (5.1m) from Manchester United. Shaw has a double this week against Chelsea and Palace. United have only conceded 48 shots in the last six game weeks, which sits them at third best in the league. Their xGC is 5.19 which makes them (in recent weeks) stat wise the fourth best defence in the league. What really has caught the eye for me though is Luke Shaw's attacking numbers
as in the last six game weeks only Pascal Grob has created more chances than Shaws 19. To put this into perspective that's higher than Bruno Fernandes and Jack Grealish. Three of them have been big chances created which is the fourth best in the league. These are quite phenomenal numbers.
If you find yourself with cash Lucas Digne (6.1m) already has 8 assists this season with limited minutes due to injury. He has a very good double with Everton playing WBA and Southampton this week. He's also expected to have another double coming soon. It's just difficult to predict when Everton will keep a clean sheet.
Ricardo Pereira at Leicester (5.9m) is also one to keep an eye on. He's been playing out of position on the RW. Leicester have a double vs Arsenal and Burnley this week and Leicester have a very nice fixture run right up to GW36 now.
Chelsea under Tuchel have looked a lot more solid defensively. In the last six game weeks they have the lowest xGC rate in the league at just 3.13. That's even lower than Man City. During this time they have only conceded two goals. Chelsea do have a difficult double of Liverpool and United but quite often these big games are low scoring and then they have a great run of fixtures after. There are two stand out picks for me first, Rudiger (4.6m) has started every game under the new manager and is cheap. Those more prone to a gamble might like the look of Marcus Alonso (5.7m), remember him yeah…?! Well he appears to be first choice LB under Tuchel with Chilwell seemingly out of favour. Last four game weeks he's had 11 goal attempts which is the same as Cancelo but has created two big chances which not even Cancelo has managed. That's the Alonso of old stats, now I never thought I would say that this season.
Finally, some cheap assets to consider. I mentioned Brighton earlier who have kept 4 clean sheets in their last six matches and have some great value assets with Dan Burn (4.2m) and Ben White (4.4m). They don't have a double but have a very nice fixture of Newcastle at home in the big blank GW. In the last six game weeks they have an xGC of 4.04 which is the third best in the league. Notable mentions for Konsa (4.6m) and Targett (4.9m) from Villa also who have a double GW and play in GW29 are also great value assets to own.
Midfielders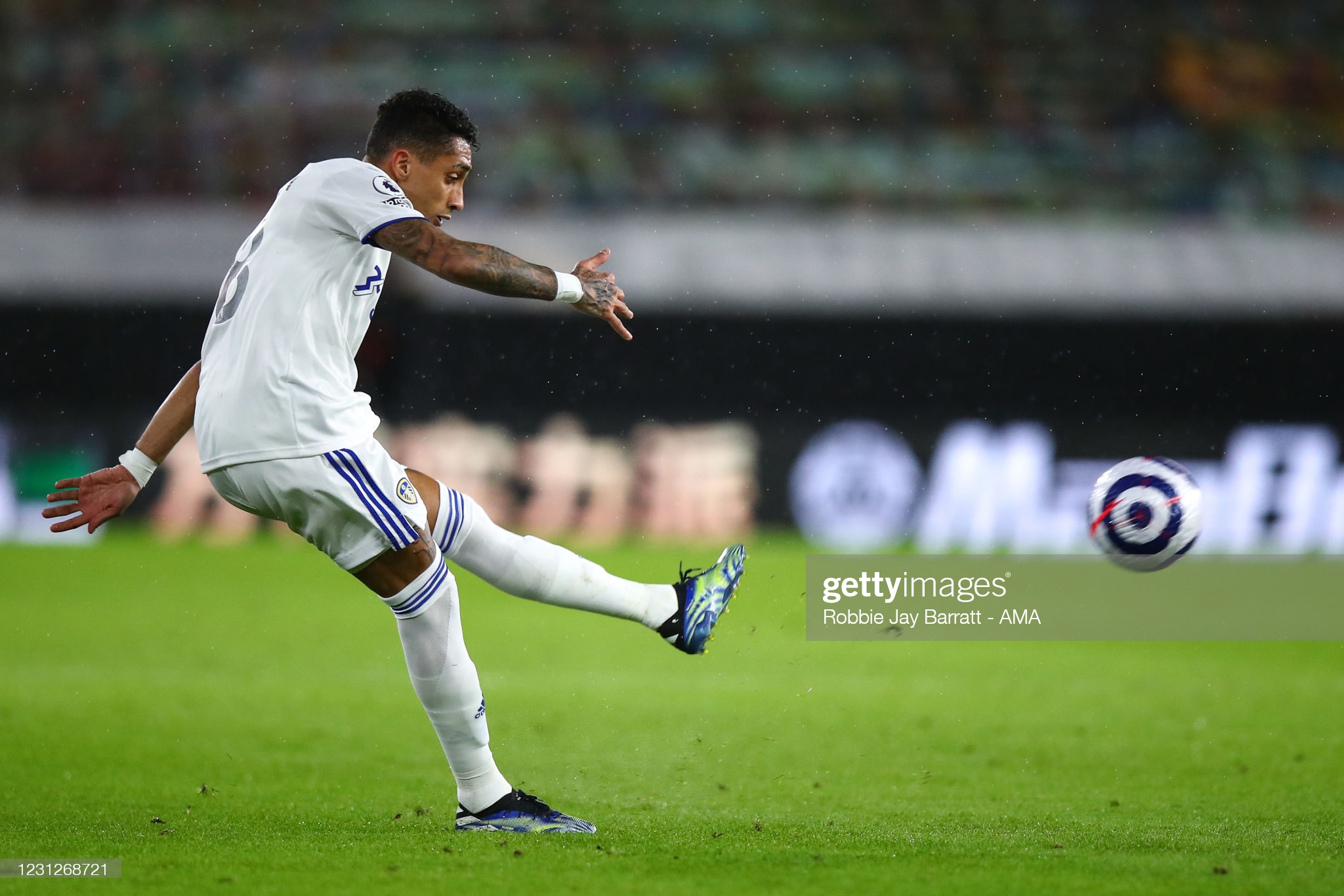 In midfield the stand out premiums are Bruno Fernandes (11.6m) and Mo Salah (12.6m), the latter in particular who I would not be selling personally, as some are They sit second and third for goal attempts in the last six game weeks and are the two top scorers in the league. Their numbers certainly have not dropped off either.
Raheem Sterling is posting great numbers currently. He has returned in four of his last five games. In the last six game weeks no player in the game has more opposition box touches than Sterling and he also has the highest xG for all players in the game at 3.95. Gundogan (6.1m) for me is must own, he is that good value. He has 11 goals in his last 14 Premier League matches. No player has more FPL points than Gundogan in this period. He's taken the DSilva role this season and is more attacking than ever.
Now we need to talk about Leicester. They are flying currently and sit third in the table. Arsenal, Burnley, Brighton and Sheffield United in their next four and a double GW this week so I'd expect that run to continue. There are two stand out picks in midfield; Harvey Barnes (6.9m) and James Maddison (7.1m). Barnes has returns in eight of his last eleven games including 12 points against Liverpool and 13 against Villa in his last two games. He sits 8th on the list for goal attempts for the last six game weeks and is clearly in red hot form. His team mate James Maddison has gone about his business more quietly. In the last six game weeks no player in the game has had more shots than Maddison. Only Bruno, Cresswell and Raphinha have created more big chances during this time. Similar to Barnes, Maddison has been consistent having returned in seven of his last nine fixtures.
Leeds have just had their double GW but if you missed the boat Raphinha is still looking like a great player to own. No player has created more big chances (5) than Raphinha in the last six game weeks and only GroB has created more chances during the same time, 19, which is the same as Luke Shaw. He's also consistent as he's technically not blanked in his last seven matches. Leeds also play in GW29 so he could prove to be useful.
My last two picks for a midfielder are Lookman at Fulham who is just 5 million. Only four players have had more goal attempts in the last six game weeks. All have been mentioned in this article. They have a double this week so he could be a shrewd move on a bench boost. The last notable mention is Smith-Rowe at Arsenal who is featuring for Arsenal every week now is a great bench option at just 4.3m.
Strikers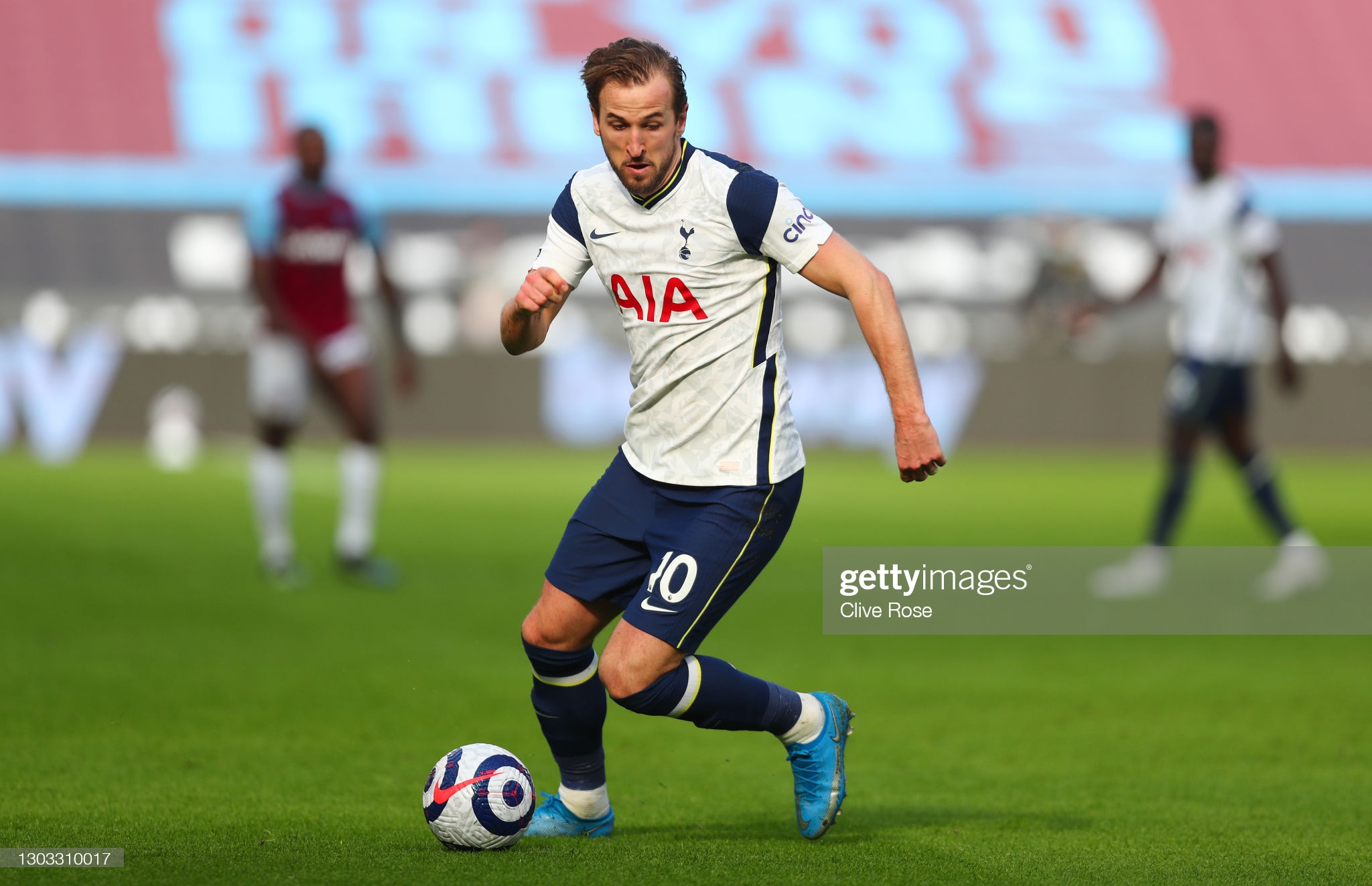 I have not mentioned Spurs yet in this article which might surprise people considering they probably have the best double this GW against Burnley and Fulham. Well their top man is my top pick for a forward this week; Harry Kane (11.1m). He's played 90 mins in this last three games since returning from injury now. We know he takes a few games to get going so maybe now is the time when he will start firing again. No forward has more points than Kane this season and he's a great captain shout this week. Only Bruno has had more goal attempts than Kane this season and that's what you want in an FPL player; someone that is not scared to shoot.
Also having recently returned from injury is Dominic Calvert-Lewin who has a great double this week; WBA and Saints who are conceding for fun currently. DCL scored a hat trick against WBA earlier in the season. Also Saints have an xGC of 11.84 for the last six game weeks which is the worst in the league. If that's not enough to tempt you he's the fourth highest scoring forward in the game and he also has another DGW coming soon.
My final three picks for strikers are as follows. Firstly Jamie Vardy (10.1m) who has the highest xG in the league this season at 14.39. I have mentioned Leicester throughout this article and he is at the heart of everything they do. If Leicester are playing well and have good fixtures, which they are and do, I'd expect Vardy to score big FPL points. One other pick is Ollie Watkins at 6.5. He's the sixth highest scoring forward in the game and has a double against Leeds and Sheffield United. He also has another double coming and plays in GW29 so what's not to like there. Lastly and maybe least is WBA's new striker Mbaye Diagne (6 million) who is less than 1% owned. He plays Everton and Brighton this week and follows that up with games against Newcastle and Crystal Palace. He has 3 returns in his five and only matches this season. At 2.76 xG for the last six game weeks this is the sixth best in the league behind Sterling, Antonio, Gundogan and Salah!
Here's my own Wildcard btw!
Or at least this is what I have so far…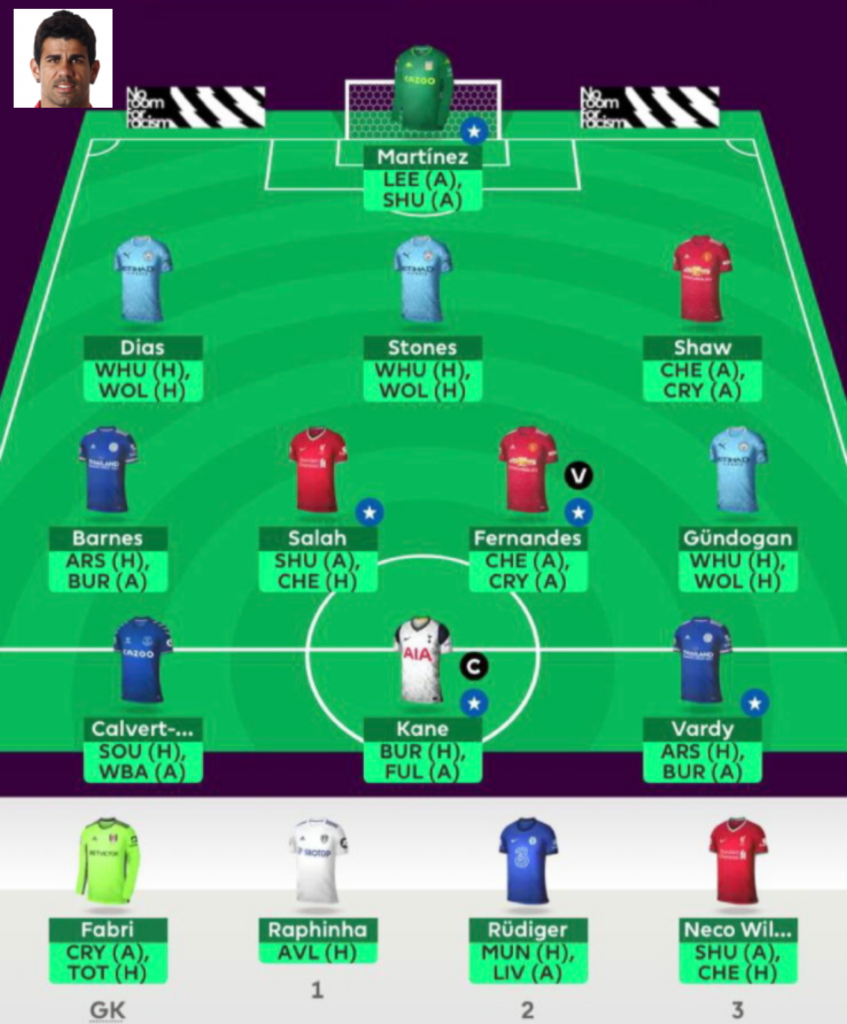 Whatever your chip strategy is I wish you all a good double GW. Strap yourselves in, this may be a bumpy ride!
Thanks for reading FPL Tips Gameweek 26. This article was written by Smash.
VOTE ON THIS WEEK'S CAPTAIN POLL GW26

FPL FIXTURE TRACKER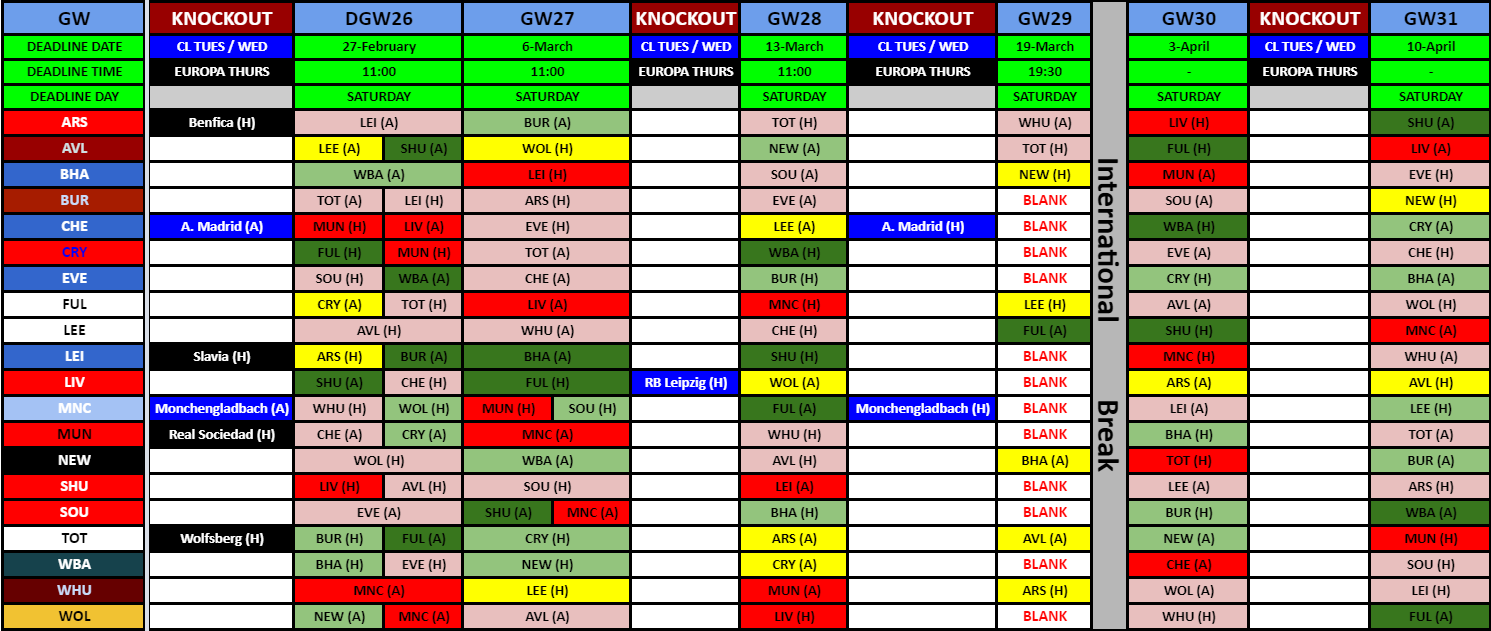 FIXTURE TRACKER LINK