FPL Tips Gameweek 3
Welcome to FPL Tips Gameweek 3
Hello.
This was going to be my first dabble at Tips this season and ahead of GW3, I had planned to furnish you all with players I already owned as they were the ones that had gotten me off to such a good start and looked good for the foreseeable… and then FPL Gameweek 1 happened.
After a poor and below average week 1 I recalibrated and prepared myself for the weeks ahead with a -4 by removing Son and Havertz for Rodriguez and Bruno. I was going to just go Havertz to Rodriguez but that wasn't to be. Oh how I wish I could talk to 'week-old-ago' me!
We're now in a position at the end of Gameweek 2 where I am (yet again) below the weekly average – having mustered just 95 points in total – and have managed to escape the house and find myself off to the quiet corner of my local pub to talk myself either into, or out of, an earlier than planned wildcard. I must admit, I fancy it. Two below average weeks, players I don't have (or have sold!) going off all around me. I just know I'll be happy if I wildcarded.
Hang on! I spent hours preparing my team in pre-season and planned for the first number of weeks of FPL – I can't throw all that away after a couple of unfortunate weeks that could happen to anyone. I am an experienced and usually calm FPL player. No this is crazy. Yeah – let's put this down to experience, use my one free transfer and think positive about Gameweek 3 and beyond. After all just as Rome wasn't built in a day; FPL isn't won in a day.
I'll finish this pint and get myself into the fresh air and home for dinner. I feel much better now.
Oh hey, there's Cookie! "Watcha fella, fancy seeing you here! I've just been sitting here having a couple of beers thinking about a wildcard and how…."
*COOKIE INTERUPTS* "YEP! That's definitely the way to go right now. I've activated".
Me sighing: "I'll get them in shall I? What you having . . . "
As I head for the bar I tell Cookie to turn over my facedown notebook which will reveal to him my proposed wildcard squad.
"Be gentle", I say with a pause …. "but be honest".
My pal peers over his glasses, nods and requests I get two food menus whilst I'm up there and a packet of dry roasted nuts for the interim.
Whilst I request the specials, Cookie sees this:
My POTENTIAL WILDCARD by GP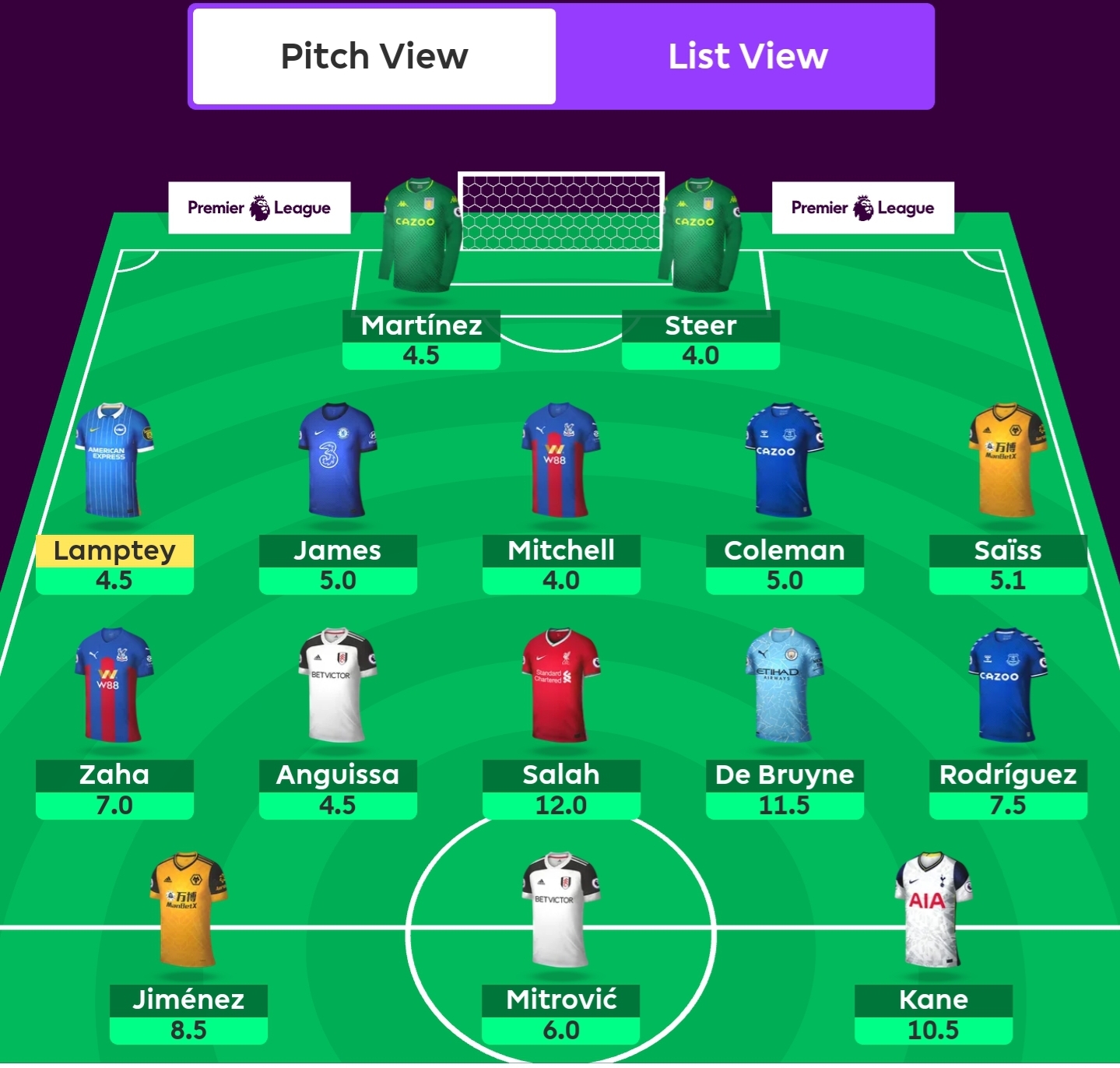 Goalkeepers (SAF – Set and Forget)
Emiliano Martinez/Jed Steer – should completely cover Villa for 8.5mln. Villa have retained Konsa and Mings who have another season's experience and along with Martinez have added Cash to their defence. Literally. I'm also smarting from using McCarthy instead of Ryan GW2. Rotating GKS Grrrrr..
Cookie: Agreed, they're my two keepers also so no arguments there. And did you see his penalty save vs Sheff Utd? We should have wildcarded last week!
GP: Stop it!
Defenders (First three are main three but the latter two rotate in well when the main boys have toughies)
Seamus Coleman – 5.0mln and looked very good against West Brom. Could easily be Keane who has two goals so far in league and cup. I'll take Coleman for crossing though.
Cookie: An Everton defender – seriously? You best get another beer in mate, this could be a long night. Well till 10pm anyway!
Roman Saiss – want a bit of Wolves for their fixtures and they are about the most solid and settled defence in the league.
Reece James – trusted in Chelsea's first two – think Lamps has given him the spot. Great attacking play.
Tariq Lamptey – Absolutely wowed by him against Newcastle and should shake off the slight injury easily enough. Won the penalty. 2 in 2 for assists.
Tyrick Mitchell – Palace have a great run – one assist for him and he's 4.0mln.
Cookie: I love the final four mate. Lamptey is an interesting one, I've still not seen him play but everyone raves about him. I may well steal that idea – I have Justin of Leicester in that spot at the moment.
I have Robertson instead of Coleman. Don't you want a Liverpool defender in there?
GP: I've gone from having two to none. When what I really want is one. That's life, that's FPL!
Midfielders (Usually use the first four in a 3-4-3)
Wilfried Zaha – playing as an attacker and should have PENALTIES now that Ayew missed his and Milivojevic is on the bench. Even if not, he's looking very sharp. Great fixture run.
KDB – My City cover of choice. PENALTIES, reliability and determined (unless injury bites) to have faith for the duration to lessen the City headache. *CAPTAINCY OPTION*
Mo Salah – See above. I think it's about time I just stuck with him and took his hauls when they come. PENALTIES edges him over Mane for me. *CAPTAINCY OPTION*
James Rodriguez – Got him after his threatening performance in GW1. GW2 he lands. Everton hugely improved with their signings, good fixtures and this guy is the bomb. Sticking.
Back-up is Fulham's Anguissa. Don't fancy many of the 4.5mln players but if I need a back-up I think I would like it to be a guy who grabbed an assist last time out.
Cookie: I also have Zaha, KdB & Salah. But instead of Rodriguez & Anguissa, I have Podence and Burke. Has Init put you up to this Everton love fest?!
GP: I recall me swearing towards the end of last season after a disastrous Richarlison transfer never to touch Everton again but you know what it's like after one or two – the nostalgia; the bad times were never really that bad. Were they?
Best have another and quick ….
Forwards
Harry Kane – Like KDB and Salah, a guy who I've had land for me in the past and I think I would like to have faith in and just take the rough with the smooth. Of course he also has PENALTIES. *CAPTAINCY OPTION*
Raul Jimenez – Mr Consistency who looked very sharp against Sheffield United in GW1. PENALTIES will fall to him and Wolves have no Europe this season. May be subbed to allow the new signings time but as close to guaranteed starter as you'll find.
Aleksandar Mitrovic – Didn't start GW1. Started GW2 and landed 12 points. Says it all. Will be on Fulham's PENALTIES and they have a decent little fixture run which they'll need. Talisman for them.
Cookie: Well we differ here aside from Jiménez who has started where he left off last season. As you say, no Europe for Wolves means the side will be fresh each week and he hardly gets rested anyway.
As for my other two I've gone for Werner & DCL. I'm surprised you didn't pick DCL given you're sudden adoration for everything Toffee.
GP: Forgot about DCL!
Cookie: Werner I am not sure about but he's got West Brom this weekend and that's as good a fixture as you can get right now. He could easily become Jesus next week if he fails to impress me.
DCL is insane value as long as Everton keep creating him tap-ins.
GP: Damn! DCL eh? But surely having him together with my other two Everton is like signing a 100% mortgage with a psychopath?
Cookie: I see you've gone heavy on penalty takers, that's actually a really smart tactic.
GP: Aye, I make that six penalty takers (under normal circumstances) and three Tier One captaincy options. Tier two includes Raul and Mitro and they'll be considered.
I've simulated this out until GW16 and I'm happy that I have good defensive rotation and a good captain each game-week.
Cookie: I won't lie to you mate, I haven't thought that far ahead, I've gone much shorter term, but that won't surprise you.
GP: No pal it doesn't. Seat of the pants is the only way to fly!
Cookie: Is there anyone you've not been able to include that you wish you could have got in there?
GP: DCL! No, to be honest, Werner is a worry and that is where, if I go rogue; it'll be there.
Cookie: Nice pint that, shall we have one more?
GP: Oh yeah – especially as it's your round! Whisky Chaser with this one? And sod the menus and get some smokey bacon…
Thanks for reading FPL Tips Gameweek 3. This article was written by GP (and Cookie).
VOTE ON THIS WEEK'S CAPTAIN POLL GW3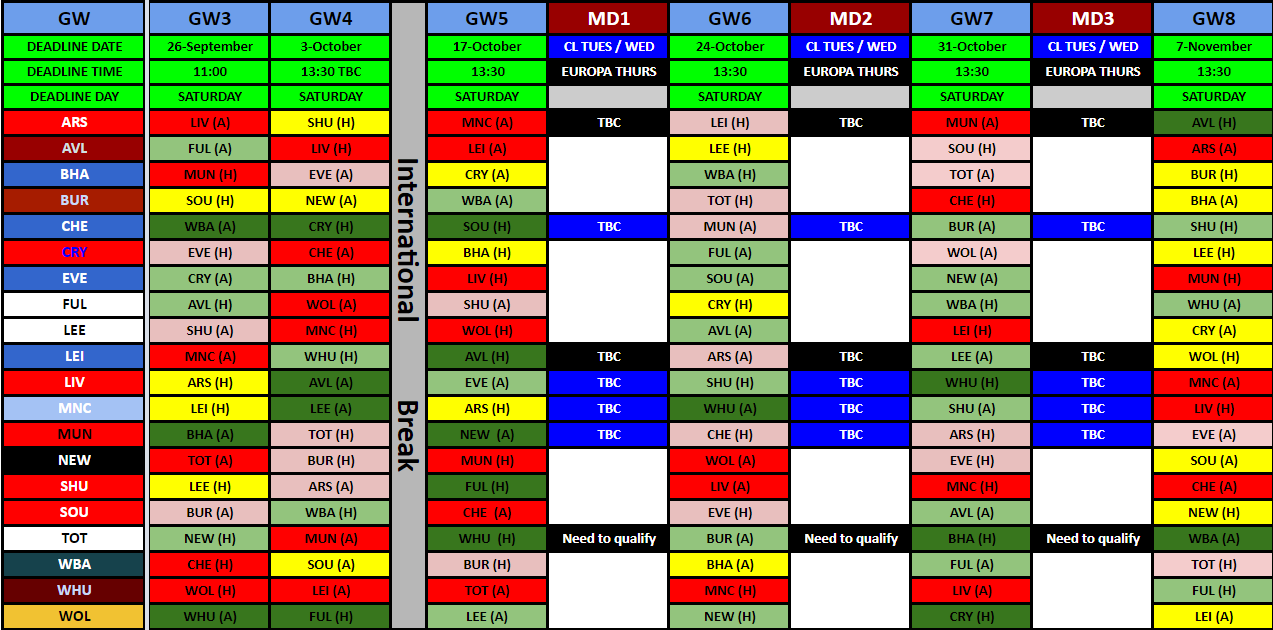 FIXTURE TRACKER LINK
Fantasy Football 247 League Codes:
All prizes must be claimed within 30 days of the final GW.