FPL Tips Gameweek 5
Welcome to FPL Tips Gameweek 5
We're at a time when there is much uncertainty, elements of the community feel cynical of what the point of it all is, league tables show startling differences and there are results being thrown about which confuse most people – and that's just fantasy football and the Premier League! Unlike the pandemic, however, we're glad to see the return of domestic football to our televisions – though paying £15 extra for certain matches is quite the ask.
So, as Baz Lurhmann may sing now:
Ladies and gentlemen, of the class of 2020.
Enjoy FPL.
If I could offer you only one tip for the future, enjoying the game would be it.
The long-term benefits of picking the right players have been proved by fantasy 'experts'
Whereas the rest of my advice has no basis more reliable
Than my own meandering experience. I will dispense this advice now.
Enjoy the power and beauty of your team before deadline, oh, never mind Raz.
You will not understand the power and beauty of your team
When your defender concedes seven and your captain blanks.
But trust me, at the end of the season, you'll look back
At screenshots of your team and recall in a way you can't grasp now
How much possibility lay before you and how good a manager you are.
You are not as bad at this as you imagine!
Don't worry about price changes.
Or worry, but know that worrying
Is as effective as trying to guess who will be the next Man United manager.
The real troubles in your team
Are out of your control and that red card never crossed your worried mind.
The kind that blindsides you at 4pm on some idle Saturday.
Don't make transfers that scare you.
Saying, don't be reckless with your chips.
Don't put up with people who boast about their rank.
Laugh.
And laugh I hope you do, as I introduce my tips in the style of our useless government – and yes, I know that doesn't narrow it down on location – as we try and look on the bright side of life… But that's a different song. Hopefully it won't all end in 'tiers' anyway!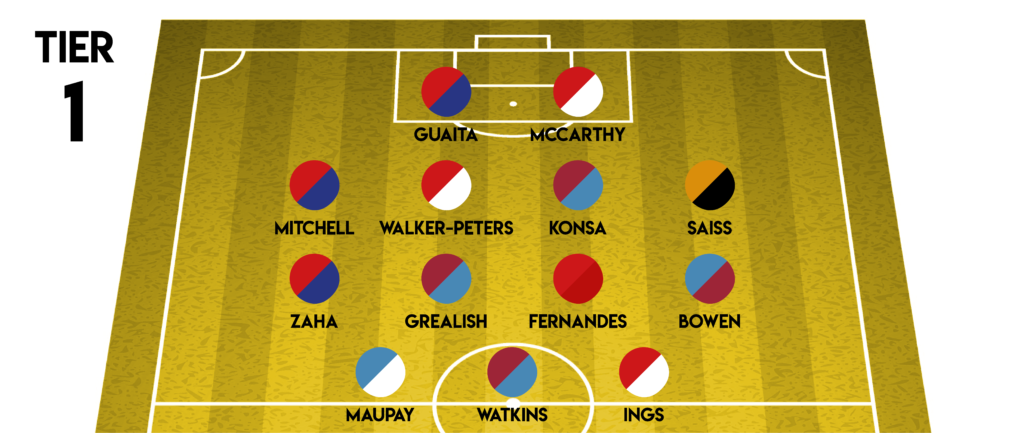 Tier 1 – players good to have
Goalkeepers: Vicente Guaita, Alex McCarthy
My first 'wholesome' goalkeeper to think about is one of the stars of the Christmas special that Rosco and I put together last year – back in a simpler time! Whilst the Eagles' shot stopper, Guaita, may only have one clean sheet to his name, you have to bear in mind the games where goals conceded were Man United, Evertalona – as they should probably be referred to at the moment – and Chelsea. Looking ahead, Crystal Palace have mainly nice fixtures until Gameweek 14. As for McCarthy, you have in him a goalkeeper for £0.5m less, the benefit of being the most owned and two clean sheets out of a possible four already. Very much a stick in your team and, in the nicest way possible, forget about.
Defenders: Tyrick Mitchell, Kyle Walker-Peters, Ezri Konsa, Romain Saiss
Whilst Patrick Van Aanholt is waiting in the wings, the game time of Mitchell is very much looking to be coming to a natural conclusion. However, the Dutchman is still 50-50, so the £4.1m pricetag is a nice proposition when you consider the nearest contender at that cost is £4.0m Jimmy Dunne, who has played half the amount of minutes. Presuming there is a space in the starting XI for Mitchell, there are those nice fixtures to look forward to as well. Talking of cheap defenders, we'll remember when Walker-Peters was that £4.0m player at Spurs who, unsurprisingly, hardly ever played. Well, fast forward to now and he's got an extra half million on his pricetag and, along with two clean sheets, has an assist to his name too. It may not be a great fixture for the 23-year-old this week, but do keep an eye on him. Elsewhere, "Don't make transfers that scare you" may have been said, but try to put aside that strange feeling of including a Villa defender in your squad. With a goal and two clean sheets to his name, Konsa has shown in just three games he's not afraid to get forward in Dean Smith's rejuvenated attacking ethos. There is a mixture of ties ahead for the Villains, so having a bit of rotation – if you can afford it – wouldn't go amiss. Finally, it's the least said about Ruben Vinagre the better, as his now former colleague Saiss has picked up where he left the last season with 24 points from four games and a nice few games ahead. Wolves are unreliable from an FPL perspective at the moment, however this guy could well do you proud over time.
Midfielders: Wilfried Zaha, Jack Grealish, Bruno Fernandes, Jarrod Bowen
"No" may have been the answer that Zaha gave to an FPL player who asked if he should include him in his squad, however I beg to differ. Whilst you might not look to the £7.2m Ivorian for points week in, week out, he can be explosive when the feeling or opposition is right. Twenty-three points made up Gameweeks 1 and 2, whilst just three came from the following two, however ties against Brighton, Fulham, Wolves, Leeds and Burnley greatly increase the guy's points potential. Villa's Grealish meanwhile won't play against a chaotic Liverpool side every gameweek and while he gets overlooked by Southgate for England, the Brummy lad can hopefully put that energy into domestic football. Three goals and a trio of assists is already nearly half-way to what he managed the whole of last season and it'd be no surprise if he has a blinder of a season. Fernandes has now scored in two consecutive games and, being owned by 20.2 per cent, can inflict damage to your rank if you don't have him. However, the cost of £10.5m needs to be justified when you have so many decent prospects for less cash. The next few games could be interesting when it comes to both his and Man United's performance as they'll surely want to bounce back from that Spurs match. A special mention now goes to our very own AT who got rid of Bowen before he then went and picked up 23 points against Wolves and Leicester – though the consolation for our guy was very much that Grealish was the replacement! Back to Bowen and he really looks good in a team that doesn't have Moyes stood on the sideline which, you could argue, is one silver lining to the cloud of Covid-19. The Hammers are going through some tough ties on paper, though the results don't reflect that, so goodness knows what the 23-year-old lad from Leominster could be like against Fulham come Gameweek 8, for example.
Forwards: Neal Maupay, Ollie Watkins, Danny Ings
Brighton are really showing themselves to be a decent side so far this season and, with four goals to his name already, Maupay is looking like their star man. With a whopping 30 points from the last three, he has Crystal Palace and, significantly, West Brom around the corner. Still only owned by 5.3 per cent of FPL managers, the term differential for the £6.6m player has never been so appropriate. As a Villa fan, a few people have asked me – and I don't know why, as I repeat "the rest of my advice has no basis more reliable than my own meandering experience" – how Watkins is going to fare. It's particularly significant as over 200,000 managers have sold Mitrovic who is now the same price. If I'm honest, his excellent form for Brentford in the Championship – and then for us in the cup – all showed promise, however even I am at pain to judge him after three league games. There are the signs he will be a go-to man from Grealish, McGinn and Barkley and 19 points from a hat trick against Liverpool is obviously great, but I don't want to get too carried away! Certainly one to watch. Ings, meanwhile, may have let those down who captained him against West Brom – this writer included – however he is still worthy of a mention on the back of the 20 points scored against Spurs and Burnley. An away day to Chelsea is going to be tough, however if any Saints player will score against any team, there's a good chance it'll be him – especially when you consider he leads the way in shot accuracy, based on players who have had more than eight shots, with 80 per cent, as Son is at 70 per cent and Calvert-Lewin has 60 per cent.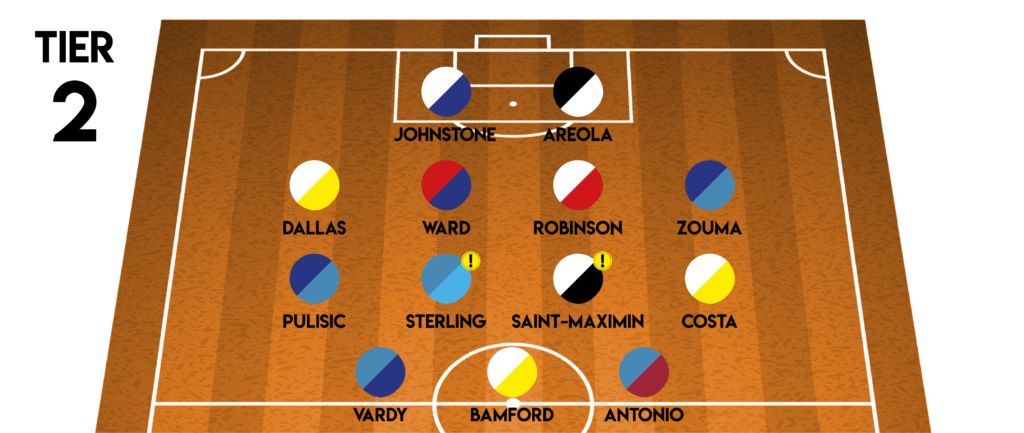 Tier 2 – players who could do particularly well this week
Goalkeepers: Sam Johnstone, Alphonse Areola
It may seem odd to have the goalkeepers from two of the teams currently sat in the relegation spots as my picks, having each let in their fair share of goals, however the fixtures of West Brom and Fulham this week, at least, show promise. Johnstone is facing a side that has only scored a trio of goals so far this season in a game that, as Init alluded to in fixtures, could well be the starting point to their campaign as Brighton and Fulham then lie in wait afterwards. Having played against Leicester, Everton, Chelsea and Southampton – letting in 13 goals in the process – it would be good for the side to buck that trend with a clean sheet. Areola hopefully won't make a boob of me by adding to the 11 Fulham have conceded so far as he faces Sheffield United, who have scored just one goal in four matches. To compound that, their player, McGoldrick, who scored in the 2-1 loss at Arsenal, is a doubt. Perhaps this week could be one of very few clean sheets for the West London side.
Defenders: Stuart Dallas, Joel Ward, Jack Robinson, Kurt Zouma
Leeds are showing themselves to be the formidable side many predicted, as Marcelo Bielsa leads the way from his upturned bucket on the sidelines. Leading the way on the FPL points in the Whites' defence is Dallas, who has already registered an assist in the 4-3 loss to Liverpool and a clean sheet in the match against the aforementioned Blades. This is backed up by the fact he has the most shots on target and the most big chances amongst defenders. Without the likes of Doherty, Wolves aren't firing on all cylinders at the moment having scored only four goals so far and I could additionally see Leeds capitalising on that from a defensive perspective. Unlike other players in the Crystal Palace defence, Ward seems to be safe in his position – famous last words – and, whilst Brighton are more formidable up front these days, Hodgson's brand of defensive, conservative football could work better against the Seagulls than against Chelsea. As previously mentioned, Mitrovic is being widely sold which is often an indicator of impending poor performance – unless it's a certain South Korean against Man United, of course, but more on that later. He's against a leakier defence now there isn't the likes of Dean Henderson between the sticks, however Robinson, who is coming in for the injured Jack O'Connell, may well get something against a side that, itself, has only netted three so far. Suffice to say, I don't expect Sheffield United versus Fulham to be a belter! As in other teams, guessing who will be starting in the defence is quite the gamble at Chelsea, however those who paid just £5.0m on Zouma at the start of the season have reaped the rewards, with 22 points scored from a trio of starts. Three of the last four meetings at Stamford Bridge between the Blues and Saints have seen a clean sheet for the home side and, when you think of the fact that Kurt has scored twice already too, there is good potential.
Midfielders: Christian Pulisic, Raheem Sterling, Allan Saint-Maximin, Helder Costa
From one Chelsea player to another I go and look who's back?! Yes, it's Pulisic, the whizz kid who scored nine and assisted eight to amass 127 points from just 1717 minutes played last season. Now costing just £8.3m – and with Ziyech back from injury too – it's really going to be interesting to see what Chelsea do even in this gameweek. I'm sure Southampton aren't exactly pleased to be the first side to face the nearest thing to a full strength squad, where only Mendy is a doubt. Talking of injuries, Man City are without Aguero and Jesus at the moment and the fact this is the first time I've mentioned the Cityzens must show I don't see them much FPL value at the moment. Then there's the defensive rotation, too. But, before you think I've completely lost my marbles, I will say that you need to keep an eye on Sterling – and De Bruyne, of course, but that's later. Sitting just one point behind his Belgian colleague, the guy with number seven on his back is, like the aforementioned KDB, currently on a 75 per cent chance of starting. However, should he win the race to fitness, the goal in Gameweek 4's 1-1 draw with Leeds could be the launch of the 25-year-old's season as he faces Arsenal on Saturday, a side he has scored six and assisted three against in 13 matches. Another player looking to be fully fit for the weekend is Saint-Maximin, the £5.3m player who, having gone through two price drops, rewarded FPL managers' patience with a 12-point haul at home to Burnley earlier this month. Should he start, the Frenchman is against a shaky Man United side that has lost two of the first three games this campaign. The Magpies have won two of their last three at home to the Red Devils and so it wouldn't be a massive shock if it became a bleak three defeats out of four for Ole's men. Another on the midfielder bargain rail who doesn't Costa-lot is, well, Costa, who will only set you back £5.7m and is owned by 10.3 per cent of managers. Two goals and an assist are already on the board for the winger as Wolves at home will be a tie that will see him reacquainted with a lot of his mates in the Portugal national team.
Forwards: Jamie Vardy, Patrick Bamford, Michail Antonio
He may not have the underlying stats behind him as the goals that have been scored haven't always come from open play, however you'll just know that, come the end of the season, Vardy will be up there near to the golden boot winner. Anyway, this week he's up against a Villa side that have had an outstanding start – yet his stats against the West Midlanders are rather impressive, having scored five and set up one across a quintet of fixtures. Owned by 25.9 per cent of managers, the golden boy in Rodgers' eyes could be due another haul. Elsewhere, Bamford seems to have hit the ground running in the Premier League, having netted 16 and assisted four last season in the Championship. The only game that he blanked in was the 1-1 draw against Man City, having already scored in each of the other three fixtures, as the Fulham game also included two assists. As previously mentioned, Leeds' opposition, Wolves, are a bit unreliable at the moment, having already conceded seven, so this budget friendly £5.8m striker could well please the 25.2 per cent who own him. Another to watch is Antonio. Whilst Spurs have been strong in front of goal, they haven't yet held a clean sheet and, on West Ham's past performance, it could be another game where Lloris has to pick the ball up from the back of the net on at least one occasion. At the centre of that could well be the 30-year-old who has scored four in the six times he has faced the North London side.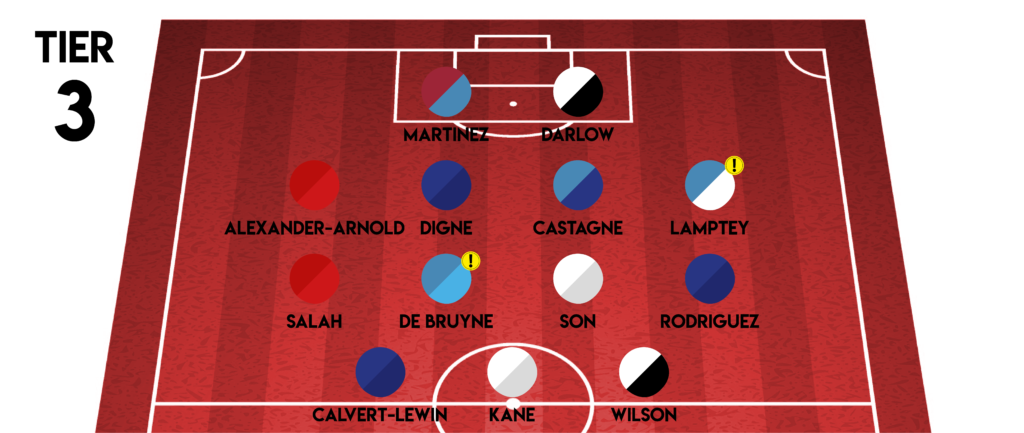 Tier 3 – essential players you couldn't live without
Goalkeepers: Emi Martinez, Karl Darlow
Whilst the season so far has been full of surprises, one thing that is certainly less of a shock is how well Martinez is already doing. Having been an outstanding stand in at Arsenal for Leno's injury last season, the Argentine rightly attracted attention over the summer from numerous clubs – if the rumours are to be believed. But why wouldn't the stories be, when you consider he has already saved a penalty and kept two clean sheets?! Since signing for Villa, much to the Gunners fans' dismay, the 28-year-old's value has already gone up to £4.7m and another thing that shouldn't surprise you is if that continues to climb. It will certainly be a tough pair of gloves to fill for Tom Heaton when he returns from injury. Darlow, meanwhile, is only owned by 1.6 per cent of FPL managers and yet he has 19 points to his name. Whilst there is a £5.0m pricetag to consider and the Magpies defenders don't seem to be very good at keeping out set plays, Newcastle's fixtures aren't horrendous from Gameweek 6 to 14. With this guy, where there isn't a clean sheet, he can easily make up for it in saves. A case in point was the eight-point collection in the 1-1 draw at Spurs in Gameweek 3.
Defenders: Trent Alexander-Arnold, Lucas Digne, Timothy Castagne, Tariq Lamptey
There are some players you can forgive for a bad run of games – for their standards, at least – when they have had outstanding seasons previously or are owned by four in 10 FPL managers. A typical case in point is Alexander-Arnold, who found the back of the net four times and set up another 15 last campaign, essentially meaning you can regard him as a midfielder with the bonus of clean sheets – of which there were 14 of those in the previous season, too. Over 200,000 managers have seen it fit to use his £7.5m cost elsewhere, but I would say that the second he does do anything, their rank will pay the price. And I'm sure it'll happen very soon. Crossing Stanley Park to the blue side of Liverpool, we find Digne who, himself, carries a premium pricetag. Costing £6.1m, he has shown his attacking potential with two assists and has one clean sheet to his name – though that could probably be higher if it wasn't for his goalkeeper! Whilst the Merseyside derby hasn't been easy for Everton in recent times, there are still a few nice fixtures coming up where he can once again bring in the points either through defending or attacking – interestingly, he is second in the table of most crosses. Each season, Leicester tend to have an essential defender, with Soyuncu and Pereira gaining the honours this time last year. So far this campaign, at least, it looks like Castagne is the flavour of the month, as over 200,000 FPL managers have brought him in ahead of this deadline alone. He hit the ground running in Gameweek 1's 3-0 win over West Brom, where a clean sheet and goal contributed to 14 points, before then registering three assists in the victories over Burnley and Man City. The next few games do look tough for the Foxes, however you could have said that before their game at the Etihad, so there's no reason the £5.8m right back couldn't bring home the bacon for you. Whilst that trio are rather budget breaking, Brighton's Lamptey – at a more manageable £4.7m – already has three assists to his name as Graham Potter seems to be transforming the Seagulls into a formidable opposition. Games against Crystal Palace and West Brom carry with them further attacking potential, along with the opportunity to put the 13 goals that have been conceded to one side and see about registering the first clean sheet of the campaign. Just bear in mind that, like a good few other players, he has an injury doubt hanging over him.
Midfielders: Mo Salah, Kevin de Bruyne, Heung-Min Son, James Rodriguez
When you think of essential players, Salah has to be up there on your list. Whilst his teammate Mane is obviously worthy of a mention too, there seems no end in sight to how well the Egyptian plays at Liverpool, as we reminisce to the simpler time of June 2017 when he signed for just £34m. Since then, the number 11's Premier League goal count has reached 78, whilst the amount set up for others has got to 35. There aren't many players you would consider FPL legends, however he is one of them. As mentioned in the appraisal of Alexander-Arnold, you'd be brave to get rid of the 28-year-old if he's had a few off fixtures though, unlike the Liverpool right back, he already has 41 points to his name. Plus he leads the charts on big chances created and penalty area touches, with 14 and 42 respectively. Then there's another former Chelsea player. After a prolific season of netting 13 and assisting 23 more, de Bruyne – again, providing he is fit after what must have been a very strenuous bike ride, with a 75 per cent chance of starting – could be your man this week, having scored five and set up another duo of goals in previous ties against Arsenal. But then, if he doesn't even start against the Gunners, do not panic, he's sure to reward your patience as he has done in previous campaigns bar the injury-ravaged 2018-19 season. Talking of players billed as injured, though with a very different outcome, it seems that Son and Mourinho well and truly trolled FPL managers – the one writing this included – last gameweek. From pretty much being on death's door, the story evolved to "Ooh, he might start, actually" to "Oh yeah, look at him in the team scoring two goals and setting up another in the 6-1 demolition of Man United! LOL!". The four goals against Southampton further emphasise his eligibility to be included in your squad plans. The ties against West Ham – if it's a Moyes Hammers side again – along with Burnley, Brighton and West Brom would take a brave person to not have Son in their side. Rodriguez, meanwhile, is the new kid on the block in Ancelotti's Everton and it seems he's hit the ground running, being at the heart of the attack that has netted 12 already – of which he has been the scorer or the penultimate man in five of them. His starting price of £7.5m was never going to last long, though now being £7.8m certainly won't break the bank and the Colombian's quality could mean he's one of those fixture-proof wonders we all aspire to own in FPL.
Forwards: Dominic Calvert-Lewin, Harry Kane, Callum Wilson
Talking of the Toffees, their hot property in the form of Calvert-Lewin is probably the least surprising addition to this beast of a tips article! Already half way to all of the goals scored last season, the £7.6m forward owned by 48.5 per cent of FPL managers has found the back of the net at least once in each of the four Premier League games he has played this campaign, of which the highlight was the hat trick against West Brom, along with a debut goal for England against Wales. He's on absolutely ridiculous form and, like his teammate Rodriguez – along with a fair few other players elsewhere – he offers a fantastic points per £m ratio. Kane may not offer such a great rate as a result of costing £10.6m, however unlike previous seasons, he seems to have hit the ground running with a trio of goals and six set up for his teammates. That's led the player who sat out of the England tie against Belgium after an injury scare to 44 points already and so it's no wonder that 400,000 managers have seen it fit to buy him this week. As you'll have no doubt read with Son, Spurs have some nice games coming up that can further boost Kane's points tally and help him along with the golden boot race come the end of the season – whenever that could be! I'll just add he is top of the table with Salah on shots, with 19. Another player who has been brought in by the boat load this week – if that's even possible – has been Wilson. No, not the dog from Friday Night Dinner, Jackie, the guy who has already put away four and set up another which brings hope of repeating the 2018-19 season, where 14 goals and 12 assists were registered. That was due to the excellent partnership with Fraser and, oh look, he's playing for the Magpies too, albeit much fewer minutes. However, it's fair to say there is more competition for a spot at Newcastle these days and, should the Scot not play, it's clear to see that Callum has plenty of service elsewhere.
Thanks for reading FPL Tips Gameweek 5. This article was written by Swirly.
VOTE ON THIS WEEK'S CAPTAIN POLL GW5
FPL FIXTURE TRACKER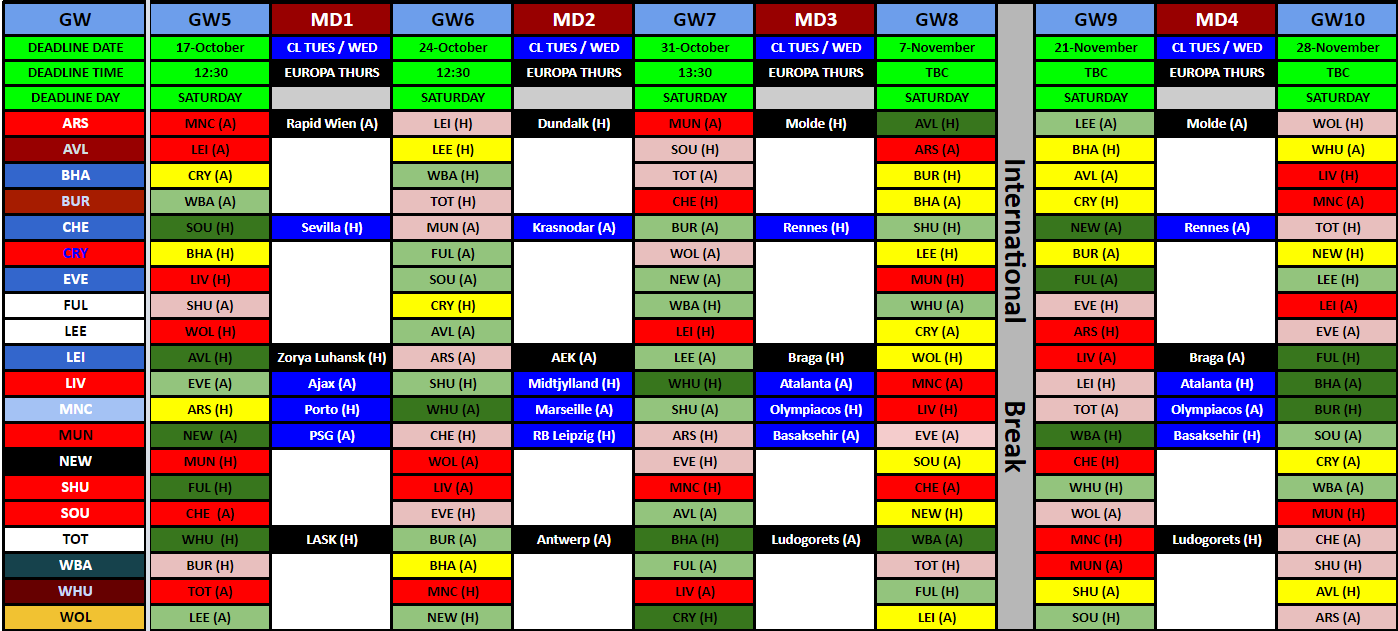 FIXTURE TRACKER LINK
For those who want their own tracker to play with, just make a copy using the link below;
Fantasy Football 247 League Codes:
All prizes must be claimed within 30 days of the final GW.