Harry and Lloyd's 2018/19 Season Wrap Up and European Final Predictions
Welcome to Harry and Lloyd's 2018/19 Season Wrap Up and European Final Predictions. Well this past weekend finally saw the culmination to what has been a truly amazing title race as Liverpool's 2-0 win was not enough to overtake City as they thumped four past Brighton in a 4-1 win which then saw Chris Houghton sacked for reasons beyond the sane person. I'm sure we will all join in congrats to City's three fans 😉 While all eyes were on the two best teams in the North of England, the neighbours had a mixed bag with Everton getting a decent draw against Spurs and United losing 2-0 to Cardiff… 2-0… to a relegated team… have the wheels fallen off yet? There was a very tasty looking result in London with Crystal Palace and Bournemouth proving an eight goal thriller that would have had mouths watering and headlines galore if it was anytime other than the final day, with the Eagles coming out on top in a 5-3 win.
This season has seen this competition change names, faces and even add a new family member. We sadly lost Barry Elliot back in August so Rosco and I became Harry and Lloyd. Living up to our names, we couldn't be trusted with counting and computers anymore so we were given a supervisor in DMC who has whipped us (really hard) into shape lately! Thank you on behalf of myself, Rosco and DMC for participating in this competition each week as without you, there would be no tournament! I want to take this opportunity to say thanks to everyone behind the scenes who run this and to the bosses for coping with a couple of stooges and letting us continue waywardly.
Alas, enough ass-kissing as I'm sure you are all just wanting to know the final weekly winner of the season and the overall season winner.
GW38 WINNER
The final week saw a low scoring affair with only 8 points being enough to win it. It was to be a fitting tie as DenPerryDidIt and Bhandrex Bhajiegoer topped the results but Bhandrex's FGS time prediction was enough to win it, mainly due to Den not posting a FGS having already received more soiled t-shirts this season than Oxfam. There were a number of people, RedKev, Frenchie, SherLock and MDB, all behind our leaders on 7 points so unlucky to those folk. And so; Many Congratulations to Bhandrex Bhajiegoer. Please email us here; contact@fantasyfootball247.co.uk to claim your prize.
2018/19 SEASON OVERALL WINNER
Now for the big reveal! The overall season winner was DenPerryDidIt on a whopping 348 points. Fair play to him, he's only gone and done a City with a back-to-back triumph!
2nd, or first loser, was Mahelmy on a respectable 326 points and in 3rd place was Costa's stalker, Smash on 323 points. A brilliant season by all… Same time again next year?
And so; Many Congratulations to DenPerryDidIt. Please email us here; contact@fantasyfootball247.co.uk to claim your prize. (We promise it's not another t-shirt!).
League Table – This is the final league table for H&L for the 2018/19 FPL season.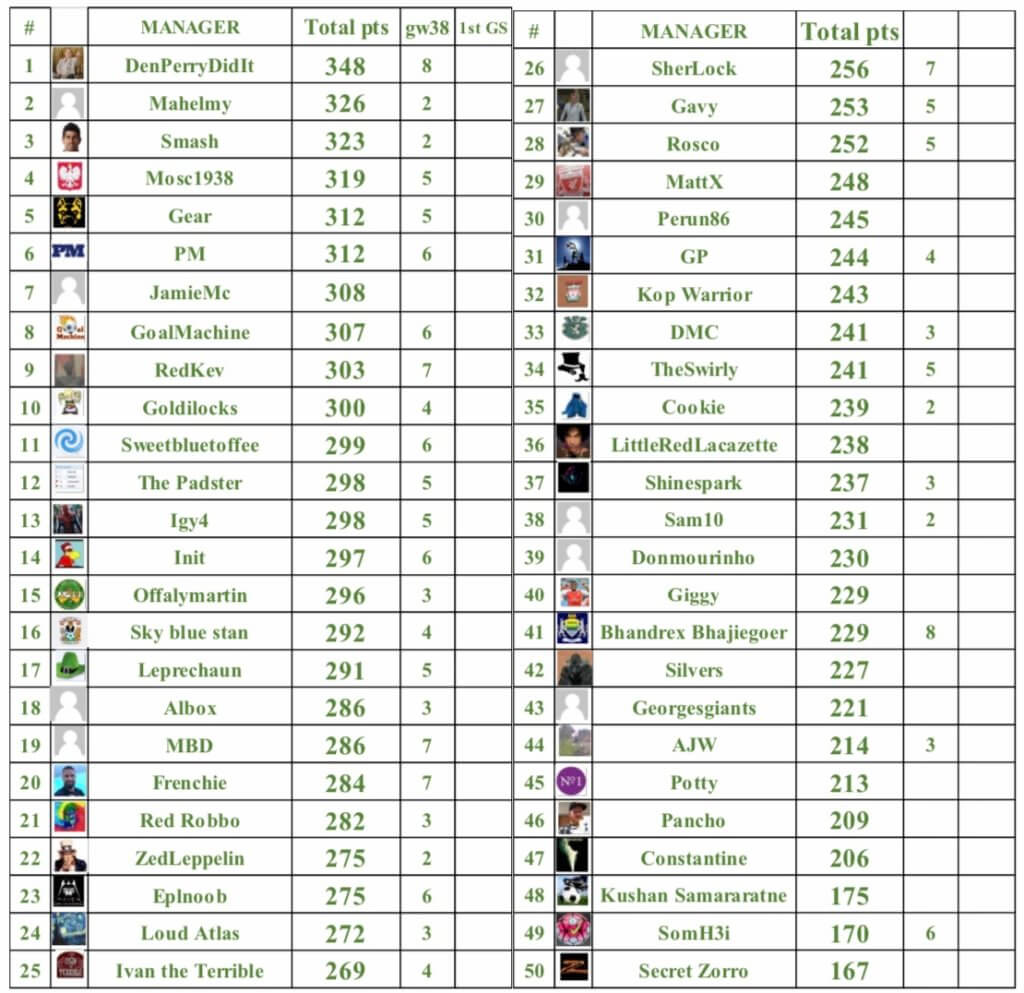 EUROPEAN PREDICTIONS COMPETITION…
NEW COMP! We couldn't just let you rot in the sun though so here is the first of our summer comps….
Fixtures & Deadline;
Europa and Champions League Deadline is Wednesday 29th May at 8pm
Chelsea v Arsenal
Liverpool v Spurs
Bit different this time as there are only 2 games to contend with so we need the following guesses please;
Final Score for each game (After Extra Time counts, pens don't!) (10 points if correctly guessed)
A correct result (but not correct score) gets you 5 points
First Goalscorer in each game (8 points)
Last Goalscorer in each game (8 points)
Time of first goal in each game (20 points, and it needs to be bang on the money!)
So for copying and pasting purposes a prediction should / could look something like this;
Chelsea v Arsenal
3-3
First: Hazard
Last: Monreal
18mins
Liverpool v Spurs
5-0
First: Mane
Last: Salah
2 mins
Thanks for reading Harry and Lloyd's 2018/19 Season Wrap Up and European Final Predictions
This article was written by Harry and Lloyd… aka Matt and Rosco. And DMC!