Harry and Lloyd's Fantasy Predictions GW2
Welcome to Harry and Lloyd's Fantasy Predictions GW2. If there is one thing predictable about the Premier League it's that it's that it's not that predictable, unless of course, your name is DenPerryDidIt in which case it is. Make sense? No me either. What was predictable, was that Liverpool would concede when so many of us were starting the season rocking double pool at the back, that Man City would smash a load of goals past the Hammers and that Harry Kane would score in August – although that one was looking iffy for a while there. What was unpredictable was that Man Utd would destroy Frank Lampard's Chelsea so convincingly, even the most Die-hard Red Devil could not have hoped for such as scoreline. Elsewhere it was business as usual, a 0-0 down at Selhurst Park and the same over at the King Power. So was it business as usual over here?
Well….. No. It was vacation, vacation, vacation time for all three of our H, L and DMC heroes this week. When they are on home turf and uber sobre the results are often dodgy so Lord only knows what this week's are like but in theory the winner this week with 11 points was GP, with Gear, Tornado and Albox all coming in a close 2nd on 10. Subject to many an appeal, we would imagine! And perhaps not care…

And so; Many Congratulations to GP. Please email us here; contact@fantasyfootball247.co.uk to claim your prize.
The League Table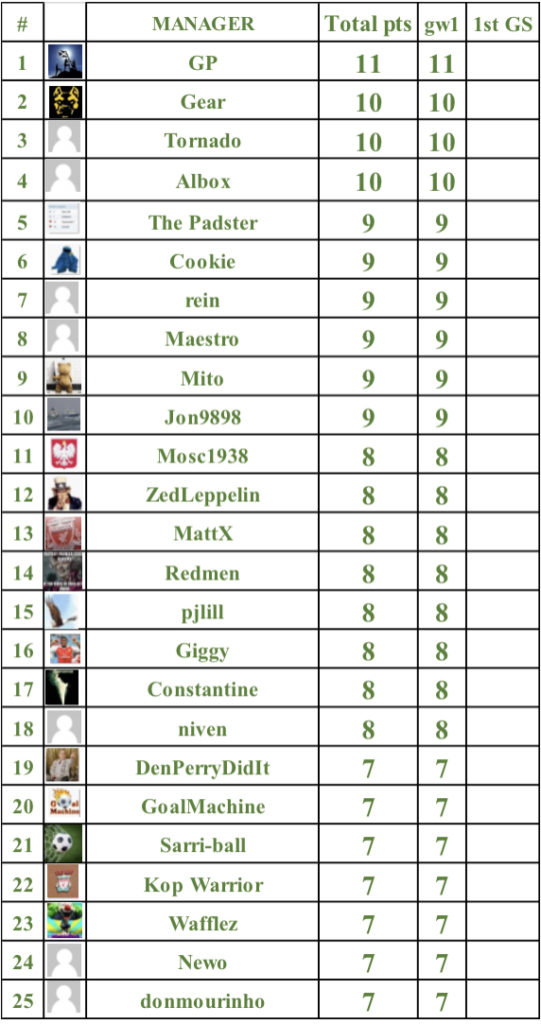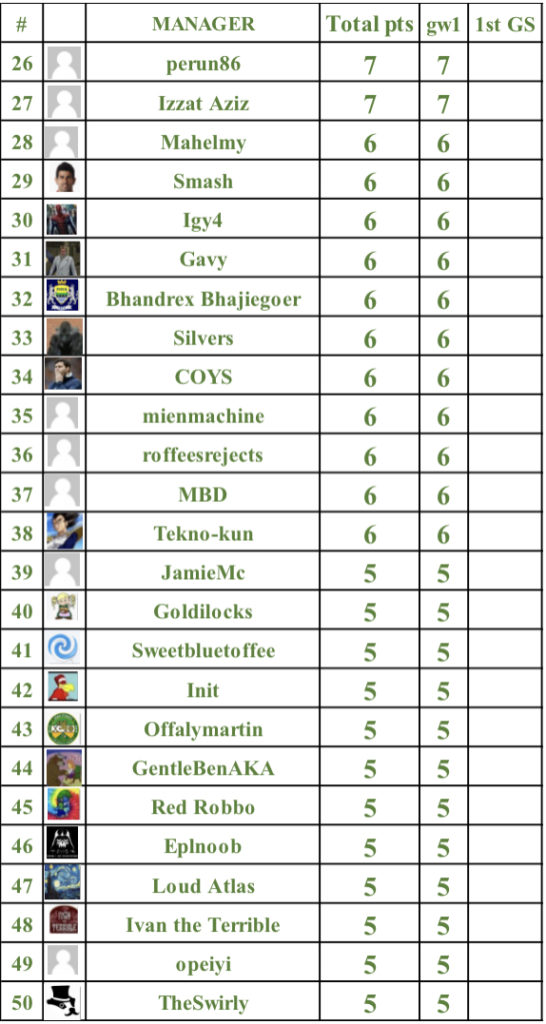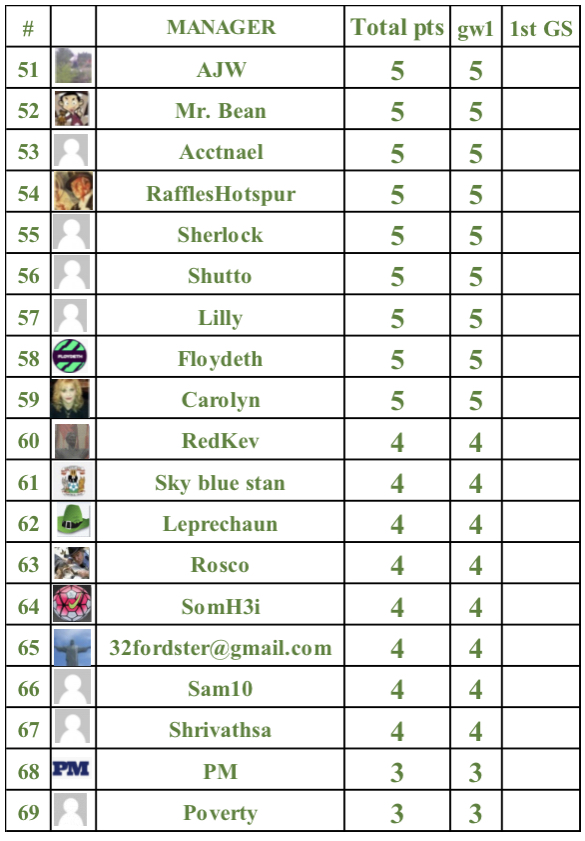 THIS WEEK'S COMPETITION… Scoring couldn't be simpler:
Correct Score = 3 points
Correct result = 1 point
Correct First Goalscorer of the game-week = 5pts
(Points are awarded on an 'either/or' basis, so you'll either score 3 points for a Correct Score or 1 point for a Correct Result, these are never added together for a 4 point score.)
Tie-Breaker In the event that two or more members are tied as winners for the week the overall winner of the t-shirt will be decided by a tie-breaker. In order to do this, we ask that you also post your prediction of the time that the first goal of the week will be scored at. Nearest the pin wins.
The Rules…
They are few; 1 entry per person and all entries must be submitted prior to the first game of the game-week.
Kick-off this week comes on Saturday at 12:30 pm.
Once all the games have been played, we'll count up the scores and the winner(s) will be announced in the following week's competition article and each week our winner will walk away with an FF247 branded t-shirt! ).
So just to recap all you need to do is;
– Copy and paste the fixtures from below and pop your score prediction on each.
– Tell us who you think will be the first goal scorer of the week (and that can be from any game regardless of your other predictions)
– Add in your time of the first goal of the week for any potential tie-breaker situation.
Here are the fixtures, best of luck to you all!
GW2 Deadline is: Saturday at 12.30 pm
Arsenal v Burnley
Villa v Bournemouth
Brighton v West Ham
Everton v Watford
Norwich v Newcastle
Southampton v Liverpool
Man City v Spurs
Sheffield v Palace
Chelsea v Leicester
Wolves v Man Utd
Thanks for reading Harry and Lloyd's Fantasy Predictions GW2
This article was written by Harry and Lloyd… aka Matt and Rosco.
FPL FIXTURE TRACKER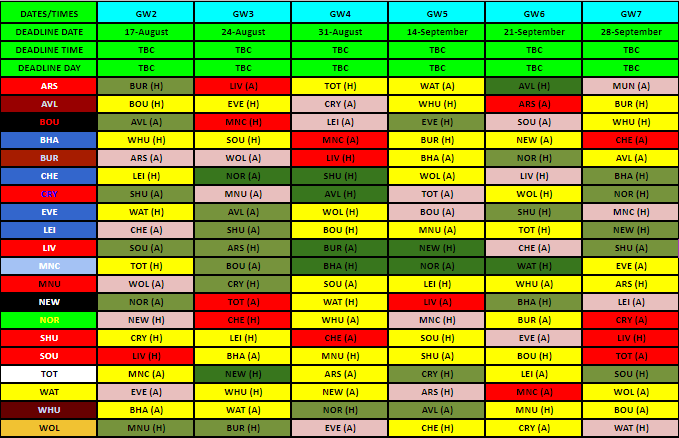 FIXTURE TRACKER LINK
Fantasy Football 247 League Codes: