Harry and Lloyd's Fantasy Predictions GW38
Welcome to Harry and Lloyd's Fantasy Predictions GW38. We head into the final week of what has been an at times bonkers season. How the heck were we meant to predict some of the crazy scores that opened the season? If anyone correctly predicted Villa 7 Liverpool 2 (they didn't) then I demand this week's lottery numbers right now thank you very much. Thankfully normality returned, and whilst I've personally had an average at best season of this predicting lark, some of you continue to amaze me with your predictive prowess.
We've had a glut of fixtures over the past 3 weeks so I'll stop waffling and let's jump into the winners from game weeks 35 through 37!
GW35 Winner
The winner was Otieno with 16pts, 2nd place was Bejo on 14pts, 3rd place went to DenPerryDidIt on 13pts. No one got FGS (Willock in the 22nd minute).
GW36 Winner
The winner was Leprechaun with 10pts, 2nd place was tied between PM, Turbo and Tekno all on 9pts. For the second week in a row, we had a Newcastle player as the first goalscorer and for the second week in a row, no one correctly guessed it (Krafth in the 25th minute)!
GW37 Winner
We have a cautionary tale to tell you this week. Our winner was decided by an 'omission' by one of our managers. This week 13pts was enough to win the top spot, but two managers got it: Bhrandrex Bhajiegoer and Elderzadi. This meant it was time to go to the minute of the first goal scored. However, Elderzadi either forgot or was just too cool to put down an attempt for FGS which meant Bhandrex took the prize! (It is however worth noting he'd have likely won with his guess of 13th minute – just 2 minutes out of the actual) Unlucky Elderzadi but remember to always guess (as Matt always tells his students "I can't give you points for a blank answer") Indeed. 3rd place this week went to Ivan on 12 points.
And so; Many Congratulations to Otieno, Leprechaun and Bhandrex. Please email us here; contact@fantasyfootball247.co.uk to claim your prize.
League table
It's all to play for as we head into GW38. Maybe. My Lloyd to my Harry or maybe my Harry to my Lloyd (we never did decide on that one), has proven to be neither dumb nor dumber. However, has Matt who has held onto that top spot for a long time now slipped up at the final hurdle? After what feels like forever, my brother from another mother has been knocked off top spot. Bejo has come storming in to upset the applecart just when it was starting to look like the title was a done deal. Matt (who now sits in second) is what could be an unsurmountable 8pts behind and I for one certainly did not see this coming.
I have to say a special mention to 2 times winner Coys who has continued to excel in this competition year on year, he's still in with a chance of grabbing a third title but it will take some effort on his or indeed anyone else's if they are to usurp Bejo with just one week left. Good luck to all 3 of you and everyone else in the final week. May the best man or woman win!!
THIS WEEK'S COMPETITION… Scoring couldn't be simpler:
Correct Score = 3 points
Correct result = 1 point
Correct First Goalscorer of the game-week = 5 points
(to clarify this is who you think will score the 1st goal of the entire GW, not just in any game you choose to pick yourself!)
(Points are awarded on an 'either/or' basis, so you'll either score 3 points for a Correct Score or 1 point for a Correct Result, these are never added together for a 4 point score.)
Tie-Breaker In the event that two or more members are tied as winners for the week the overall winner of the t-shirt will be decided by a tie-breaker. In order to do this, we ask that you also post your prediction of the time that the first goal of the week will be scored at. Nearest the pin wins.
The Rules… They are few; 1 entry per person and all entries must be submitted prior to the first game of the game-week. Kick-off this week comes on Sunday at 4:00 pm. Once all the games have been played, we'll count up the scores and the winner(s) will be announced in the following week's competition article and each week our winner will walk away with an FF247 branded t-shirt! ). So just to recap all you need to do is; – Copy and paste the fixtures from below and pop your score prediction on each. – Tell us who you think will be the first goal scorer of the week (and that can be from any game regardless of your other predictions) – Add in your time of the first goal of the week for any potential tie-breaker situation.
Here are the fixtures, best of luck to you all!
GW38 Deadline is: Sunday at 4pm
Arsenal v Brighton
Villa v Chelsea
Fulham v Newcastle
Leeds v West Brom
Leicester v Spurs
Liverpool v Palace
Man City v Everton
Sheffield v Burnley
West Ham v Southampton
Wolves v Man Utd
Thanks for reading Harry and Lloyd's Fantasy Predictions GW38
This article was written by Harry and Lloyd… aka Matt and Rosco.
Thanks for reading FPL Captain Picks Gameweek 38.
FPL FIXTURE TRACKER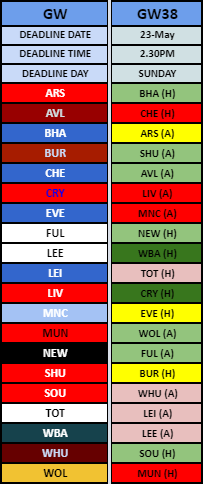 FIXTURE TRACKER LINK