Harry and Lloyd's Fantasy Predictions Season Wrap Up
Hello and welcome to the final Harry and Lloyd's of the 2019/20 season. What started as a one-off post on a quiet December evening several years back, has now turned into a fully-fledged competition that is now heading into its fifth season. That it exists and continues to grow is entirely down to each and every one of you who takes part, so once again we would like to thank you and hope you'll join us once more for the 2020/21 season.
It's no easy feat counting up each and every prediction and turning those into an overall league table week after week, I'd like to give special thanks to Matt and DMC who do a stellar job and essentially make my job easy!
On to the winners!
GW35
Newo notched 12pts and top-spot thanks in no small part to correctly predicting the First Goal Scorer. Smash, Leprechaun and Sam10 all came a close second with an admirable 11pts.
GW36
The boss man himself Init hit 14pts which was enough to steal top-spot in a closely fought week that saw Perun a close second with 13pts and just behind with 12pts was Sam10. All three correclty guessed the First Goal Scorer – kudos.
GW37
Both Igy and Loud Atlas wracked up 15pts but Igy wins the prize thanks to his 23rd minute First Goal Scorer prediction (Chris Wood 45+5).LittleRedLacazette and Newo both a close second with 14pts.
GW38
In the final week Mahelmy took 13pts which was enough to snatch top-spot from yours truly (Rosco) on 12pts. Bejo, DenPerryDidIt, AJW and Padster all finished just behind with 11pts. Unsuprisingly nobody correctly guessed First Goal Scorer Dwight Gayle who scored in the very first minute at home to Champions Liverpool.
And so; Many Congratulations to Newo, Init, Igy and Mahelmy. Please email us here; contact@fantasyfootball247.co.uk to claim your prize.
Overall League Table
The last time we printed the overall league table it was former H&L winner Coys9 who was riding high at the summit, closely followed by a whole host of teams just one or two points off the league leader. Well, thanks to 54pts over the final 6 game-weeks, Tornado 'swept him' from the top spot and held on with both hands despite an admirable 50pts over the same period from our former titleholder. Coys9 will have to be content with second overall, which he shares with Leprechaun, having both ended on 306pts behind Tornado's 310pts. Notable mentions to our very own Smash who finished 3rd, just a single point behind on 305pts and some bloke called Rosco who will have to be content with 8th despite the highest score (58pts) of the final 6 game-weeks. Congratulations once again to Tornado who will no doubt be in spin (I'm here all night!) over this wonderful achievement.
Thank you to each and every one of you who has taken part, especially those who managed to get their predictions in for all 38 game-weeks. We'll see you all soon for the 2020/21 season!

FF247 Site Team Wrap-up
As a bit of of a bonus, and given as we are doing round-ups, we thought we would update you on how the FF247 Site Team finished. And so over to the boys:
GW38 Result
Could have been better, could have been a lot worse. Originally we were contemplating taking Aubameyang out but fortunately we didn't as he was our top sorer with 16. Captain Silva didn't quite deliver, but Wan-B and Fernandes propped us up, along with Sterling and Ings, none with great scores but all with enough to see us to 65 points.
That saw us get a small red arrow but we only dropped a few thousand places. Overall we landed at 45,446th. Not great but not bad. Pre-lockdown we have gone up from about 165k to 45k so we are pretty pleased overall. That sees us with a top 50k finish in 4 out of of 6 attempts, and 5 out of 6 in the top 100k. Again not bad, but nothing to write home about yet.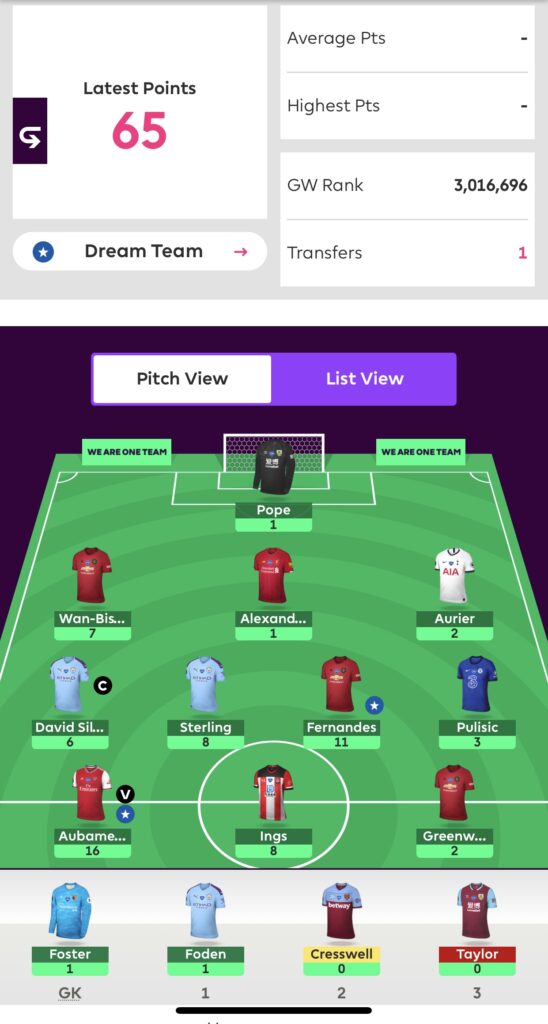 Thanks for reading Harry and Lloyd's Fantasy Predictions Season Wrap Up
This article was written by Harry and Lloyd… aka Matt and Rosco. And DMC.
Fantasy Football 247 League Codes: