Harry and Lloyd's Fantasy Predictions The Final Reckoning
It's all over. It's been an arduous season, it's had its highs and its lows and it will certainly be one for the history books. I'll echo what I wrote last week and thank each and every one of you who took part this season.
The intention of this competition is as always to serve as light relief from the testing trials and tribulations of FPL, this season it was a testing season on so many fronts, but together we have gotten through it. The wacky results that began the season slowly petered out as normality returned. With the return of fans, albeit in limited numbers there is hope that come the start of the 2021/22 season, we will have the football we all know and love; fans in the stadium, home and away form actually meaning something once more!
On to the final day winners! We're all familiar with M Salah doing bits for our FPL teams (and of course Liverpool), well, here we have our very own M.Salah and he took the T-shirt in the final game week of the season thanks to a massive 18pts. It was no walk in the park, however, Padster finished on a similarly impressive 17pts to take second, with Tekno on 16pts pushing them all the way to take third. No one correctly guessed FGS this week – the Mercurial KDB.
And so; Many Congratulations to M.Salah. Please email us here; contact@fantasyfootball247.co.uk to claim your prize.
The final table
A whopping 95 of you took part this year, but in the end, there was only one winner and Bejo was not messing about. With 307pts he was the clear winner, a whopping 16pts ahead of second, which will have to be enough for my man Matt who for a long time looked like he was going to walk the league. The race for second was a close run affair, just 5pts separated Elderzadi, former winner Coys and OddDane but Matt held firm. I finished way down in 24th, which probably explains why the bookies are always happy to take my money week in week out.
And so; Many Congratulations to Bejo our 2020/21 Harry and Lloyd champion!!
We do hope you'll all be back for the new season, until then, Matt and Myself thank you once more and wish you a wonderful summer, whatever and wherever that takes you. Laters taters!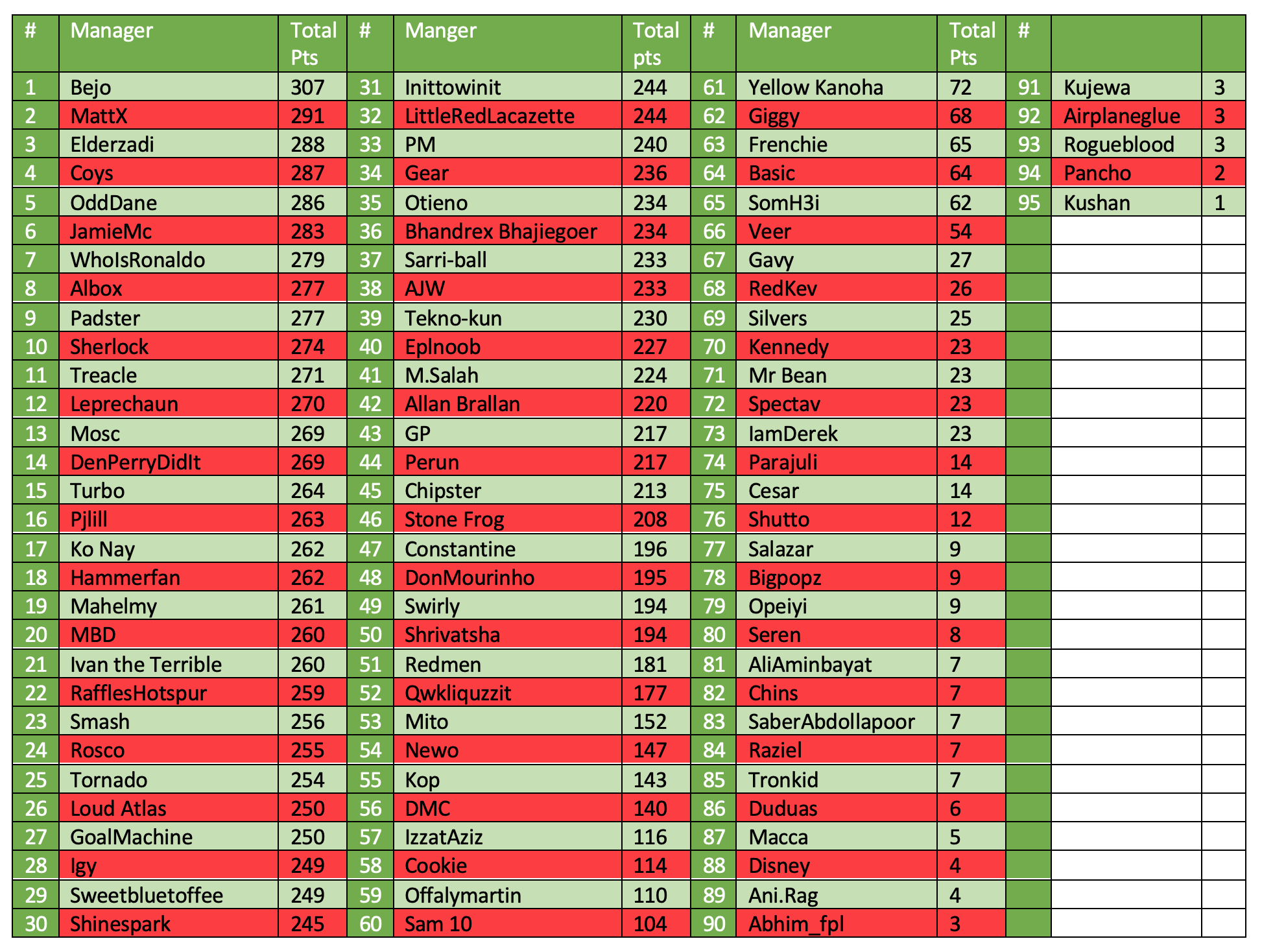 Thanks for reading Harry and Lloyd's Fantasy Predictions The Final Reckoning
This article was written by Harry and Lloyd… aka Matt and Rosco.