Harry and Lloyd's Predictions GW14
Welcome to Harry and Lloyd's Predictions GW14. I'm currently mid-way through my (semi) self-imposed FPL exile after the worst game-week of my entire FPL career (a GW rank of almost 5 million). I was so angry, that last Saturday night that I even made my first ever 'rage transfer' with the mentality that I simply no longer care about the implications (when half my team is flagged come the following week). Why am I telling you this given that it has nothing to do with this competition? Well, because I can / does anyone actually read this intro? / it's cathartic / I can't bring myself to review what was a very painful weekend in FPL for me. Anyway enough about me. It was both a low scoring and tight affair over here, it took just 10pts to take top spot, and that was achieved by no less than 7 individuals; MBD, Labyrinth, Mahelmy, Offalymartin, Constantine, Jamesimmo and MattX.
There can be only one winner so it was over to the tie-breaker. The first goal was scored in the 11th minute, MattX tells me he was the closest with a guess of 13 minutes and who am I to argue with that.
Congrats to MattX on his win, please email us at contact@fantasyfootball247.co.uk to claim your prize.
THIS WEEK'S COMPETITION…
Scoring couldn't be simpler:
Correct Score = 3 points
Correct result = 1 point
Correct First Goalscorer of the game-week = 5pts
(Points are awarded on an 'either or' basis, so you'll either score 3 points for a Correct Score or 1 point for a Correct Result, these are never added together for a 4 point score.)
Tie-Breaker
In the event that two or more members are tied as winners for the week the overall winner of the t-shirt will be decided by a tie-breaker.
In order to do this, we ask that you also post your prediction of the time that the first goal of the week will be scored at. Nearest the pin wins.
The Rules…
They are few; 1 entry per person and all entries must be submitted prior to the first game of the game-week. Kick-off this week comes on Friday at 20:00. Once all the games have been played, we'll count up the scores and the winner(s) will be announced in the following week's competition article and each week our winner will walk away with an FF247 branded t-shirt! We also have an overall league table which we'll update on a monthly basis (next update in our GW15 article).
So just to recap all you need to do is;
– Copy and paste the fixtures from below and pop your score prediction on each.
– Tell us who you think will be the first goal scorer of the week (and that can be from any game regardless of your other predictions)
– Add in your time of the first goal of the week for any potential tie-breaker situation.
Here are the fixtures, best of luck to you all!
Deadline is: November 30th @ 20.00pm
Cardiff v Wolves
Crystal Palace v Burnley
Huddersfield v Brighton
Leicester v Watford
Man City v Bournemouth
Newcastle v West Ham
Southampton v Man Utd
Chelsea v Fulham
Arsenal v Spurs
Liverpool v Everton
League Table
This is how we stood as of GW10.  The table will be updated next game-week.

Thanks for reading Harry and Lloyd's Predictions GW14
This article was written by Harry and Lloyd… aka Matt and Rosco.
FPL FIXTURE TRACKER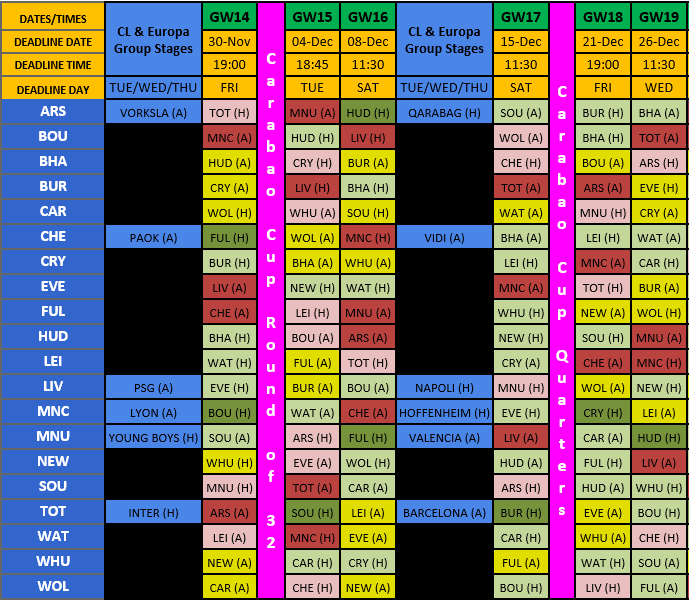 FIXTURE TRACKER LINK
Welcome to our Fantasy Football leagues section.
The League Codes for FF247 for the 2018/19 season are as follows –