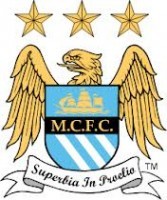 With the rough waters now behind us we can see calm seas and blue skies ahead, in the shape of a number of double game-weeks. We feel that no team will benefit more, from an FPL point of view, than the blue side of Manchester with City playing Fulham at home and Manchester United away in game week 31. They will also face Sunderland and Aston Villa at the Etihad, dates of which are still to be arranged and announced. With this in mind City's prospect must be considered very seriously; if they can find the form of earlier in the season they could generate a huge number of points for us fantasy managers. With this in mind we take a look at some of their better prospects:
[divider_1px]
Joe Hart

The England stopper has been in fine form since his brief stint watching from the bench, keeping four clean sheets from eight games. The question is are there better value keepers than Hart? Even with the additional games he sits in 17th spot on the FPL goalkeeping list and, despite him seeing off the mid-season challenge of Costel Pantilimon, you could argue there are better scoring and value keepers out there. In fact you could have two keepers for £9.0 who also have a number of Double Game Weeks coming up. Put simply; Hart is a good option, if you have some spare cash, but probably best ignored.
FPL points: 70
£6.0, 6.2% Ownership
Goals-0, Assists-0, Bonus Points-1
[divider_1px]
Pablo Zabaleta

The Argentinian has played all but three games so far this season. and whilst City's defence has been a little hit and miss, they have kept two clean sheets from the last two. The right back has assisted five times this year but has yet to score, he has scored one or two in all but one of his five seasons in the Premier League so one may argue he is due a goal and his attacking flair down the right side is always a threat.
[clear]FPL points: 91
£6.0, 20.5% Ownership
Goals-0, Assists-5, Bonus Points-9
[divider_1px]
Vincent Kompany

The big Belgian has had a few injury problems this season but apart from the two short breaks has been an ever-present. As mentioned, they are not as tight as title contenders would hope to be, but with three double GW's you may decide the centre back is worth the risk. Kompany also offers a decent goal return; three so far this season and always a threat at set-pieces. With a much lower ownership than Zabaleta, he is the choice if your budget can stretch that far.
FPL points: 64
£6.3, 5.1% Ownership
Goals-3, Assists-0, Bonus Points-5
[divider_1px]
Aleksander Kolarov

When he plays he gets forward, a lot. Unfortunately, this is the Serbian's problem he shares the left-back role with Gael Clichy, a more defensive minded player so depending on the opponent, depends on the left back! His sporadic starts leave his fantasy owners sweating whether he will make the pitch; when he starts its like having an extra winger in your team. But with the number of games City have, expect rotation here. Kol is the budget option and has started seven of the last ten league matches – if this is enough for you, then his price certainly allows you to spend more elsewhere – but don't moan when he doesn't start….you've been warned!!
FPL points: 79
£5.0, 4.1% Ownership
Goals-1, Assists-6, Bonus Points-11
[divider_1px]
Yaya Toure

The influential midfielder is having his best Premier League season ever. In his last three seasons the Ivorian has managed a maximum six goals and nine assists, he already has thirteen goals and four assists this term! There are any number of reasons for this; positional play, more suitable players around him (Fernandinho for example), he's on the majority of free kicks around the box and penalties (generally), luck; maybe its just a combination of them all. Whatever the reason, Yaya  has been a fantasy phenomenon this season and with his price dropping from a season high £10.2 to its current £9.9 and a nailed on starter, can you afford not to? Even managers who have so far avoided his lure are now being tempted.
FPL points: 159
£9.9, 40% Ownership
Goals-13, Assists-4, Bonus Points- 25
[divider_1px]
David Silva

The Spanish wizard has had a mixed season, he has struggled with game time due to a couple of injuries but has still managed four goals and eight assists, which is still on course for his average over the last three seasons. As mentioned big Yaya is most people's City midfielder of choice, but we think it's fair to say that Silva has played better than his FPL returns suggest. With two of City's DGWs at the Etihad, maybe this is the wizard's time to shine. As a differential to Yaya, you would save £0.8 and have someone whose ownsership is 4.3% vs Yaya's 40%. Quite tempting eh?
FPL points: 91
£9.1, 4.3% Ownership
Goals-4, Assists-8, Bonus Points-10
[divider_1px]
Samir Nasri

A cheaper way into the City midfield would be the French midfielder. Fresh from scoring an excellent goal in the Capital Cup final win over Sunderland and the consolation in the home FA Cup defeat by Wigan, he could be a good alternative or even, baring in mind the amount of DGW's, an additional midfielder to Toure or Silva? Of course, you run the risk of rotation with Nasri, but is it a risk worth taking? Bear in mind all four of his league goals have come at home, he may be an option to play the fixtures rather than an option for the full last nine game-weeks.
FPL points: 84
£8.0, 3.0% Ownership
Goals-4, Assists-5, Bonus Points-6
[divider_1px]
Jesus Navas

In his first season in the Premier League, Navas has had a couple of excellent spells already with four goals and six assists. Down to his lowest price of the season (originally £9.0), like Nasri he offers a good alternative with reasonable value, although the uncertainty around game time will probably be too much for most fantasy managers, he may be worth putting on the watch list.
[clear]FPL points: 91
£8.0, 3.0% Ownership
Goals-4, Assists-6, Bonus Points-9
[divider_1px]
Fernandinho 

The Brazilian has struck up an excellent partnership with Yaya Toure in the centre of the park and City looked a weaker team when he was out injured recently. Down to a season low £7.1 and seemingly one of the first on the team sheet now he could be an excellent differential. Fernandinho is more of a defensive minded player so expect his attacking returns to be limited compared to City's big guns but he has been getting further forward recently and could offer an excellent differential with such low ownership.
FPL points: 72
£7.1, 1.0% Ownership
Goals-3, Assists-3, Bonus Points-5
[divider_1px]
Sergio Augero

Arguably, if fit, Kun is the 'must-have' player from the City squad. His stats rival the FPL's best this season and with fifteen goals and nine assists in just under 1200 minutes, his form has been outstanding. With the Blue's other forwards not firing consistently Manuel Pellegrini may use his time sparingly due to his injury risk and with a number of other competitions running we may see his Premier League game time curtailed as they see the squad stretched. From an FPL point of view, being knocked out of the Champions League may be the best thing for Augero's game time. As mentioned his tendency to get injured is a risk you run with the man from Argentina; most would agree its a risk worth taking. Just think back to his form when he got injured at Tottenham – those managers who didn't own home were cowering from behind the sofa!
FPL points: 131
£12.1, 9.2% Ownership
Goals-15, Assists-9, Bonus Points-19
[divider_1px]
Alvaro Negredo

The Spaniard has had a mixed debut season in the premier league. Showing glimpses of brilliance, but getting injured, suffering a dip in form and suffering from rotation has curtailed his appearances and been a frustration to fantasy managers. His price has plummeted from £9.9 six weeks ago reflecting the blanks he had and the loss of patience from managers. Aguero appears to be the best fantasy prospect from City's strike force but as his ownership and price will surly rise, Negredo could offer a cheaper differential, if he can cement his place in the team.
FPL points: 96
£9.3, 6.9%Ownership
Goals-9, Assists-4, Bonus Points-10
[divider_1px]
Edin Dzeko

Like Negrado the Bosnian's price has dropped like a stone. Whilst he can clearly score goals, he also has a frustrating tendency to miss from a yard out! For Dzeko's price you are able to get the more consistent Southampton forward Jay Rodriguez but he doesn't have a DGW before the end of the season, compared to Big Dzeko's three. The problem is we don't know how many of these he will play; he could be the ultimate gamble alongside Augero in your three man frontline but with Jay-Rod you can be guaranteed game time, toss a coin maybe?
FPL points: 79
£6.6, 6.3% Ownership
Goals-7, Assists-4, Bonus Points-12
[divider_1px]
Steven Jovetic

Like all City's forwards, injury and rotation has been a problem for the Montenegrin. It would take a very brave fantasy manager to back Jovetic over any of the other three at this point. This said, he has played a part in the last four Premier League games and scored his debut league goal. Unlikely to displace the other forwards but is the ultimate, ultimate differential!
[clear]FPL points: 15
£8.8, 0.3% Ownership
Goals-1, Assists-0, Bonus Points-2
[divider_1px]
Conclusion.
Clearly, City's 3DGWs equate in effect to 12 matches in 9 game-weeks, hence our recommendation to "load up" on City cover. How many you have and who they are depends on your budget requirements and make up of your team, all of which are individual to every FPL manager.
As a site however, we would recommend owning at least 2 City players. Clearly the standout options are Yaya Toure and a fit Sergio Aguero, but we hope the player profiles above give you an idea of the standout options if you want to go different?
Should you have 3 players ? Maybe its a great idea if your budget allows, but we would also be quick to warn you of the dangers of putting all your eggs in one basket and wouldn't encourage you to disrupt your squad too much.
This article was written by NZ Alex.