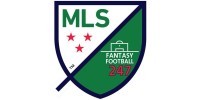 Another big and exciting double gameweek is behind us, with a bumper crop of 45 goals scored in it. That brought big scores for the managers who picked the right players. We witnessed Joseph Martinez equal the MLS record with his fifth hat trick (in a mere 34 games it must be said, compared to 55 and 124 for the other joint record holders). We also saw bad boy Zlatan return from punishment to score a brace.
NEW FF247 MLS LEAGUE
For anyone who missed it we have decided to start up a fresh FF247 MLS league beginning in GW13. Please feel free to join in. As a quirk of the new MLS rules they have split their season in two. The first part expires in GW17. You will then automatically be entered in to our league again for the second half of the season.
It's a perfect opportunity to begin playing MLS if you haven't already, or if like many others you've been playing but haven't given it due care and attention due to the busy end to the FPL season then perhaps a perfect opportunity to kick-start your MLS season.
TO JOIN THE NEW FF247 LEAGUE JUST CLICK HERE OR THE CODE ITSELF IS RAVFLP3H
This weeks fixtures…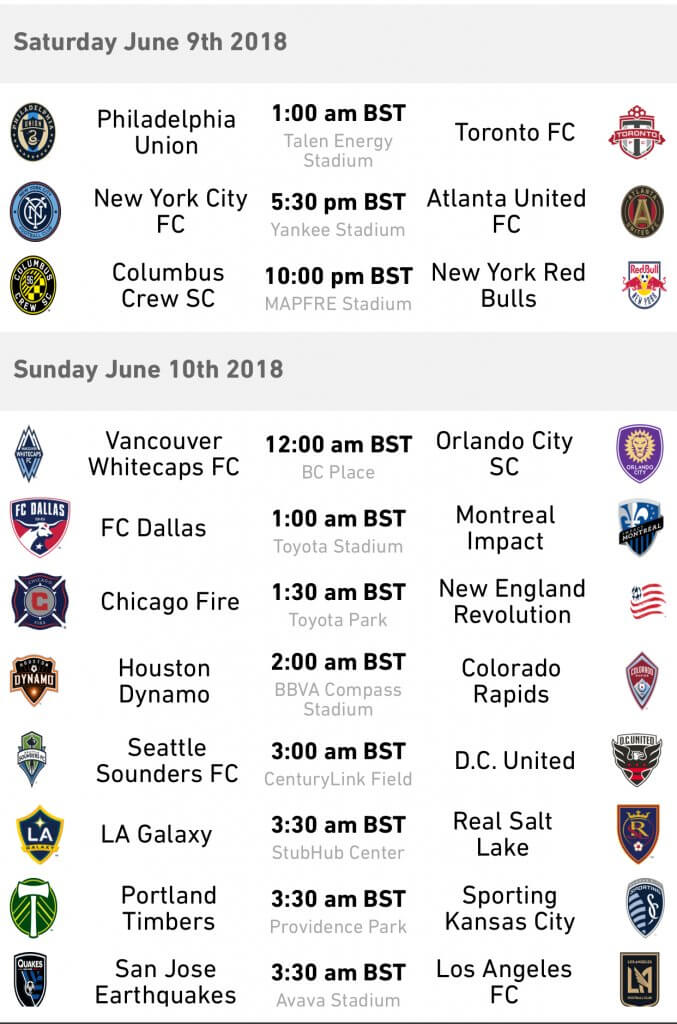 Gameweek 14 Review
The home side Philadelphia Union won comfortably against Chicago Fire. Ilson opened the scoring a minute before the end of the first half. Shortly after the start of the second, Burke added another. The guests responded with a goal from Gordon, but that wasn't enough. Just before the end, Dockal scored his penalty. Score 3-1.
Can't. Stop. Watching. ? #PHIvCHI pic.twitter.com/JcfnCBTMp3

— Major League Soccer (@MLS) May 31, 2018
Thanks to Matt Turner and his six saves New England Revolution earned a point at home against the better playing Atlanta United. The only goal in the first half came from Martinez. The visitors had created many more chances, but couldn't capitalise on them. Two minutes before the end, Bunbury executed his penalty for a draw. Score: 1-1.
Real Salt Lake cut short the four game unbeaten streak of Houston Dynamo. Silva went on the scoring board first for the hosts. It took a long time for Dynamo to respond, but they eventually equalised through Elis. Beckerman then went on to score the winning goal. Score: 2-1.
After a short spark of renewed form in recent weeks, LA Galaxy lost at home against FC Dallas. The visitors were the dominant side and, in a seven minute spell before the break, Hollingshead managed to score and assist Colman for the second. The offence continued when Gruezo added a third in the second half. Later LA came back into the game, with a brace from Ibrahimovic, but it was too little too late to rescue even a point. Score: 3-2.
.@Ibra_official bags his brace. #LAvDAL https://t.co/FaMIUKh9sw

— Major League Soccer (@MLS) May 31, 2018
It wasn't much of a surprise when Colorado Rapids lost to Vancouver Whitecaps. All the action happened in the first half. Reyna assisted Techera for the first goal and then later went on to score the second. The consolation goal came from Castillo. Score: 1-2.
Portland Timbers ended a six-game winning streak with a draw against LA Galaxy. Pontius scored for the visitors in the first half before Valeri levelled from a penalty kick in the second. Score: 1-1.
Atlanta United crushed Philadelphia Union at home. The visitors were left with 9 men in the first half after an act of madness from Bedoya and Medunjanin. Martinez took advantage and scored a hat trick. Picault got the consolation goal for Philly. Score: 3-1.
Columbus Crew earned a point with a dramatic comeback after Toronto FC were 3-0 up. Vazquez, Ricketts and Giovinco led the visitors to a great start inside the first sixty minutes. All that changed when the Crew answered with goals from Zardes, Crognale and Higuain. Score: 3-3.
Montreal Impact ended their five game winless streak at home by beating Houston Dynamo. The lone goal was scored a minute before the break by Vargas. Score: 1-0.
Despite conceding the early goal from BWP, New England Revolution came back to earn the three points against New York Red Bulls. Fagundez equalised a minute before half time and Bunbury scored the winning goal in the 78th minute. Score: 2-1.
With a comfortable home win New York City FC moved closer to the top by beating Orlando City. A brace from Tajouri and a late goal from Moralez brought the victory. Score: 3-0.
Looks like Shradi again and 2-0 NYCFC pic.twitter.com/G3hPVumfdZ

— Total MLS (@TotalMLS) June 3, 2018
FC Dallas extended their unbeaten streak to six after beating Los Angeles FC. Ziegler scored in the first half and Lamah in the second, to bring the three points to the hosts. Diomande found the net for the guests, but it was too little too late. Score: 2-1.
After losing away earlier in the week, Chicago Fire came back to win at home against San Jose Earthquakes. Gordon and Katai scored in each half for the host team, with Hoesen scoring the only goal for the visitors. Score: 2-1.
Another home win (and a shutout this time) for Real Salt Lake against Seattle Sounders. Baird and Silva (with a very late goal) contributed to the victory. Score: 2-0.
It was another excellent win for Sporting Kansas City as they trounced Minnesota United. It took only nine minutes for Salloi to open the scoring. Two minutes later Mears equalised for the visitors, but that was all from them. Kuzan Wan scored his first MLS goal to renew the host's lead. Lobato and Rubio added two more for an emphatic home victory. Score: 4-1.
? One more time for those those in the back… the Malaysian Messi @LeKuz7 is on the board!!!

This kid is going to be fun. #SKCvMIN #ForGloryForCity pic.twitter.com/Q2UbzET3MV

— Sporting KC (@SportingKC) June 4, 2018
Gameweek 15 Preview
We are back to relative normality for one week only. Everyone is playing apart from Minnesota United who are the sole team on bye.
PHI (W 5 D 3 L 6) vs TOR (W 3 D 2 L 7)
The Philly unbeaten streak was cut short in their second game of last week due to ill discipline, which resulted in two key players – Bedoya and Medunjanin – being sent off for dissent after an argument with the referee.
Meanwhile, the Reds were looking back on form by scoring three goals, but they then squandered all their hard work and ended up sharing the points. This is becoming a bad habit for them; not holding onto the lead and conceding goals late in the game. The team is still trying to get back to what it was last year, but it looks too early to rely on any consistency from them. Most likely this match will finish as some low scoring draw. As it is the first game, you could try some players in a switcheroo.
NYCFC (W 8 D 3 L 3) vs ATL (W 9 D 2 L 3)
This will be one of the most interesting games of the week, where the top two teams in the East meet together. It's an important game for both teams, so expect quite a few goals.
The Yankee Stadium has turned into a fortress where the home team has scored 18 goals and conceded just two. The Pigeons will try to keep their 100 % home record intact, as they haven't allowed any team to win or even draw there yet this season. Villa started from the bench last week and perhaps that was tactical, as the Blues will meet their old rivals NYRB on Wednesday in the Cup. Nevertheless, there are plenty of assets to rely on. Tajouri scored his second brace for the season and is now only a goal behind David. Moralez is on 6 goals and 5 assists. It's just important to see the starting sheet before the game.
The Five Stripes know that only a win or a draw can keep them at the top and above their hosts. Unfortunately, their away record is some way short of their excellent home form, with only 8 goals scored on the road compared to 22 at Mercedes-Benz Stadium. That said, you can't ignore stars like Martinez, Almiron and the fast-rising Barco. Select wisely.
Martinez scores for Atlanta 2-0 pic.twitter.com/JoHEg27cNJ

— Total MLS (@TotalMLS) June 3, 2018
CLB (W 7 D 5 L 3) vs NYRB (W 7 D 1 L 4)
Despite the draw last week, the Crew still have great defensive stats. Prior to the last game they kept 7 clean sheets (5 of them in a row) in 14 games, with only 10 goals allowed. The glitch came while Steffen was away on international duties last week. Since the start of last season, they have won 17 out of 24 home games. Zardes is on 9 goals and Higuain is on 4 plus 6 assists. Abubakar has been involved in 6 of the shutouts.
The Bulls will try to recover after a goalless draw and a loss in the last two rounds. Their performance on the road is pretty average, with three wins and losses. Of course, you have Bradley who never gives up and will try to add another to his tally of 9 goals.
VAN (W 5 D 5 L 5) vs ORL (W 6 D 1 L 6)
For what looks to be a mediocre team on paper, Vancouver managed to extend their unbeaten streak to five last week. After four consecutive draws they finally managed a win, but that was against Colorado! Techera, with five goals so far, remains the only player to be considered.
The Lions are sinking fast with a four-game winless stretch. The absence of Dwyer is obvious. With Meram totally off the boil, it's best to put this team on hold for now.
DAL (W 7 D 5 L 1) vs MTL (W 4 D 0 L 10)
The Texans extended their unbeaten streak to six. In fact, they've lost only one game this season. Lamah and Urruti are the two matchmakers, with six goals each, although the latter bitterly disappointed managers like me who trusted him in the last two games, with a no-show and a blank. Diaz is also worth considering for his assist potential.
Lamah makes it 2-0 FC Dallas pic.twitter.com/4hf3HErINq

— Total MLS (@TotalMLS) June 3, 2018
After four games without a single goal, the Canadians found one last week. That's definitely not a reason to get excited though, with their awful record on the road. The once popular Piatti has played five games without scoring. Just ignore for now.
CHI (W 5 D 2 L 7) vs NE (W 6 D 4 L 4)
The Fire are still riding that never ending rollercoaster with wins and losses. Last year's Golden Boot winner Nikolic had a poor DGW due to restricted game time, but could bounce back and score this week. If anyone contributes more it is Gordon (with three goals in the last three games) and the improving Katai.
After the luxury of two home games, the Revs will be on the road for the next three including Wednesday to Kentucky in the Cup. They are not the best travelling team and overall this game looks to be another tricky one with a possible low scoring draw. Bunbury, who I mentioned last week and sadly ignored, has been very impressive with eight goals in the last 11 games. Consider Penilla or Fagundez if you are a risk taker.
HOU (W 5 D 3 L 5) vs COL (W 2 D 2 L
After two away games in a week, the Dynamo will be happy to return to the BBVA Compass Stadium where they have won their last three games, scoring 11 goals in the process. La Panterita will be a popular choice in this one. Expect Manotas and Quioto to be in the mix. Taking into account the visitors, some defensive assets should be seriously considered. Willis could take in a part of keeperoo.
One thing the Rapids have achieved this year is to match their seven game losing streak from 2014. It looks like they are now on their way to breaking that record. Move on.
SEA (W 2 D 2 L 7) vs DCU (W 2 D 3 L 5)
Three losses and not a goal in them, that's how you see the Sounders of late. Given the opposition, this game could be the springboard for a new start. Lodeiro has been dropped from the Uruguayan WC squad, so he might try to help (providing that his toe issues are sorted).
It will be a gamble to trust the Black and Red, especially away. Not for this game.
POR (W 6 D 3 L 3) vs SKC (W 8 D 4 L 2)
The six-game winning streak was put on hold last week, but the Timbers are still unbeaten in the last seven. Blanco, Armenteros and Valeri will be heavily involved once again. Watch out for news on Diego as he left the last game with a knock.
After a lacklustre draw in the previous week, Sporting came back with a win to remain leader of the Western Conference table. Watch out for the young Wan Kuzain "The Malaysian Messi" who looks to be a promising asset for the team. As both teams are in great form, expect goals from each side and the possibility of no clean sheets.
LA (W 5 D 2 L 7) vs RSL (W 7 D 1 L 6)
The frustration with Galaxy continues. After two small wins they went on to lose and scrape a draw last week, despite the efforts from Ibrahimovic. With the Dos Santos brothers and Ola away, perhaps you can try Zlatan once again. It needs to be mentioned that Bingham was impressive with his nine saves in the last game.
All credit to Real for the six consecutive home wins and nine points from the last three games in seven days. That said, the picture on the road is very different where they have only one win out ofseven. Perhaps that could change with the return of Rusnak, who is expected to be back after the game with Morocco on Monday.
? Another look at that Silva finish! pic.twitter.com/X3oBnjwjBu

— Real Salt Lake (@RealSaltLake) May 31, 2018
SJ (W 2 D 3 L
vs LAFC (W 6 D 3 L 4)
The Quakes are on a bad stretch at the moment losing their last three games. Hoesen is the only consistent player, who is on five goals at the moment.
The excitement around the new franchise is beginning to fade away. They need to be very careful with their position in the rather congested top six of the Western Conference table. With Vela's absence, Rossi is the only one to look at while Failhaber and Nguyen are still finding their feet in the new team.
Captain Suggestions
1. Villa (NYCFC) Always good at home, providing that he starts. Five of his eight goals are scored at the Yankee Stadium.
2. Martinez (ATL) He has not scored more than a single goal on the road this season, but after the latest hat trick that might change.
3. Elis (HOU) At home against Colorado you should expect him to wear the mask at least a couple of times.
Notes for your Diary
By now we know the confirmed departures for the World Cup and international friendlies. If that wasn't enough, MLS teams are now entering the US Open Cup 4th round with midweek games. Watch out for possible rotations and injuries as always and you can do so by clicking here.
Deadline
Friday 08.06 @ 8PM EDT – Saturday 09.06 @ 1AM BST
Best of luck to all Managers.

Post your teams below and we will be sure to help out as much as possible.
Thanks for reading: MLS Tips Fantasy Major League Soccer GW15. This article was written by Ivan The Terrible