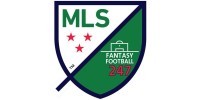 Welcome to MLS GW17 Tips Fantasy Major League Soccer. Sort of… All by myself. Don't wanna be. All by myself. Anymore… Oh, Celine. How apt! Well it turns out that we are all by ourselves this week! This could be a classic case of 'you don't know what you've got until it's gone' as the great man himself, Mr Guy Sanchez, has finally succumbed. He sends his sincerest apologies from his sick bed. If anyone has followed Guy's fantasy football writing career they will know that this is the most robust of robust men. We once inadvertently asked him to write three major articles in three days. He didn't bat an eyelid and all three arrived with precision. He's written under duress and most certainly through illness, as per his now infamous 'DayQuil powered article'! This week was one too much however as he's been laid low properly this time. We would normally scramble something together for you but this was last minute and in all honesty we rely on Guy just as much as you do!
In his absence the best we can do then is offer you up the key info and maybe a steer on where the site team is heading this week. The site team is run by Mito, who is perhaps the best MLS fantasy player to have ever played the game, so it's possibly not the worst place to turn to for advice!
THIS WEEKS DEADLINE IS 00:30AM UK TIME on WEDNESDAY (That's Thursday night, ish)
TO JOIN THE FF247 LEAGUE JUST CLICK HERE OR THE CODE ITSELF IS 1543-573
This weeks fixtures and the teams with a DGW…
Site Team so far…
We don't want to leave you with nothing to go off this week so this is how the site team is intending to line up, as we speak. Bear in mind that this is subject to change depending on actual line-ups for the first game and obviously any news which comes out on Wednesday. Which knowing MLS could be anything from a surprise DUI arrest to a broken leg being unreported.
We managed to grab a quick analysis from the maestro himself but we are sure he will be on hand tomorrow on the site to offer specific advice on any RMT's…
"I put a team together, albeit quickly, I still need to check for injuries or rotation talk by managers. Dempsey or Martinez were my biggest doubts. Defenders can be from Atlanta, Seattle, Portland or even Minnesota. I'd probably stick with just those teams if possible. This is all assuming you are only looking for DGWs. Toronto would be the team for a single GW guy or Niko from Chicago would be fine too."
Post your teams below and we will be sure to help out as much as possible.
Don't forget to stop by mlsfantasyboss.com to catch up on their great weekly articles that lead into the deadline.
Thanks for reading: MLS Tips Fantasy Major League Soccer GW17. This article was written by Inittowinit