While the world is still shaken by World Cup fever, MLS restarted the season after a short break. To mark the return six red cards were issued in one day across just eight games. That is a staggering contrast compared with just two in ten days for 29 games at the World Cup. Nevertheless, we witnessed 30 goals in this MLS round, while in Russia there were 85 scored in the first 32 games.
NEW FF247 MLS LEAGUE
For anyone who missed it we have decided to start up a fresh FF247 MLS league which began in GW13. Please feel free to join in and it's a great time to do so as a quirk of the new MLS rules means they have split their season in two. The first part expires in GW17. We think! You will then automatically be entered in to our league again for the 'second half of the season' league which begins next week. We think, maybe! The rules are unclear as we speak. They also mention GW22….
It's a perfect opportunity to begin playing MLS if you haven't already, or if like many others you've been playing but haven't given it due care and attention due to the busy end to the FPL season then perhaps a perfect opportunity to kick-start your MLS season.
TO JOIN THE NEW FF247 LEAGUE JUST CLICK HERE OR THE CODE ITSELF IS RAVFLP3H
This weeks fixtures…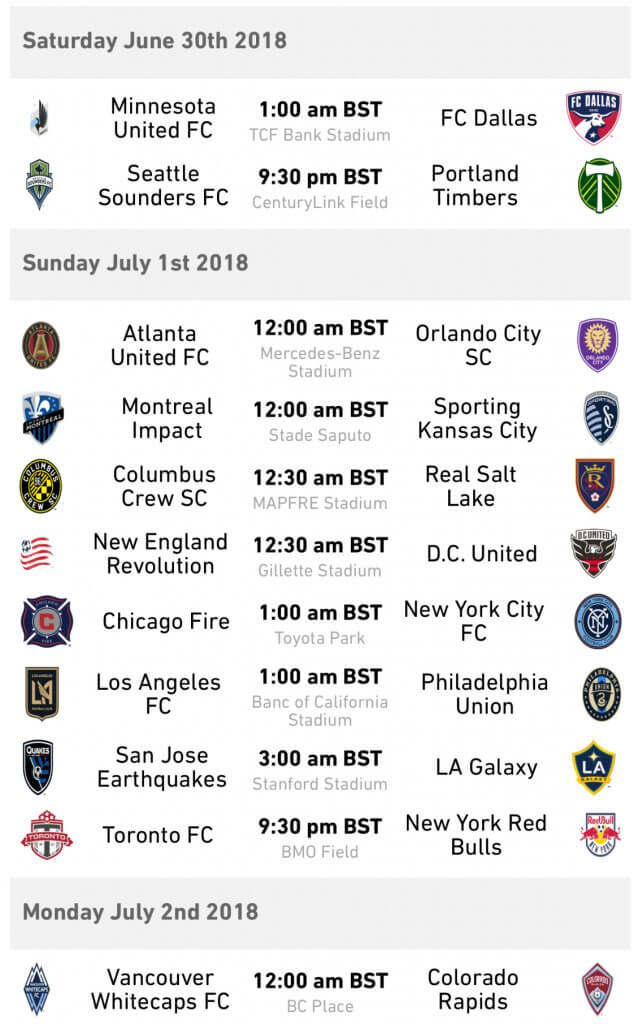 Gameweek 17 Review
On a positive note we saw Colorado Rapids win their first game since mid-April and San Jose Earthquakes secure a draw to end their six-game losing streak. Clint Dempsey scored his first goal for the season as Seattle Sounders drew with Chicago Fire. NYRB, Philadelphia and LAFC had comfortable home wins. Sporting Kansas City produced a stunning comeback against Houston Dynamo, by scoring thee second half goals after trailing 0-2 at half time. NYCFC won against Toronto to move closer behind Atlanta United, who only managed a draw at home against Portland Timbers. Meanwhile, Orlando City's misery continued with a home loss that extended their losing streak to seven games.
So smooth. So casual. ? pic.twitter.com/xnKakAMbD6

— Major League Soccer (@MLS) June 24, 2018
Gameweek 18 Preview
This week the team on bye is Houston Dynamo.
MIN (W 5 D 1 L 9) vs DAL (W 8 D 5 L 2)
Both teams are coming to this game on the back of defeats in the last round (and both lost key players due to red cards). Ibarra (who scored and assisted for Minny) and defender Ziegler for Dallas will not take part. Most likely it will be a low scoring game with an unpredictable result but, as always, being the first game, players like Lamah or Urruti can be chanced as a part of a switcheroo.
SEA (W 3 D 3 L 8 ) vs POR (W 6 D 5 L 3)
This could be one of the most interesting games of the week, as the Cascadia Cup always has been in the past. The two teams met back in May at Portland, when the host team won by a single goal from Blanco. That time Lodeiro was missing due to an injury. He is back now and, with Dempsey and Bruin, will fight against Valeri, Blanco and the rest in what is known as one of the greatest soccer rivalries in the U.S. The Sounders have been very inconsistent this season, while the Timbers are on an 11-game unbeaten streak.
Watch out for news on Stefan Frei as he suffered a head injury in the last round.
Dempsey with the equalizer. 1-1 pic.twitter.com/RF6cgiN2z3

— Total MLS (@TotalMLS) June 24, 2018
MTL (W 6 D 0 L 11) vs SKC (W 9 D 5 L 2)
The Canadians find themselves on a sudden revival, with two consecutive wins and clean sheets. However, it should be noted that both of those games were against the same opponents, Orlando City, who are on a dreadful winless run at the moment. Piatti was involved in both victories, scoring three goals in total. They will be hosting the Western Conference leader, who is on a nine-game unbeaten stretch with 16 goals scored in it. Apart from Ignacio for the hosts, you should consider Salloi and Russell for the guests.
ATL (W 10 D 4 L 3) vs ORL (W 6 D 1 L 9)
The Five Stripes have slowed down the tempo of late, with a mixture of wins and draws. They will want to bounce back in this one, especially given the visitors' current bad form. After blanking at home last week, it looks like the league top scorer Martinez is still adjusting to his facemask (but never write him off to be back with a goal or two). We hardly need to say that Almiron will be in most teams once again. As for the Lions, I doubt many will be tempted until all the problems surrounding the team are sorted.
Gressel with the equalizer for Atlanta. 1-1. pic.twitter.com/hydSW9CNmQ

— Total MLS (@TotalMLS) June 24, 2018
NE (W 6 D 6 L 4) vs DCU (W 2 D 4 L 6)
The Revs are holding onto the fifth spot in the East and will try to improve their standing when they welcome the worst team in the league (for the moment at least). Bunbury and Fagundez could be great investments in this matchup against poor opposition.
CLB (W 7 D 6 L 5) vs RSL (W 7 D 2 L 7)
The Crew have not won in the last five and are in danger of falling out of the top six if they keep in the same mode. This could be their chance to bounce back against one of the worst travellers (with only one win and just five goals scored away). As usual, Zardes or Higuain can be considered if you are not busy with players from other games.
LAFC (W 8 D 3 L 4) vs PHI (W 6 D 3 L 7)
The new franchise is continuing with its good form and has a chance to go second in the West with a win. As mentioned last week, Diamonde is becoming the main man while Vela is scoring for Mexico in Russia. He added another goal to his tally and should be considered for this game. Don't ignore Ciman either, who is fast becoming a set piece specialist. The Union are one of the worst teams on the road, with only 4 points from a possible 21. Dockal was impressive last week though.
Diomande makes it 2-0 LAFC pic.twitter.com/ei5h5nmsnj

— Total MLS (@TotalMLS) June 24, 2018
CHI (W 5 D 5 L 7) vs NYCFC (W 9 D 4 L 3)
The Fire find themselves outside the playoff zone and likely to stay there for now. Before we used to get excited at least when they played at home, but that is not the case of late. Katai is the only one here if you want to gamble. On the other hand, we have the Blues who are still serious contenders for the top spot (although it's worth noting that they haven't won a game away from the Yankee Stadium since 1st of April). Sadly, Villa left early in the game last week with a knee injury but surprisingly Berget notched a brace. If you think he might do it again, go for it (you can't go wrong for $4.6M). In the meantime, Moralez is becoming a must-have player, with 5 assists and 60 points in the last five games. It's unlikely to see any clean sheet in this game.
SJ (W 2 D 5 L 9) vs LA (W 6 D 2 L 7)
The Quakes remain winless in their last eight games. They can't be trusted even at the Avaya Stadium nowadays. Of course, Hoesen could surprise at any time and add another one to his 10 goals, but Ibrahimovic will look more dangerous after a long rest and his brace two weeks ago. It's hard to predict the outcome for this one so it might be best to avoid.
TOR (W 4 D 3 L 8 ) vs NYRB (W 9 D 2 L 4)
It's not easy to describe the Reds and their play this season. After the great comeback two rounds ago (mind you that was at home to travel-sick DCU), they went on to lose again last week. It's becoming increasingly unlikely that we'll see them in the playoffs, but with them anything is possible. This will be a clash between Giovinco (who has blanked in the last three games) and Wright-Phillips (who ironically has scored in each of his last three). We know the rest of the favourites from both sides. Royer will miss this game due to a red card.
Vazquez gives TFC a 1-0 lead over NYCFC pic.twitter.com/3Bl3V3ExfQ

— Total MLS (@TotalMLS) June 24, 2018
VAN (W 6 D 5 L 6) vs COL (W 3 D 3 L 9)
After going unbeaten for six games, the Caps suffered a bad defeat last week. They have a chance to recover from it while hosting the Rapids, who are still searching for that elusive away win. That said, Colorado might be inspired by their draw and win in the last two games, following their record breaking winless streak beforehand. Still, Kamara and Techera are the only ones if you decide to go with the Canadians for this matchup.
Captain Suggestions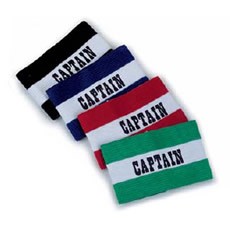 These three picks are all top goal scorers, and all in the chase for the Golden Boot, and all with home games this week.
1. Martinez (ATL) After a quiet week expect him to be back with a bang against a team in total disarray at the moment.
2. Diamonde (LAFC) Time to pay attention to this guy after 4 goals in the last three games. Philly are easy to shutout on the road.
3. Bunbury (NE) Perfect time to add to his 10 goals against a team who have shipped 22 on their travels so far.
Deadline
Friday 29.06 at 8 PM EDT – Saturday at 1 AM GMT
Best of luck to all Managers and enjoy the World Cup!

Post your teams below and we will be sure to help out as much as possible.
Thanks for reading: MLS Tips Fantasy Major League Soccer GW18. This article was written by Ivan The Terrible