A tale of two £6m strikers. A tale of red cards, mediocre statistics, wishful thinking, youthful promise, Mike Ashley, Steve Bruce, Mark Hughes (yes!), anti-Moneyball, stating the bleeding obvious, dodgy hamstrings, James Beattie (yes!) and smoke & mirrors.
A more positive intro you'd be hard pressed to find… and you're probably thinking you know where this one is going already. And you'd probably be right to be fair. But don't judge just yet, let's go see if we can find some positives amongst what ostensibly appears to be a roasting.
Joelinton
Newcastle United
FPL price: £6.0m
It's not often a beleaguered Newcastle United fan wakes up to a headline of 'Toon break transfer record for Brazilian striker'. Lord knows what they were all thinking when they saw that… 'Surely it's not Neymar…', 'Richarlison perhaps…?!'. Not quite. And presumably they all just said what we thought when they heard the name 'Joelinton',… "WHOOOOOOOO?!".
If your knowledge of obscure bit part players at Hoffenheim is better than ours then we apologise and doth our cap but we couldn't help but think 'what the hell is Ashley playing at now'. A record signing that blows the previous one (£20m for Almiron) out of the water is certainly a headline grabber but to what end exactly? Which is probably the issue with Ashley now; nobody believes anything he does is for the right reason. Which is probably because it usually isn't. We wouldn't be surprised to find out that the actual upfront fee is about £10m and the add-ons make it up to the headline £40m with promises of £20m 'I f we win the Champions League', blah, blah, blah. But maybe that's just us being cynical… (and speculative, lawyers).
As for the player himself his bare faced stats tell us that he has scored a total of 39 goals in 152 career appearances. 21 of which goals were when on loan at Rapid Wien in 79 appearances. In the Austrian league. So outside of Austria he's played 73 club games and scored 18 goals. And 7 of those were for Sport Recife. In the only time he's played in a league anywhere near comparable to the one he's walking rather expensively into he played 34 and scored 11. Not bad, actually. And that was mainly in the season just gone.
We still can't quite get past the smoke and mirrors aspect of all this though. He smacks of a home brand Sports Direct product being doubled in price simply to appear as if it is equal to a Nike one in either quality or value for money. Time will tell of course but this one is definitely a wait and see job. The last time we had an expensive (ish / sounding) unknown Brazilian named Jo in the PL he scored once for Man City, 5 times for Everton and has since played for Al Shabab, Jiangsu Suning and Nagoya Grampus….
Opening Fixtures: Arsenal (H), Norwich (A), Spurs (A), Watford (H), Liverpool (A), Brighton (H)
Not the easiest at all then, or certainly a mixed bag at best.
Che Adams
Southampton
FPL price: 6.0m
You may have guessed (shame if you didn't!) that when we do these player profiles we often don't have first hand experience of every player involved. Few, actually. And as such we rely a bit on Wiki and some other opined sources to give us a general overview / feel for the player and his past. And then we fill in the pieces with our own opinion of the value they may bring to their new club.
On viewing Che's past online we couldn't help but notice that red cards were mentioned an awful lot, as were such things as 'dropped due to lack of attitude in training' and 'dropped due to lack of general discipline'. His ability shone through too though as he was named Birmingham's Young Player of the Season in 2016/17 and then both their Player's and Supporter's Player of the Year in 2018/19.
Stats wise you do have to think that this is yet another one not based on any Liverpool style 'Moneyball' though as he has just 63 goals in 227 appearances. Or 1 in in every 3.6 games. That'd be 10 goals over a PL season. And 10 of those were for Ilkeston….
Injury wise he looks a bit dodgy too as he's already 'done' for both hamstrings. Add in that he seemingly employed renowned fitness guru James Beattie as his… fitness coach.
Pre-season for Saints has looked a bit more promising though if we are still looking for lights under bushels. Che has grabbed a couple of early goals, albeit against the might of Guangzhou and Aktach. His level, perhaps, if we are being cruel.
Looking for more positives he is at least playing for a progressive manager who is willing to coach players to become better, rather than say Mark Hughes who simply sat in his office typing out excuses to use when they inevitably lost. (Former, very bitter, Saints Team News writer checking in here!).
As for his disciplinary and attitude issues let's hope he has grown up a bit but we can always blame the parents if not (lawyers; we don't know anything about them and it is pure conjecture), but as one (well named) fellow pundit (Steve) said to me 'what do you expect when he is called Che'….. (For the record they called him Che Zach Everton Fred Adams). Seriously.
Opening Fixtures: Burnley (A), Liverpool (H), Brighton (A), Man Utd (H), Sheffield Utd (A), Bournemouth (H)
Certainly not the worst that, ignore the Liverpool game and it's probably fairly decent.
Thanks for reading New Fantasy Premier League Transfers 2019/20 – Che Adams and Joelinton. This article was written by Inittowinit WCC Champion 2019
FPL FIXTURE TRACKER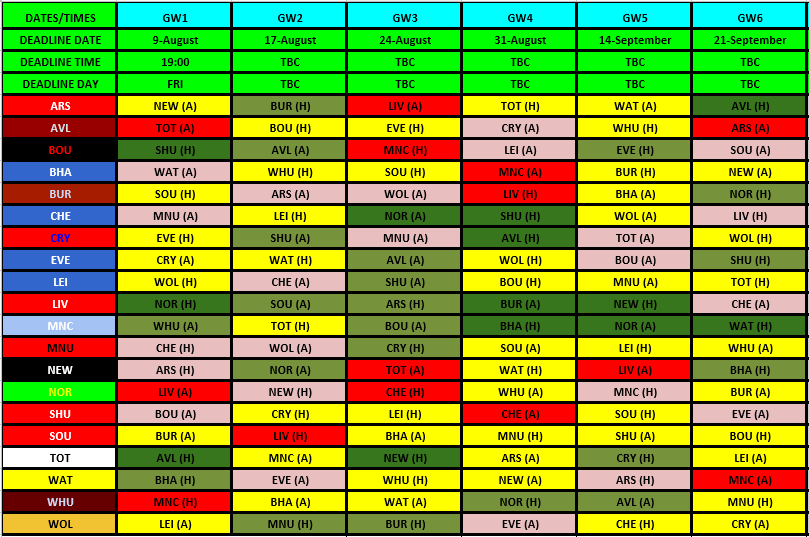 FIXTURE TRACKER LINK
Fantasy Football 247 League Codes: