If my last player analysis article was a cautionary tale then this is more of an upbeat and promising one with talk of potential, proven stats, potential, excitement, potential, missing links, potential, Romelu Lukaku, potential and of course Mario Balotelli. Did we mention potential? Let's go take a look at two genuinely enticing editions to our FPL landscape…
Moise Kean*
Everton
FPL price: £TBCm (probably £7-8m?)
Position: Forward
One can only assume that some bright spark at Everton finally googled the words 'centre forward'. Quite how they've managed to stay afloat in the Premier League without one since Lukaku left two seasons ago is anybody's guess. Quite how they've managed to spend the thick end of £200m since then and still not acquire one is anybody's guess. Well ok, they brought in Cenk Tosun but again we stand by what we say. Add in that he's shared the role with the perpetually loaned out Niasse and the perpetually inept Calvert-Lewin and it's an odd conundrum all round to try and fathom.
Rather than go and grab a tried (some may spell that tired) and tested hand in the shape of say Diego Costa they have decided to roll the die on yet more potential. Albeit genuinely promising potential. In FIFA gaming parlance this one is a 'wonderkid'. In fact many an eyebrow has been raised at both Juventus' decision to let him go permanently and also the relatively low transfer fee involved (£29m upfront, rising to £39m and seemingly no buy back clause).
So what's the catch? We looked into this expecting some Balotelli style tales of idiocy and petulance. But none were forthcoming. It seems that he's simply been a victim of the squad depth at Juventus, new manager Sarri's desire to rely on experienced players and jettison youth, and his own desire to actually play football.
Style of play wise he's got a bit of everything, a modern day centre forward if you like. Not dissimilar to Lukaku himself in fact. At least not until the latter decided to hit the gym and become Mr Universe in 'preparation' for the World Cup. He's quick and can finish. He's good in the air and has a good first touch and overall good technique. Ok, not that like Lukaku then…
Stats wise he's a bit light as he's played so few games to date but when he has he's produced;
Juventus: 16 games, 7 goals
Verona (on loan): 19 games, 4 goals
Italy at youth level (15's to 21's): 39 games, 21 goals
Italy senior team; 3 games, 2 goals
Opening Fixtures: Palace (A), Watford (H), Aston Villa (A), Wolves (H), Bournemouth (A), Sheffield Utd (H)
No 'top 6' to contend with is probably all you can ask for for a decent opening to get you up and running. A couple of promoted teams to toy with adds to the pleasure.
Verdict / opinion
Coming from a similarly strong league he may be quicker at adapting than some others. And those early fixtures look tailor made for a dream introduction. We are actually tempted, although his actual FPL price may dictate exactly how tempted.
*Moise Kean (pronounced 'Ken', apparently) is yet to actually finalise his move although we believe that will be done on Saturday with no issues anticipated.
Nicolas Pepe
Arsenal
FPL price: £9.5m
Position: Midfield
The difference between potential and 'potential' is seemingly about £50m these days. At least if this comparison is anything to go by anyway. Both are relatively 'young' in their careers, although Pepe is actually about 5 years senior to Moise at 24. It may be the media machine, it may be our lack of intimate knowledge of Ligue 1, but he's seemingly come out of the blue to be this summer's 'must have' player. And Arsenal have pulled it off. And if the hype is anything to by then it seems that they've played a blinder. They may have played a blinder in terms of the payment structure of the deal too because although it is reported as £72m apparently it is about £72k a year over a thousand year payment plan, such is their paucity.
Stats wise he was second only to a certain Kylian Mbappe in the French league last season, which is no mean feat. He scored 22 goals and got 11 assists, meaning he was directly involved in almost 50% of their goals. It should be noted though that 9 of those 22 goals were penalties, he'd have a hell of a fight getting that job immediately at Arsenal. Overall for Lille he has 37 goals in 79 appearances.
He's a direct player who will engage defenders and should play as part of a dynamic front 3 with Aubameyang and Lacazette. Breaking Wilfried Zaha's heart in the process! And probably Alex Iwobi's too.
Opening Fixtures: Newcastle (A), Burnley (H), Liverpool (A), Spurs (H), Watford (A), Aston Villa (H)
A mixed bunch here, but hardly the worst with only Liverpool away looking like a difficult one to actually score in, Spurs is their other 'top 6' opponent in the run but the North London derby itself usually provides goals.
Verdict / opinion:
Whilst his bare stats are massively impressive that 'penalties' nugget probably tempers expectations a touch. At a pricely £9.5m he's probably a watchlist job at best for now, especially given the alternatives and that he's never been tested in a Premier League match yet.
Prospects?!
Both look exciting prospects and whilst many will probably take a 'look and see' approach initially both should be straight in to their respective teams with little issue and if either show signs of life early doors then we would expect their ownership to rise rapidly and swiftly.
Thanks for reading New Fantasy Premier League Transfers 2019/20 – Moise Kean and Nicolas Pepe. This article was written by Inittowinit WCC Champion 2019
FPL FIXTURE TRACKER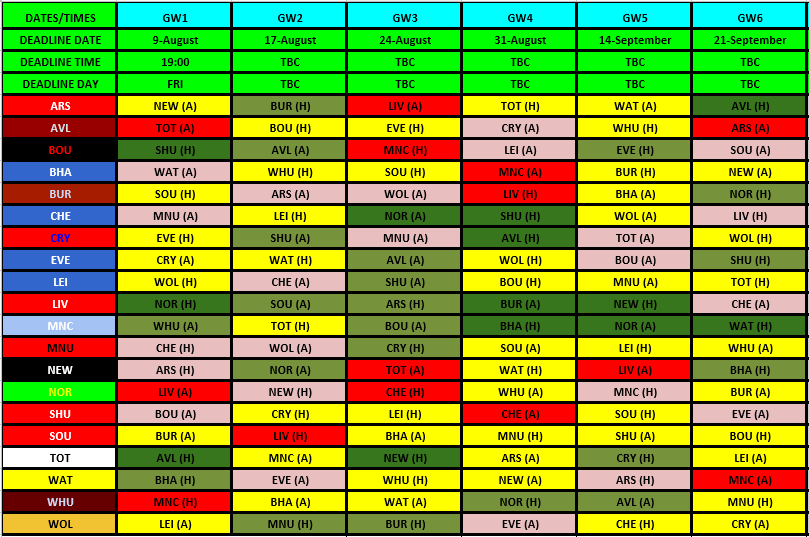 FIXTURE TRACKER LINK
Fantasy Football 247 League Codes: