It's been a relatively quiet summer here at FF247, tempered somewhat in recent weeks by the unexpected early release of the FPL game. As the site starts to awaken from its slumber with a slew of not too dissimilar RMT's (we can all sink or swim together yeah?) its time for us to start looking at new signings. First up we have two players you'll be familiar with who have now moved on to pastures new, and finally a look at a shiny new player, who whilst he may not be considered as an FPL asset (just yet), his recruitment may pay dividends for his team-mates in both the real world and the FPL one. So which, if any, should be in your GW1 squad and who should we keep at arms length? Read on for my two penn'orth!
Wan-Bissaka
Manchester United
FPL price: 5.5mln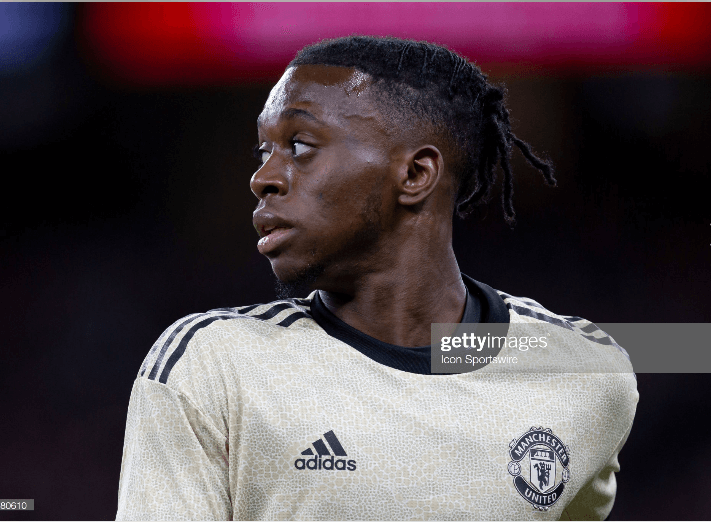 AWB (you know I love a good abbreviation) was GW1 gold last season; a £4.0m starting defender who lived up to the hype. Starting 35 of Palace's 38 games, AWB racked up 120pts over the season. When Palace kept a clean-sheet (which they did 12 times) AWB was on the pitch, and whilst he may have lacked attacking returns (3 assists 0 goals), he was partial to a bonus point or three. Indeed, no defender priced sub £6.0m accrued as many as AWB's 18bps over the season.
A price rise was inevitable this season of course, although given that for £5.5m you could snap up his more attack-minded teammate PVA (3 goals, 2 assists and 140pts), he seemed a little over-priced. Within days of the game's launch, however, he was off to Man Utd, a whopping £50m changing hands.
So, does that make his £5.5m price tag any more palatable? Ordinarily, a move to a top-six side and it would be a resounding yes to that question, but there was nothing 'top six' about Manchester United's defence in 2018/19. Whilst AWB picked up points in all of Palace's 12 clean sheets, over at 'United' they managed just 7, with just a solitary clean-sheet in their final 11 matches of the season. Grim.
Whether or not AWB becomes a solid option in FPL once more this season, may largely be influenced by Manchester United's recruitment plans between now and the close of the transfer window. Leicester's Harry Maguire is next on manager Ole Gunnar Solskjær's hit-list with a reported £80m price tag being bandied about. There is no denying that 'Blockhead' will represent a marked improvement on 'United' stalwarts Jones and Smalling but will it be enough to see an upturn in their clean-sheet prospects?
Manager Ole Gunnar Solskjær's recent reassurance to fellow right-back Diogo Dalot that he has a bright future at Manchester United should not be ignored, however you have to presume that any team that pays £50m for a player surely intends to play them more often than not.
AWB is currently the third-highest owned defender in the game (32.3%), we'll likely see regression on this figure come GW1, but he'll likely still be highly owned and a favourite amongst casuals, those with a penchant for nostalgia and all those 'United' fans we're always hearing about.
It seems this year is once again being touted as the year of the full-back, with many FPL managers considering four or even five at the back. However, with plenty of better options at just £0.5m more and mixed fixtures that don't look all that promising until GW10 I'm not sure I'd recommend a 'United' defender… just yet.
Should AWB be part of your FPL side? Whilst there is no denying his ability, it's the defence as a whole that needs to massively improve to make me look to 'United's' defensive assets. It's a wait and see for me.
Ayoze Perez
Leicester
FPL price: 6.5mln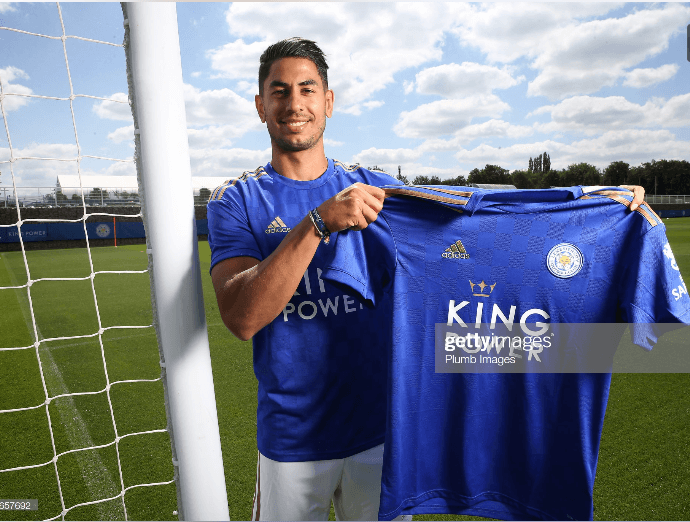 Ayoze Pérez is a player I know all about, having watched him plié his trade at St James Park over the last 4 seasons. He has been at times been frustrating, occasionally brilliant and overall we'll be a worse side for his loss. Screw you fat man.
The departure of Rafa Benítez from Newcastle at the start of July was swiftly followed just days later by compatriot Pérez as he sealed a £30m move to Leicester City. Manager Brendan Rogers was quoted as saying ''I think Ayoze will be a wonderful addition to the squad. He's quick, has a good eye for goal and he's experienced in the Premier League too. I think he's a player who will excite our supporters, and his style is one that I believe complements the options and quality that we already have here at the football club." I can't argue with any of that.
Pérez is one of the handful of players reclassified in FPL this summer. Where often players are moved to a position that is to the detriment of their FPL output, Pérez's move from a forward to midfielder only adds to his appeal. Had Pérez been classified as a midfielder in the 2018/19 season he'd have finished on 164pts and 8th in the list of top-scoring midfielders in FPL.
Last season Pérez flourished when moved out to a wider position, he benefitted from playing off Salomon Rondon's physical hold-up play, with Rondon assisting half of Pérez's 12 goals. Should he operate in a similar position for the Foxes, he will have to adapt his game as Jamie Vardy is a very different player to Saloman Rondon. Before you all start whacking him in your GW1 draft, a note of caution, Pérez historically starts the season badly. Last season he scored just 2 of his 12 goals in game-weeks 1 to 19, the season before he scored just a solitary goal in the same period.
With similarly priced teammates Youri Tielemans (£6.5m) and James Maddison (£7.0) also vying for our attention, it'll be interesting to see who the masses favour. Maddison is currently the highest owned of the three (16.1%) with Pérez not far behind (12.1%), a few more goals in pre-season could see that figure increase dramatically.
Should Pérez be a serious contender for your GW1 squad? At £6.5m Pérez was already an intriguing option in FPL. His positional reclassification, a move to a more attack-minded side and no longer relying on the support of the rag-tag group of bargain-basement picks and the occasional loan signing only adds to his appeal. If he can avoid his usual early season jitters then it's a brown thumbs up from me!
Ndombele
Spurs
FPL price: 6.0mln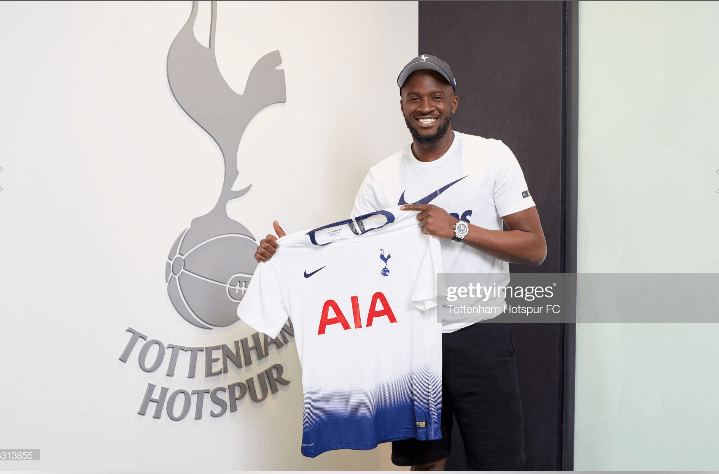 Winger Jack Clarke may have been Spurs first senior signing in over a year (they then immediately loaned him back to Leeds) but it was club-record signing Tanguy Ndombele (£53.8m rising to £62.8m with incentives) from Lyon that has captured the headlines and the imagination of the Lillywhite faithful.
Like me, you may not have heard of Ndombele prior to his move to North London, no surprise given that as recently as 2016 he was playing in the fifth tier of French football with Amiens' reserve team. After graduating to the first team, his performances caught the eye of Lyon who took him on loan at the start of the 2017/18 season and then exercised an option to buy him (€8 million) after impressing in his debut season in the top-flight.
Lyon president Jean-Michel Aulas compared Ndombele to former Chelsea midfielder Michael Essien; powerful with the technical ability to be effective in both attack and defence in the mould of a traditional box-to-box midfielder. In 2018/19 he played 34 league matches for Lyon, scoring once and picking up 7 assists, decent but hardly prolific. The consensus is that if he can improve his finishing he could make the transition from a very good to a great player.
Ndombele is expected to take on the spot formerly occupied by the now-departed Mousa Dembélé, with many saying he's an almost like-for-like replacement. Whilst Mauricio Pochettino's men may have made the Champions League final last season, they finished their league campaign 15pts worse off than their record 86pts recorded in the 2016/17 campaign. It was during that season that Mousa Dembélé was in imperious form, at one stage he went 6 months without being dispossessed in the Premier League. Crikey.
Whilst few will have memories of owning Dembélé in FPL that year, its no suprise that this period coincided with record FPL points tallies for his three more attack-minded teammates; Harry Kane(224pts), Dele Alli(225pts) and Christian Eriksen(218pts).
At just 22 there is every chance that Ndombele will only get better, if he can add goals to his repertoire then his £6.0m FPL price-tag will seem like a comparative bargain, it's a wait and see on that front. However, if he can fill the Dembélé roll as is hoped, then we could see the likes of Kane, Son, Dele and Eriksen (if he stays) reap the rewards for both Spurs and our FPL teams.
Thanks for reading New Fantasy Premier League Transfers 2019/20 – Wan-Bissaka, Ayoze Perez and Ndombele. This article was written by Rosco
FPL FIXTURE TRACKER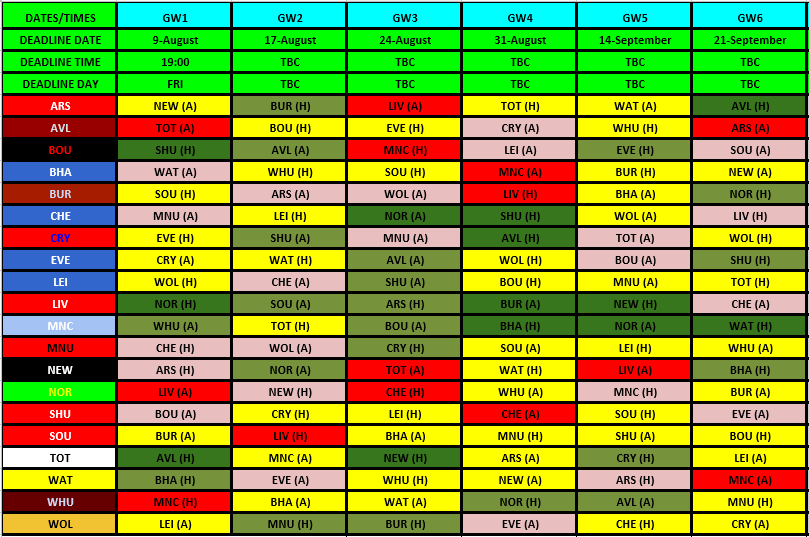 FIXTURE TRACKER LINK
Fantasy Football 247 League Codes: