Predicted Line-ups and FPL Team News Gameweek 4
If you can't do something properly don't bother doing it at all…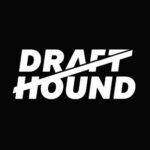 The above title is a bit of a motto of FF247. And it sort of explains why we used to do this article but then suddenly stopped. The truth of the matter is that it simply became too much work for the team. Following every word of every press conference and then analysing that info and translating it into a line-up… twenty times, was quite frankly a bit too time consuming. The knock on effect was that it also pulled some key personnel away from the site on a Thursday and Friday. So we got into a situation whereby we had RMT's stacking up and nobody to answer them! Would you rather the likes of Smash, GP and Init be stuck behind a computer waiting to report on information that you could simply Google or see on Twitter for yourself or would you prefer them to be on site answering your very own specific FPL question? In some cases it would be the former but hey ho….
However… it seems that this was always our most viewed article each week. Yep, we'd send our team out each week to research and write thousands of words and it turns out that people would rather just look at a picture of a team sheet with their FPL player of choice on it! Don't worry, we get it, we do it ourselves.
As such we always wanted to bring it back… but without the hassle. Over the past 18 months we have had offers from other websites to share their info but we never landed on one that we trusted had done their due diligence. We would never present something to you that we didn't trust in. During the Euros though we found a common ground amongst the team who were all using, and somewhat trusting, Drafthound with their line-ups. Turns out they do FPL ones too! Having researched their accuracy Init & Mito both declared them to be over 95% accurate, which is bloody good in that particularly precarious game of managerial mind games, subterfuge and downright lies.
To make something of a mockery of our above statement of doing stuff yourself we are therefore delighted to delegate all responsibilty to our new partners in the weekly game of Guess Who.
Quite how this article will look in a few weeks is anybody's guess but we are starting it out as simple as possible with just the line-ups as predicted by Drafthound and as ever we shall take it from there and it will no doubt evolve over time so just bear with us on that journey.
Two things to bear in mind;
We trust Drafthound. They will have done their research into all this, especially given what they do, just as we used to, but these things are a 'best guess' exercise at best. Usual leeway should be accounted for, etc.
Given their time and effort in providing this content for us it would be rude not to occasionally click on the Drafthound link and check out their own fabulous content as there are FPL articles aplenty on there too.
This article was last updated on: Friday 10th September @ 18:53 GMT.

vs Norwich (H) 11th Sept 3pm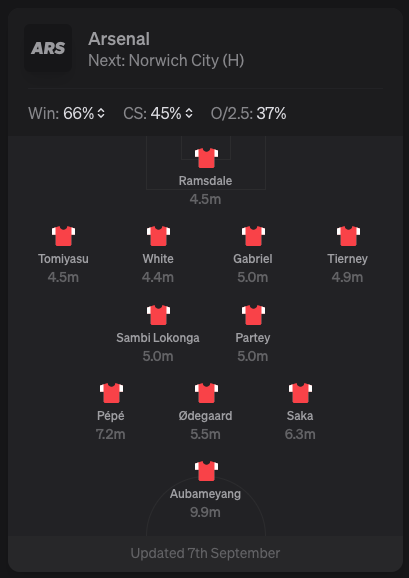 vs Chelsea (a) 11th Sept 5.30pm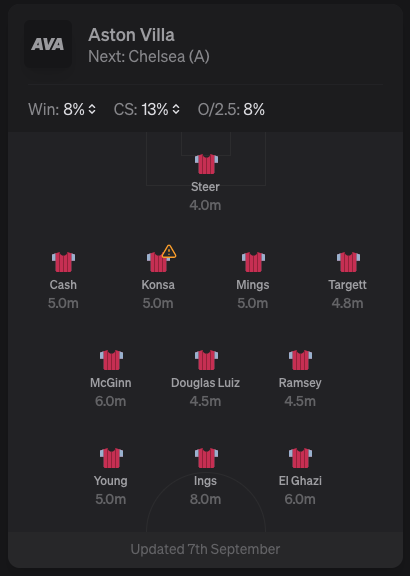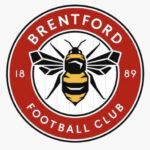 vs Brighton (H) 11th Sept 3pm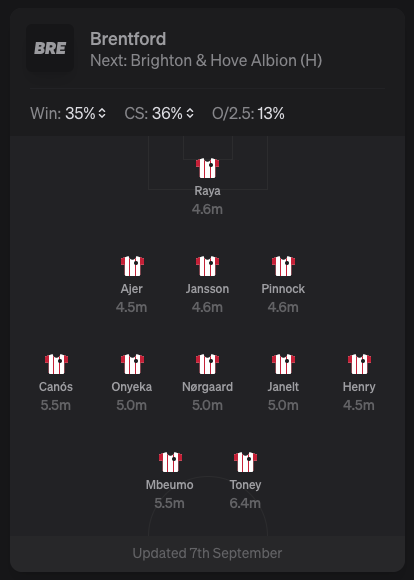 vs Brentford (a) 11th Sept 3pm

vs Everton (a) 13th Sept 8pm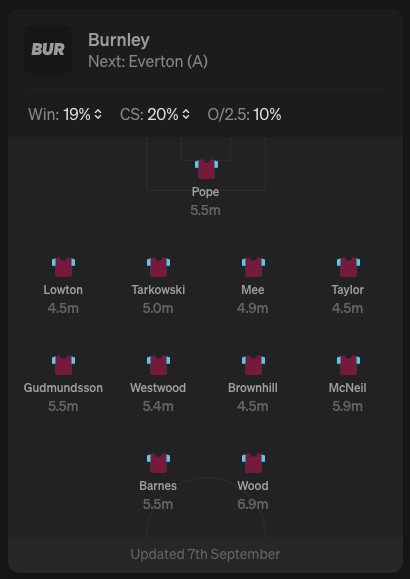 Aston Villa (H) 11th Sept 5.30pm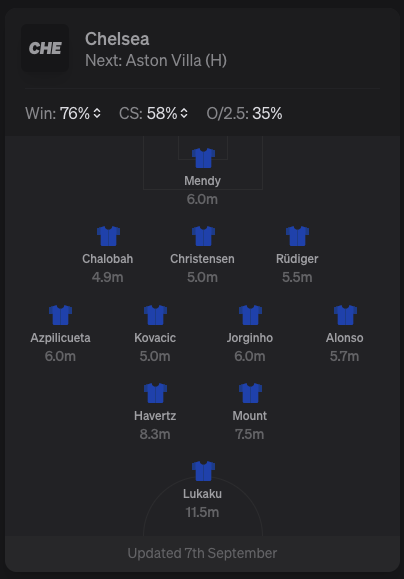 vs Spurs (H) 11th Sept 12.30pm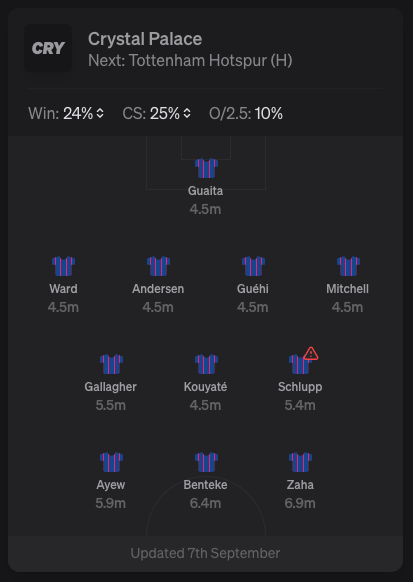 vs Burnley (H) 13th Sept 8pm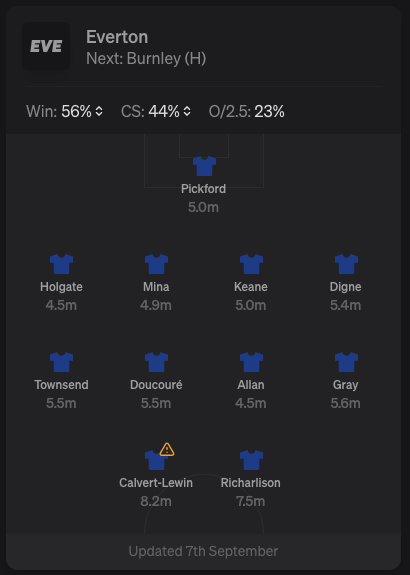 vs Liverpool (H) 12th Sept 4.30pm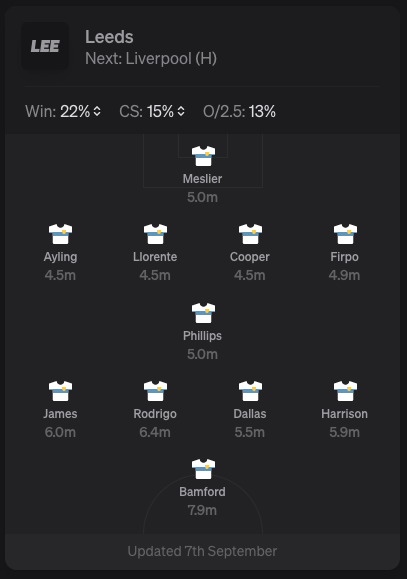 vs Man City (H) 11th Sept 3pm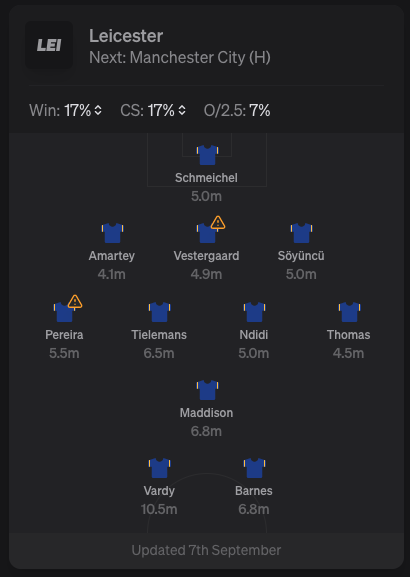 vs Leeds (a) 12th Sept 4.30pm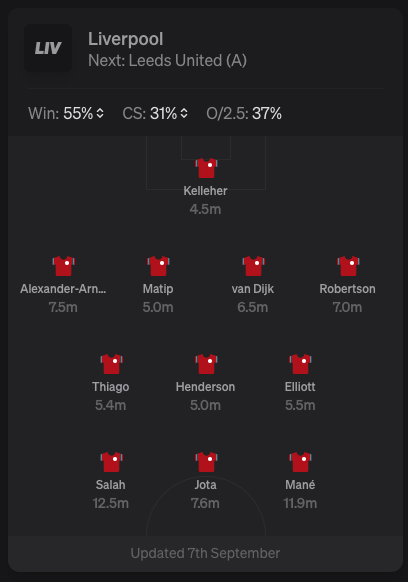 vs Leicester (a) 11th Sept 3pm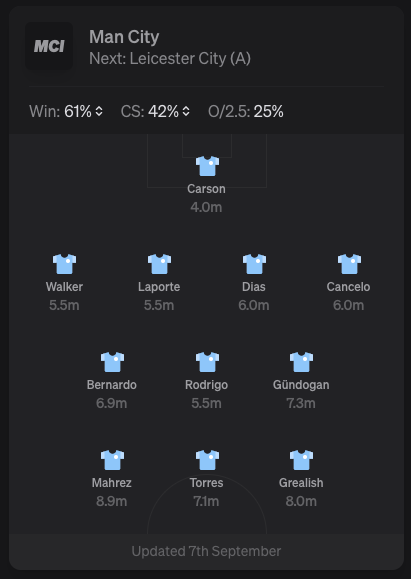 vs Newcastle United (H) 11th Sept 3pm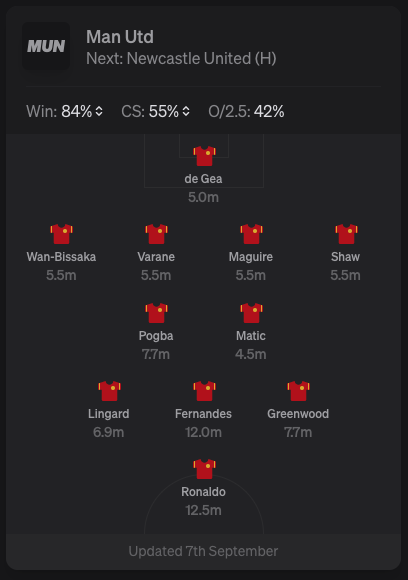 vs Man United (a) 11th Sept 3pm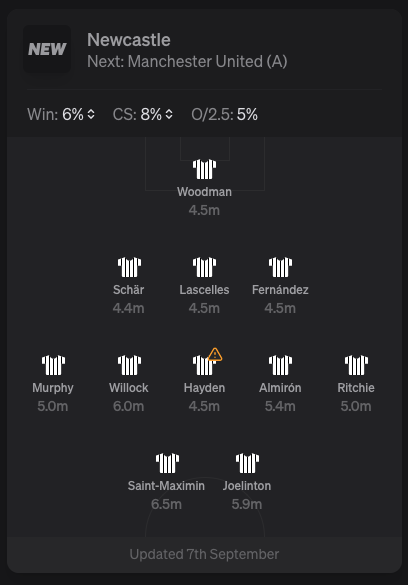 vs Arsenal (a) 11th Sept 3pm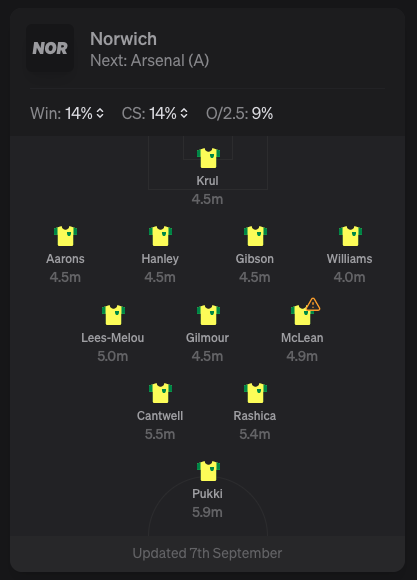 vs West Ham (H) 11th Sept 3pm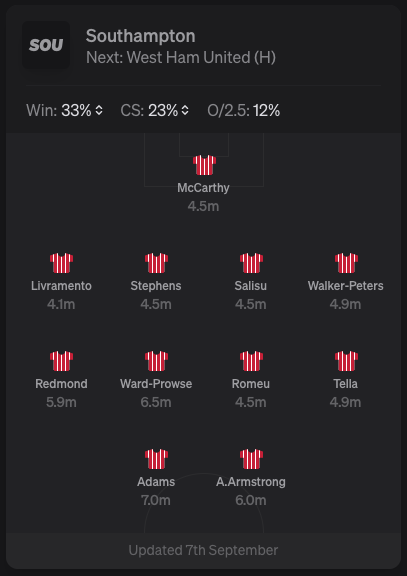 vs Crystal Palace (a) 11th Sept 12.30pm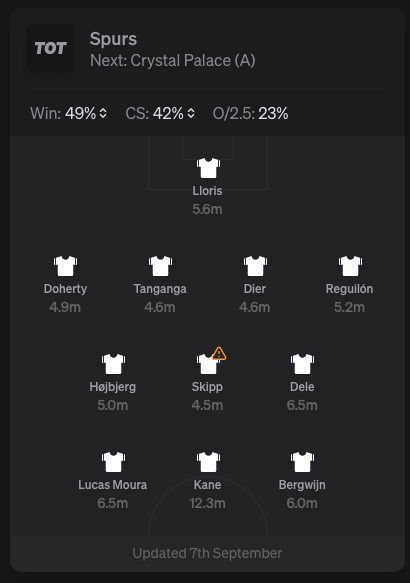 Wolves (H) 11th Sept 3pm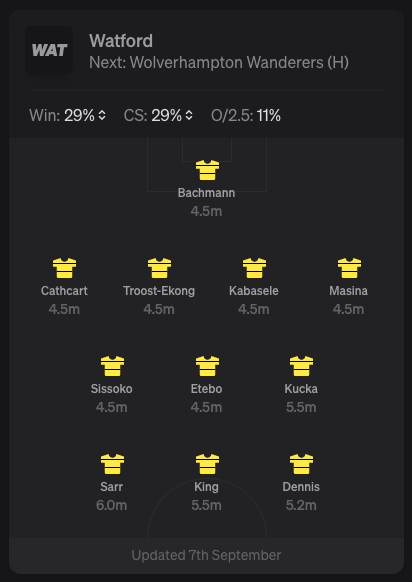 vs Saints (a) 11th Sept 3pm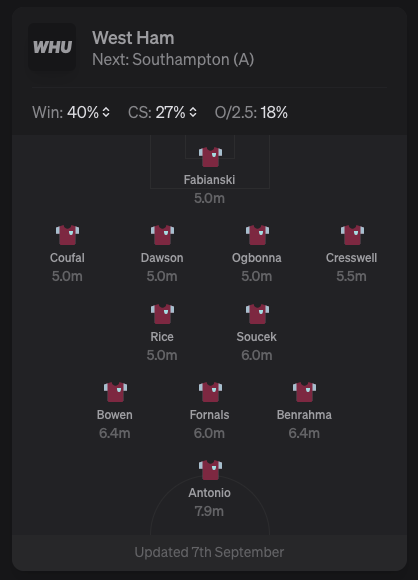 vs Watford (a) 11th Sept 3pm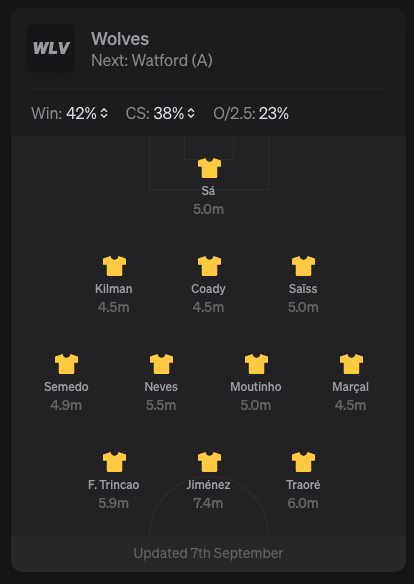 Thanks for reading FPL Team News and Predicted Line-ups Gameweek 4. This article was written by Fantasy Football 247 and Drafthound
FPL FIXTURE TRACKER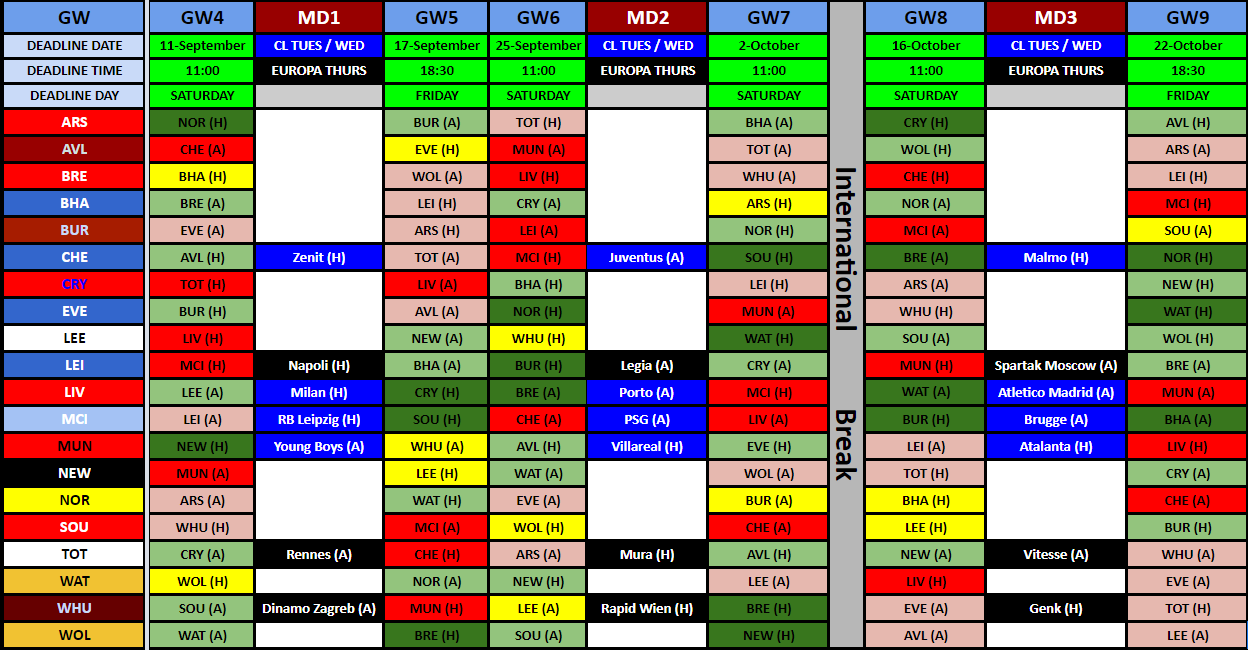 FIXTURE TRACKER LINK
VOTE ON THIS WEEK'S CAPTAIN POLL GW4
FF247 LEAGUES FOR 2021/22
Fantasy Football 247 League Codes:
Both leagues will be shut to new entrants as of 01/01/22.