PROMOTED TEAM ANALYSIS- LEEDS UNITED
Premier League football returns to Elland Road this season bringing to an end Leeds United's sixteen-year absence from top-flight football. The road back has not been easy, thirteen seasons in the Championship, three in League One. The blame for their fall from grace can largely be put down to spectacular financial mismanagement, for those too young to remember, they essentially spent a boatload of cash on players they couldn't afford in the hope of Champions League success, and then failed to qualify. Oops.
That was then, this is now. They are back where (at least where Leeds fans believe) they belong. Manager Marcelo Bielsa's side lit up the Championship, few could argue that they deserved it this time round, having come so close in seasons gone.
When it comes to picking FPL players from promoted teams, its often prudent to wait and see; for every Cantwell, there's a Cairney, and all the research in the world can't offer a 100% guarantee that last season's Championship player of the season can replicate that form when they make the step-up. However, as Wolves and Sheffield United have shown in recent seasons, promoted teams can often hold their own against the big boys at the first time of asking, and in doing so, provide us with budget-friendly options that will help spread your FPL budget.
Of the three promoted teams, the Championship winners unsurprisingly look to have the most viable options. A lot of the focus thus far has centred around their defensive assets, no surprise given the 22 clean sheets they kept in the Championship (5 more than any other side), where they conceded just 35 times in 46 games, again, the best tally in the league. Can Leeds replicate this form in the Premier League? Doubtful, but if they can be more Sheffield United and less Norwich City in their return to the top-flight, they could offer some canny options at the back. So, if you're looking for bargains from the promoted teams, this is where I'd start, and these are the players that at least on paper, have the potential to repay your faith.
Goalkeepers – Illan Meslier / Kiko Casilla (Both £4.5m)
As Dean Henderson and Neil Etheridge have shown over the last two seasons, goalkeepers for promoted sides can offer better value than some of their more established rivals between the sticks. At present, the biggest question is who will get the nod as first choice. Kiko Casilla started the 2019/20 season and amassed 17 clean sheets in 36 matches. His season was curtailed following a hefty 8-match ban (for using racist language) which saw the former Real Madrid stopper replaced by 20-year-old France U20 keeper Illan Meslier. Meslier performed admirably in their final 10 games, keeping 5 clean sheets and most Leeds fans are convinced it will be Meslier who will be given the nod. Hopefully, pre-season will give us a clear indication either way.
Defenders – Stuart Dallas / Luke Ayling / Ezgjan Alioski (all £4.5m)
Attacking fullbacks have become a dominant force in FPL and Leeds seem to have them in abundance. Stuart Dallas and Luke Ayling played most of last year's campaign for The Whites at left and right-back respectively and could both offer decent attacking potential. Of the two, Ayling (recently named as the Championship's player of the year) is more certain to retain his place in his natural position at right-back. Ayling made 37 appearances in the 2019/20 season and helped keep 18 clean-sheets, picking up an additional 9 attacking returns (4 goals, 5 assists).
Stuart Dallas made 45 appearances for Leeds in the Championship last season, however, it's worth noting that he filled in across several positions including left-back, right-back and central midfield due to a variety of injuries across those positions. Having played much of his career as a winger it's no surprise Dallas excelled as a makeshift left-back. Dallas picked up 8 attacking returns (5 goals, 3 assists), if he can retain his place in the team, his underlying data (from 2019/20 season) suggests he can offer a more offensive threat than Ayling, especially if he returns to his more natural position on left of the Leeds attack.
Ezgjan Alioski seems to have gone under the radar given all the chatter I've seen dedicated to Dallas and Ayling. Like Dallas, Alioski has played as a winger for much of his career, however, following an injury to first-choice left-back Barry Douglas (another one to watch at just £4.0m) in both the 2018/19 and 2019/20 seasons, Alioski, like Dallas has been deployed as a makeshift full-back. He made 39 appearances for Leeds last season where he registered 10 attacking returns (5 goals, 5 assists). Again, like Dallas, Alioski's appeal will depend largely on retaining his place in Bielsa's first-choice 11. It should also be noted that Alioski played significantly fewer minutes than both Ayling and Dallas, which points to higher productivity given his returns, but perhaps less reassuring when it comes to being on the pitch for the required 60 minutes when they do pick up a clean sheet. His 8 yellow cards also indicate that he's a naughty boy on occasion.
Midfielders – Pablo Hernández (£6.0m) / Jack Harrison (£5.5m) / Mateusz Klich (£5.5m) / Hélder Costa (£5.5m)
Only Brentford (80) scored more goals than Leeds (77) in the 2019/20 campaign. However, to put those 77 goals into context, in the 2018/19 season Norwich scored the second-highest number of goals (93) in a Championship season (over the last decade) yet still finished last season with just 26 goals as they headed straight back down to the Championship. The other problem for FPL managers is that their goals tend to be spread across the whole squad.
9 goals and 9 assists have garnered former Swansea player Pablo Hernández a less than alluring £6.0m price tag. At first glance, he looks to be the one to go for in Leeds Midfield, but at 35 years old his minutes will be heavily managed, indeed, he started just 27 games in last season's 46 game campaign. There is no doubting the Spaniards creative ability, he took 74 shots last season, a tally only bettered by only three other players, all the more remarkable given his managed minutes. I think at £6.0m it'll be a wait and see for most FPL managers and I wouldn't try to sway you otherwise.
23-year-old Manchester City Winger Jack Harrison will begin his third season on loan at Elland Road. At £5.5m he's certainly a player worthy of consideration following 14 attacking returns (6 goals, 8 assists) in 45 starts for The Whites. He's very much a player on the upward trajectory of his career and should retain his place in Bielsa's first 11. I do feel that most (all) of Leeds attacking players should be given a 'wait and see' tag and Harrison is no different, it's hard to argue the merits of a £5.5m promoted midfielder when there are more experienced players available at the same price or less.
Polish International Mateusz Klich is the second in a trio of £5.5m midfield options for Leeds. He registered 6 goals and 5 assists in his 45 appearances for Leeds last term and looks assured of his place in their starting 11. Much like the aforementioned Harrison, Klich will be very much a wait and see, what perhaps puts him slightly ahead of the Manchester City loanee is that he might be on penalties, having taken three in the 2019/20 season, including their last one given post-lockdown.
Former Wolves midfielder Hélder Costa makes up our £5.5m midfield trio. Costa predominantly operates on the right side of midfield where he made 43 appearances for Leeds Championship winning side picking up 8 attacking returns (4 goals, 4 assists) and whilst this falls short of the numbers produced by his opposite number Harrison, perhaps he can be considered a safer option given his Premier League experience at his former club during the 2018/19 season.
Forward(s) Patrick Bamford (£5.5m)
At present Bamford is the only Leeds forward listed by FPL. There is something about that £5.5m price tag that seems to scream 'don't go there' and yet he could still offer value should Leeds fail to bolster their attack. His 16 goals and 2 assists in the 2019/20 season put him level with teammate Costa for attacking returns, but still some way short of the Championships top-scorer Aleksandar Mitrovic's 26 goals and 3 assists. To say Bamford could and should have scored more is something of an understatement. No other Championship player topped his 128 shots in the box, and of the 44 big chances that came his way, only 10 found the back of the net. Bamford does, of course, come with Premiership experience, but his single goal in 27 appearances in the top flight hardly inspires. However, with a distinct lack of forward options at his price-point (Benteke anybody?), he may on occasion become an option if he manages to improve his woeful conversion rate.
That's all, for now, folks, this is my first article proper in what will be the fourth year as a contributor here at FF247. I've enjoyed a few weeks break from all things football and I'm looking forward to another season of writing and interacting with all of you!
Thanks for reading PROMOTED TEAM ANALYSIS- LEEDS UNITED
VOTE ON THIS WEEK'S CAPTAIN POLL GW1
FPL FIXTURE TRACKER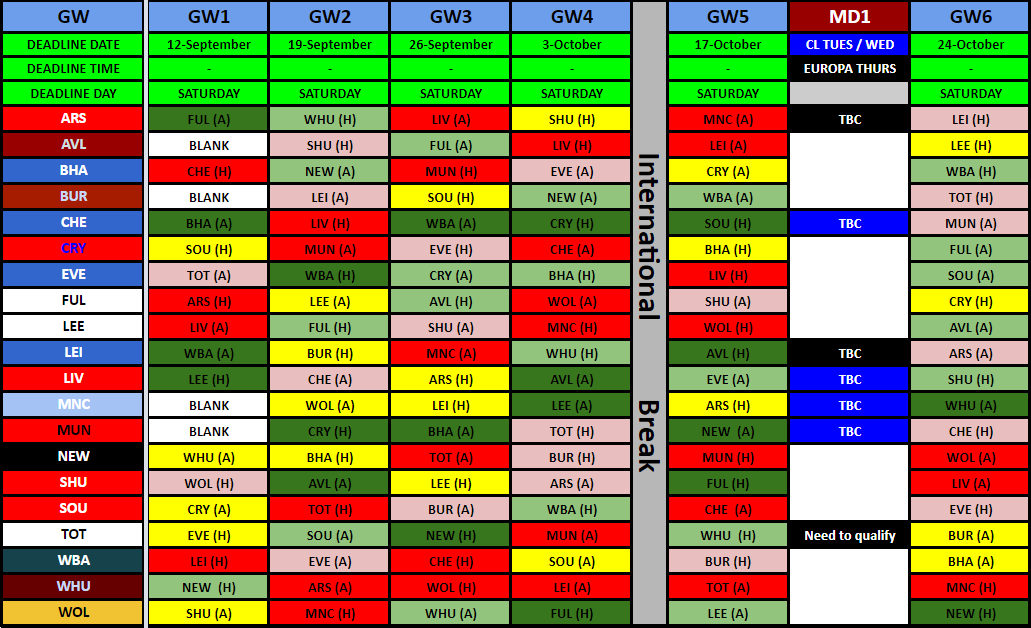 FIXTURE TRACKER LINK
For those who want their own tracker to play with, just make a copy using the link below;
Fantasy Football 247 League Codes:
All prizes must be claimed within 30 days of the final GW.