Promoted Teams Analysis FPL 2021/22 – Norwich


We continue our countdown of newly promoted teams with the first team to get promoted last season. Norwich were the eventual champions of the Sky Bet Championship with 97 points seeing them return to the top-flight after just one season. This was the highest points total in the league since Wolves in 2018, which is encouraging and suggest an improvement. This improvement has happened at the back as their defence shipped 36 goals compared to the 57 goals following their 2018/19 season. We all know Norwich and how they are the ultimate yo-yo team.
This up and down status hasn't got any help from the suits in the Premier League offices as Norwich's start to the season cannot be any tougher. Over the first three games, they play Liverpool (H), Man City (A), Leicester (H), teams who finished in the top 5 before a trip to Arsenal the following week. Their ability to survive this campaign is unlikely to be defined by their results in the first four games but it does not exactly inspire a lot of confidence in them as FPL assets.
Daniel Farke is a great manager who Norwich has kept faith in after their relegation. He will also be smarter this time round and understand that they need a much more solid backline to have a chance of survival.
The Canaries have kept the core of their team from the 2019/20 season intact, also strengthening in key areas. The loss of Emiliano Buendia to Aston Villa is a hit that Farke will need to address, given that the midfielder was deemed their best player last season.
With a mixed bag of experience and youth in their squad, Norwich will be keen on going against the odds for a strong start to the season and subsequently putting inconsistent performances behind them. They finished as second-highest scorers behind Brentford and second-best defenders behind Watford so they will hope to bring this form into the Premier League this year. Let's have a look at this mixed bag and which players we might want out of it.
Formation
Tactically, Farke remains committed to a 4-2-3-1 formation. Within that frame, he likes his defenders to play out from the back and as a result, averaged 58.3% possession last season, the highest total in the Championship.
4-2-3-1 that they used last season;
Krul
Aarons – Hanley – Gibson – Sorensen
Skipp – McClean
Buendia – Dowell – Cantwell
Pukki
4-2-3-1 that I would expect them to use this season;
Krul
Aarons – Hanley – Gibson – Giannoulis
Gilmour – McClean
Rashica – Dowell – Cantwell
Pukki
Goalkeeper and defence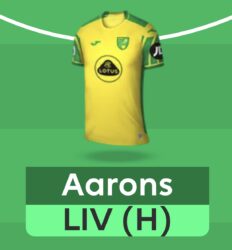 Much like Watford, Norwich offers the 8.5 goalkeeper combo that a lot of us desire. No. 1 Tim Krul (4.5) played a big part of Norwich's success last season and finished the campaign with the highest save percentage in any of the English leagues (80%). The Dutch international made 93 saves, kept 17 clean sheets and saved two penalties. He is always a popular choice among FPL managers and most of us know him so don't need to go over his merits too much, but his key appeal would have to be his save potential. In the 17,302 minutes of Premier League football he has played, Krul has made 587 saves. This might not seem like a lot but his last season in the Prem with Norwich, Krul made 131 saves which is a phenomenal amount. Farke won't want Krul to have to make that many saves this time around but I'm sure FPL managers won't say no to those save points! Those save points added to Krul's penalty saving heroics saw him earn 109 points in the 2019/20 season despite only getting 5 clean sheets and conceding 68 goals. Set to remain as first-choice going into the new season, Krul is a decent pick amongst other 4.5 keepers provided Norwich succeed in strengthening their defence.
Angus Gunn (4.0) is the back up to Krul and could challenge for the no.1 jersey with Krul only getting older.
Norwich's defence kept 18 clean sheets last season which is a solid total but was a good bit off Watford's 23 clean sheets. They are also more solid at home as 11 of those clean sheets came at Carrow Road.
Grant Hanley and Ben Gibson (Both 4.5) will likely be the first-choice centre-back partnership but they are both coming back from injury and haven't featured in preseason so far, which is a concern! When these two come back they complement each other well and are a key part of the defensive numbers. Gibson's passing ability allows them to play out from the back while Hanley has experience and a goal threat on his side. Hanley could be a bonus point magnet if Norwich keep it tight as his 211 clearances, 28 blocks and 77 interceptions were all team-leading totals last season.
Max Aarons (4.5) is the right-back and looks like the go-to-pick for FPL managers that want Norwich cover. He is easily the most attacking option and often advances high up the pitch to create chances. A crucial part of this defence, the youngster played every single minute of Norwich's campaign last season. This lad is the definition of nailed! Aarons was the highest-scoring defender back in 2019/20 with 66 points thanks to his 5 clean sheets and 2 assists. He improved on these stats last season when he got 2 goals, 2 assists and the 18 clean sheets. He also took 28 shots, while his total of 61 key passes was second only to Buendia last season. When Buendia operated in front of Aarons, the winger tended to drift inside leaving space for the full back and creating a great link. Only time will tell if the young man and new signing Milot Rashica will be able to replicate that partnership. Another worry is the continuous links with a move away from the club meaning Aarons could potentially leave but if he is still there come end of the transfer window, the fullback is a decent price for his potential.
Special mention to Irishman, Andrew Omobamidele (4.0) who has been starting in preseason with Hanley and Gibson out so he may just start the season for the Canaries.
Midfield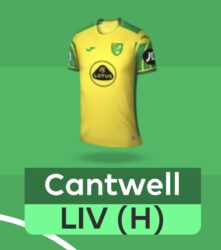 As previously mentioned, Buendia's departure leaves a significant hole in the Canaries' attack, but Todd Cantwell (5.5) is perhaps the most likely candidate to step up and fill that hole. In his debut Premier League season, the 23-year-old bagged six goals and two assists which he improved on last term by getting six goals and six assists in 30 starts. Todd Cantwell was one of Norwich's more impressive players during the season which saw them relegated. If Cantwell can get similar numbers, this season he could become a great budget option for our sides. His 12 attacking returns last season saw him as the 3rd highest attacking player.
There has been a bit of a shakeup in midfield with Oliver Skipp returning to Spurs following his season long loan which will be a huge blow in the middle. Farke has looked to lessen that hit with the signing of Billy Gilmour (4.5) on another loan. The Scotland international is expected to slot straight into this midfield. Gilmour is considered to be a serious talent amongst Chelsea supporters, and we saw glimpses of that at times last year. He should strengthen Norwich's defensive capabilities, but the 20-year-old hasn't scored a goal or assist in his two seasons at Chelsea… so I wouldn't expect many attacking returns from him.
While the general assumption is that Gilmour will slot into the Skipp role, Farke may switch from his usual 4-2-3-1 to a 4-3-3 in an attempt to carry more central dominance. That could see Gilmour and another no.8 sit in front of a defensive midfielder, which would allow him a better chance of providing passes for Pukki to latch on to. This doesn't look like it's happened in preseason as it looks to me like Farke has stuck to his favoured formation.
Kieran Dowell (5.5) may take up the no.10 spot and finished with 5 goals last season, but it is new signing Milot Rashica (5.5) who probably has the most potential. The former Werder Bremen player got a combined 46 goals and assists in 100 games for the German side. Rashica played mostly in a 3-5-2 and 3-4-3 in Germany as either a central attacking mid or a striker but has been deployed on either wing so offers a lot of options to his new manager. He did struggle a bit last season, but this could be due to his head being turned by AC Milan.
Forward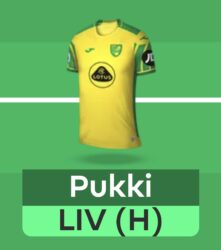 Norwich scored 75 goals in 46 games last season which was four short of Brentford's total and 18 fewer than they managed upon promotion in 2018/19. However, no team attempted more shots (716) than the Canaries, and they also made the most passes while averaging 58.3% possession in their games.
Norwich has a trio of options up front, Adam Idah (5.0) and Jordan Hugill (5.5) round out the forwards list, but they are nothing more than back-ups to talisman Teemu Pukki (6.0). Pukki got 26 goals and 4 assists last season which is 0.68 goals per 90. It made him the 3rd highest scorer in the league last year. His goals accounted for 35% of his team's goals proving how important he is. Pukki is surely the first name on the team sheet due to being an essential part of the team's ambitions this season.
Pukki is a great striker in his own right. His movement is brilliant and he thrives off balls in behind the backline. The striker does tend to shoot from the right-hand side of the goal, which is something we should watch out for when its clear which teams are weaker down that side.
The 31-year-old scored 11 Premier League goals in 2019/20 with six of those coming in the opening five games. This does leave a conundrum with Norwich having a terrible start but Pukki liking to come out of the gates firing. Will he do it again this time though? I would probably still say it is worth avoiding until GW5. Another reason to avoid, or at least wait-and-see, is the loss of Buendia. The Argentine produced eight assists for Pukki last season, and their partnership will not be easy to replicate.
My top three FPL prospects:
1. Teemu Pukki
2. Todd Cantwell
3. Max Aarons
Thanks for reading Promoted Teams Analysis FPL 2021/22 – Norwich. This article was written by Matt X
FPL FIXTURE TRACKER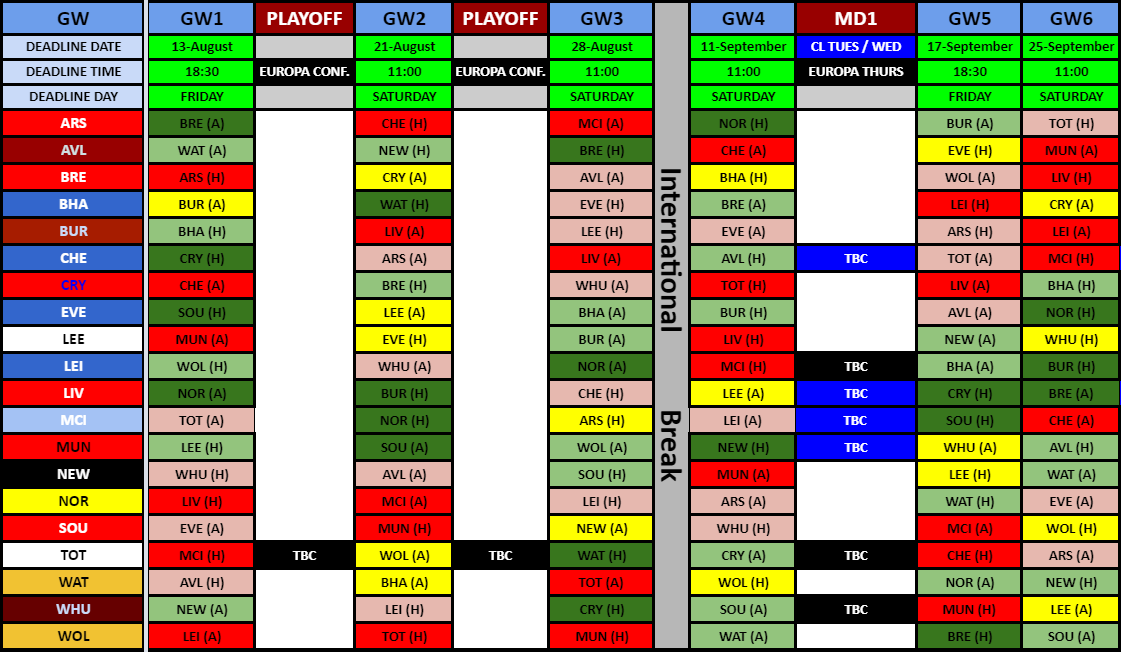 FIXTURE TRACKER LINK
FF247 LEAGUES FOR 2021/22
Fantasy Football 247 League Codes:
Both leagues will be shut to new entrants as of 01/01/22.