Welcome to the second instalment of our Promoted Teams Analysis. In this one we look at Sheffield United. You might be wondering how I got this gig. It would be perfectly reasonable to presume that a Southerner devised the rota and decided that, as a Northerner, I know everything about the north of England. It is true, everyone in the North knows everyone. It would also be perfectly reasonable to presume that I was stupid enough to tell everyone that I had selected Sheffield United as my 'favourite team' on the FPL website. Unfortunately, this one is true. A rush of blood; a shift of allegiance from West Yorkshire to South Yorkshire. Goodbye Huddersfield, hello Sheffield United. Undeterred by my lack of knowledge about my new team (when has that ever stopped anybody from glory hunting before?), I put Arctic Monkeys, Reverend and the Makers and some other Sheffield-formed bands on and set about with the task in hand. I present to you, my new team. Up the Blades.
Last season's formation: 3-4-1-2. Goalkeeper: Dean Henderson, on loan from Manchester United (likely to return on loan again this season). Central defenders: Chris Basham, John Egan, Jack O'Connell. Two wingbacks: Enda Stevens on the left and George Baldock on the right (with some competition from Keiron Freeman). Three central midfielders: generally, Oliver Norwood, John Fleck and a more advanced Mark Duffy. Two strikers: David McGoldrick and Billy Sharp (Gary Madine is back at Cardiff after a 6 month loan spell with United).
The fixtures: The Blades' first six fixtures are a mixed bag; Bournemouth (A), Crystal Palace (H), Leicester City (H), Chelsea (A), Southampton (H), Everton (A). There could be some value in those home games, at least the visits from Crystal Palace and Southampton, although there is little to be gained from diving into the statistics from last season with over three weeks until the season gets underway and the clubs' boards all busy trying to push deals over the line. Well, 19 clubs – Newcastle's owner is probably somewhere hugging his portfolio of assets.
Transfers so far

Luke Freeman (£5.5m, Midfielder)
. Signed for roughly £5m, Luke Freeman (not to be confused with the defender, Kieron Freeman, who has been at Sheffield United for five years) was a mainstay in the QPR side last season and his 8 goals and 6 assists in 43 appearances were enough to earn him the Fans' Player of the Year award as the Hoops fought off the drop. He predominantly played on the left of a midfield four in a 4-4-1-1 last season although looks to have been brought in to challenge – and likely replace – Mark Duffy, who occupied the central attacking midfield spot behind the two strikers last season. Duffy is now 33. How old. Whilst I don't doubt that many of you reading this article are older than Duffy and reckon you could have a dabble in central midfield, of the 32 starts he made last season, he was withdrawn before the final whistle a staggering 28 times. Perhaps the 3-4-1-2 formation demands a lot of the '1' in attacking midfield. I wouldn't know, the most adventurous departure from a 4-4-2 I have ever played in is a 4-3-3. Freeman started ahead of Duffy against Burton in the friendly on 16th July and was replaced on the hour mark by the veteran. Not much should be taken from this though as Wilder certainly did not field his stongest side at any point in the game.
Callum Robinson (£5.5m, Midfielder). Another Championship left winger, although Robinson is the one I have my eye on out of the pair. Signed for roughly £7m, Robinson scored 12 goals and managed 3 assists in just 24 starts after his season was hampered by a long-term hamstring injury. One should consider the sides in which Freeman and Robinson racked up their tallies; Freeman's QPR scored just 53 goals last season – 25 fewer than Sheffield United. Whilst Preston, Robinson's former club, were not that bad offensively last season, only scoring 11 fewer (67) than Sheffield United (78), the winger's injury must be factored in. Of the 36 goals scored whilst Robinson was on the pitch, he was involved in 15 of those goals. Not bad for a winger although I can't help but think of Tom Ince's spell at Huddersfield after his explosive season with Derby in the Championship.
Like Freeman, Robinson is also a versatile player and has played in various attacking roles for Preston, including up front where he notched 2 goals from 3 starts last season and 7 goal involvements (3 goals, 4 assists) in 10 appearances the season before that. At Preston, he predominantly played on the left-hand side of the attacking three midfielders in a 4-2-3-1 which does not make it eminently clear how he fits into Chris Wilder's 3-4-1-2 with two wingbacks system. I would expect Wilder to stick to the formation that served him so well last season. Could he be an out of position second striker to Billy Sharp? He would have to displace David McGoldrick to do so. Pre-season will be a good indicator of Wilder's intentions, although the manager did say this on Friday (12th July) about the winger: "He scores, he's got good pace,… really good ability,… hunger and a desire to move his career on to another level… I believe he's going to be a big player for us but, as he's seen, he's going to have to work hard to get in the team because there's other big players, other good players, out there as well." Definite potential but one to monitor as we move closer to the season opener.
Ravel Morrison (£TBD, Midfielder). Hot off the press this one. Ravel Morrison signed whilst I was writing this article. Well, probably not hot off the press as I doubt any paper will bother to report it! What on earth happened to Ravel Morrison? He's been all over the place like an English pre-university teenager desperately trying to make sure they have the most places to brag about when they start at said university. After signing for Lazio as a free agent in 2015, he played a grand total of 58 minutes for them in Serie A, was loaned out to Atlas in the Mexican top flight and then sold to Östersund in the Swedish top flight for peanuts before being released after just four months at the club. Predominantly an attacking midfielder, he will seek to challenge Luke Freeman and Mark Duffy for a starting spot although he's never found solid minutes at any of his many clubs since his loan spell at Birmingham back in 2012/13. In fact, since joining Lazio in 2015 he's played about 1500 minutes of competitive football. I cannot see him being a serious fantasy prospect.
Phil Jagielka (£4.5m, Defender). The move from Everton sees Jagielka return back to his boyhood club although it is unclear exactly what his role will be. Wilder has waxed lyrical about the presence and experience Jageilka can bring to the dressing room, although whether that lands him a starting berth or not remains to be seen. Assuming Wilder sticks to his three at the back formation, Jagielka will by vying with John Egan for the 'central' centre-back spot. The 36-year-old would likely face an uphill battle to play the attacking role which Wilder demands of his outer centre-backs. Sorry, I will stop with the ageist remarks now.
Other Fantasy Prospects: Defensive Options

Sheffield United conceded the joint lowest number of goals last season in the Championship (41), alongside Middlesbrough. As noted above, Chris Wilder's first-choice goalkeeper last season,
—44+00:00″>Jordan Pickford
Dean Henderson, was on loan from Manchester United and, at the time of writing, has not returned to Sheffield United, although that appears to be the club's intention. He kept a league-high 21 clean sheets last season. Jake Eastwood has joined Scunthorpe on a season-long loan, leaving Simon Moore as the only recognised goalkeeper in the senior side. Moore spent every minute of the Championship season on the bench so if Henderson does not return I would expect to see another keeper brought in and handed the starting berth.
It is time for the annual caution. It is very difficult to predict how a team's defensive statistics in the Championship will translate into performances in the Premier League. For example, Cardiff only conceded 39 in their promotion season – two fewer than Sheffield United – but in the subsequent Premier League season they conceded 69 and were relegated. Bournemouth (70) and Huddersfield (76) were the only sides to concede more than them that were already in the league before Cardiff entered. It is worth noting that 33 of those goals did come against the top six though. Whilst Wolves conceded just 46 in their first season back in the PL, Sheffield United does not have the capacity to give themselves a Rui Patrício, Leander Dendoncker and Jonny Otto defensive makeover. The die-hard/long-suffering Newcastle fans among you might remember that Newcastle had a pretty solid defensive return to the Premier League, conceding only 47 goals. Historical data must be viewed contextually though; Newcastle did boomerang straight back up to the Premier League at their first attempt with a relatively experienced and fit-for-purpose squad (which can be sharply contrasted with Sheffield United's inexperienced squad). Furthermore, the strongest teams in the Premier League are continually driving the gap between themselves and the weaker sides wider. For example, in 2017-18 West Ham and Stoke City conceded joint most with 68 goals. Last season, five sides equalled or exceeded that tally.
Sheffield United's defenders might have the capacity to offer attacking returns though with their wingback-formation reminiscent of Wolves' which saw Matt Doherty, in particular, reward those who put faith in him. Enda Stevens (£5.0m)'s 4 goals and 6 assists in last season's Championship campaign sees him come in at £0.5m higher than his fellow defenders and he managed to grab an assist against Burton in the recent friendly. The wide centre-backs are encouraged to get forward in Wilder's system which saw Jack O'Connell (£4.5m) manage 3 goals and 3 assists and Chris Basham (£4.5m) rack up 4 goals and 1 assist. During some phases of play, Wilder will push Basham into a central midfield role. Despite this, Jack O'Connell is my pick of the £4.5m defenders who looks to be nailed on when fit and created 3 more 'big chances' than Chris Basham (4 to Basham's 1). John Egan (£4.5m) managed just a goal and an assist due to his central role in the back three and will now likely face competition from Phil Jagielka.
Verdict: the problem I have with Stevens' valuation is that it sits him at the same table as José Holebas, a player who scored 3 goals and assisted 7 last season. Whilst Holebas is a card magnet (12 yellows and 1 red last season) and Watford were awful defensively, his offensive returns matched Stevens' (10) in 1600 fewer minutes of football. The £4.5m list is less appealing such that Jack O'Connell is certainly an option to consider. However, given Brighton's early fixtures (Watford (A), West Ham (H), Southampton (H)), I would probably be looking at Lewis Dunk to kick-off the season with if I was in the market for a £4.5m defender.
Other Fantasy Prospects: Midfielders

Mark Duffy (£5.5m) is £0.5m more than Oliver Norwood and John Fleck. This is likely due to Duffy's more advanced position on the pitch behind the strikers. However, as noted above, Luke Freeman could threaten Duffy's position now and Duffy's repeated early withdrawals last season affected his involvement on the pitch with just 6 goals and 6 assists. John Fleck managed 2 goals and 10 assists but my pick of the trio that were at the club last season would be
Oliver Norwood (£5.0m)
. Despite his 3 goals and 8 assists not matching Duffy's, Norwood is on set pieces and corners and averaged almost a key pass per game more than Duffy and Fleck, creating a chance every 39.2 minutes. Yes, I am one of those underlying stats blokes but I am also most confident in Norwood starting position out of the trio. Looking at pre-season team sheets will be crucial to understanding where the three new midfielders fit into the team though. Not much could be taken from the Real Betis match, given that Robinson was not available in time, Morrison had not even signed yet and Wilder had about 7 defenders on at one point! A similar comment could be made about the friendly against Burton although Robinson did come on for the final ten minutes.
Verdict: if you want a £5.0m midfielder on your bench, Norwood could offer a little bit of value here given that the £5.0m bracket is filled up with defensive midfielders who are not on set-pieces and create relatively little. Money will likely be tight in your team though and the £0.5m saving made by taking a £4.5m midfielder which you intend to leave on your bench anyway could probably be better used elsewhere. Leander Dendoncker jumps out at that price.
Other Fantasy Prospects: Forwards
David McGoldrick (£5.5m)
scored in the 1-0 win against Real Betis on Friday and, should he be on the pitch (!), is likely to be the penalty-taker and does share free-kicks with Norwood. McGoldrick managed 15 goals and 4 assists last season. For £0.5m you could get
Billy Sharp (£6.0m)
, Sheffield United's hero. Our hero, I mean. Sharp scored 23 goals and made 4 more last season and scored in a friendly against Burton. Better than McGoldrick, but still dwarfed by Teemu Pukki's 29 goals and 9 assists for Norwich. Last season, McGoldrick averaged 2.6 shots per game to Sharp's 1.9 although if you remove shots from outside the box (from which McGoldrick did not score any), the difference becomes negligible.
Verdict: comparing these two PL-unproven strikers to other strikers (Sharp managed 18 minutes for Southampton back in the 2012/13 season), it is hard to see value in them just yet with Josh King, Diogo Jota, Gerard Deulofeu and Chris Wood all priced at just £0.5m more than Sharp.
So, as my playlist moves on, now is probably a good time to draw this to a close. I hope you found something of use to you in there, even if it is simply to not look at Sheffield United players for the time being! If there are any Blades fans reading this, do let us know what your thoughts are on your players. I would be interested to hear your thoughts on our prospects for the coming season.
Thanks for reading Promoted Teams Analysis – Sheffield United. This article was written by #MakeATGreatAgain
FPL FIXTURE TRACKER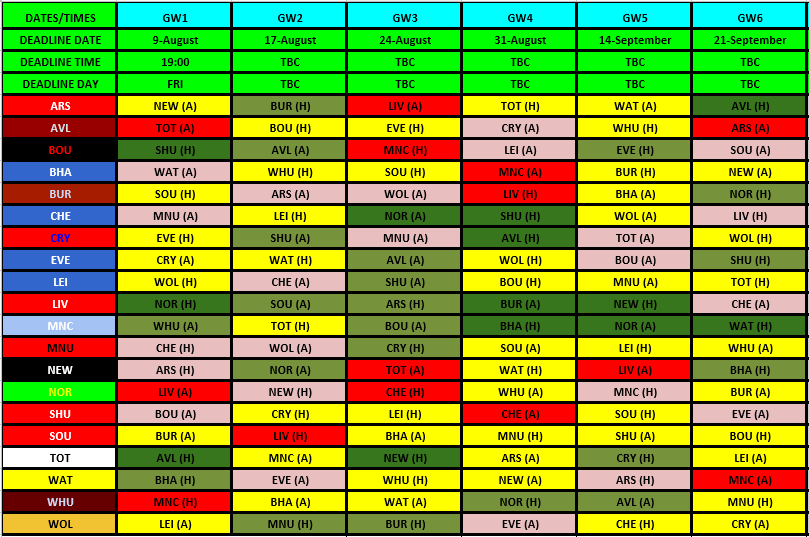 FIXTURE TRACKER LINK