Site FPL Team Gameweek 23
Welcome to the FF247 Site Team Gameweek 23
Our Gameweek 22 Result…
It was a bit galling to log in and find that at least two of our committee had scored a ton on their own FPL teams this week and that the majority of the others were at least in the 70's. We barely scraped above the average (51) with a pretty sad looking 58.
Why the sudden disparity? It was simply a case of having the wrong Portugueser. One of them suddenly seems determined to pull Man United out of their slump, the other seems determined to sulk his way through it. Unfortunately we had our money (and armband) tied up in the latter and so couldn't make a move for the former.
As for the rest of the team Trent Alexander-Arnold (10) and Joao Cancelo (11) did what they usually do, Jarrod Bowen (7) got us another goal and Ivan Toney (10) grabbed us some late points along with an improbable bonus. The rest did nothing.
Our flat 58 meant a small red arrow of about 9k leaving us in 129,612th overall.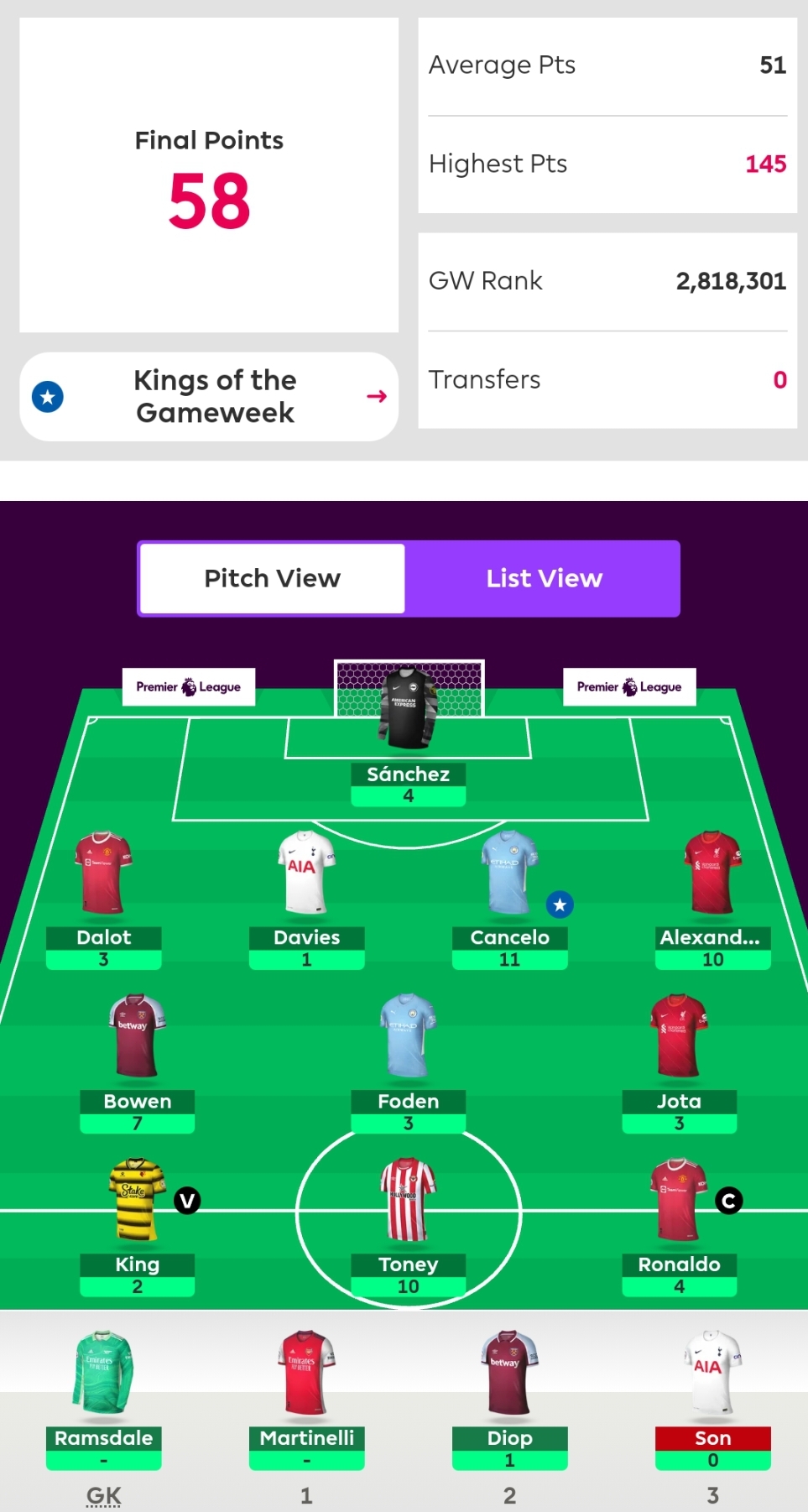 We have £0.3m in the bank and 2 free transfers to use ahead of GW23. Let's go see what was decided….
Our GW23 Transfer(s)
We are taking the slightly unusual step here of telling you what we think we are going to do later rather than what we have actually done. The reason for this is that we simply want to give ourselves until the last minute to decide, given what could be announced at the drop of a hat – anything from cancellations to further DGW's, or who knows what else these days.
Given the addition of the Burnley vs Watford fixture earlier we are looking at going route one and adding Dennis up top in place of Toney. This would mean a Watford duo in attack, not something we thought we would be saying back in August, but it is what it is and we may as well chase the team who have conceded the most goals, combined with the team who are bottom.
To confirm then we MIGHT SELL Toney and BUY Dennis
Captain – Probably Dennis
If we do go down this path then our armband will most likely end up on our new recruit.
Our GW23 team in full…
This is our team as it stands before any transfer…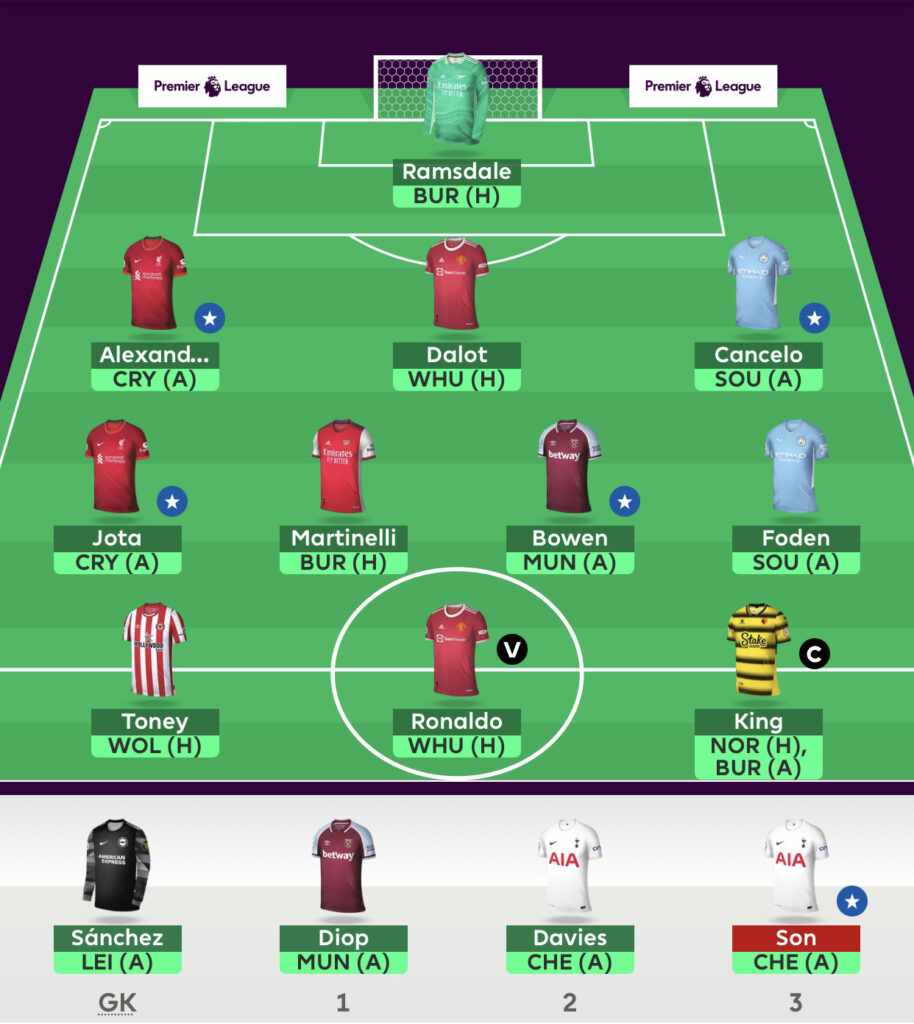 ***UPDATE***
We bought him….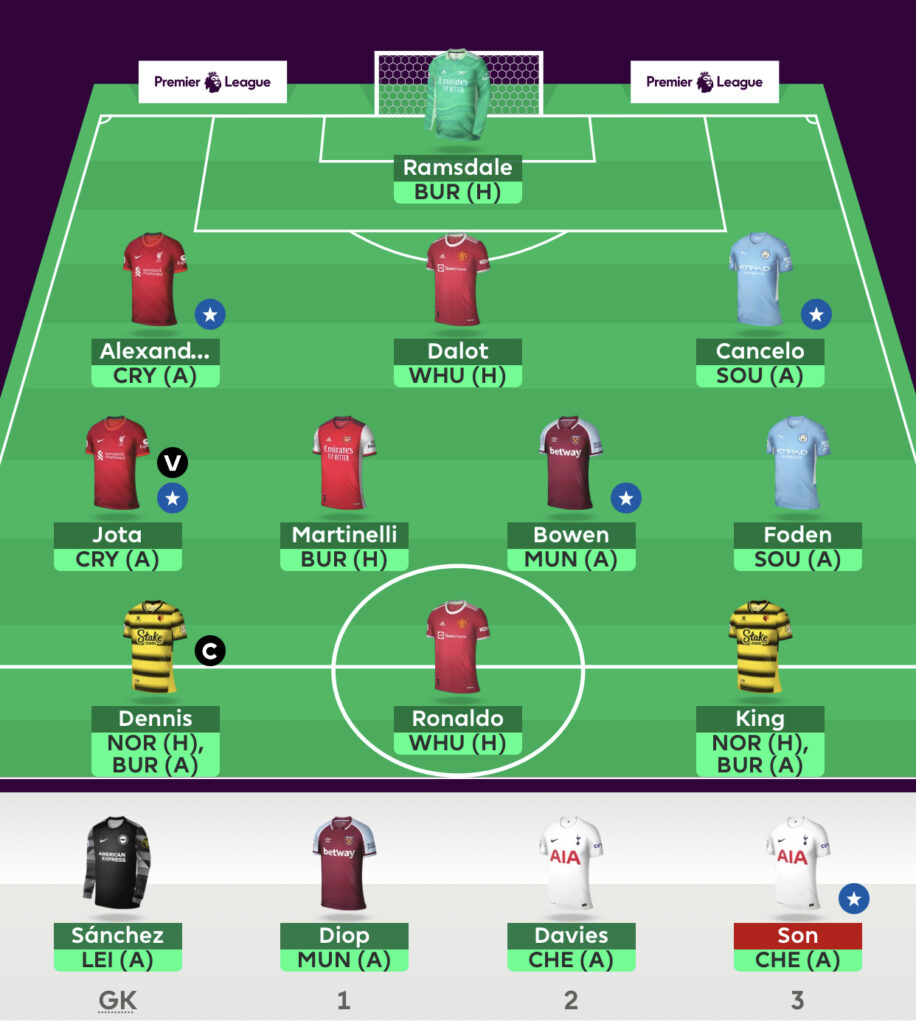 Should you wish to follow the FF247 Site Team's progress you can do so here.
Thanks for reading Site FPL Team GW23
Predicted Line-ups and FPL Team News Gameweek 23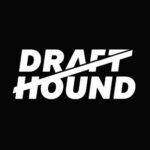 Rather than clutter the site up on a Friday with too many articles we have tagged our predicted line-ups on here.
As a quick reminder –
There are two versions of this article.
The one below has a drop-down version. It's fairly idiot proof – you simply click on the small arrow to the right of the team name and you get a drop-down list of all the teams. Simply click on the one you want to see and hey presto, etc. This is the published article with the comments section to crack on with.
The other one is permanently live and has the 'nicer' grid layout. If you want to see that version you can click here. This can also be easily accessed at any time via a myriad of links on our homepage – Header link, Hot Topics link, Quick Access link on mobile and it is also linked towards the end of all of our regular articles.
What you see below is a live link to what Drafthound have on their website. Why is that significant? Well, firstly, it now means that the second they make any updates in reaction to live team news then they will also appear on here. Being uber helpful in that respect they also time-stamp all of their line-ups so you can tell to the minute when it was last updated.
As an additional extra if you click on any player icon on the team line-up that will take you to their own page on Drafthound, from where you can see up to date season stats, their upcoming fixture schedule and use a comparison tool to view similar players.
Given their time and effort in providing this content for us it would be rude not to occasionally click on the Drafthound link and check out their own fabulous content as there are FPL articles aplenty on there too.
VOTE ON THIS WEEK'S CAPTAIN POLL GW23
FPL FIXTURE TRACKER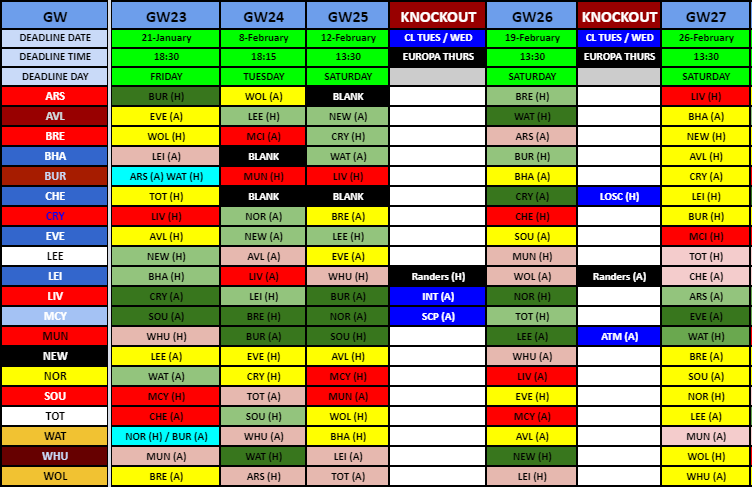 FIXTURE TRACKER LINK
SET-PIECE TAKERS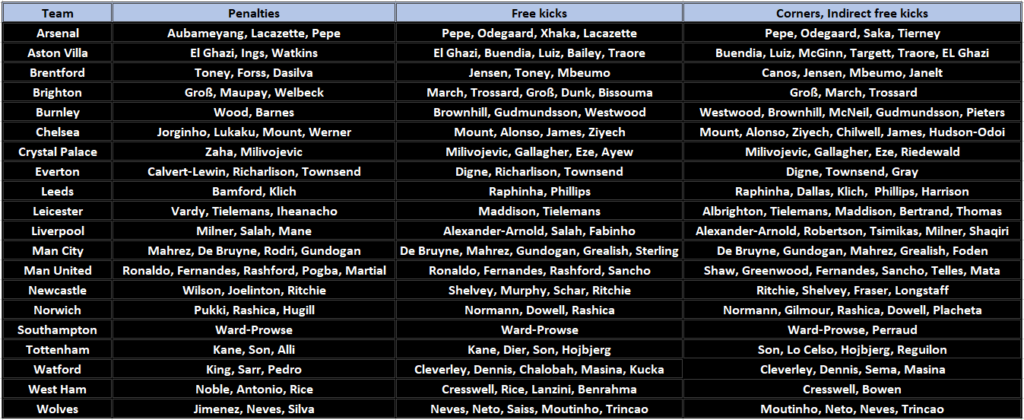 Predicted Line-Ups FPL 2021/22
You can access our Live feed to these here.
FF247 LEAGUES FOR 2021/22
Fantasy Football 247 League Codes:
Both leagues will be shut to new entrants as of 01/01/22.