FPL Team Gameweek 4
Welcome to FPL Team Gameweek 4
So long ago was it that gameweek 3 ended, that your author genuinely couldn't remember if it was good, bad or indifferent for our team. As it turns out, 'good' is the appropriate description, as we were yet again respectably above the average score with our second consecutive 69 – placing us contently at 456,916 overall. OK so not front page news, exactly, but we haven't totally blown it already (he crosses fingers and toes and touches the nearest wood).
Our 15 points above the average score in Gameweek 3 was built upon a captaincy success in the form of Jamaican international and 'Ballon d'Or in waiting' Michail Antonio with his 22-point haul. This was supplemented in attack by Toney (6) eventually getting off the mark with his first strike of the season at Villa and the customary goal from DCL (9) which was sweetened further by his maximum three point bonus.
Mohamed Salah and his penalty against Chelsea carried our midfield as his ten points were miles ahead of the raft of '2s' we had in there. We'd have more in the back too, had our goalkeeper Bachmann (4) not made so many saves, nor Trent (4) picked up some bonus.
Shaw (6) kept a clean sheet when Wolves blanked (again) in front of goal, which rounded off the week fairly nicely.
Our Gameweek 3 Result…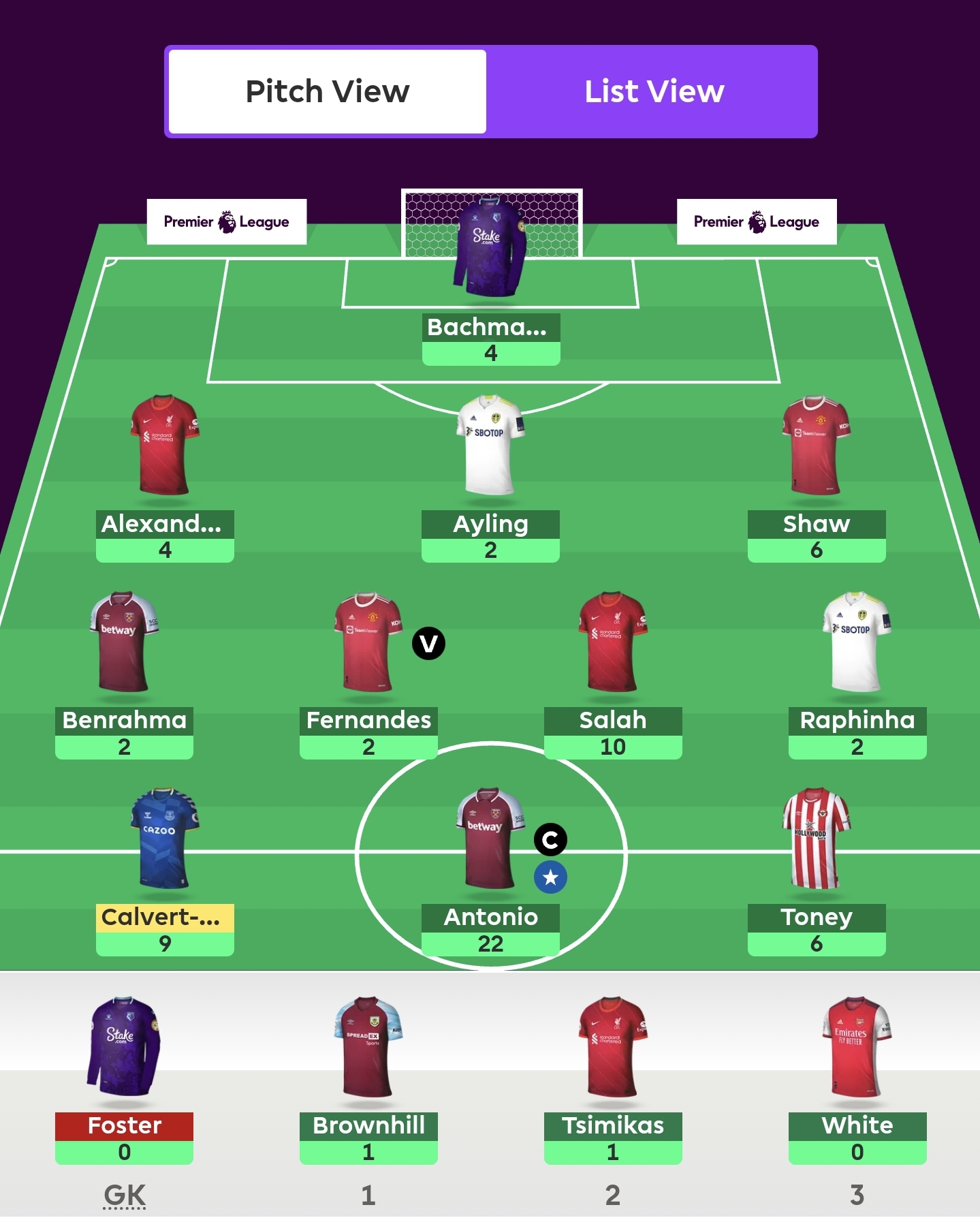 Let's go see what was decided…
AND YEAH, LET'S BE UP FRONT AND TELL YOU …. WE HAVE … OR WE PLAN TO!
Our Gameweek 4 Transfer(s)
On Tuesday morning, the discussion (after the screenshots were duly posted) was:
"Ronaldo then first, Y (yes) or N (no)?"
The WhatsApp response?
Y
Y
Y
Y
Y
Your author hadn't even had the chance to type his own 'Y' and the buzz of the phone notification almost knocked it off the coffee table!
CR7 is in then….
None of us could realistically part with either Antonio or DCL – hold that thought – and so, therefore, Toney was the sacrificial lamb and he departs with his solitary goal, with a thanks and a shoulder shrug from us all .. "It's Ronaldo pal, best wishes in the future" etc.
How to make up the cash then (with two free transfers)? Salah stays, obviously, so it was United team mate Bruno Fernandes who was the only realistic option to downgrade. Seems odd taking him out ahead of a match against Newcastle but these are crazy times and we think collectively that we're probably betting on the correct United horse long term.
With Salah, Trent and Tsimikas on board already, Jota was a no-go – so we narrowed the debate down to Ferran Torres or Ferran Torres. In fact, only Ismaila Sarr and Mason Mount were mentioned in opposition and the Spaniard quickly attained the requisite number of votes to be our transfer number two.
To confirm then, we are currently selling BRUNO FERNANDES & IVAN TONEY and buying FERRAN TORRES & CRISTIANO RONALDO
This is dependent on good news on DCL and any other of our players who may be mentioned over the course of Friday.
Captain – CRISTIANO RONALDO
This is also up for finalising, but it is likely that, for old time's sake, we back the new/old guy. Although, with Salah at Leeds and Antonio serving us well just past, you will need to stay tuned to the site tomorrow evening, when we announce our finalised transfers and captain after the press conferences have concluded.
*** UPDATE KLAXON – – – UPDATE KLAXON ***
With no major team news today, or certainly nothing to deter us from our plan, we have cracked on with the above and have ended up with the below…
Our FINALISED Gameweek 4 team in full…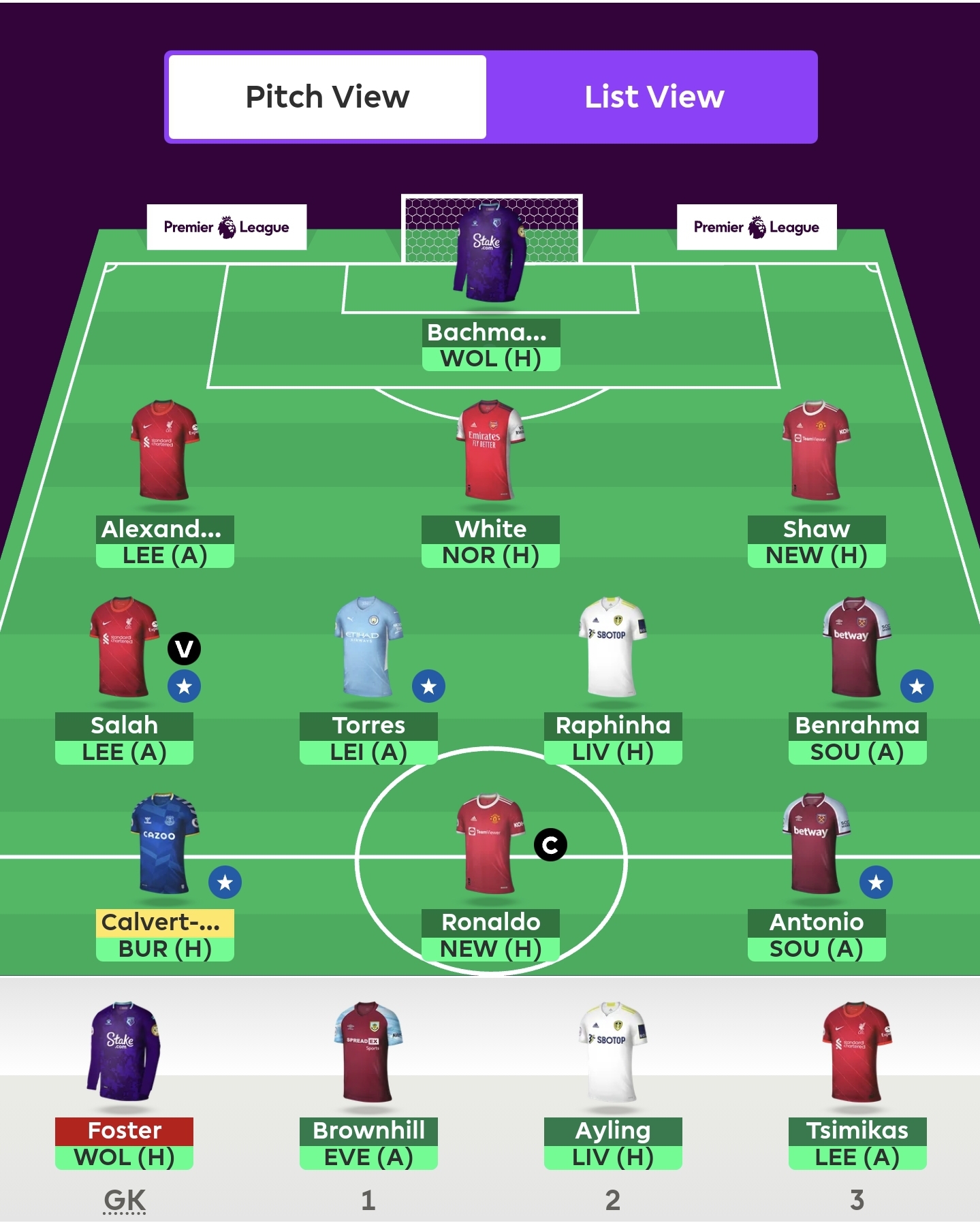 Should you wish to follow the FF247 Site Team's progress you can do so here.
Thanks for reading FF247 FPL Team Gameweek 4
VOTE ON THIS WEEK'S CAPTAIN POLL Gameweek 4
FPL FIXTURE TRACKER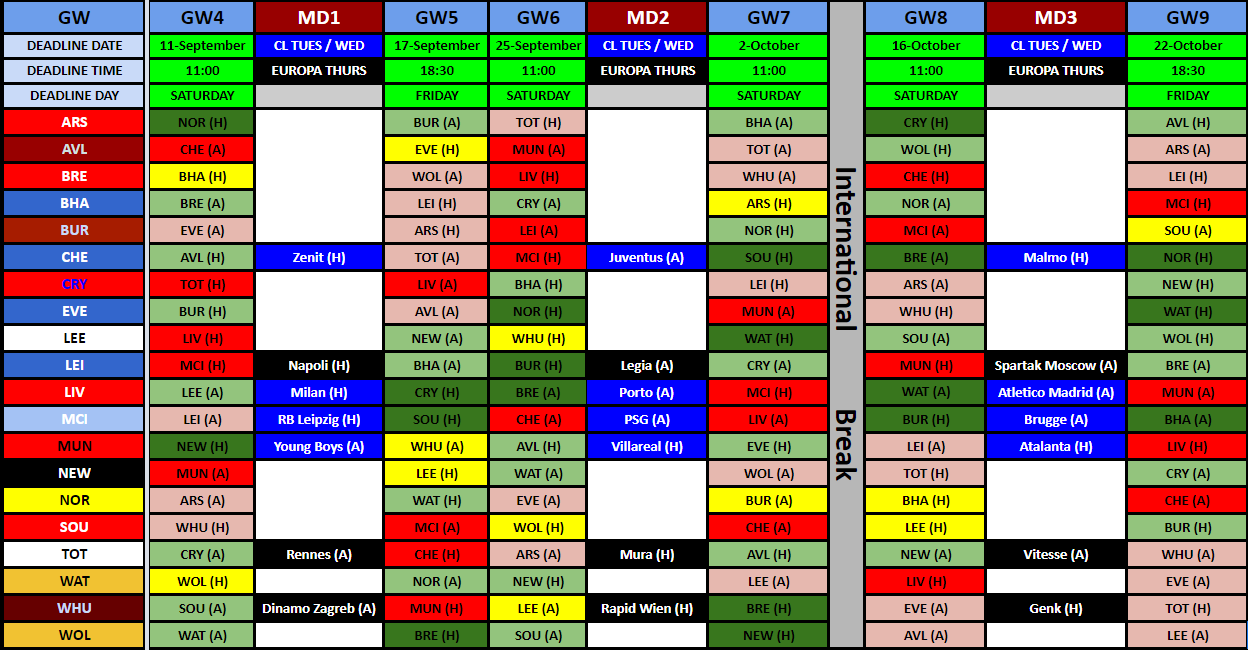 FIXTURE TRACKER LINK
FF247 LEAGUES FOR 2021/22
Fantasy Football 247 League Codes:
Both leagues will be shut to new entrants as of 01/01/22.