The Premier League Returns… and so does FF247!
Welcome to The Premier League Returns… and so does FF247!
Guess who's back, back again… with fresh hair cuts and strippers galore!
Yep, we're back, we hope we are anyway…. Unless any more players test positive between now and June 17th, because… you know, they just absolutely had to get their hair cut. Or party with some strippers. Like we are sure we all have in lockdown….
Anyway, we just wanted to give you an update on both the key points from an FPL perspective but also from ours in terms of what to expect from us over the next few weeks.
FPL Changes
The main one here is that those of you who have been diligently (let's face it boredly) making transfers each week to get your teams in the best possible shape for the return may find it was a fool's errand as we all now have UNLIMITED transfers prior to the next deadline. Which is WEDNESDAY JUNE 17TH AT 5PM.
Rather than waffle on needlessly, here is what the Premier League state on their own site: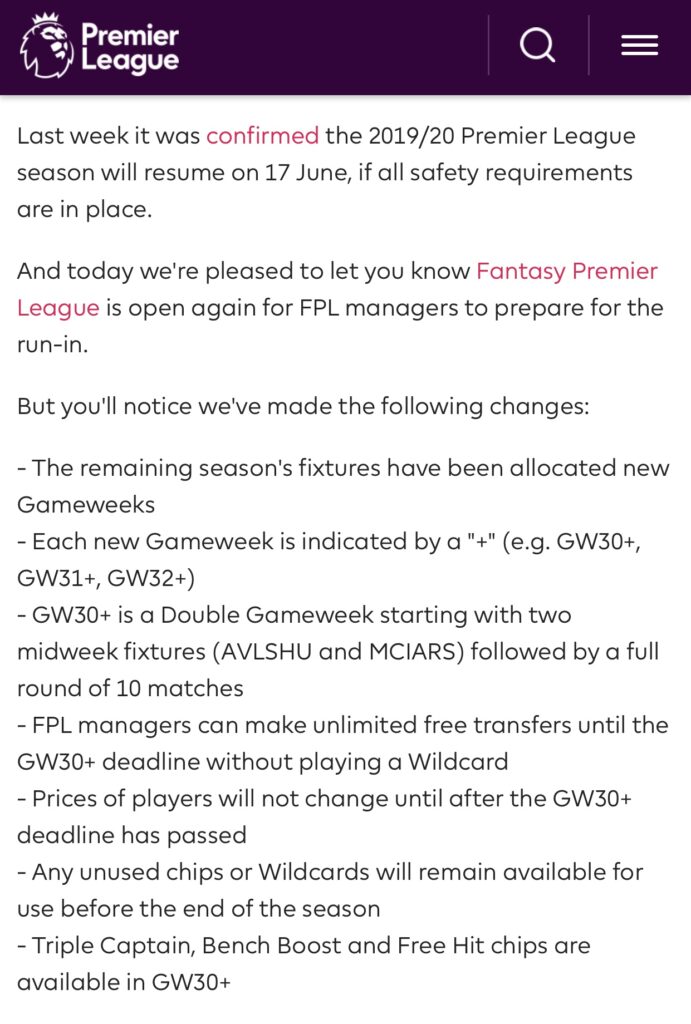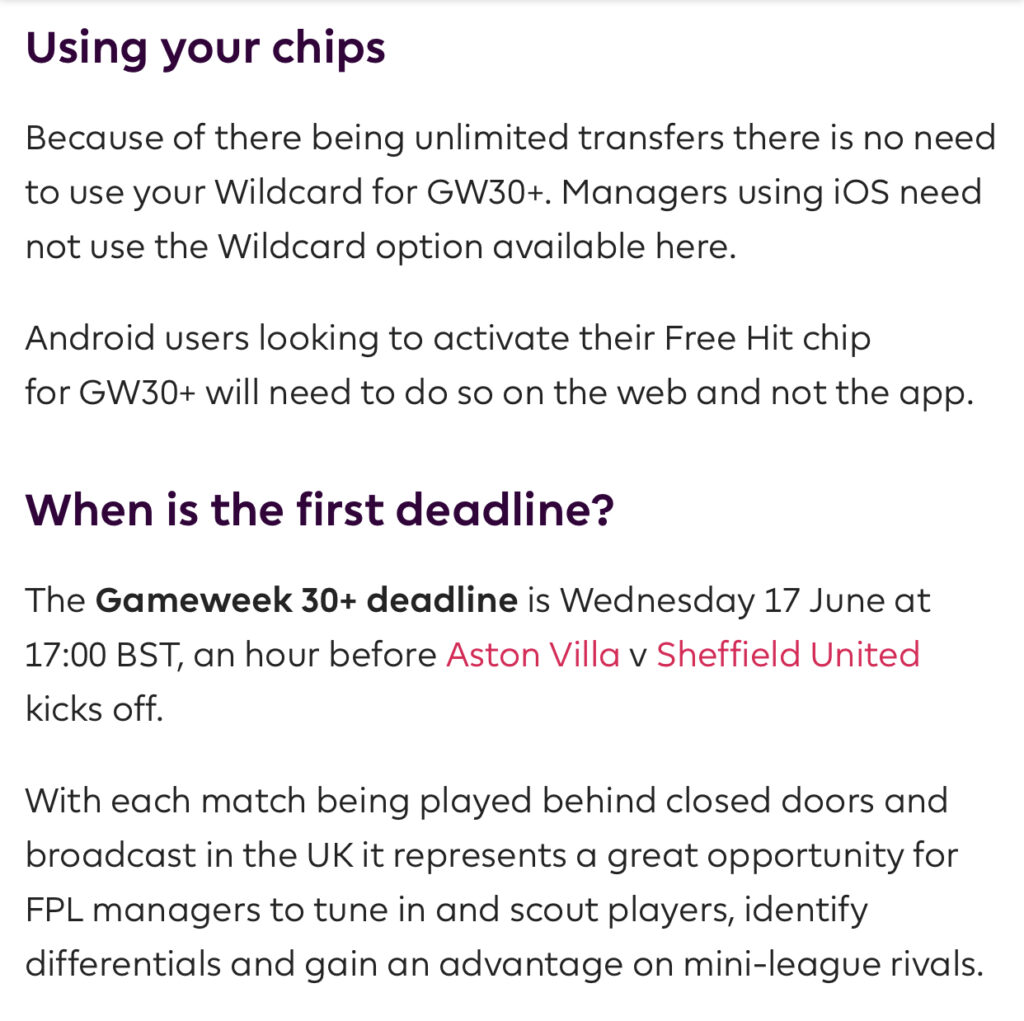 FF247 ARTICLES
What to expect.. not a lot in all honesty! But why? Here's why…
FPL Fixtures
Other than the addition of an initial DGW the rest looks like it will pan out exectly as originally planned. At least for now. That is apart from GW31+ being reinstated in full, as opposed to it being a 'blank' ish one, as it was originally scheduled to be.
That initial DGW sees the addition of Aston Villa vs Sheffield United and Man City vs Arsenal as they begin the new regime on the Wednesday before the rest start over the following weekend. Our Fixture Tracker has been ammended accordingly but we would probably take our usual colour ranking with a pinch of salt right now as it is based on normal conditions and does definitely take into consideration some sort of home / away bias, and if the Bundesliga is anything to go by then that particular advantage is out the window. Especially as some of these games look like beieng played at neutral venues. Can't even begin to imagine why. At least not without insulting most of Liverpool or Manchester…..
We may do an initial Fixtures article but beyond that the opportunity to provide any articles between GW's will be tight, and limited at best.
FIXTURE TRACKER
This has been updated accordingly and now looks like this: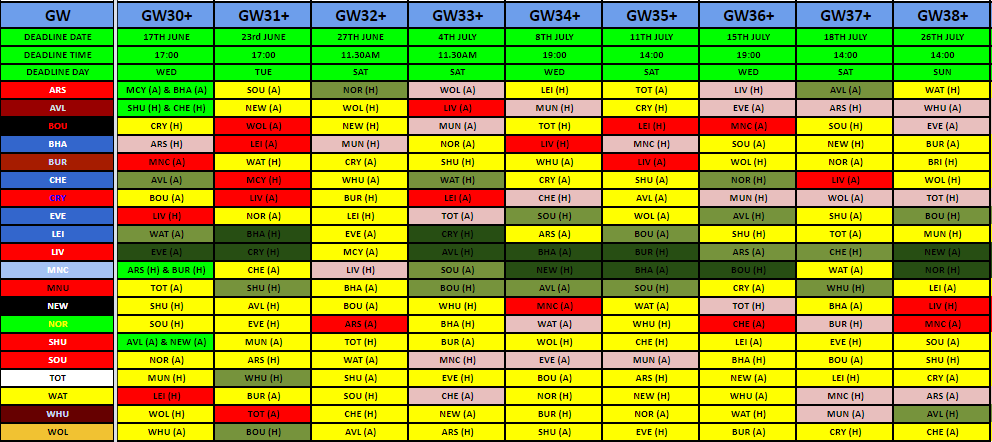 FIXTURE TRACKER LINK
Player Tips?
See the above, basically. Probably the best we can do here is to promise that your usual protagonists will be around in the comment section to help and advise where possible.
CAPOS
We intend to do one of these prior to 'GW30+', in fact it is already in hand. Beyond that though we can't promise anything, again for the reasons stated above; literally no time.
FF247 Site Team
We shall continue to do our transfers and we will post those and our weekly Captain Picks in our Live Match Chat article as detailed below.
Live Match Chat
This will be posted prior to GW30+ and will have the usual stuff on it such as the deadline and the weekly fixtures picture, as well as the new addition of the FF247 Site Team info.
We don't intend to post a new one prior to each GW, instead we shall do what we have done with Bundesliga and simply update the article each time a deadline passes with new info. Given that it will contain the aforementioned FF247 Site Team info it will be updated earlier than usual.
The games for GW30+in full…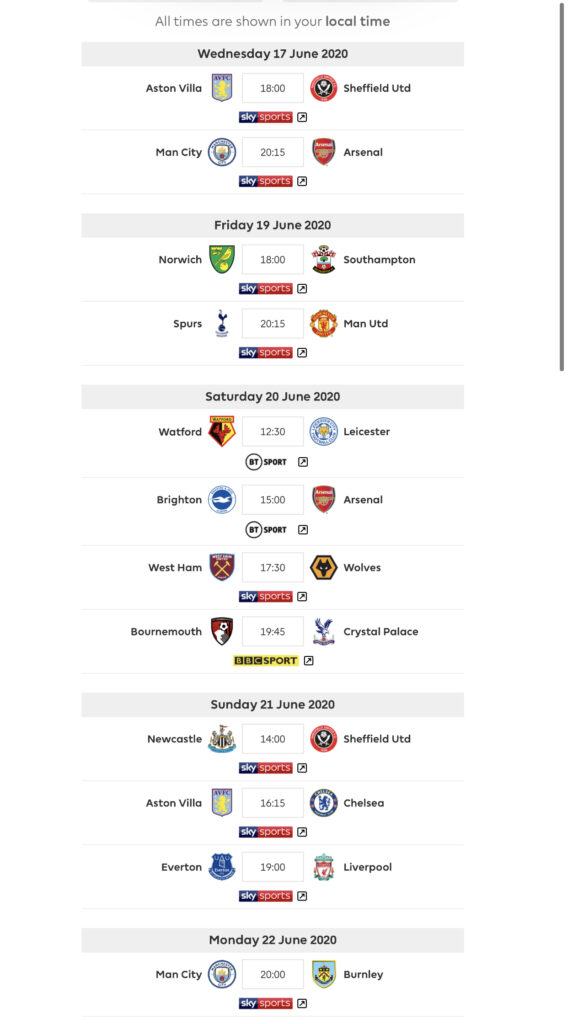 Thanks for reading The Premier League Returns… and so does FF247!
Fantasy Football 247 League Codes: