The Scotch Corner – Scottish Premiership Fantasy Football 2021/22
The Scotch Corner – Scottish Premiership Fantasy Football 2021/22
Welcome to your pre-season article for the forthcoming 2021/22 season – the second season of the fantasy game covering the Scottish Premiership – and one where the makers of the game have boldly gone where no FPL-maker has ever dared go before (but more on this later).
The basics of the forthcoming season then. Again the league will comprise 12 teams who play each other home and away (and home) before the league splits into two leagues of six after 33 matches. These two mini-leagues of six then play each other once more giving the total of 38 matches. Top half teams will be playing for the Championship, Runners-Up and European qualification positions, while simultaneously, the bottom six will play each other to determine who will finish bottom and be automatically relegated and who will finish eleventh and face the dread of a relegation play-off against Championship opposition over two legs.
The new season sees Rangers defending their Championship having won last year's league on 7th March 2021 – the earliest date the league was won in 119 years – claiming their 55th domestic championship (a World Record alongside Linfield) all the while remaining undefeated across all 38 games and conceding just 13 goals amid TWENTY SIX clean sheets (excuse the obvious bias of this author).
Rangers amassed 102 points and finished 25 points clear of runners-up and Old Firm rivals Celtic who also qualify for the Champions League qualifying rounds.
Hibernian and Aberdeen finished third and fourth and make the new Europa Conference League whilst St Johnstone – courtesy of the remarkable achievement of winning BOTH domestic cups fly the flag in the Europa League.
At the other end, Hamilton Academical dropped out of the league finishing bottom and Kilmarnock ended their 28 year stay at the highest level of the Scottish game losing the play-off.
The two new spots in the league are taken by Hearts – who many think should really be in the Premiership anyway having been treated shamefully by the League and its clubs amid the Covid pandemic – and Dundee.
New Signings
The summer is but young but we always start off early in Scotland (July 31st this season) so the clubs have already made some new signings and the market is moving.
Champions Rangers have signed Zambian striker Fashion Sakala from the Belgian Jupiler League and a name very familiar to many fantasy gamers – that of 'LORD' John Lundstram.
Celtic under their new manager Ange Postecoglu, have signed two defenders from Sheffield Wednesday in Liam Shaw and Osaze Urgohide and their pre-season is well underway.
Aberdeen have a new manager in Stephen Glass and he has readied himself for his first season in Scottish Management by sweeping up proven Scottish Premiership players Scott Brown from Celtic and Declan Gallagher from Motherwell alongside American striker Christian Ramirez from MLS.
The rest of the league have traded players but not much of fantasy note or general interest outwith the individual club's support however Scotland Under-21 international Liam Kelly has joined Motherwell from QPR and will be first choice keeper, Hibs appear to have lost a lot of experience in David Gray (retired), Ofir Marciano (Feyenoord) and Jackson Irvine (St Pauli) all leaving. Perhaps one to keep an eye on is Ross County who have snagged two interesting young players on loan – Jake Vokins from Southampton and Alexander Robertson from Manchester City.
The Registration
Search for the Fantasy Football Scotland App in your app store. The icon is like this: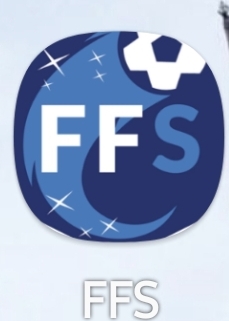 The App is very user friendly and vibrant and has had no bugs or issues in the entire time I've been using it. I'm sure you'll find it simple enough to get used to it.
The Pitch Layout
Your team layout will appear like this once you have initially selected your squad.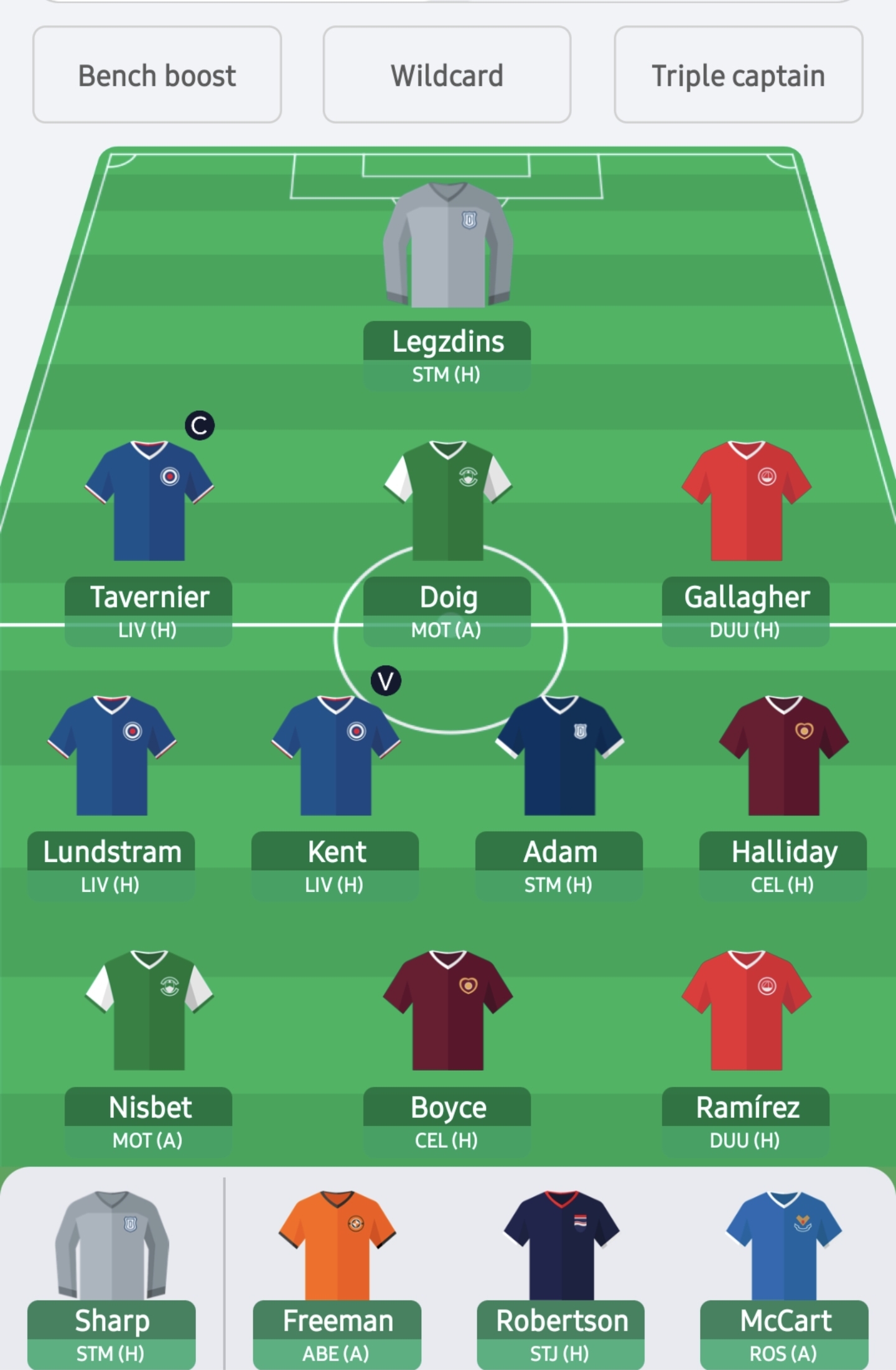 (Read on for the BIG changes hinted at in the first paragraph…)
The Scoring
The scoring remains the same as FPL apart from the following, applied to individual player scores
A hat-trick bonus: 2 points
A penalty won (regardless of outcome): 2 points
A penalty conceded: -2 points
2+ goals conceded by a midfielder: -1 point
AND NEW FOR THE 2021/22 SEASON (and shame on you FPL! For all apart from the first one)
GK Save Points – Goalkeepers now receive 1 point for every three saves they make
INTERCEPTION POINTS – players will now receive1 point for every THREE interceptions they make in a match (all positions).
TACKLE POINTS – players will now receive1 point for every THREE tackles they make in a match (all positions).
PASS POINTS – players will now receive1 point for every FORTY passes they make in a match (all positions).
SHOT POINTS – players will now receive1 point for every THREE+ shots they make in a match (all positions).
All awards are given by Opta and THERE IS NOW A bonus points system. Identical to FPL – there will be points awarded for the best Opta performers in a 3, 2, 1 system.
The Captain/Vice-captain
Each week your captain will score double points as in FPL.
However, your vice-captain will ALSO COUNT DOUBLE for the goals they score (if they are a midfielder or forward) or the clean sheet they keep (if they are a goalkeeper or defender). Example: You could have two players score hat-tricks in a gameweek and get double points for every goal they score.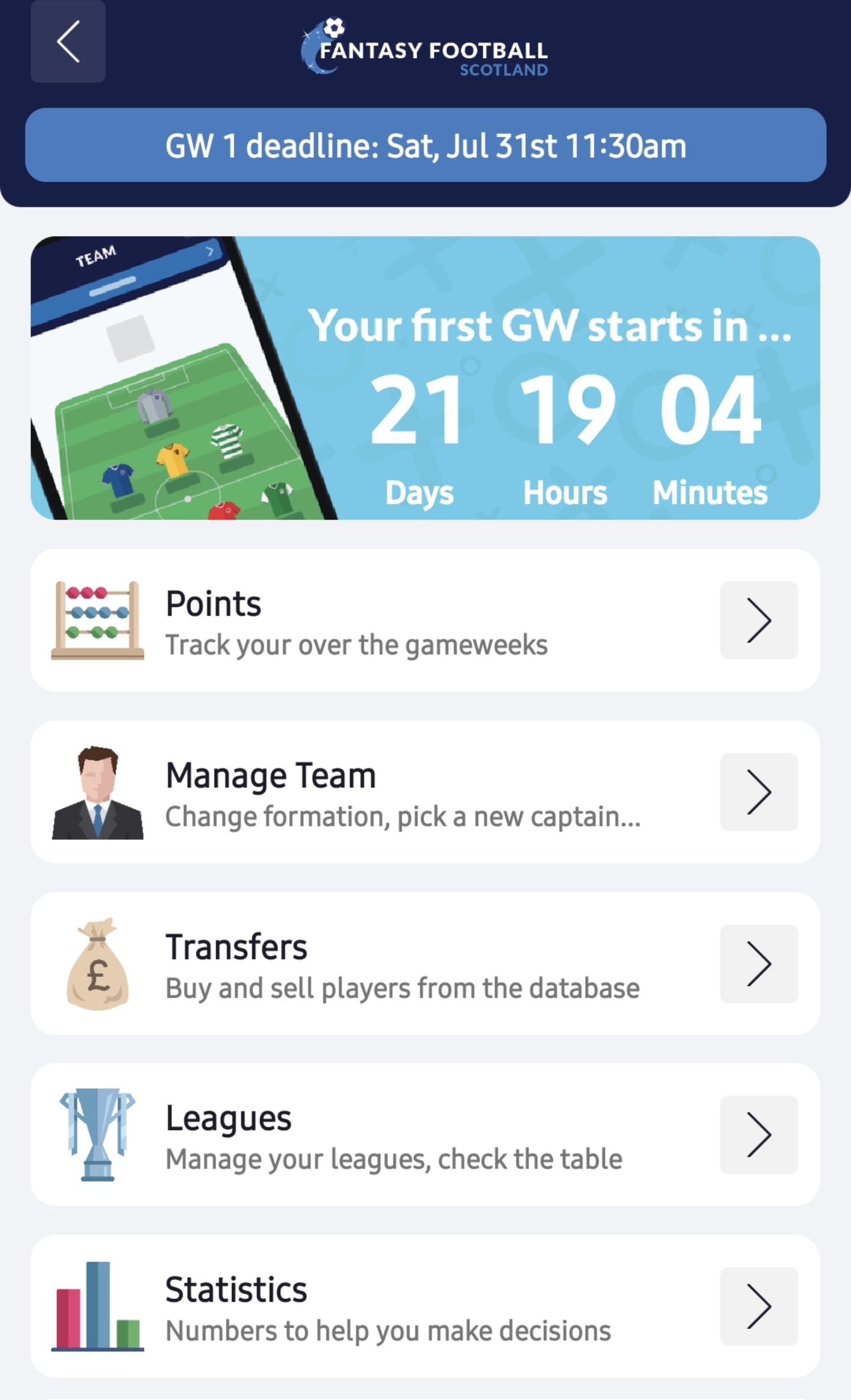 The Chips
Like FPL we have two wildcards – one to be used at any time and the other only available after the Premiership Split
You also have your Triple Captain and Bench Boost chips as you are used to however there is no Free Hit chip in this game.
The Transfers
You will have one free transfer a week and each additional transfer you make will incur a 4 point penalty. Your transfer WILL NOW roll over if you choose to save it but as in FPL, never more than 2 transfers at any one time.
The Substitutions
Auto substitutions will be updated at the end of the gameweek HOWEVER, the game will add your highest scoring bench player regardless of bench order if it still falls within the remit of an allowed formation.
The Teams
Aberdeen
Celtic
Dundee
Dundee United
Heart of Midlothian
Hibernian
Livingston
Motherwell
Rangers
Ross County
St. Johnstone
St. Mirren
The Gameweek 1 Fixtures
Saturday 31st July
Rangers v Livingston (1.30pm)
Dundee v St Mirren (3.00pm)
Ross County v St Johnstone (3.00pm)
Heart of Midlothian v Celtic (8.00pm)
Sunday 1st August
Aberdeen v Dundee United (3.00pm)
Motherwell v Hibernian (4.30pm)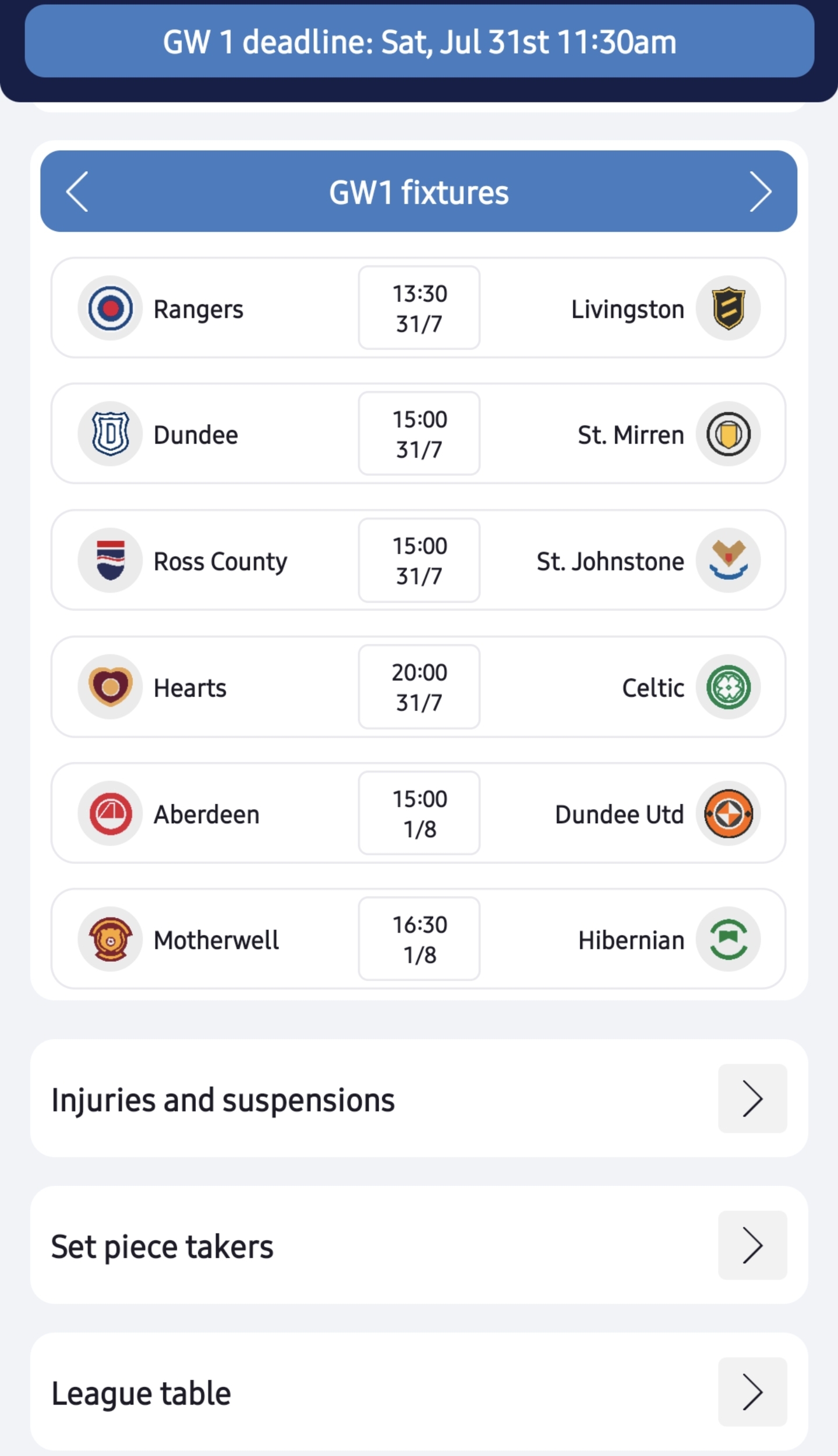 As you may also see from the above, the app has now been updated with a list of 'Injuries & Suspensions', 'Set Piece Takers' and the current Scottish Premiership Table along with a blog dedicated to FFS. Some nice little features added.
For the latest odds please check out Free Bets
The deadline for the first gameweek is Saturday 31st July at 11.30am – TWO hours before the first match starts and we'll be on hand to offer any advice when we get a second from the cut throat world of FPL.
Please join the FF247 league using the code GLGRc under the leagues tab.
Good luck and have a fun time!
Thanks for reading THE SCOTCH CORNER – SCOTTISH PREMIERSHIP FANTASY FOOTBALL 2021/22, written by GP
FF247 LEAGUES FOR 2021/22
*The small print…
All prizes must be claimed within 30 days of the final GW.
Both leagues will be shut to new entrants as of 01/01/22.