UEFA Champions League Fantasy Football 2019/20 GW6
Rotation Central
Hello everyone and welcome to UEFA Champions League Fantasy Football 2019/20 GW6. The main focus this week will be on the line-ups as we have a good many teams who have qualified already, some who have already topped their group, some who know they are staying in 2nd, some who know they are out of contention, even for 3rd spot, and a handful who still have a vested interest in actually winning this week. We shall detail all of this below. Along with the usual update on the Regular's League and we also have that all important (now less so) Fixture Tracker.
State Of Play…
Group 1. Nothing to play for;
This is where we are likely to see most of the rotation…
Qualified as Group Winner;
Bayern Munich
Juventus
Paris Saint-Germain
Manchester City
Barcelona
Qualified in 2nd but CANNOT win the group;
Real Madrid
Spurs
Eliminated
Genk
Lille
Slavia Prague
Group 2. Maintaining interest
And less…
Qualified but CAN still win the group;
RB Leipzig
Fighting for 1st, 2nd or 3rd;
Club Brugge
Galatasaray
FK Crvena Zvezda
Olympiacos
Shakhtar
Dinamo Zagreb
Atalanta
Atletico Madrid
Bayer Leverkusen
Lokomotiv
Liverpool
Napoli
Salzburg
Inter
Dortmund
Zenit
Lyon
Benfica
Ajax
Valencia
Chelsea
So basically we have 11 teams with absolutely zero riding on their game, other than perhaps a bit of pride or integrity, but let's face it, anything with the word UEFA attached to it in that respect…
And 21 others who do have something to play for.
Not to state the bleeding obvious then but your first port of call this week should probably be a numbers game, ticking off those who fall into each category. And if you have way more from Group 1 than 2 then you may have to consider whipping out that anytime wildcard, or at least be contemplating a few hits.
Housekeeping GW6
The main points to consider this week are as follows;
Transfers
You get two free transfers each week and this one is no different. You can choose to carry one over should you wish, but you will never get more than three in any GW, which means that you should have somewhere between 2 & 3 transfers for this week.
Deadlines / Manual Subs / Captain Switches
There are two, essentially. The first and main one is at kick off on Tuesday which is 5.55pm UK time. You will get to see the line-ups of 4 teams prior to it and this week they are; Napoli, Genk, Salzburg and Liverpool.
The second is on Wednesday at the same time. This is the one before which you can change your team around, bring in your subs manually and also change your captain to a Wednesday player, if you so wish.
When setting your team up just make sure that all of your 'Tuesday' players are on the pitch to begin with, you can then bring your 'Wednesday' guys in prior to 5.55pm on that day. Likewise with your captain.
The Game Itself and the FF247 League Codes
You can access the game here – Fantasy Champions League
We have two leagues running;
Our official FF247 league code is 32NQYUI4KW
This one is the usual open air league that all and sundry are welcome to join; there are about 800 people in it. We have no idea who most of them are!
Our other one, the 'Regulars League' is now only open to new entrants via email
Please email us on contact@fantasyfootball247.co.uk if you want the code.
We did ask that people respected the purpose and integrity of this one; that is to say that you should only enter it if you consider yourself to be a Regular Community member on here. But this was unfortunately not adhered to. The phrase 'this is why we can't have nice things' springs to mind. As a result we have booted about 50 people out of it who we do not recognise. If you find yourself suspended and feel you shouldn't be then please just say so in the comments below and we shall happily reinstate you.
The Regulars League Table
The Top 10 as we stand…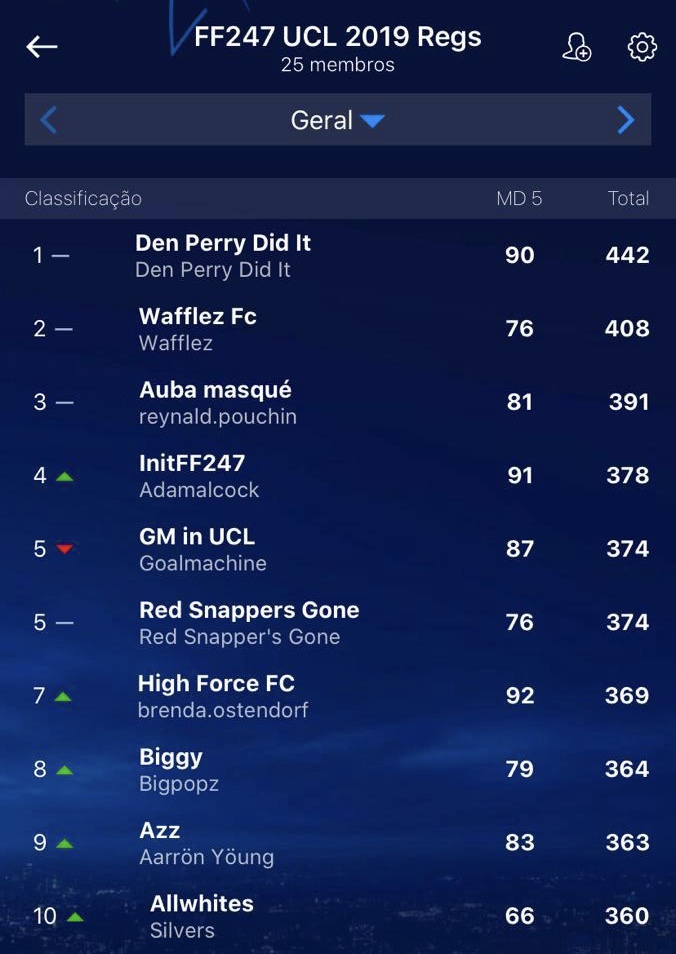 UEFA Champions League Fantasy Football Tracker
And the Fixtures themselves.


The main purposes of this article are threefold; to remind you to do your team, to provide a separate CL space to ask for help and advice from the community (and to hopefully reciprocate in that aim) and lastly just somewhere to chat about the games as they happen; a CL Live Match Chat if you like, so as ever please feel free to post any RMT's or questions in the comments below.
Thanks for reading UEFA Champions League Fantasy Football 2019/20 GW6.