You can lead a Horse to water…
But can he lead himself to victory?! Maybe, just maybe…
By way of introduction (he probably needs none but here goes anyway…) Horse has been with us for years and years, dating back to our old FFC days in fact. And he's leading our FF247 Regulars League for good measure too. And last season was definitely his last! He all but quit and it took a community intervention for him to even be here today. And we're bet he's glad he is as this season he's absolutely flying! And he's very kindly taken some time out for us to reflect on what he has changed in his approach to FPL this season and tells us how he thinks that has helped him to rise in the ranks to his current lofty position.
And as a helpful (and ever so pertinent) aside he's also given us his take on his own 'Chips Strategy' for the crucial weeks ahead with the DGW's looming large. As well as a peek at his proposed Wildcard team for this week.
Speaking of which please check the pictures and narrative just below the article as the new Fixture Tracker is there with the proposed DGW34 & 37 fixtures on it along with the updated BGW35 info. This will be updated as we go along this week, as and when any rearranged games are officially announced.
And so without further ado or waffle, over to the man himself….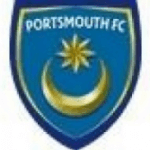 First of all, a big thanks to everyone who contributes articles and posts on this wonderful site. It is by far the best fantasy football community on the Web. Being a staunch Portsmouth fan I cannot pretend to be any great authority on Premier League football but thanks to the excellent articles and the knowledge of posters I have gained loads of insight into different players and teams. I am good at strategies though.
I am fairly competent at FPL and have ended up in the top 1% of the world for the past five seasons. My best finish is around 6K.
This season I decided to play the game differently and try out some different ideas. They have worked well and I am now up to 276 OR, looking at my best ever finish. I don't know if I have stumbled on something or whether I have just been lucky, perhaps a bit of both. Anyway I would like to give something back to FF247 community by sharing a few thoughts and strategies. Hopefully it will get you all thinking and will spark some discussion.
'False Number Nine'
One of the great frustrations of FPL is not having enough money to buy the players you want.
At the tail end of last season I experimented with playing a cheap third striker (Anichibe 4.5m). This freed up funds to pimp my defence and midfield.
Alonso and Walker gave me a steady flow of points which more than compensated for not having a third striker.
4-4-2 gave my team a lot better balance than playing the traditional 3-4-3.
At the start of this season I started thinking that the third striker offers the least value of all the players. You need to spend 7.5m or more to fill the third striker slot with anyone half decent. That extra 3m spent on defence/midfield can make a HUGE difference. Also, money is tightest at the beginning of the season so I started the season with a 4-4-2 formation with Quaner as a 'false number nine'. This allowed a strong team across all positions and a lot of flexibility.
(My GW1 team is below. It was really strong and balanced. Banjo won't appreciate the amount of Southampton players though!!)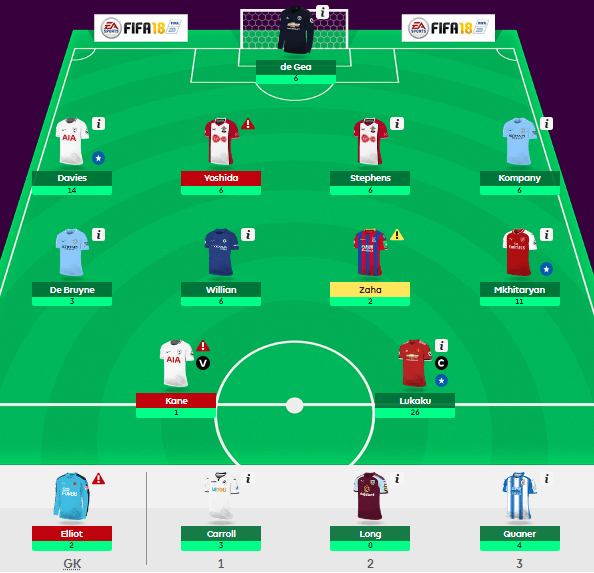 In GW1 my defence alone scored 38 points and I have kept spending and scoring big at the back throughout this season. One of the advantages of defence is that you can get a good idea of each player's predicted return by looking at bookie's clean sheets odds.
As my team value has risen I have changed my team from 4-4-2 to 3-5-2. I have only played 3 up top six times all season.
Total Football
Apart from covering the arm band options with two premium strikers, my strategy was to have as many players as possible on the pitch with a realistic chance of getting returns. Steady,reliable, rotation free players. I hope to have at least nine or ten each GW. Then every week some of them will pop up and get points. This massively cuts down the chance of having a disastrous game week and the resultant self doubt/panic. (I have only scored outside the top 50% in one GW all season). If a player does blank one week and I have done my research (and read someone else's research!) and I think he's a good player, I keep him.
Team Value
FPL is all about flexibility. Having money in the bank gives you the flexibility to buy the players you want rather than getting players who you know are not really nailed on or are, quite frankly, a bit crap.
It is probably wise to wait until Friday to make transfers, but at the start of this season I went gung ho picking up as many 0.1m rises as possible. This gave me the chance to build team value and get a better team when I played the first wild card which has paid big dividends.
This approach works best if you can react quickly and have a good idea which players are likely to do well. (They are usually flagged up in the FF247 Tips article!)
Most of the early transfers have gone well. But I did get Jones in and he got injured before he got a chance to play, who I sold for Moreno who then he also got injured before he got a chance to play.
My team value has been comfortably above the average for the top 10K all season, which has helped me get the players I need to climb the rankings.
Towards the tail end of the season I make my transfers at the end of the game week.
One of the most important things is not to keep players who are losing team value. Clear out the dead wood!!
Minimise Hits
I have tried to minimise taking hits. The only hit I took was a cheeky one. When Burnley were super solid at the back, I 'knew' they would get a clean sheet against Stoke at home. I took a hit to get Ward in for the injured Moreno, safe in the knowledge that I would get my four points back for the clean sheet. Burnley did get a cleanie that evening but only after Ward had gone off injured in the first half!
The strategy is taking a longer term view of being happy to keep a player for 6 weeks or more. Keeping up to speed with the upcoming fixtures helps a lot.
Ownership
I have never really looked at ownership before. This season I have found it useful keeping an eye on ownership stats for the top 10K, which can be found on the excellent FPL Discovery site. The stats for the top 1K are harder to find but are on Fantasy Football Fix. I have looked at getting in popular players that I rate and avoiding ones that I don't rate or are off form. That is a differential in itself.
Wildcards
I take forever to set my team up pre-season and on wildcards. I read every word of the excellent articles on FF247 (You probably realise that with my 'editing' Rosco, LOL). I read most FPL things I can get my hands on and scribble on the back of envelopes until I get a team that I am happy with.
Chip Strategy
When I started playing FPL there was only one wildcard to play a season. So I am happy holding on to the chips until the business end of the season.
My original plan was to play the FH in GW31 but I saw a post on the forum by Mito recommending using it in GW35, which got me thinking. Rosco convinced me by explaining the reasoning. Again this shows me the strength of our forum.
Since then (GW 25) I started loading up on players who had a match in GW31. Apart from three Liverpool there was not a lot on offer so I also got Mahrez in for his kind fixtures. He rewarded me with two goals.
I ended up with nine playing in GW31 and scored a whopping 93 points, which was over double the average. As a result I rose a grand total of 14 places. Yes, it is tough at the top
So what now?
Here's my plan.
GW 32 WC
GW 34 BB
GW 35 FH
GW 37 TC
I have activated my Wildcard in preparation for the upcoming DGW's and to clear out the dead wood.
I am making the assumption that the games postponed in GW31 will be rearranged for GW34 and the matches postponed in GW35 will be replayed in GW37.
Just roll with me on that. It will be confirmed one way or another very soon.
My wildcard strategy is to load up with as many DGW players as possible from the best teams with the best fixtures and those that are least likely to be rotated whilst keeping within budget.
Trust me it will take some time to get it right!
But just to give you an idea how I intend to set my team up here is my first effort and the thinking behind it –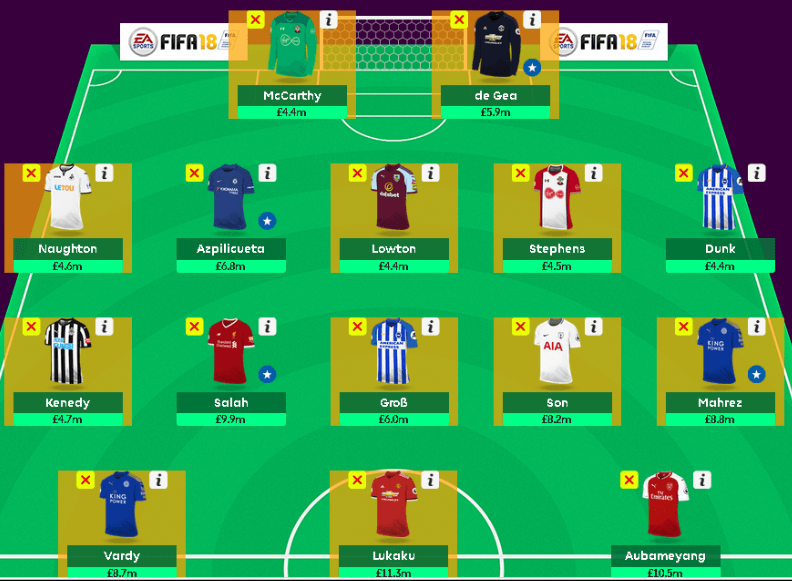 Teams with 2 DGW's in 34 and 37 (roll with me) and who I have chosen from them…
Brighton (Dunk, Gross)
Chelsea (Azpilicueta)
Leicester (Mahrez, Vardy)
Man Utd (DDG, Lukaku)
Southampton (McCarthy, Stephens)
Spurs (Son)
Teams with a DGW in GW34 but not in GW37.
Arsenal (Aubameyang)
Burnley (Lowton)
Man City
Newcastle (Kenedy)
Swansea (Naughton)
West Ham
These will be benched for GW37 or transferred out for players with a DGW such as Kane.
Plus of course Salah.
I am not sure how I got two Southampton defenders in there again!! (Just place holders Banjo
)
Anyway, it is just a first draft and it will evolve but if I change one player I will have to change other players too.
I am presently looking at a 3-4-3 set up this may well change if there is a cheap striker who is nailed on for the DGW's.
This should hopefully give me around 14 DGW players for 34 and another 10 DGW players for 37, which should help (hopefully!) lift me up the rankings.
Rank Target
At the start of the season my aim was, as usual, to get into the top 1%.
But the way things have gone this year I have since upgraded my target, first to reach the top 10K, then the top 1K and now I am hoping for a top 100 finish, which I am 22 points away from.
Who knows?
Good luck to you all.
Horse
BLANK AND DOUBLE GAMEWEEK FIXTURE TRACKER
As promised in the intro, here is the Fixture Tracker with what we currently believe will be the DGW34 (confirmed) & DGW37 (unconfirmed) fixtures along with what will be the BGW35 ones.

This is the full picture version – there is a scrollable version below. We have ditched the usual good / bad / indifferent colour coding scheme so that the DGW's and the BGW stand out more.
It's sure to be a stressful time ahead with many a Wildcard played this week. Our writing team are taking advantage of the international break and having a mini breather but fear not as we intend to spend our time on site answering questions instead, so…
POST YOUR WC / DGW / BGW QUESTIONS BELOW AND WE SHALL ENDEAVOUR TO ANSWER EVERY SINGLE ONE. (*Not you Mitro
).
Thanks for reading You can lead a Horse to water…
The League Codes for FF247 for the 2017/18 season are as follows:
Gameweek Tracker GW32-38