Barry and Paul's Predictions GW29
If you had to put money on a team scoring 4 goals last game-week, then Liverpool would likely have been your pick given their current form and fixture. Would anyone have chosen Brighton? Probably not, but as they had already shown in GW26, they're a bit handy at home all of a sudden. Forgotten man Manolo Gabbiadini popped up with a 90th minute equaliser for Southampton, another clean sheet gone in FPL, but a nice predictable 1-1 in B&P – Winning!! The Sunday results were nothing out of the ordinary, although many would have hoped (and predicted) that Spurs managed more than just the solitary goal against Palace.
With the game-week officially still on-going (Arsenal v Man City play Thursday – weather permitting) there won't be any winners revealed until next week, oh what drama!
If Southern based media outlets are to be believed then the harshest weather since the beginning of time is on its way, if and how badly this affects this weekends fixtures remains to be seen. Lets assume for now that the games are on, so get your predictions in and just to be safe, buy bread… buy all the bread.
Cumulative Overall League Table
As we say there are no points to add for GW28 yet but here is a reminder of how the overall table looks currently…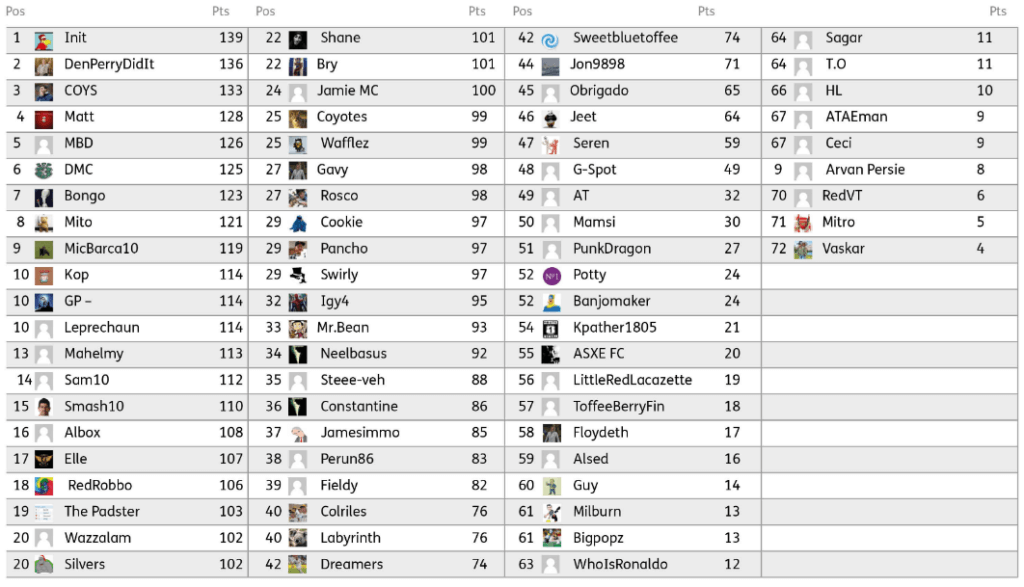 This weeks Competition
Rules & Scoring
Correct Score = 3 points
Correct result = 1 point
Correct 1st goalscorer = 5 ponts
Points are awarded on an 'either or' basis, so you'll either score 3 points or 1 point for a correct prediction, these are never added together for a 4 point score.
So just to recap all you need to do is copy and paste the fixtures from below, pop your score prediction on each and if you say 1-0, you mean 1-0 to the home team. Not either team. Capiche?
Oh, and add your 1st goalscorer of the week prediction. Probably best if you go for someone in the earlier games! 😉
Here are the fixtures for this week's comp, best of luck to you all!
Saturday 3rd March
Burnley v Everton (12.30)
Leicester v Bournemouth
Southampton v Stoke
Tottenham v Huddersfield
Swansea v West Ham
Watford v West Brom
Liverpool v Newcastle (17.30)
Sunday 4th March
Brighton v Arsenal
Man City v Chelsea
Monday 26th February
Crystal Palace v Man Utd
Thanks for reading Barry and Paul's Predictions GW29
This article was written by Barry and Paul aka Matt and Rosco.
The League Codes for FF247 for the 2017/18 season are as follows:
Gameweek Tracker GW29-38