CL Tuesday New format: Pursuit (10th March) – Preview
Finally, the second legs of the Champions League round of sixteen begin, starting on Tuesday with Leipzig-Tottenham and Valencia-Atalanta.
Sign up here!
First of all I have prepared a table for you again:

Here are the 4 teams that will play this Tuesday. We can see their probability of winning, the probability of them scoring a goal and the probability of them having a clean sheet.
It quickly becomes clear that Leipzig outperforms in all categories and Tottenham is the tail light.
Leipzig wins by 62%, Tottenham only by 16%, Leipzig scores 86%, Tottenham only by 59%.
Accordingly the clean sheet probabilities:
As usual, we look at the defensive lines of all 4 teams first.
For this we take the average price at Fanteam.com of the 4 most expensive defenders who are most likely to be in the starting eleven.
Basically, it's pretty clear: Leipzig's defenders cost on average not even 1.0M more than those of Atalanta and Valencia, with more than twice the probability of a clean sheet.
Tottenham's defenders are very interesting compared to Atalanta and Valencia, especially because of the Pursuit format.
Only a 3% (6%) lower probability for a clean sheet and therefore a significantly lower price.
Nevertheless Leipzig clearly dominates for me, they are surprisingly good defensively. The season so far shows that. In the Bundesliga, they have only 26 goals against, just as few as Bayern and are therefore at the top of the table.
In the last 6 matches Leipzig only conceded 1 goal (!!), despite heavy away games with Bayern, Tottenham, Schalke, Wolfsburg and a home game against Leverkusen.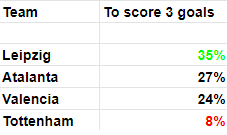 Here we see the probabilities that a team will score at least 3 goals.
Here, too, Leipzig is leading, but not so far ahead of Atalanta and Valencia, Tottenham is completely left behind.
Let's take a look at the most expensive striker and the 2 most expensive midfielders (at Tottenham 3 midfielders) of all 4 teams, who will probably be in the starting eleven:
Leipzig: Werner (11.0M) + Sabitzer (10.8M) + Olmo (10.2M) = 32.0M
Atalanta: Gomez (10.0M) + Ilicic (9.3M) + Pasalic (9.0M) = 28.3M
Valencia: Rodrigo (10.2M) + Parejo (9.8M) + Guedes (9.6M) = 29.6M
Tottenham: Moura (7.0M) + Lo Celso (6.4M) + Alli (6.6M) = 20.0M
Tottenham are of course the cheapest, but the chances of them having a goal-loaded game are also very slim. In the offensive there is really almost no danger without Son and Kane and so Leipzig will hardly be able to become dangerous away from home.
Leipzig is most likely to score 3 times, but due to the excellent 1-0 first leg result in London, there is perhaps some danger here, because they do not necessarily have to come with a lot of offensive power, probably not even when it is 0-1.
Nevertheless with Schick Leipzig has an offensive player, who will be a very interesting pick when he is in the starting eleven with only 7.0M
Atalanta seems to be interesting here too, the bookmakers give them the chance of at least 3 goals in over ¼ of the cases and their prices are a bit below Valencia.
Also Atalanta has a small outlier with only 8.9M in Zapata.
Nevertheless, there is to consider that Atalanta won the first leg 4:1 and it´s not sure that they will continue to play away with a lot of offense in such an important game for this club. Valencia can basically go all-in at home.
Possible team:
Given all these factors I will present my idea of a team for this Pursuit Tournament and I will give you some reasons for it.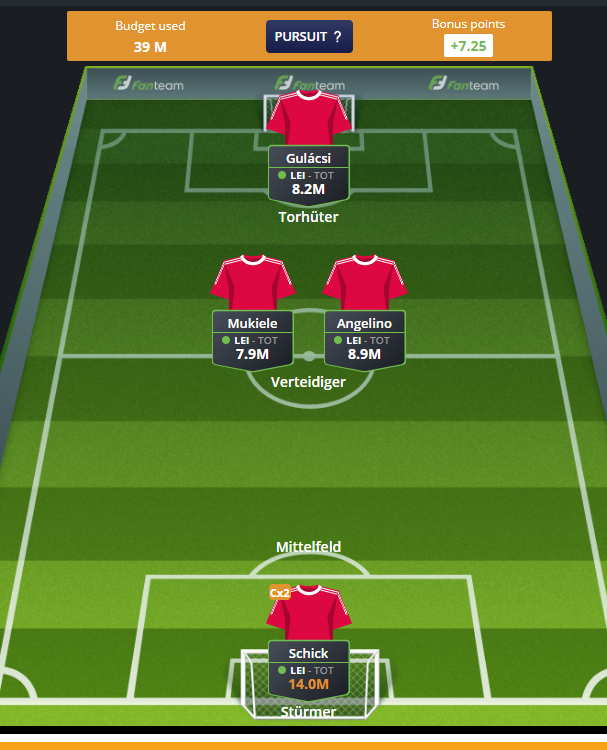 The team is based on the one hand on the knowledge of probabilities, as the bookmakers see it, and on the other hand on a possible line-up that Leipzig could have tomorrow:
If it turns out that way we have Gulacsi in goal, as a full-back we have Angelino and Mukiele, who as you can see from the arrangement are listed virtually in midfield, because they are much more offensive in attack by the 3-man back with Klostermann, Upamecano and Halstenberg, than in a 4-4-2 formation.
Up front I obviously choose the cheap Schick, who is 1.86m and is able to use flanks of Mukiele and Angelino with his size.
Mukiele already has 3 goals and 2 assists this season, Angelino, although he is not yet long in Leipzig, also already 1 goal and 1 assist.
Of course, Werner will potentially get more points on Fanteam than Schick, but on the one hand he costs 4.0M more than Schick, which costs us valuable bonus points, on the other hand he will probably have a very large ownership.
Of course the team above is only one of many possibilities.
You could of course replace Angelino with a Valencia/Atalanta striker, or if you expect an open exchange of shots, even play with a Valencia and Atalanta striker. As I said, this is only a suggestion and you have to get a little creative to be differential!
Visit the FanTeam lobby here.
Thanks for reading CL Tuesday New format: Pursuit (10th March) – Preview. This article was written by FanTeam