Early Season FPL Risers and Fallers
The likes of Raheem Sterling, Mo Salah, and Sergio Aguero have all started the season well from an FPL point of view. It's been chances galore for all three so far, so if you've not got at least one of them in your side, then you need to think about some transfers. It's not too late yet, but it might be soon if you get left too far behind in your mini league.
The points reflect just how well Manchester City and Liverpool are doing. They're arguably going to run away with it again after solid starts. City are still the odds on favourites, but Liverpool are close behind at around the 5/2 mark. If you fancy backing either, making a deposit with PayPal bonus code could come in handy. There are plenty of welcome bonuses available for new bettors.
Although it's looking like another two-horse race, you have to consider all 20 teams when playing FPL. But what's even more important is considering the price rises and falls of each player in the game.
Why are Price Rises and Falls Important?
To put it bluntly, if you don't bother tinkering with your side with the prices rises and falls in mind, you're probably not going to do very well. You might be a veteran and already know this, but for all the newbies out there, keep an eye on player's prices.
Why? Well, prices change rapidly, especially this season, based on the number of players transferring someone in or out. If you haven't yet got Teemu Puuki, you're going to be paying a lot more now than at the start of the season. On the flip side, if you've kept a player in your squad who's not played much and has dropped, say, £0.3m already, you're going to struggle bringing in certain players in the future as you'll end up selling for a loss and buying at a premium.
It's not all about bringing in players on the rise and selling players who are dropping in value. Not at all. However, this is an important part of the overall FPL strategy, and you must at least follow this method to some degree to keep up with the runaway leaders.
Who's on the Rise?
Mason Mount, Teemu Pukki, Raheem Sterling, Kevin De Bruyne, John Lundstram. These players have all risen considerably since the beginning of the season. Most of you reading this will already have at least one of these players in your side, if not two.
You can use the FPL site to see who's been transferred in and out the most to give you an indication of who might rise and who might fall in the near future, but a lot of it also comes down to personal knowledge and keeping up to date with what's happening on the pitch. For example, if Paul Pogba scores a brace one weekend or gets a couple of assists as he did on the opening day against Chelsea, you can pretty much guarantee that his price will rise by at least £0.1m before the next gameweek.
It's the same with drops. If a player has been sent off or has suffered an injury that looks pretty bad, you can make an educated guess that his value will drop before the next gameweek.
So although there are many players on the rise, pay attention to how a player performs and look to get him in before the end that day if he's had a great game.
One other reason players rise is due to their prolonged run in the side. There might be a player, say, at £4m in defence who didn't look like he'd get a look in at the back so early on. But an injury may have forced the manager's hand, and that £4.0m player is now set to enjoy a month in the side. Because his value is so low, that price will almost certainly rise as players look to bring him in to free up funds for elsewhere.
Which FPL Players are Dropping in Value?
If you take the game seriously, you shouldn't really have the likes of heavy fallers Marcos Alonso or Pablo Fornals in your side. They've not been playing much at all.
But there are players that play week in, week out who still drop in value. This is simply because they're not picking up many FPL points. Take Ayoze Perez at Leicester and Gerard Deulofeu at Watford for example. They've got a lot of minutes under their belts already, but they're just not doing much to score points. Not goals and no assists at the time of writing. No wonder they have both fallen by £0.3m. Again, if you play the game with some seriousness, you've probably not got these two in your side.
Another player who has dropped is Alisson. He looks set to be missing until mid-October, but what you need to make a note of is that as soon as he's back fit, he'll return to the starting eleven. The perfect FPL tactic here would have been to get rid of Alisson when he got injured for £6.0m, replace him with Adrian at £4.5m, and then swap them again once the Brazilian is back. One will have risen in price, and one would have dropped. If you play it right, your team value will look good and you'll have a financial advantage over some rival players.
Who Should You Pick?
That's not up for us to decide. Be slightly different. Don't be a sheep, but don't go completely rogue and pick players nobody else has. That's only ending in failure. When you look at the leaderboard, the top players will have a fair few of the same stars in their line-ups.
The FPL advice here would be – keep an eye on performances on the pitch and act quickly before missing price rises and price drops. Waiting until Friday to do your transfers is not a wise move if you want to get ahead of the pack. Everyone's different, though, so feel free to play the game as you wish. Our tips above should help. Good luck for the rest of the season.
Thanks for reading Early Season FPL Risers and Fallers
FPL FIXTURE TRACKER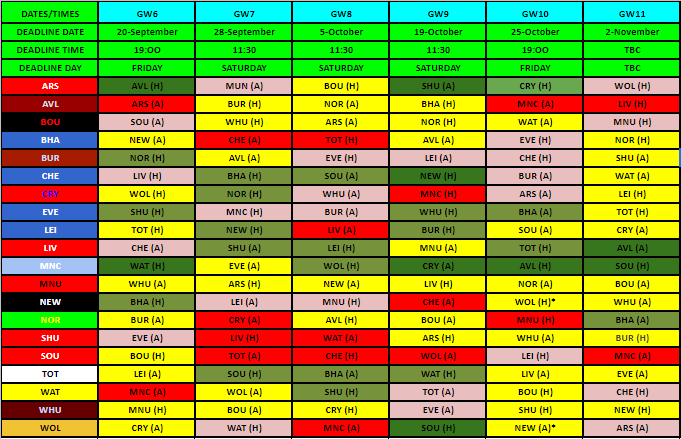 FIXTURE TRACKER LINK
Fantasy Football 247 League Codes: