Fantasy Football Captain Picks Gameweek 15
Welcome to Fantasy Football Captain Picks Gameweek 15. You have just got me this week. Sorry about that. Well, that is not strictly true; the site team will be posted too. I saw that it was almost unanimous amongst site readers that you would have preferred to read Tips. Sorry about that. Hopefully my spreadsheet at least partly bridges the gap.
If you take anything from this article, it should be that the deadline for Gameweek 15 is this Tuesday at 18.45. That's right, the most important piece of information in this article is already on the website (in the top-right corner). It even comes with a countdown. Flashy. And before reading this article, in an attempt to make sure that everyone who reads it is in a good mood, make sure you watch Divock Origi's last-minute winner against Everton. Heck, even if you have watched it, go watch it again. Everton fans, maybe don't.
I hate midweek deadlines. You leave work worried that rush-hour traffic will stop you from making your transfers, or from changing your captain from the stupid punt you made last gameweek. You shout at every driver in front of you that lets a car in from a side road. You shout at every pedestrian who unreasonably wants to cross the road at a zebra crossing. You shout at every person who drives the speed limit. You breathe a sigh of relief when you get into the house at 18.09, only to swear under your breath (or not) that you have to make the kids' tea. Or dinner, or supper, or whatever you 'poshos' call it. You can't get a takeaway on a Tuesday night, can you? The neighbours might see the Nissan Micra K11 pull up outside and call the local authority social services. The tribunal probably won't be receptive to your plight; lamb rogan josh curry or Glenn Murray, ham and mushroom risotto or Jonny Otto, creamy chicken tagliatelle or Marcus Bettinelli?
Then again, what do I know? I am still a student. I'll be back home by 15.30, have no kids to take care of and takeaways are acceptable at any time of the day, any day of the week. I digress. Onto fantasy football.
Given that this article is the only article of the regular trio to survive the cull for midweek fixtures, I direct you to Gameweek 14's Fixtures and Tips articles, which are still relevant. As I pointed out in Fixtures last week, the European football schedule increases the rotation risk for certain teams, which is exacerbated by this midweek set of Premier League fixtures. After Manchester City came from behind twice against Lyon to secure a draw, and due to the Champions League qualification rules, City need at least a point at home to Hoffenheim next Wednesday in order to secure top spot. With Chelsea away from home slotted in before that fixture, —00+00:00″>there is every chance that Pep will choose to rest some of his star players against Watford this coming gameweek, Pep has already started resting his players. Who knows whom he will bench next week? Jamie Jackson may know.
Spurs' victory over Inter means that they need to match or outperform Inter, who play PSV, against Barcelona. As such, if Inter win, Spurs must win (goal difference is irrelevant); if Inter draw, Spurs must get at least a draw; and if Inter lose, Spurs are through. Given that PSV only have one point in the group, expect Pochettino to select his strongest side to face Barcelona. That could mean rotation against Southampton or Leicester, although Alli and Eriksen have not played week-in-week-out recently anyway so should not be suffering from burnout and Kane does not really have competition up front with Victor Janssen sidelined (even if he wasn't sidelined!), unless Llorente or Son are played as a lone striker or alongside Lucas Moura.
Liverpool's hopes of progressing were dealt a heavy blow after losing to PSG. If PSG lose to Crvena zvedza, Liverpool must beat Napoli to qualify. If PSG draw or win, Liverpool must either beat Napoli 1-0 or by two goals. I know, the rules are bizarre. With Burnley and Bournemouth coming up, I would expect some degree of rotation from Klopp. Arsenal and Chelsea will finish top of their groups regardless of results in their final group stages matches and Manchester United have already qualified and look unlikely to snatch the top spot from Juventus.
Below is a spreadsheet of key players. I analyse four of them further below, although I don't discuss the stats laid out here. That'd be a bit pointless!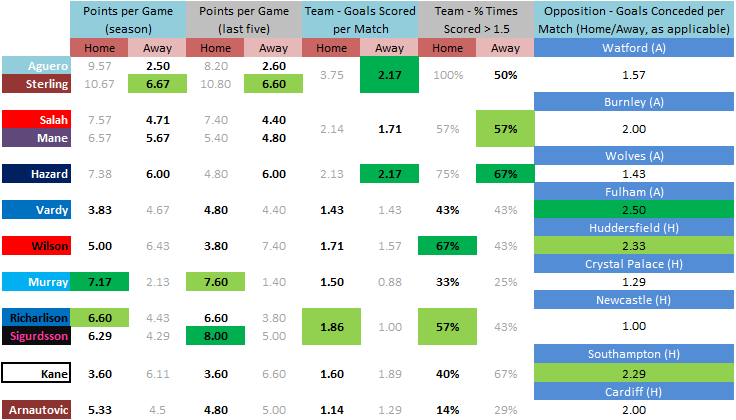 Vardy – Fulham (A)
It took a penalty for Vardy to break his five game duck last week, and he followed it up with another this weekend against Watford, amassing five bonus points in the process. Whilst this might therefore seem like a strange pick, Ranieri could do with calling a plumber (and a bloody good one at that!) into Craven Cottage to fix their leaky defence before the visit from his old side. Fulham have conceded 35 goals so far and 15 in just six home matches. Their last three home games saw Southampton (2), Bournemouth (3) and Arsenal (5) put ten past them. Arsenal scored five away from home. That is a bit like Elland Road having an atmosphere when Leeds are losing; it just doesn't happen. Sometimes your captaincy choice should not be overcomplicated. In the words of Shia Labeouf: 'I'm cool with, you know, females working on my engine. I prefer it actually.' Hmm, that didn't quite accentuate the point. Maybe that's not the right quote, but just do it anyway.
Leicester have scored in every away game so far, scoring two against Southampton, Bournemouth and Newcastle. Whilst they have only scored one goal in each of their last three away games, Arsenal, Newcastle and Brighton are by no means easy sides to travel to. In fact, I would suggest that coming out of that spell with four points is impressive.
Hazard – Wolves (A)
If you did not captain Hazard this weekend against Fulham, I am guessing it will be hard to persuade you to captain him away at Wolves. However, Wolves don't look like the same team that cruelly coaxed many of us into doubling up at the back. In their last three home games, Wolves have conceded eight, and that includes the two that Huddersfield scored against them, which was only the second time the Terriers have managed to score more than one away from home in a league match this calendar year. Further, the blunder for the first goal in the game against Cardiff on Friday night, which they went on to lose 2-1, was indicative of a side that has had the confidence knocked out of them. Conceding two at home to Huddersfield would do that!
Chelsea have put 2+ past their opposition away from home on 4/6 occasions so far, and 3+ in three of those. Their home stats are good too, as the blues have put 2+ past six of their eight visitors, only failing to do so against the two Merseyside clubs. Whilst Hazard's returns are drastically down in recent weeks, with just two assists to his name in his last four matches, the number of shots and key passes he is making has not fallen noticeably from the period in which he amassed a whopping 66 points in just six gameweeks.
Sigurðsson – Newcastle (H)
You could go for Richarlison. I have Richarlison, but I prefer Sigurðsson. He is back to his best. No longer is he being moulded into a winger, and Everton are reaping the rewards for it. He ranks fifth in the league for key passes per game (2.4) behind Willian, David Silva, Hazard and Ryan Fraser and he has had the same number of shots on target over the last six matches as his Brazilian teammate.
He has four goals and an assist in his last five home games, which has helped the Toffees to score 2+ goals in four of their seven home games this season. Whilst not quite on the level of their noisy neighbours, Everton's home record is only tarnished by a draw against Huddersfield and a loss to West Ham back in September. Since then they have had four straight victories, scoring nine in the process.
Although Newcastle have kept clean sheets in three out of six of their away games so far this season, I would not expect them to keep out Everton. Newcastle are in disarray at the moment. —00+00:00″>The fans just turned against the owner, —00+00:00″>The fans have started protesting outside Sports Direct, Okay, Newcastle have been in a bad place for a while, but the 'protest' at the game at the weekend is yet another reminder of the sour relationship the owner has with the fans which only ever seems to become increasingly poor, and the 3-0 drubbing at the hands of West Ham in their own backyard feels like it puts Newcastle back to square one – or minus one – after a good string of results. Put it this way, I don't think any Newcastle fans' children will be getting those XL Sports Direct mugs for Christmas. Actually, if that protest is anything to go buy, 50 fans' children won't get a Sports Direct present, but the rest will.
Kane – Southampton (H)
'Crisis? What crisis?' Spurs are top of the away table with seven wins out of nine. Whilst there have been concerns about Spurs' 'home' form, they shut the doubters up with a convincing 3-1 win over Chelsea last weekend. And to be fair to Tottenham, Wembley has looked like local farmers forgot to shut the gates on their cattle in recent weeks.
Despite two clean sheets against Crystal Palace and Bournemouth, the other away ties have not gone so well for Southampton, conceding two against Everton, three against Liverpool, two against Wolves, six against City and three against Fulham. Couple that with the fact that the only points Spurs have dropped at home came at the hands of Manchester City and Liverpool, I don't think Spurs will be entering into a crisis any time soon. You could argue that a crisis is only truly a crisis if it catches the affected parties by surprise. And to that I say, it certainly would catch me by surprise as I'm buying the Spurs talisman and throwing him the armband! So, like the Wall Street Crash in 1929, let's at least feel smug about how good things are with Kane in our sides in the run up to him getting two points on Wednesday night.
In the striker's last three matches, he's notched up 16 shots, ten of which were on target. Even better, all three of those opponents have conceded fewer shots per game than Southampton. If you don't shoot, you don't score, and he has started to score again, with four in his last five in all club competitions. It is also no coincidence that Kane struggled to return for his fantasy owners whilst Eriksen was injured and scored upon his return.
Thanks for reading Fantasy Football Captain Picks Gameweek 15. This article was written by AT.
FPL FIXTURE TRACKER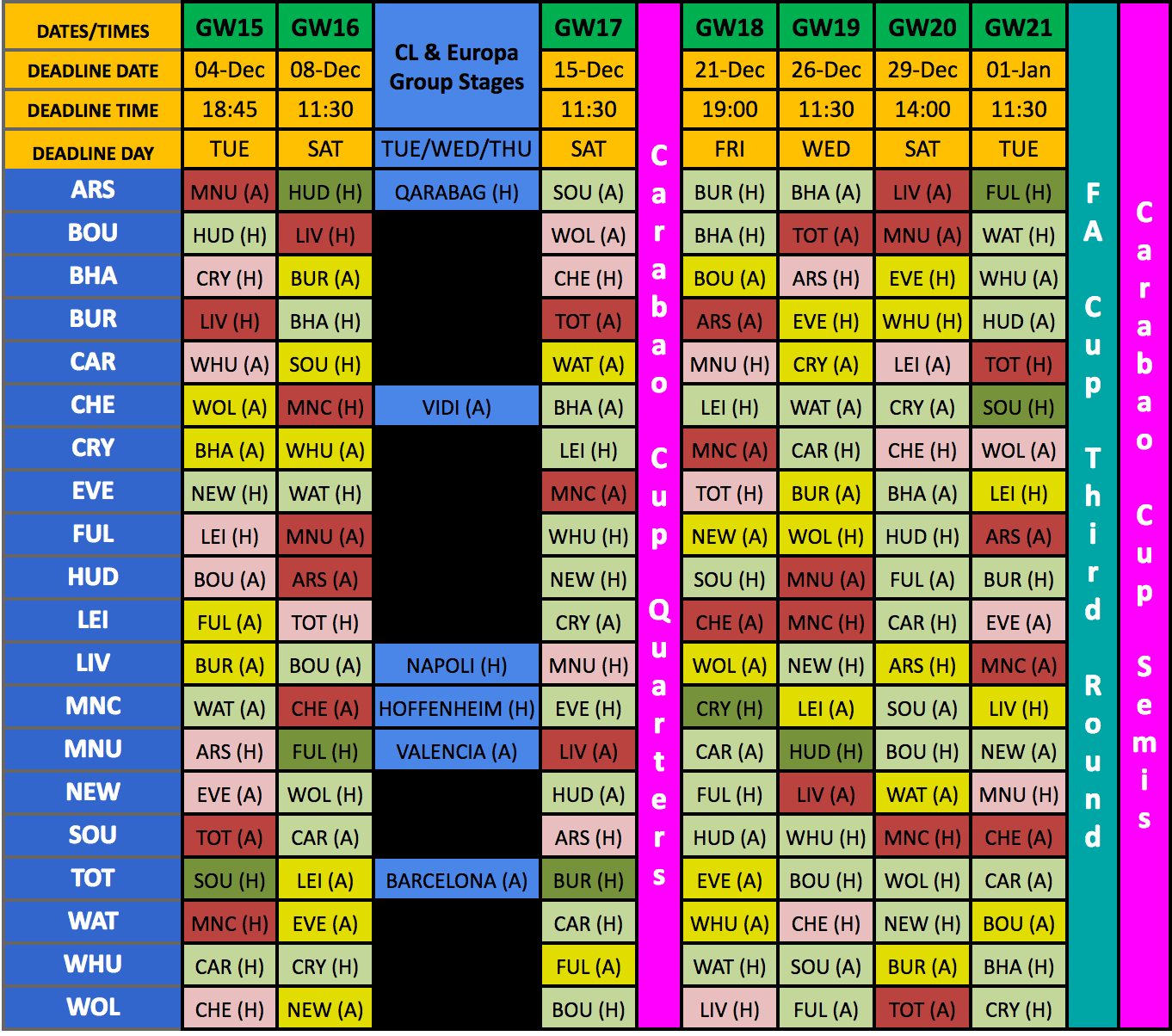 FIXTURE TRACKER LINK
Welcome to our Fantasy Football leagues section.
The League Codes for FF247 for the 2018/19 season are as follows –
Thanks to our friends Follow @ff_surgery and please give them a follow.