Fantasy Football Captain Picks Gameweek 2
Here we are, already diving into Fantasy Football Captain Picks Gameweek 2. Gameweek 1's high flyers comprised the usual medley of routine regulars and ragtag randoms we've come to expect from the dawning weekend of an FPL season. Thousands took to the streets for Mo Salah's 8 points; hundreds danced in the aisles to the tune of Jamie Vardy's late Old Trafford cameo; while one hungover bloke from Swindon raised a refilled glass of mulled wine to his previous night's drunken captain punt on Watford's Roberto Pereyra.
Disappointments for many included Harry Kane's continued August allergy and Sergio Aguero's unwillingness to find an unmarked Kevin De Bruyne with a square pass. In summary, GW1 belonged to the underdog, but GW2's fixtures do little to discourage us from making the same mistakes again.
As last week's excellent FF247 Captain Picks writer Rosco alluded to, there's no getting away from the fact that this season's armband choices will be dominated by familiar faces. So I decided to dig deeper and read up on the men behind the legends.
MO SALAH – "THE STORY OF A HERO" by Emad Anwar (Cairo: Arabi Publishing House), 2018.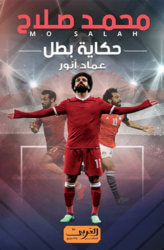 The book charts Mohamed Salah's life from childhood, and his upbringing in a humble Egyptian village, before moving onto his journey from the Arab Contractors team to the top of the Premier League pyramid.
Author Emad Anwar (who, as most of you are probably aware, is a journalist at Al-Ahram Institution's Al-Arabi Magazine) asks,
Why does football love the poor, and why do they represent the majority of its stars?
Well, I had a quick peek into the car park at Liverpool FC's Melwood training ground and can confirm none of their stars are poor. Less controversially though, he also posits that Salah is an "extraordinary player" who has earned his place among the football elite and can compete with the likes of Ronaldo and Messi. Incisive.
PROs: Inspirational tale about overcoming the odds.
CONs: Version I had was in Arabic.
OVERALL: ★★★★★ A weekly bestseller.
SERGIO KUN AGUERO – "BORN TO RISE: MY STORY" by Sergio Aguero (Trinity Mirror Sport Media), 2015.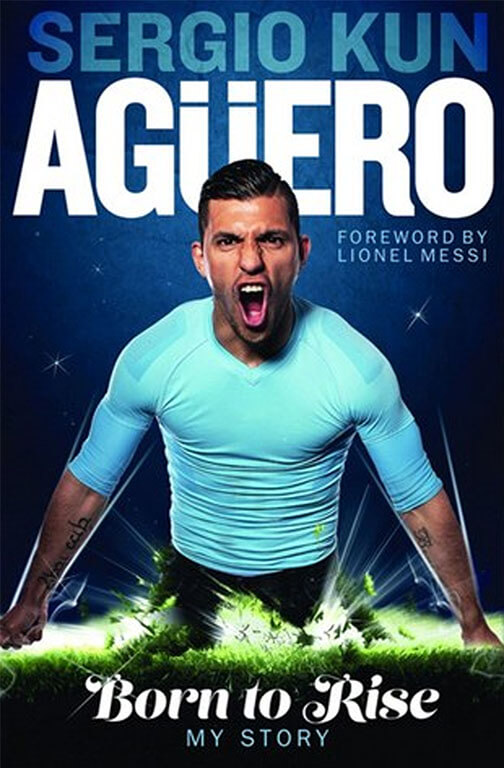 Describing how Aguero became one of this era's top strikers this autobiography paints a background of hardship. His parents had to rely on the kindness of others to help him get through school, but from getting his first football as a father's gift at the age of 5, he never looked back.
Actually, that's untrue. He looked back at Carlos Tevez who was prostrate on the floor during that title-winning victory at QPR,
When (Tevez) started to get up he was insulting Joey Barton in Spanish…
This book is an admirable and in-depth behind the curtain view of Kun's incredible adventure which saw him rise though the ranks at Independiente of Avellaneda, Atletico Madrid and achieve legendary status at Manchester City. Whether he was "Born to Rise" is up for debate, but he does have a child with Maradona's daughter.
PROs: Inspirational tale about… overcoming the odds.
CONs: I couldn't get the cellophane off. Got Kevin de Bruyne to assist.
OVERALL: ★★★★☆ If in stock, a must-have. Availability an issue though.
HARRY KANE – "THE BIOGRAPHY" by Frank Worrall (John Blake Publishing), 2017.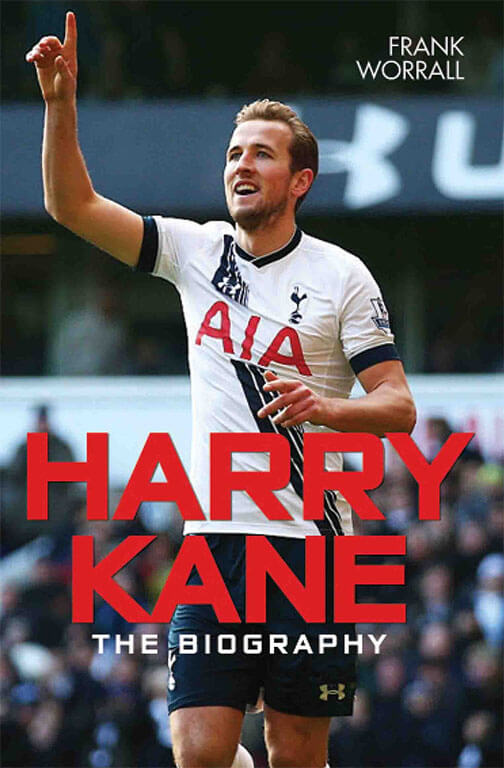 "Apocalypse Now". "The Sidewinder Sleeps Tonite". Some titles just crash through the window, set off a firework in your living room and demand your attention. Then there's this, which paws lightly on the front door with limp wrists before meekly prising open the letterbox and, with all the assertion of a postman hiding from a vicious rottweiler, whispers, "The Biography" in a half-arsed breathless murmur. A functional-at-best title it may be, but the author makes this hyperbolic claim,
…the golden boy from North-East London who has the world, literally, at his feet.
If ever the word 'literally' was misused (It is, literally every day) it's here. The ball may be literally at his feet occasionally. The world may be metaphorically at his feet, sure, no problem. The logistical problems with the world literally being at his feet are innumerous. Anyway, it's a book about a player rejected by Arsenal. He went down the leagues to prove himself. Now he's a superstar. Next.
PROs: Inspirational tale about… *sigh*… overcoming the odds.
CONs: Out of print during August.
OVERALL: ★★★☆☆ Evergreen blockbuster, yet summer jinx a slight concern.
JAMIE VARDY – "FROM NOWHERE: MY STORY" by Jamie Vardy (Ebury Press), 2016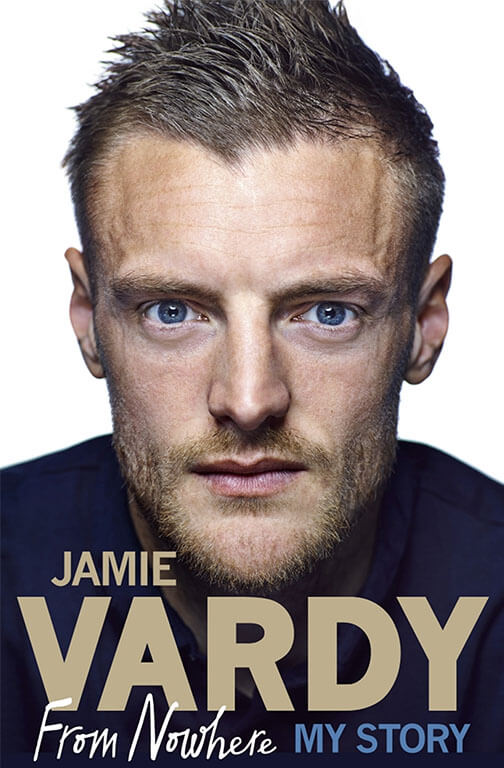 "From Nowhere: My Story". Now that's a title. Unfortunately it raises a few philosophical concerns such as "Where is nowhere?", "How can you come from a place that doesn't exist?", "It's an autobiography, of course it's your story."
It's a well spun trope now that Vardy went from playing pub football with Stocksbridge Park Steels, while still working in a factory, to a star role in Leicester's 2016 title win. He declares in his book,
It's the stuff of dreams
Maybe it's just me, but I have recurring dreams about being hunted down by colossus, murderous robots in the street I grew up in. It's not something I particularly wish to be realised. Ok, Jamie? Good.
Look at that cover, though. Those Sheffield steel blue eyes. How could I ever stay angry with him.
PROs: Inspirational tale about… blah, blah, blah.
CONs: Not suitable for parties.
OVERALL: ★★☆☆☆ A fox who could scatter the wolves pack asunder.
Thanks for reading Fantasy Football Captain Picks Gameweek 2. This article was written by Bry.
FPL FIXTURE TRACKER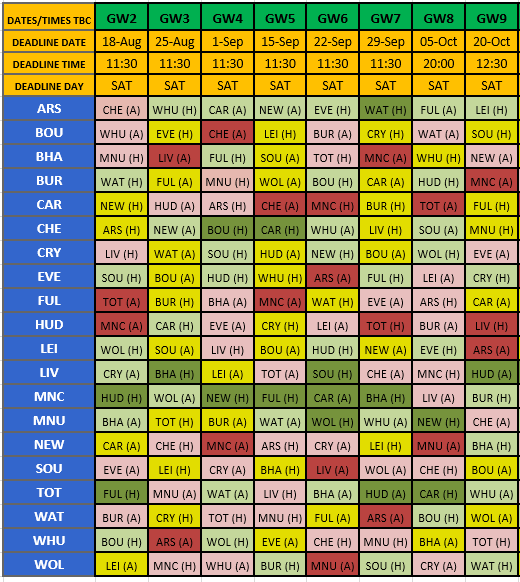 FIXTURE TRACKER LINK
Welcome to our Fantasy Football leagues section.
The League Codes for FF247 for the 2018/19 season are as follows –
Thanks to our friends Follow @ff_surgery and please give them a follow.