Fantasy Football Captain Picks Gameweek 2
Welcome to Fantasy Football Captain Picks Gameweek 2.  I hope this finds you all mentally sound, high on Boudin noir – and that you're not in a brown study, brought on by premature wildcarding.
Given that most of the community will be captaining Salah this week – or will if they have any sense – then I did consider submitting one candidate for this article with the words 'don't overthink it'. Amused by this idea but wanting to give you, dear reader, something more, I tried writing a Haiku instead, but could only manage this unfinished and profoundly mediocre effort:
A heavy, hirsute boot runs
betrayed by the sea.
However after a cold shower and a couple of stiff drinks, followed by a bit of head-scratching, staring at coffee grounds and rolling a dice or two I hope I've made a reasonable attempt to completely waste your time make you half-consider one or two others: with the emphasis on one or two.
Mo Salah

Pros: Form and fixture. Salah's started the season in fine fettle and rewarded his many owners in GW1 with a solid, double-digit return – the first, I am sure, of many. Given that the opposition this week is a poor looking Southampton side – if you believe the comments of their fans – who conceded three at Burnley, then you'd fancy Salah for a goal at least. His scoring record in Liverpool's last four games against Southampton looks good: 5 goals out of a total of 11 scored*.
Cons: The air of old boys' reunion adds a whiff of spice to this tie. On the subject, the return to the starting line up of Mané (one would imagine) may reduce the number of chances Salah gets.
Pierre-Emerick Aubameyang

Pros: Bit of form and bit of a fixture. A well-taken goal v Newcastle suggests Auba has his shooting boots on. For non-Salah owners then Auba may be worth a think. Has a great name.
Cons: The 'bit of a fixture' is Burnley, who started with an assured clean sheet, were well-organised by all accounts and who I doubt will roll over easily. They may, in fact, win the match. Auba's very much a punt and I doubt many will be giving him serious consideraion just yet. He may come in handy in giving Pope save points. Less fancifully, some bizarre rotation may mess up things for his owners.
Raheem Sterling

Pros: Very hot form and a home fixture against a slightly iffy looking Spurs. Top point scorer in GW1 and, crucially, top in terms of the influence** metric (with Barnes a very distant second) on the FPL site. I won't insult your intelligence with any more of this waffle.
Cons: I wouldn't have thought Spurs will be the pushover West Ham were. Despite their relative jitters v Aston Villa they still managed to prevail. May be a close contest. Won't be allowed to take a penalty.
The Ones who Got Away
Wilson, Jimenez, Firmino, Mané. I gave Kane some thought but not much, given the opposition. Need to see more of Man U before tipping them.
Best of luck.
*source: Swirly's article.
** Please don't ask me about the influence metric.
Thanks for reading Fantasy Football Captain Picks Gameweek 2. This article was written by Kralin.
FPL FIXTURE TRACKER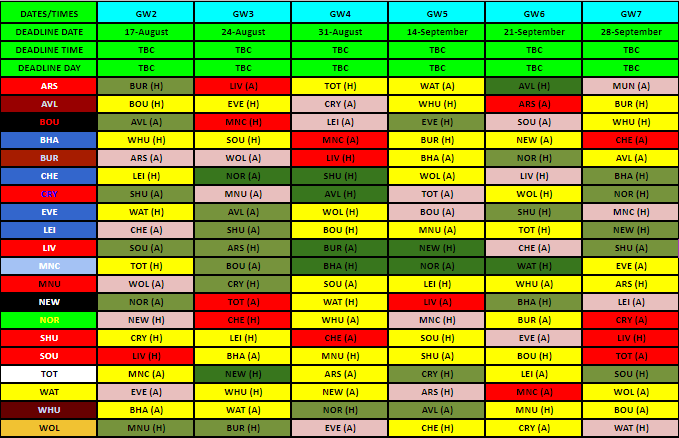 FIXTURE TRACKER LINK
Fantasy Football 247 League Codes: