Fantasy Football Captain Picks Gameweek 3
Welcome to Captain Picks Gameweek 3! Well the past weekend was split between those that capped Aguero and those that did not, which one were you? Depending on what you did, you either had a great Sunday and weekend, or you were crying into your pint cursing that last-minute swap from the Argentine to a certain Egyptian. The top three choices for the armband were Salah, Aguero and Kane and none of them disappointed scoring 9, 20 and 7 points, respectively. Salah grabbed a couple of assists, Aguero grabbed his 9th PL hattrick and Kane did the impossible by scoring in August! Can they all perform again this weekend or will someone else be the top captain choice? This coming weekend sees some of the bigger teams play relatively weaker sides and gives us FPL managers plenty of choices. So without further ado let's move onto some great options.
4. Aubameyang vs West Ham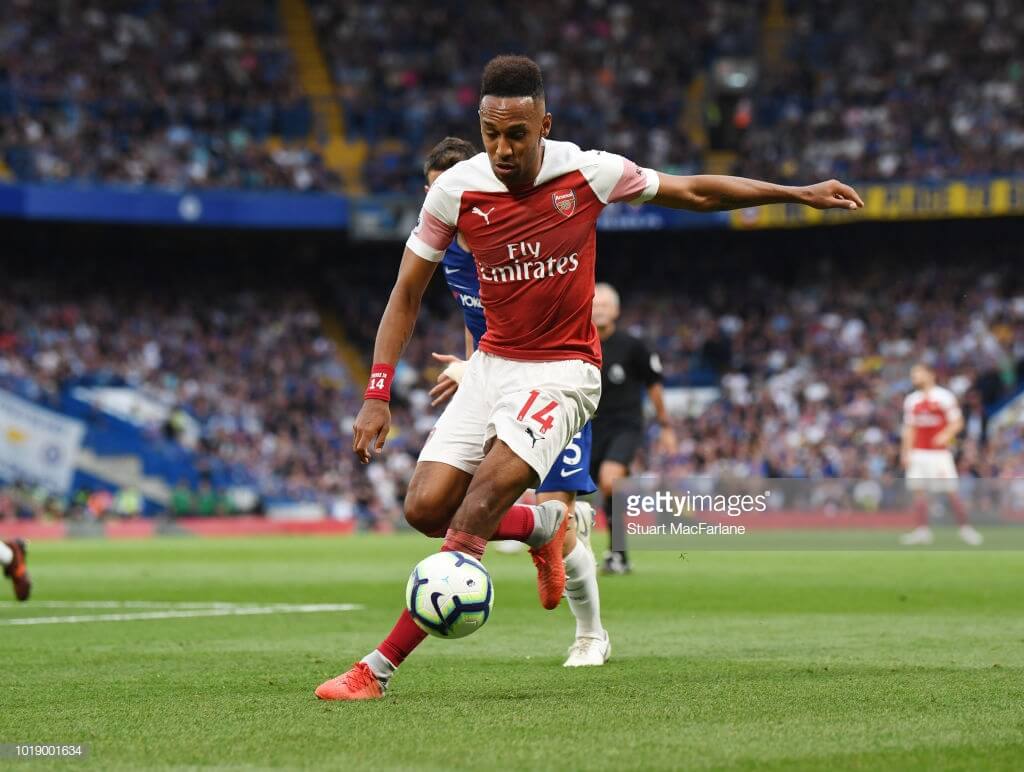 I am kind of struggling to justify my selection of any Arsenal player in this article due to the fact the Gunners have not won a game yet this season. Before you start to skip and go straight to the rest in this list just stop and remember Arsenal's losses came against Chelsea and City, in other words, the last two champions of the Premier League! The two losses have seen Arsenal Fan TV in full fettle this season with the 'bluds' and the 'bruvs' all fired up about how the team is not good enough but really any football fan with common sense would be a bit more patient. Yes, Arsenal have lost twice in a row, but they have gotten two of the hardest fixtures out of the way from the off. They go on a run of fixtures now that should see them pick up some points and welcoming another London rival to the Emirates could be a great way to grab a win. West Ham come into this game with the same record as the Gunners but with a lot less quality on paper. The likes of Aubameyang, Mkhitaryan and Lacazette could capitalise on West Ham not being that defensively solid and might post a similar scoreline to the Liverpool game if they click correctly. Auba would be my pick as he is a danger from wherever he starts on the pitch. He left his shooting boots at home in his last game and really could have scored a few goals. I don't see that happening again with him wanting to make up for it. For those of you that like following the points or just don't have the expensive Auba, Mkhi is another option that scored and assisted against Chelsea. One of these Arsenal players could be a great differential compared to some others I will mention on this list and we all know I love a differential!
3. Pedro vs Newcastle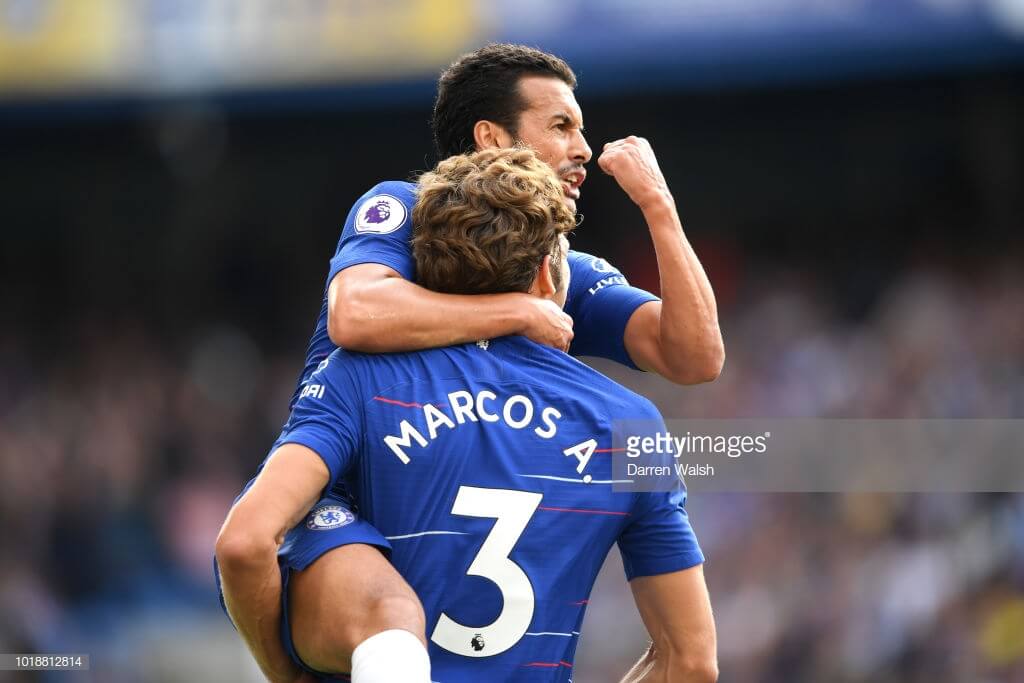 This guy is playing great at the moment, two goals in two games is a great return and if he keeps that up he will be very happy. Obviously, I have my doubts over his ability to score a goal in every game but sure I'll give the lad a chance to prove me wrong. Pedro has the talent around him and seems to be enjoying the style of play new manager, Maurizio Sarri, has introduced to Stamford Bridge. My big worry for Pedro is the possibility he will get dropped for Hazard. The Belgian was someone I considered tipping for the armband this week but starting from the bench in the last two games could mean he's being eased into 90 minutes and I don't know if that trend will continue next week. Like Pedro, Hazard has returned points in his sub appearances with two assists so is showing he needs little opportunity to create chances. Pedro will be contending with Willian and Hazard so unless Sarri changes formation to include them all then Pedro could be the one sacrificed. This may be Pedro's last start for a while so capping him could be a great choice but feels like a bit of a risk. Just to continue my love affair with differentials, I feel like I have to mention another Spaniard and that is Marcos Alonso! The left-back has got a goal and two assists in two games with returns of 11pts and 13pts respectively. If you have the guy he could be a better option than Pedro as he is less likely to lose his place and with the returns, he's giving, then why not give this differential a go?
2. Salah vs Brighton


Would this be an article worth reading if I didn't include a Liverpool player? The Egyptian God, in particular, has earned the title of safe captain choice. In a team who put four past West Ham, two past Palace and could well put the pressure on City to be the league's top scorers this season, going with the safe option may be a smart choice. Salah and co. provide consistency when it comes to goals but so far this season those points have been shared. Salah may not be in the blazing hot form of last season in front of goals but that does not mean he is not still earning points. Salah has got a goal and two assists so far this season which most of us managers have been happy with. If you are one of those few managers that need him to be scoring goals in every game, then maybe capping him isn't for you? If not, the Liverpool player that is on fire in front of goals is the Senegalese striker, Sadio Mané. The guy has three goals so far this season so hopefully, he can keep this form up and a visit from Brighton could be another great matchup to add to his tally.
1. Sergio Aguero vs Wolves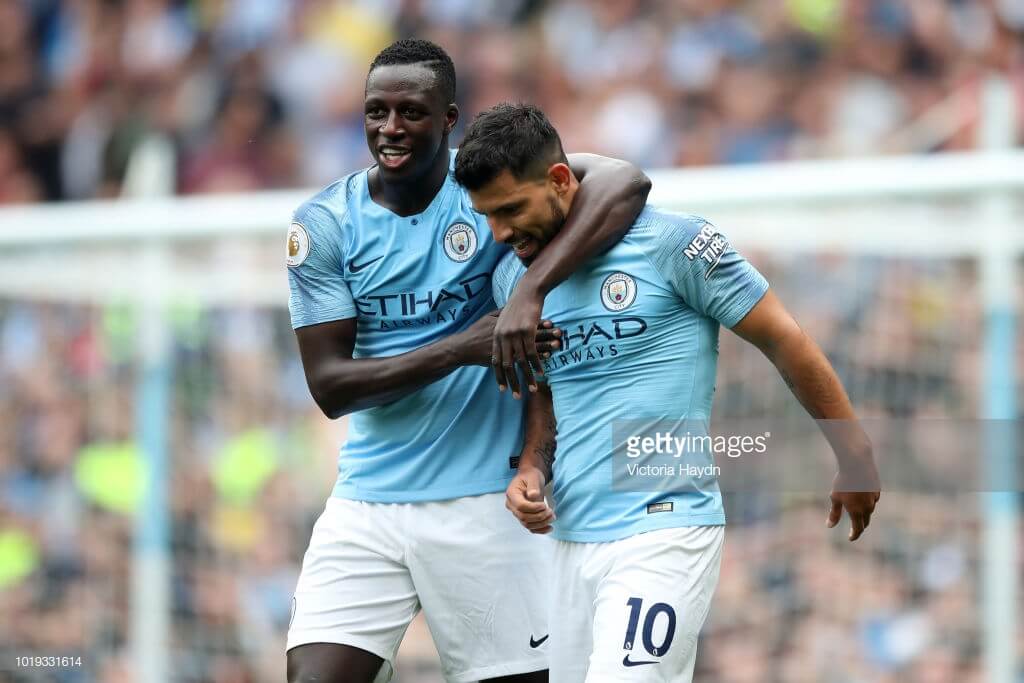 Well, that last performance! What can you say except Aguero played his socks off and could have had even more. A ninth hat-trick in the PL and an assist was the stuff of nightmares for Huddersfield and fantasy managers alike. Those that had Kun were enjoying it but those that had him as captain were laughing their backsides off with everyone else kicking themselves for not having the cojones to leave the armband on him! I was sadly one of the sackless last weekend and yes, I was happy the little Argentine was wreaking havoc against the Terriers, but I couldn't watch the game out of fear he was going to score even more. I had the armband on Kun but the constant fear of the resurrection of Jesus to the lineup caused me to go with Salah. Pep decided to start both South Americans and it paid off big time! Hopefully Aguero's performance has made Pep realise he is one of the best attackers in England and there should be no place for him except leading the line. This weekend sees City come up against new boys, Wolves who I think I've put a jinx on as I called them the poor man's City in the preseason. Since then Wolves have gone on to concede 4 goals, drawing and losing a game. I will admit I have not had the chance to watch how Wolves played in those two games so maybe they have been unlucky, but I will just go off the score lines and conceding 2 goals against both Everton and Leicester does not bode well for Wolves who could be torn to shreds by the attacking City pack. Aguero is the smart choice for those that have him, but I will once again mention a differential just for the hell of it and it is another left back. Benjamin Mendy has been amazing in the two games City have played with four assists already. He is charging up the wing with careless regard, the boy doesn't want to be a defender and I won't stop him. If for some strange reason you do not have Aguero and only have Mendy, then seriously consider sticking the armband on him. With his attacking potential and the strong possibility of a clean sheet he could be in for another double-digit score.
Thanks for reading Fantasy Football Captain Picks Gameweek 3. This article was written by MattX.
FPL FIXTURE TRACKER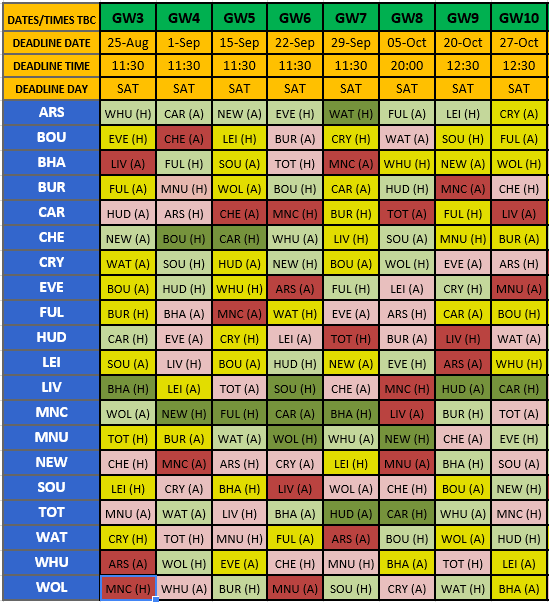 FIXTURE TRACKER LINK
Welcome to our Fantasy Football leagues section.
The League Codes for FF247 for the 2018/19 season are as follows –
Thanks to our friends Follow @ff_surgery and please give them a follow.