Fantasy Football Captain Picks Gameweek 30
Welcome to Captain Picks Gameweek 30. Another week goes and another week where there was little joy in the armband department. The top ten FPL captains got the following scores 2, 3, -1, 6, 7, -1, 3, 2, 3 and 1 which all means…… F@#K FPL! Kane and Hazard were the only two to get more than 3 points so well done if you had it on either of them. The top scorer of the weekend was turncoat, Declan bloody Rice with 15 points, if you had Jimenez, Deeney or Lukaku they were the only strikers who got over 10 points, so again well done. This week is looking like a lucky dip of captaincy choices as the big players aren't firing and the poor teams are playing each other but I was told I had to write an article so write one I shall!
In fact, I'm going to make this article short and sweet for those who don't like reading much… if you have Aguero or any City attacker then cap them, so if you want to stop reading and go straight to the comments fire ahead but if you don't have a City player or just want to figure out your VC then here are some more options below!
6. Jimenez (a) vs Chelsea

This one is mainly due to the Mexican's form and Chelsea being all over the place and by conceding to Fulham last weekend then I can't see why Wolves can't score at least one goal, and if they do then Jimenez will be somewhere nearby. It is seven games since Jimenez has failed to return any attacking returns with five goals and two assists in recent weeks. This would be the riskiest of my choices for the week!
5. Salah / Mane (h) v Burnley

I was really reluctant to recommend any Liverpool players this week, perhaps that's just the pessimistic fan in me, or maybe I'm just feeling the pressure like Klopp. There are five other options that jumped out at me immediately and none of them were Liverpool. Now I hope I'm wrong and that they will smash Burnley, but the attackers have gone on holiday a bit, plus Burnley are an unpredictable animal at the moment. I just don't feel particularly comfortable telling you to cap Salah or co. That said, Liverpool are averaging nearly 3 goals per home game, Burnley are averaging nearly 2 goals against per away game and despite recent perceived stutters Liverpool at home since Christmas have put 5 past Watford, 3 past Bournemouth, 4 past Palace, 5 past Arsenal and 4 past Newcastle for a total of 22 goals in 6 games. To hell with it then, captain one if you like, and if it doesn't work work out, go find your nearest ball boy.
4. Vardy (h) vs Fulham

I didn't watch Leicester in Brendan Rodgers' first game, but I followed some of the comments on this site and on twitter and it seems like the formation was a strange one! Leicester lost but Vardy scored for the third time in four games and with Tielemans, Maddison and Gray around him there is plenty of supply for the Red Bull chugger. Leicester come up against Fulham who have an inexperienced manager in Scott Parker and have only kept two clean sheets all season, which should mean plenty of chances for Rodgers' men.
3. Zaha (h) vs Brighton

The Eagles are soaring as of late having lost only once in six games and that man Wilf has been instrumental in it all. In the last six games, the Ivorian has notched an impressive five goals taking his total for the season to eight. If he can chip in with some assists for the rest of his Palace teammates the winger would be in a lot more sides than the 13.1% he is right now. If you don't have him I would highly consider getting him as his fixtures are good but that's for someone else's article.
2. Chicharito (a) vs Cardiff

This one I wasn't sure on to be honest as the fixture is really good for West Ham as Cardiff have only kept one clean sheet in seven games, so much like Leicester against Fulham, West Ham should have plenty chances against Cardiff. The reason I was so unsure is because I don't know where the goals will come from exactly. The second Mexican in this list, Chica, may be the best option as he's a proven goalscorer but the problem with West Ham is no consistency. The points are coming from everyone with Noble, Antonio, Snoddy and Chica all getting the share of points in their last few games. This really is fixture over form and consistency so if you have a Hammer and need a differential then take a roll of the dice!
1. City player (h) vs Watford

If you have one cap them! It's City playing at home, with 9 games left and a point ahead in the table so they will want to extend that lead. Aguero is the main option but Sterling is a great option too. If you have either or both of them then flip a coin because both are brilliant this season. If you want a differential, then I would suggest Bernardo Silva; he has been quietly going about his business this season but it has been vital for the team and he will only get better. If you thought Liverpool's home stats were good then consider this; City have scored 10 more than them…
Thanks for reading Fantasy Football Captain Picks Gameweek 30. This article was written by Matt.
FPL FIXTURE TRACKER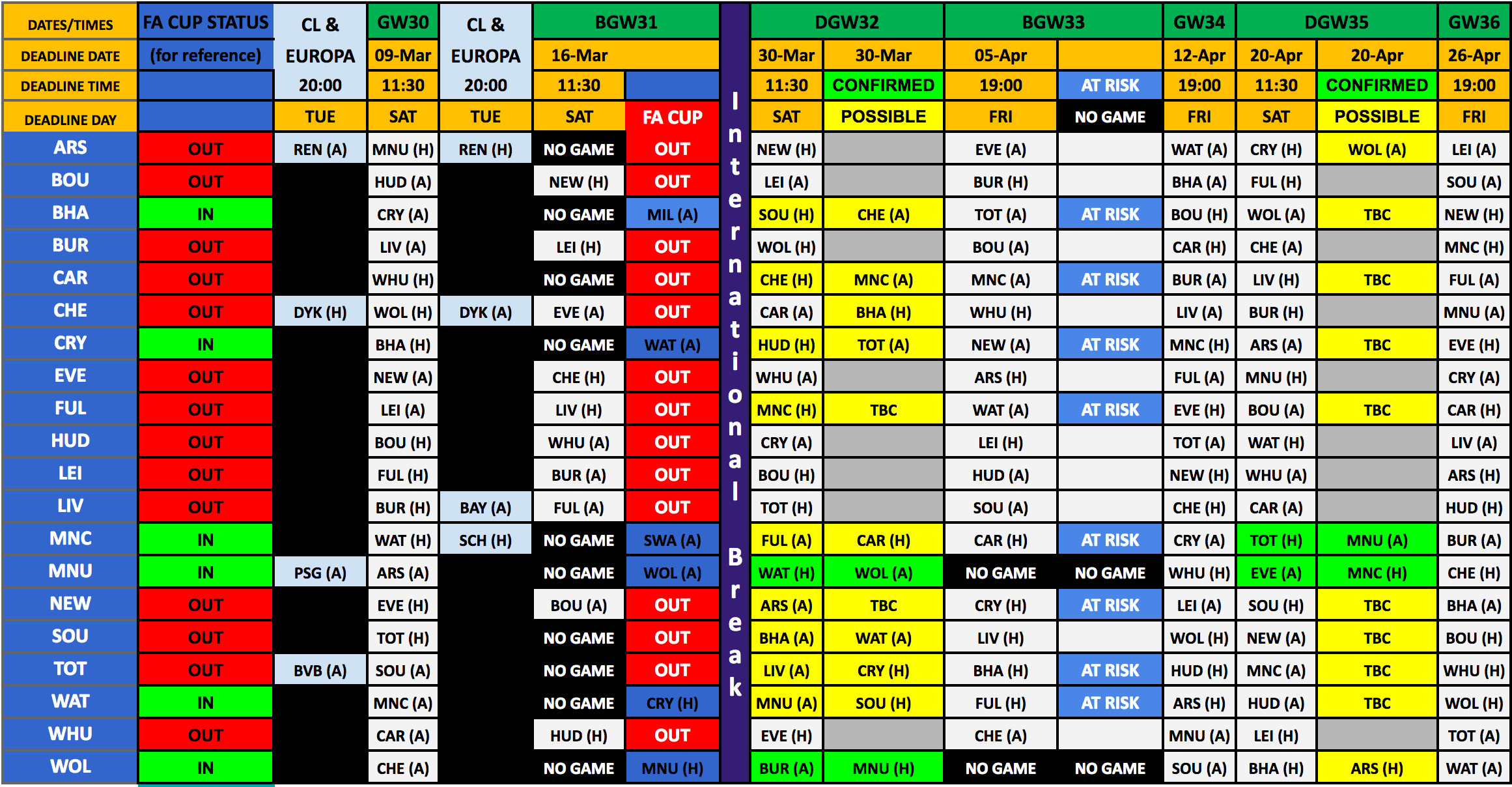 FIXTURE TRACKER LINK
Welcome to our Fantasy Football leagues section.
The League Codes for FF247 for the 2018/19 season are as follows –