Fantasy Football Captain Picks Gameweek 33
Welcome to Fantasy Football Captain Picks Gameweek 33.  I appreciate that this one is coming out half way through GW32. I'd like to think you'll be more distracted by the turbulence caused by the DGW.
However the wheels at FF247 keep turning with remorseless logic, grinding out their rhythms of time and death, so here we are again. Fortunately 33 is a BGW so the pool is mercifully small. I won't keep you for long. Now who on earth is playing this week? Ah, yes…
Jamie Vardy

Pros: It's the best possible fixture. The kindest word for Huddersfield's form is nihilistic. Vardy's form has been very steady of late. Leicester have been banging the goals in. If not your captain he's a strong vice choice this week.
Cons: Not many in the context of this game-week. The main one being there are probably better candidates (see below). As mentioned, Vardy's form has been steady – as it generally is – rather than spectacular.
Callum Wilson

Pros: Bournemouth sank to their inevitable away defeat in 32 but their home form is ok and up against a side that has to win, and who have conceded a few in recent GW's (13 in the last six) they may be good for a couple of goals. Having tipped Wilson, however, King'll probably do the business.
Cons: I have a grim feeling that the defeat of Chelsea may well be it, this season, for Bournemouth. I'm not sure if they'll scale those sort of heights again. So Wilson's a captain choice if you're in a similar position – that of your boat having sailed for this season. I swear he isn't here just to make up the numbers.
Eden Hazard
Pros: Currently kicking up a real storm in the DGW, the Haz looks one of the top picks for 33. West Ham have conceded 13 goals in their last 6 away games and so you'd have to fancy Chelsea, no strangers to creating chances, in this one.
Cons: Never a popular captaincy pick by those haunted by years of never picking him at the right time. But put aside such superstition. Why not give him another chance to let you down?
Sadio Mané
Pros: Tough one this as he vies with Salah for the coveted fourth selection. But looking back over the last six games Mané leads 5-0 in terms of goals and is miles ahead on the bonus side of things. When he gets his big chances, he tends to put them away. Salah is owned by more managers but Mané is catching up. And Salah hasn't scored now for an age.
Cons: The Saints have been in decent enough form recently and may not be a pushover. Going early with a captain in the GW is never popular with superstitious managers. But don't allow superstition to get in your way.
The Ones who Got Away
Salah, King, Higuaín.
Best of luck.
Thanks for reading Fantasy Football Captain Picks Gameweek 33. This article was written by Kralin.
FPL FIXTURE TRACKER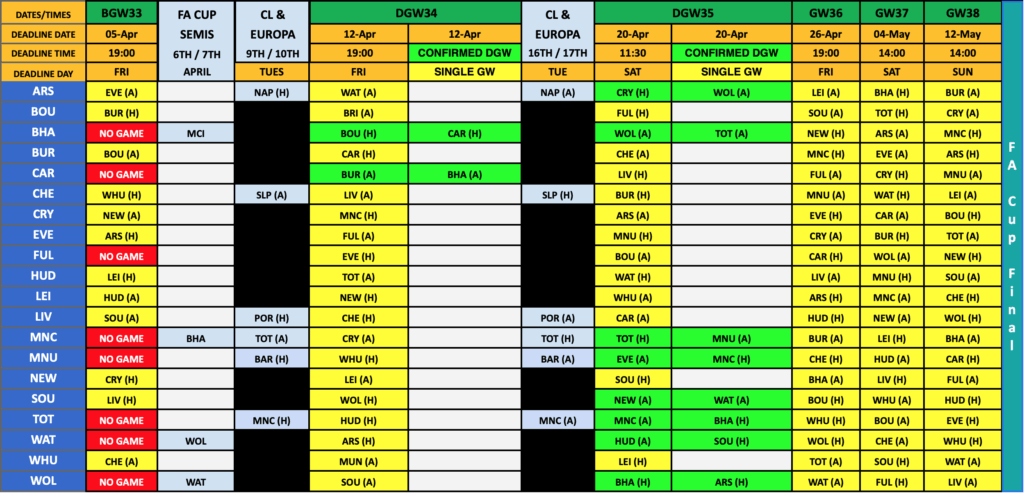 Welcome to our Fantasy Football leagues section.
The League Codes for FF247 for the 2018/19 season are as follows –