Fantasy Football Captain Picks Gameweek 5
Hello again, everybody. And welcome back from what is perhaps the greatest tribulation of all for us FPL managers, the international break. For many, the start to the season has been tumultuous. One of the few actual positive sides of the international break is that it provides us with a bit of a respite from what is always an intense time in FPL. Traditionally, the first break also marks the activation of the first wildcard for many managers (although nearly 500.000 managers hit the button before GW3). For all of you currently on your wildcard, best of luck with the final days of tinkering. But finally, the break is close to over, and it's time to have a look at this week's captaincy candidates. Welcome to Fantasy Football Captain Picks Gameweek 5.
This week is an interesting one from a captaincy point of view. Rarely does a gameweek provide managers with a greater set of captaincy options than this weekend's slate of games. Each of the FPL behemoths have promising matchups, and the potential for big returns is certainly present. But with great options come great quandaries. I therefore feel it appropriate to start the article with a bit of a disclaimer. I have not decided on captaincy yet, and I am still looking for the decisive argument.
Mohammed Salah, Sadio Mane – Newcastle (H)

Mo Salah and Sadio Mane in a home fixture versus Steve Bruce's Newcastle United. This just might be the finest of fixtures since, well, since Mo Salah and Sadio Mane had a home fixture facing Huddersfield in GW36 last season. Last season, Liverpool breezed past Newcastle, with Salah returning a goal and an assist in the 4-0 win. With the exception of their GW2 trip to Southampton (which took place days after Salah played 120 minutes in the UEFA Super Cup final), Salah has started the season in terrific fashion. After four gameweeks, Mo is second in most shots fired inside the box with 10 and joint second in shots on target with 6. Oh, and he's first in expected goals and joint first in big chances. In short, Salah offers the magical combination of great form, fantastic fixture and massive explosivity.
The tricky part of this week's captaincy choice is that Sadio Mane offer a lot of the same as Salah. Granted, Manes stats are trailing a bit. Salah has more touches in the box (34 to 17), has fired more shots in total (13 to 7), has fired more shots from inside the box (10 to 6) and has had more big chances (6 to 3). Salahs xG is therefore noticeably higher, at 3,15 to 1,58. (Keep in mind that Salah has started one more match.) For many, this choice probably comes down to which one you own. And truth be told, there is no real way of predicting which one does better. Both are superb choices this week, and both would be obvious choices in less option-congested gameweeks.
Outside the box option: Trent Alexander-Arnold
First off, and let me be clear on this, I do not recommend captaining a defensive player. Never ever ever. But if one were to make an exception from this unbreakable rule of FPL, Trent Alexander-Arnold at home to Newcastle would be the fixture to do it. Offensively, the right back has delivered three assists in four games and his underlying creativity stats rival most every midfielder not Kevin De Bruyne. TAA is on a decent amount of Pools set pieces as well. Defensively, Liverpool has been a disappointment so far. But numbers show a clear improvement starting with GW3s win over Arsenal. According to AbuBakar Siddiq, Liverpool conceded less than half as many shots from inside the box in GW3 and GW4 compared to the first two gameweeks, and their xGc (expected goals conceded) has improved over the same period. This indicates that we might be close to Pool returning to their defensive prowess of yesteryear. Now, I feel the need to repeat that I do not advise captaining a defender. But there might not be a better time for it than when a defender with the attacking potential of TAA faces an opponent with the lowest xG in the league.
Raheem Sterling, Sergio Aguero, Kevin De Bruyne – Norwich (a)

There's no captaincy article without a weekly visit to the Pep Roulette. And with a trip to East Anglia next on the calendar, the Citizens provide us with three very strong captaincy options.
Sergio Aguero
has scored in every gameweek so far this season, and with 7 returns in 3 starts, Kun has to be considered for the armband against a defensively suspect Norwich side. The arguments supporting an Aguero captaincy are plentiful. With no international duty, Aguero should show up at Carrow Road well rested, and with Gabriel Jesus not yet cleared to return from his hamstring injury, the chances of Aguero starting and playing 90 minutes should be good. If Aguero has any struggles worth mentioning, it is a tendency to score more at home. So far this season he has scored three times away from home. So, don't pay too much attention to that point. Aguero is in great form. He is well rested. And he does look like a safe start.
Similar to Aguero, Kevin De Bruyne has returned in every gameweek so far. With one goal and five assists so far, the Belgian maestro is looking like the heart of a team that seems capable of scoring at will. De Bruyne is first in the league in key passes, in big chances created, and in expected assists (by a lot). He is second in successful crosses and third in successful passes in the final third. In short, De Bruyne is the most creative player in the league. Although his explosivity might trail that of Aguero and Sterling, his numbers indicate a high likelihood of him being directly involved in goal.
Joint first in big chances, second in shots fired from within the box, second in expected goals, second in touches inside the box, fourth in shots on target. These are stats that illustrate how good Raheem Sterling's start to the season has been. If there is any complaint to be made about Raz performances so far, it is a lack of assists. With an expected assist of 1.11, you can safely expect him to deliver on that front as well. (his two goals and four assists while on international duty should also provide you with evidence of his electric form). As is the case with Sergio Aguero, arguments against a Sterling captaincy are few and far between. The "best" argument would probably be that Raz did most of his business at the Etihad last year, scoring six times away from home. His hattrick away to West Ham to start this season does probably trounce that argument though.
As usual, both Liverpool and Man City are huge favourites this weekend. The Reds are 1/7 to beat Newcastle at Anfield, while City is 1/6 away at Norwich according to the betting sites reviewed by mytopsportsbooks.com. Three other members of the Big Six are odds-on favorites, as well, with Man U at 4/5 vs Leicester, Arenal 19/20 at Watford, and Tottenham 4/11 vs Crystal Palace. When it comes to fantasy, Pierre-Emerick Aubameyang and Alexandre Lacazette may be better value than the likes of Anthony Martial, Marcus Rashford, and Harry Kane. Oddsmakers expect Watford/Arsenal to be the highest-scoring game of the three, setting the O/U at 3.0 (-107o/-108u).
Pierre-Emerick Aubameyang– Watford (a)

Last year's joint Golden Boot winner is facing a struggling Watford team who just might be in line for a "new manager boost". Aubameyang has had a decent start to the season, and he sits firmly in the top 10 of most goal threat statistics. To me, Auba looks to be a good bet to return in a fixture that should see him get a fair few opportunities. Emery's love of rotation is always a concern, but I do feel comfortable in banking on Auba starting. In all, he feels like a decently safe captaincy pick who'll be outshined bye the allure of other options.
Harry Kane, Heung-Min Son – Crystal Palace (H)

I think it serves as an appropriate indication of just how unreliable Spurs assets are when I feel more comfortable trusting
Harry Kane
as a captain in an away fixture at Arsenal than I do in what should, on paper at least, be a plum home fixture against Roy Hodgson's squad. 18,7 percent of FPL managers trusted Kane with the armband versus Newcastle (H), and I somehow doubt these managers will be going for it again. Kane's heat map indicates a tactical change in how he is utilized, seeing him drop back in midfield far more than owners of an 11.5 million striker appreciate. Kane is always capable of triple returning, just as he did in for England this past week. But captaincy is a game of reliability, and as of right now, reliability seems to be lacking with Kane.
Korean Superstar Heung-Min Son came close to returning from suspension with a goal against Newcastle in GW3. He followed that up with an assist in last week's North London Derby, and now looks to build on his good performances by getting of the scoring mark against a defensively robust Palace team. To be honest, it is difficult to predict exactly what version of Spurs we're going to see on Saturday. Son has tremendous upside, but the unpredictability of his team's offensive prowess makes him a risky pick.
Anthony Martial, Marcus Rashford, Paul Pogba, Daniel James – Leicester (H)

In my captaincy article for last season's DGW35 I wrote about the inherent difficulty of predicting how Manchester United, and their FPL assets, would perform in any given week. The start to the 2019/2020 season indicates that all is the same at Old Trafford. I mean, we can't even predict who the penalty taker is.
Anthony Martial would be the best captaincy option of the United bunch, playing OOP as a number 9 in Ole's system. But, as of writing this piece, Tony M's participation in GW5 is still in doubt. He should probably be avoided for
Marcus Rashford is an interesting case. His numbers in GW1 and GW2 were uninspiring from an FPL point of view, with the shots fired from within the box. GW3 saw his numbers jump significantly, and as such Rashford might just be the best advertisement for Anthony Martials FPL viability when he returns. Rashford subbed in as United number 9 in Martials absence, with 6 shots from inside the box as the highlight. If Martial misses GW5, Rashford should be given another run-out in the number 9 role and should be able to repeat his statistical performance from GW4. If Martial starts, stats suggest you stay far away from Rashford as far as the captaincy is concerned.
Ryan Giggs second coming has had a tremendous start to the season, with 3 goals in 4 appearances. GW4 saw him improve statistically as well, with four shots on target. Nevertheless, Daniel James is overperforming his xG by a significant amount (3 goals on an xG of 1,05). He should be starting again in GW5, especially if Martial misses out, and he could provide a decent upside. But be aware that his goalscoring might prove unsustainable.
Last, but not least (I guess), is Paul Pogba. The should-be midfield talisman has had an uneven start to the season, perhaps highlighted by a penalty miss in the GW2 home loss to Crystal Palace. Pogba's role and influence in this United team seems decidedly unclear, and with both his attacking role and his penalty taker role up in the air, Pogba should be avoided.
All in all, little has changed since the last time I wrote about this team. So much individual talent, so much FPL frustration. Each of the mentioned players have enormous inherent upside. But let's be frank. If you're trusting United with your captaincy ahead of the above-mentioned options, well you just might be taking differential thinking a bit too far.
Conclusion:
It is an absolute honour to write this article for Fantasy Football 247. And I thoroughly enjoy doing the research for these articles. But my gosh is it an unforgiving task trying to recommend a captaincy pick among these candidates. I personally do not have a clear favourite this week, and I think it will come down to pure gut feeling for me. As of right now, my choice will probably be Raheem Sterling. That said, I consider Mo Salah to be the best option this week by the narrowest of margins. And to be quite honest it should really be viewed as something akin to a coin toss. To wrap up the article, here is my ranking of this week's options:
– Mohammed Salah
– Raheem Sterling
– Sergio Aguero
– Pierre Emerick Aubameyang
– Sadio Mane
– Heung-Min Son
– Harry Kane
– Manchester United assets
Thanks for reading Fantasy Football Captain Picks Gameweek 5. This article was written by ThePeleOfMissionary.
FPL FIXTURE TRACKER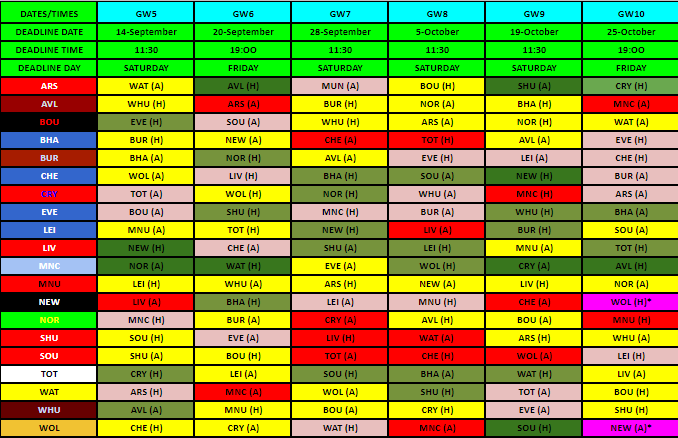 FIXTURE TRACKER LINK
Fantasy Football 247 League Codes: