Fantasy Football Captain Picks Gameweek 7
Welcome to Fantasy Football Captain Picks Gameweek 7.
The introduction of continental competitions at this stage of the season always adds an extra film of sweat to the brows of FPL managers when choosing their captain. However, as in the case of Sergio Aguero (6 points) and Eden Hazard (3), an absence from starting team duties midweek can serve as a comforting hand on the shoulder, increasing their chances of selection at the weekend and emboldening that armband choice further. So it was somewhat surprising to see Sergio "I'm the fittest I've been in years" Aguero hauled off on the hour mark at Cardiff and Hazard turning in, by his own stratospheric standards, a lacklustre display at West Ham.
Mo Salah (8) returned to scoring ways with a scorching piledriver from 6 inches out, and likewise Harry Kane (9) overcame a mini-drought with yet another spot-kick to add to his collection. Hazard was joined by Romelu Lukaku (2) and Sadio Mane (3) as other popular choices to fluff their lines.
Gameweek 7 forges Hazard and Salah in direct opposition with each other, creating a rare dilemma as two juggernaut teams clash in what could be anything between a stalemate and a goalfest. Perhaps this will allow other fringe candidates into the fold. Or you could just pick Aguero.
FF247 prides itself on its reputation for having a friendly, engaging and enthusiastic community. Well, this week's Captain Picks turns the spotlight on its readers with a selection of queries and comments plucked from the site's various inboxes and feeds. We'll hear from Stuart and Mari later, but without any further ado, let's kick off with a letter from Miles.
HARRY KANE | Huddersfield Town v Tottenham Hotspur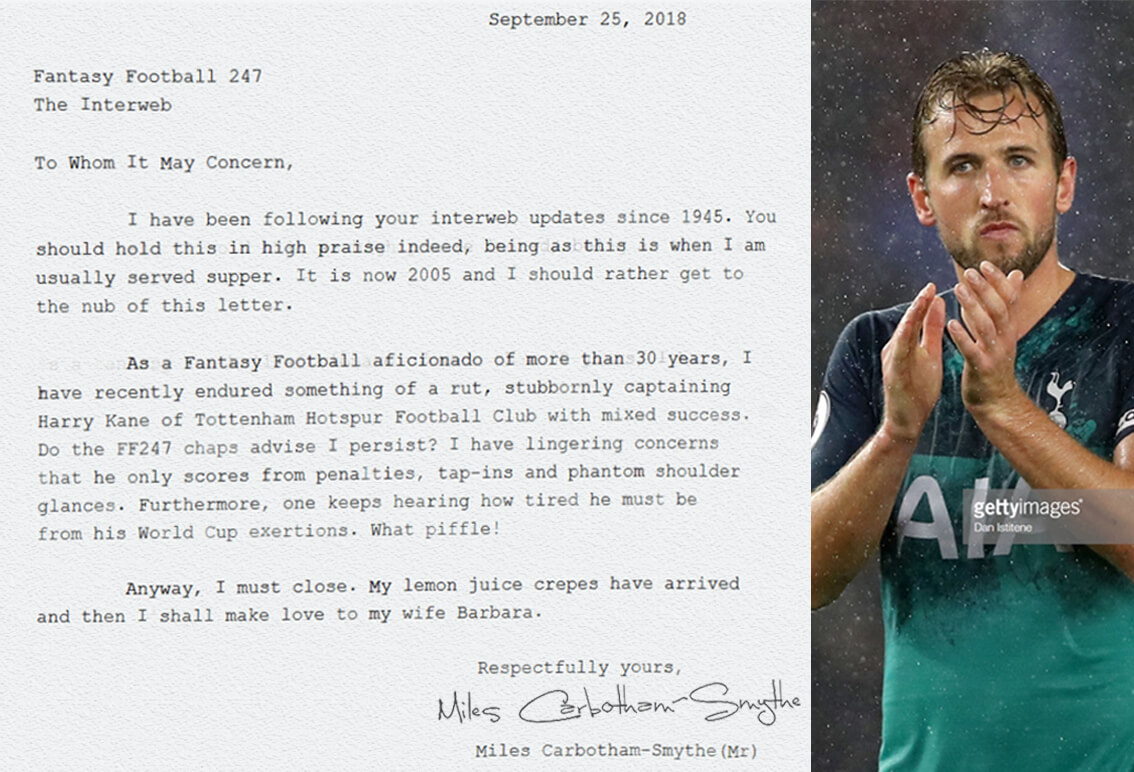 Miles touched on something interesting and no, I don't mean Barbara. Is Kane suffering from fatigue? Well, one thing that we do know about the prolific Harry Kane of last season is that he liked to shoot. A lot. His average shots per game (5) topped the charts way ahead of nearest rivals Salah (4) and Aguero (3.8). Kane has been lingering at below 3 spg in 2018/19, but managed a season 'best' of 5 shots at the Amex last weekend, suggesting perhaps a return to former habits. When he buys a lot of tickets, he tends to win a lot of raffles.
Huddersfield have had a torrid time so far following up last year's gutsy Premier League debut, suffering from what musicians might call the 'difficult second album syndrome'. While some rise to the challenge and produce a "Nevermind" or "Modern Life is Rubbish", others don't. The West Yorkshire outfit are currently in danger of churning out their "Room on Fire".
To address Miles' question about persisting with the Spurs striker. With 3 goals from 6 games even in a campaign where he's yet to get anywhere near his best, and if he continues to show a willingness to pepper the goal, he is well worth persevering with.
SERGIO AGUERO | Manchester City v Brighton & Hove Albion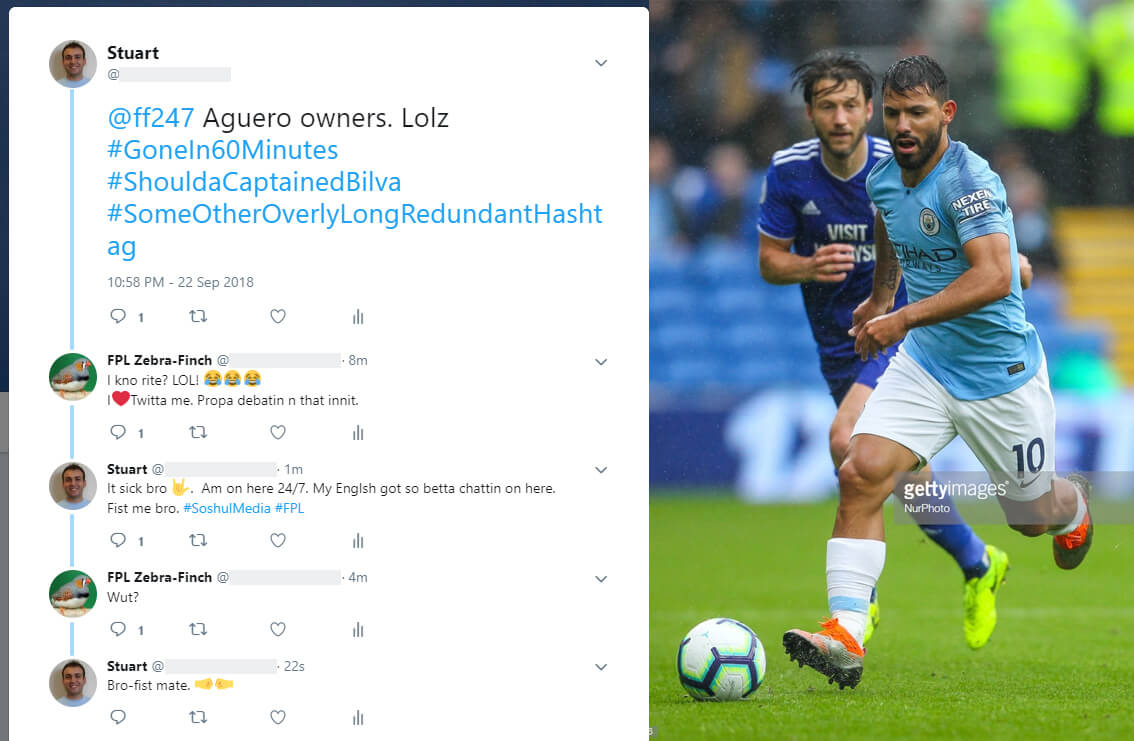 Stuart's carefully crafted insight deserves thoughtful dissection. "Aguero owners. Lolz", indeed. At the time, the Argentine's solitary goal compounded by his premature withdrawal left owners fuming at Pep once more. Only after similarly mediocre points returns from other noted captain choices did it turn out that perhaps things could've been worse. Though one can't help but reflect that with another 30 minutes against a tiring Cardiff side, things could've been so, so much better. Oh well… Lolz.
That explosive performance against the Terriers in GW2 aside, Aguero has been boringly…. consistent. His last 3 games have generated 6, 7 and 6 points respectively; showing that even his off days are still meritorious. Kun hasn't contributed more than 6 assists in any of the previous 3 seasons, yet already has 4 in this campaign. Perhaps it's a sign that he's adapting his style as a striker now in his 30's; or perhaps it's all part of Guardiola's team evolution. Either way, it's a welcome addition to the striker's armoury.
With no win since slaying Manchester United, Brighton's stuttering start sees them visit the Etihad with every reason to be fearful. The Seagulls are more than capable of digging in and making life awkward for their hosts, but it's hard to see anything other than the kind of possession domination we've become so accustomed to with the Cityzens. Aguero owners will be hoping for a little more than 60 minutes.
ALEXANDRE LACAZETTE | Arsenal v Watford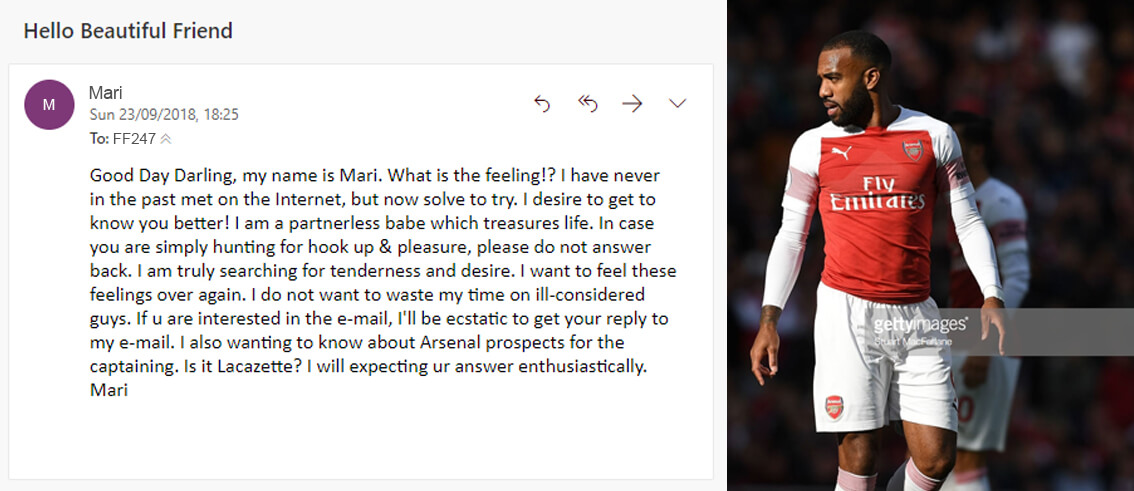 We almost completely overlooked Mari's email initially, but thankfully discovered it while clearing out the spam folder. Lacazette is a player that has been trundling along nicely since cementing a place in Unai Emery's starting XI. With an ownership south of 5%, this is a niche alternative to the usual cast of evergreen options. However interest is growing in the talented Frenchman. Arsenal's impending fixtures are largely attractive and his partnership with Aubameyang is burgeoning for all to see. His output for the last quartet of games now reads 2 goals and 3 assists thanks to his latest contribution, opening against Everton.
But lest this writer be accused of cherry-picking the facts, let's turn to FF247's own comment section for further justification. Lacazette's role in Sunday's performance elicited a ringing endorsement from site regular and keen Arsenal fan, Chins.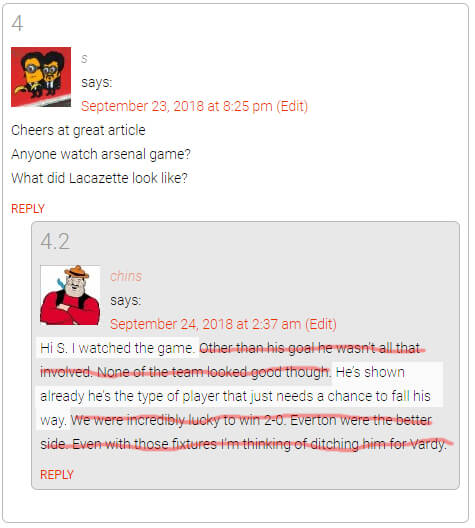 Visitors Watford may certainly be a tougher proposition than in seasons past but, despite their terrific start, haven't kept out the opposition since dispatching Brighton in GW1. The Gunners, conversely, haven't failed to net since the first round of fixtures. 4 wins on the bounce have seen them surge back to the upper reaches of the embryonic table, and will hope to take this momentum into their clash with the Hornets.
Alexandre Lacazette may be this week's 'hipster' choice, but "he's the type of player that just needs a chance to fall his way", and may very well get one or two come the weekend.
Thanks for reading Fantasy Football Captain Picks Gameweek 7. This article was written by Bry.
FPL FIXTURE TRACKER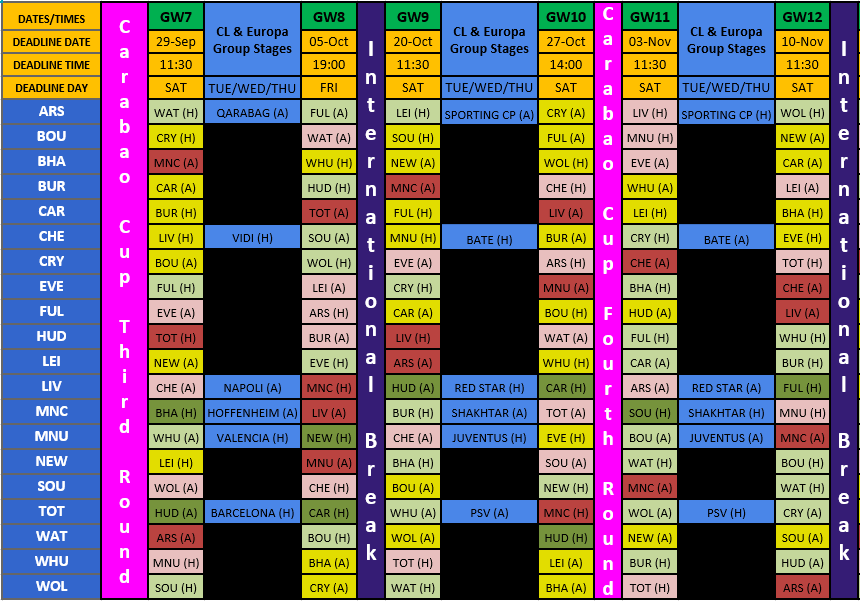 FIXTURE TRACKER LINK
Welcome to our Fantasy Football leagues section.
The League Codes for FF247 for the 2018/19 season are as follows –
Thanks to our friends Follow @ff_surgery and please give them a follow.