Fantasy Football Diary – GWs 3 & 4
Welcome to the second instalment of my FPL diary. Going into Game-week 3 I sit in 240,686th place having scored 79 & 80pts in Game-weeks 1 & 2. Not a bad start, better than usual to be fair, but it could and should have been better. A time for patience or a time to be aggressive? Hmmm we shall see! On a personal front, our move to the UK gets closer and at the time of writing I am winning the box-packing contest with the Mrs by 10-0. All our flights back to the UK are now booked – no turning back now. Pretty sad but great for the kids and that's the focus.
The lead up to GW3 is pretty uneventful. I genuinely don't enjoy this time of the season as the early wildcarders take over and build great looking teams which invariably makes one envious as they produce what looks like a 'perfect squad' with little weaknesses and at least 14 starters. No Peltier on their bench. With Wan-Bissaka suspended, Peltier on the scrap heap and Shaw in danger of being Mourinho'd, my defence suddenly looks shaky.
Kop suggests I wildcard. The b*****d knows what he is doing the bad boy. I am weak-willed when it comes to wildcards, but I am determined to hold it for a while longer.
Game-week 3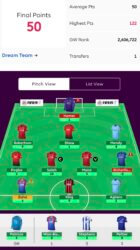 Saturday arrives, day 1 of GW3. Bit of a sleepless night. I lay there worrying about the move and then my head started contemplating playing my wildcard! Strange old thing, the brain.
We have a day at the beach and get down there nice and early. No time to have half hour to myself to look at a wildcard. I forget to say 'Good luck' to Init – it's kind of a tradition he has become accustomed to. Bless him. I play Hamer instead of Patricio, though after letting in 6 at City the week before, no-one, including me and probably also Hamer, expects Hamer to play. I try and follow the Wolves vs City game as best I can on twitter while blowing up an inflatable crocodile, changing a nappy or two, making sandcastles and eating a pork pie. A pleasant day all round but Kun and Mendy do nothing and Patricio lets in a goal.
The 3pm matches start and it's Hamer time. He plays! Home to Cardiff, who cannot score, haven't scored all season. And sure enough they don't score vs Huddersfield. However, Hamer only lasts 12mins before going off with an injury. FFS. I have just 2 other players playing – my new signing Richarlison and Josh King. One cannot stop scoring, the other has been transferred out by the masses after failing for two weeks. How FPL plays with you. Richarlison is sent off before half time before King scores a late penalty and somehow grabs 3bps.
I am fuming with Richarlison. Yet for the next 3 days all the chat is not only 'Who is the best replacement for Richarlison?' but also, 'Should we just bench him?' or 'Maybe he'll be 6.5mln when we buy him back?' Buy him back?? I never want to see the **** in my team again. Ever. Even if Everton have the best DGW in history, I'll get Siggy or God forbid Walcott. But no, not Richarlison – we're done mate.
To make a bad afternoon worse I have lost my wedding ring. I look everywhere at home, turn the sofa upside down, it's nowhere. The Mrs suggests it has come off in the sea and is remarkably calm. Her deficit in the box-packing must be weighing on her mind. It won't last.
I'm in the doghouse with Init for not wishing him 'Good luck'.
Captain Salah and Robertson carry on the good work in the evening kick off. 3bps for Robbo helps. One of my better pre-season decisions.
The Mrs has packed her first box! I resist the temptation to congratulate her.
I wish Init 'Good luck' before the Sunday matches. Mitrovic scores 16pts for him. I am clearly his good luck charm. Maybe he'll pay me to be his full time wing man. Zaha scores for me but then loses all his bps.
Alonso performs again. Another highly owned player that I don't own. He looks essential especially with Bournemouth and Cardiff due at Stamford Bridge in the next two game-weeks. That evening I hit out Shaw and Richarlison for Alonso and Kante. Not the ideal midfielder but it was him or someone else around that value. I contemplated wildcarding to get Hazard too but refuse to bend to the devil in my head. Alonso's price goes up that night, Richarlison goes down. Small mercies.
Sure enough. I get shouted out. She's turns into an uncontrollable hound for 2mins. I'm meant to be devastated about the ring. Well I'm gutted, but devastated? Hmm. I'm devastated I have to relocate my family. And maybe have no job. And have the move from hell to prepare for. And still have no school for William. So, the ring issue is somewhere down the list. Like a gutless rabbit, I obviously just keep quiet. And the uncontrollable hound returns to just being a hound.
The game-week degenerates to averageness as Shaw and Pogba and United lose 3-0 at home to Spurs. Kane scores and assists which is annoying as he did dick-all else for the rest of the game and Utd gave him a free header for his goal. His ownership will hurt me.
I finish the GW3 on 50pts. Bang on average. Literally. Rank is 251k. I'm 16-1 up in the box-packing.
The inlaws arrive today.
Game-week 4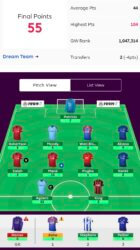 The in-laws have flown down to help us pack up the apartment. So that's now 7 of us in a 2-bedroomed flat. Cosmic. The mother-in-law works well during the day, like a dervish. By night she turns into a horrible drunk. The father-in-law strolls around during the day achieving nothing but trying to ride on the back of everyone else's work. By early evening, he turns into an even more miserable old drunk ****. Just to give you a bit of background.
Still the kids are pleased to see them.
It's Saturday, GW4 arrives. Two days at home with the in-laws. They hate football so even if I get to watch any, there will be tuts and moans in the background. We are kindly invited to our friends for a BBQ. Without the inlaws!! Get in. I make sure we are all ready nice and early and out the door bang on time. It's sunny, the lunch starts well, the kids are all playing happily, I look at my phone for any early team news. Rumours of Salah not starting. Hahaha that would make me laugh, given I semi-suggested the site team sell him for Hazard. Mito did similar this week. I think it's a good move but would never have got through the vote so I don't push it.
Salah plays! I have a Whatsapp message from Init which reads "?". That's it. WTF does that mean? What have I done now? Or haven't done? I reply with "Wassup?". Then I realise I haven't wished him "Good luck" for the GW. Honestly, it's like having a second wife. With that done, the BBQ gets into full swing, Robertson sets up Mane for an early goal, a good start. Salah does nothing, Kun captainers are relieved.
The rest of the afternoon is pleasant and uneventful. Alonso justifies the hit by assisting again, Patricio keeps a cs at West Ham. Hazard scores. Mito and I smile. It feels like a low scoring week. Anyway the funny part of the day is we left the in-laws to go down the beach and enjoy some sun and peace and quiet. There is a thunder storm. How I laughed.
The evening match appears, the one we've all been waiting for. City at home to Newcastle. Kun time. One assist and one bonus point. Not exactly what we all had in mind. Mendy assists again, this guy is ridiculous. He and Alonso head the assist charts this season. I get to watch some of the City game. There are tuts and moans and it must have really riled them because they have a massive row that evening. Too many gin and tonics me thinks. The mother-in-law fell over pissed twice before dinner but claimed to be fine, then spilt most of her dinner down her top. I'd rather eat with a dog. Luckily just as we finish dinner, which was quite late at 10.30pm, one of the girls wakes up so I go lay down with her and escape. Tomorrow could be a long day.
I wake up and see I have scored 52pts plus King off my bench. GW rank of 400k ish but with only Pogba to play today I will likely fall as I have no Spurs, Watford or Arsenal. Luckily I escape relatively unscathed. Until Pogba steps up and misses a penalty. Honestly, for 5mins I'm the grumpiest man in the world. Which is not great as I'm helping the twins up the stairs, which are marble and can be slippy.
It's a sad end to the GW, that penalty would have pushed me on a bit further, but there is a green arrow at least, my rank is 226k overall. Not great but also not a nightmare at this stage.
The father-in-law is losing his mind. Seriously. He spent 20mins arguing with my wife that it's October not September. FFS. I can't write on here how I really feel because it could be used against me in the future if he suffered an unfortunate fall into the sea. We are going to initially live with these fools in the UK when we move back. It will all kick off.
Now for the international break and try and avoid the temptation to press that Wildcard button. I have enough to occupy my mind with the move and work. And the in-laws leave tomorrow. Yesssss! Although it's only a fortnight until we meet again for a slightly longer time together. Yikes.
Thanks for reading Fantasy Football Diary – Game-weeks 3 & 4. This article was written by Cookie