Fantasy Football Diary – GWs 5-8
Much has happened since we last met, unfortunately most of the newsworthy stuff has not been FPL related and as a word of warning, life has turned a bit rubbish, truth be told. I'll try not to depress you or indeed look for sympathy! FPL has been very dull in comparison though a decent green arrow in GW8 will hopefully give some momentum to my season.
Game-week 5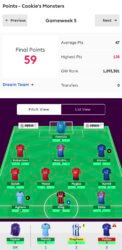 The move to the UK becomes ever closer and the lead up to GW5 is highlighted by two pieces of good news in one day – can't remember the last time that happened. Firstly the in-laws left and then later that day we received confirmation that William has been given a place at the village school. Happy days, a huge weight off our minds, maybe things will now begin to improve.
I am going to hold my transfer this week – those who know me (FPL-wise) best appreciate what a rare occurrence this is. But my mind is not really FPL focused at present so will just plug away with what I have.
GW5 is dull, continuing the trend which has lasted all season. I cannot break into the top 200k as hard as I try.
I score 59pts which is fine given the average is 47 – with Mendy injured, Wan-Bissaka comes off my bench and his 9pts are most welcome.
I keep thinking I should be selling Josh King as somehow Callum Wilson keeps outscoring him but the time never feels right and sure enough he chips in with 11pts vs Leicester. Salah fails again, while Hazard bangs in a hatty vs Cardiff. Hmmmm.
This weekend is our last as a family in Monaco and is tinged with sadness. We'll miss it here, life is good, safe, the sun shines, we can walk to the beach and enjoy a great view of the port from our apartment.
Game-week 6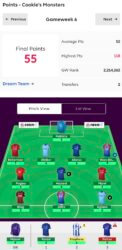 GW6 for me takes place in Bath. We have flown back though I will have to return to Monaco to finish clearing the apartment and drive the car back.
A quick word of warning. My father-in-law is a miserable, cantankerous b@stard who loves an argument about anything. He and my Mrs clash spectacularly.
Day 2 at the in-laws. Massive barney between Mrs and Mr Cantankerous, or for short….. ooops better not go there.
This is going to be a challenging time until we can get ourselves on our feet and out of here. He hates football, he hates TV (doesn't have Sky), he hates toys around and screaming kids. Uh oh.
Back to FPL and Hazard's hatty has convinced me I should be owning him. I've actually thought that for 2/3 GWs but have failed to act, annoyingly. Salah has been sold. With 2fts I can replace Mendy and opted for Walker over Trippier, given as much deliberation as I was afforded.
Basically even being on the mobile is criticised in this house. I live on my mobile. Cue pending explosion.
I fly back to Nice on the Saturday afternoon of GW6 and captain Hazard as he is playing West Ham on the Sunday so should get to watch it. He blanks. Salah scores vs Saints. Oooops!
Despite playing 4-3-3 and all my defenders recording clean sheets, my score of 55 is only slightly better than average and I slip back to 246k. I am stuck in a range I cannot seem to break out of.
If I thought that was a problem, then I had no inkling of how bad things were about to get as I entered what what would turn out to be the worst week of my life to date.
Game-week 7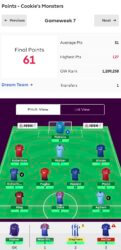 I would describe myself as a pretty relaxed chap but I started having genuine panic attacks as I realised how much had to be done between now and my exit from the flat in 3 days time.
We are storing the majority of our stuff in our friend's wine cellar which they have kindly offered us. Their villa is 90mins away. I have hired a Europcar van for Tuesday and a mate is helping me.
We take over a van full and quickly realise another trip is required. Jeez –
how much stuff have we got? Quick lesson here everyone – don't hoard stuff you don't need!
Anyhow, to cut a long story short, my mate has to go back to his kids so I'm left alone to fill up the van again, drive another hour and a half to our friends (who are not there), unload all the stuff into their cellar and drive back. By the time I'm ready to hit the road it's 4.30am….but the van won't start. FFS. Seriously, I could cry. And I never cry. The last time I shed a small tear was when Darren Clarke won The Open. The van ain't starting, I don't know the address of where I am in the middle of nowhere. I let myself back in, sit on the spare bed and wonder what else can go wrong. After messaging our friends to ask for their address, I fall asleep out of pure exhaustion.
It turns out the van was in 'safety lockdown mode'. Easily solvable when you know how. Finally arrive back in Monaco at 10.30am – the van is back late, I can't park outside the apartment, which means I can't load the car up for tomorrow's drive back to the UK. Could cry again. But don't.
That same day I got a phone call from my boss, who breaks the news that my job in the UK isn't happening as Compliance have decided it can't happen. Tw@ts. Like they even understand what they have decided. Oh this just gets better.
Then another mate comes over to help me finish off in the apartment and pack the car up. We quickly establish I have too much stuff for the car. Will this nightmare ever end.
We end up taking a carload to work and leaving it in a spare room and then, heartbreakingly I'm forced to dump a load of stuff in the bins. Kids toys and books, clothes, cots, golf clubs etc.
Worst day ever.
Am sorry to go on but I can't pretend I thought once about FPL these last few days. I've had probably 10hrs sleep in 3 nights and have a drive up to Le Havre tomorrow. Not great preparation.
I do get a few hours kip at my mates place before starting the drive back.
I can honestly say I loved the drive through France. No more packing or throwing away, no more brown tape or bubble wrap, no more panic attacks. Just me and the stereo and some nice scenery for the majority of the journey.
I get to Le Havre port some 12.5hrs later, check in, find my cabin, demolish some fish and chips and a mini bottle of vin rouge and actually for the first time in days look at my team.
I'm so screwed up I buy back Richarlison for Kante. Yeah I know I promised I'd never have him back but the fixtures and ownership swayed me. He does have Fulham at home this week……
Lose my signal out at sea which is probably a good thing and treat my body and mind to 9hrs solid kip. Bliss.
I remember to wish everyone (Init) 'good luck' for the GW.
He blanked. Home to Fulham, he blanked. Everton scored 3, he blanked. There are no words.
The GW follows a familiar pattern, solidish, but far from spectacular. 61pts vs an average of 51. I move up to 206k but still cannot break into the top 200k.
On the positive side, Patricio is proving a good purchase, Hazard scored and Salah didn't and Walker kept another CS.
Game-week 8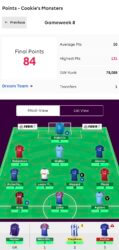 To Kane or not to Kane is the question on many a FPL lip. If you hadn't realised, I'm not a fan. I don't particularly rate him as a footballer but can acknowledge his record. To me he's an excellent Premier League striker, no more.
I don't really want to buy him, yet all I hear is that he's a 'must' this week at home to Cardiff. But I want Kun for GW9 onwards so do I really want to hit for Kane only to sell him straight back? No. But he's a 'must'? Sod it, I'll sell Pogba and get Lucas Moura so I'll have some Spurs coverage for the inevitable slaughter of the Welshies.
I also strongly consider buying Arnie or Mitro for Zaha but resist. I may get Mitro next week though 'cos Fulham play Cardiff and have a decent mini-run of matches.
Everyone it seems has Kane and is captaining him. This could and likely will go horribly wrong.
I am captaining Hazard away to Southampton.
Early kick off this week and I'm expecting to go into Saturday with a deficit but Arnie blanks at Brighton and gets booked.
The Saturday 3pm matches sees Richarlison open the scoring. Never doubted you pal. Spurs score early but its Dier not Kane. Phew. We get to half time and Kane hasn't scored.
Bullet dodged big time as Kane blanks. And gets a yellow. Get in!!
A Josh King brace (yep I still own him) and another bonus point CS from Patricio leaves me handily placed on 34 with 6 players still to play on Sunday.
Get in Hazard!! My captain opens the scoring and adds a late assist for a 28pt Capo haul. Clean sheets from Alonso, Robertson and Walker again see me score 84pts.
With Kun & Kane scoring just a point each, Hazard captainers really make hay this week. Just what I needed.
Better be lucky than good, as the saying goes.
Weekly rank-wise its by far my best GW of the season. I've smashed through the 200k barrier at last and have climbed to 77,996.
I could moan and whinge about the in-laws but I'm too exhausted and frankly, for the first time in what seems like forever, am going to bed happy until I remember I forgot to wish everyone (Init) 'good luck'! Oooops. Am off the Christmas card list again!
Enjoy the international break, catch up soon xx
Thanks for reading Fantasy Football Diary – Game-weeks 5-8. This article was written by Cookie
FPL FIXTURE TRACKER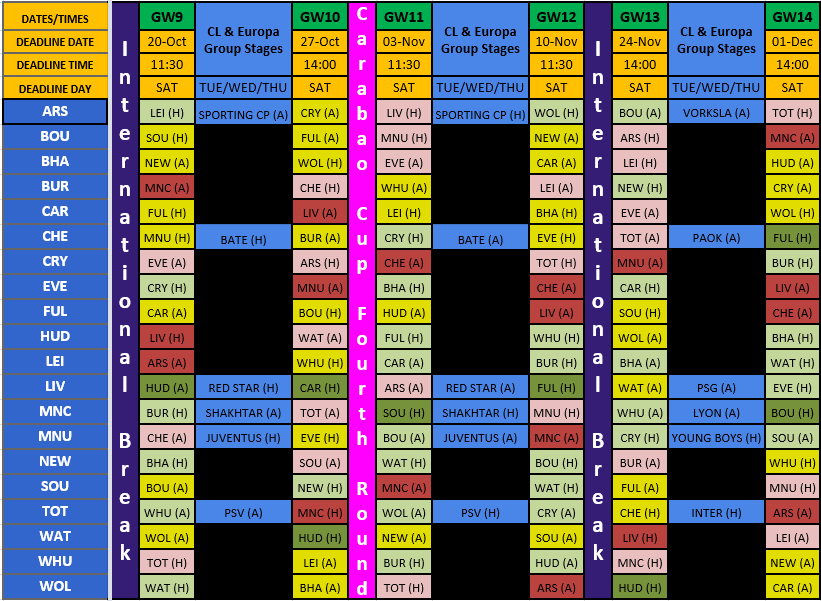 FIXTURE TRACKER LINK