Fantasy Football Fixture Analysis Gameweek 1
No pressure! Here I am with the first of the 'traditional' articles run at FF247, at a time where there is still great upheaval from the 'C' word – by 'C' word, I, of course, mean Covid-19 and not the politician who first comes to your mind! However, at least we have the benefit of the return to three substitutions, along with a more normal-looking – albeit delayed – calendar. That is great news to me anyway, as that crazy period when the league restarted, where I was also on holiday and had less FPL focus, saw my rank plummet to the worst finish in seven years.
So, looking ahead – as we particularly must do at the moment – I trust you are all ready for the rollercoaster that will no doubt be the season?! Not that there has been much of a wait! There may still be no fans in the grounds, however it will be great to be keeping an eye on the price rises, joining in the chat on the forums here and pondering for hours over who stays on your substitutes bench, who is captaining who and which teams have the finest fixtures, on paper at least, to try and make the most of. That leads me on nicely to present you the good, bad and ugly – along with a duo of teams you ought to keep on the radar.
FPL FIXTURE TRACKER
But first up that all important Fixture Tracker itself…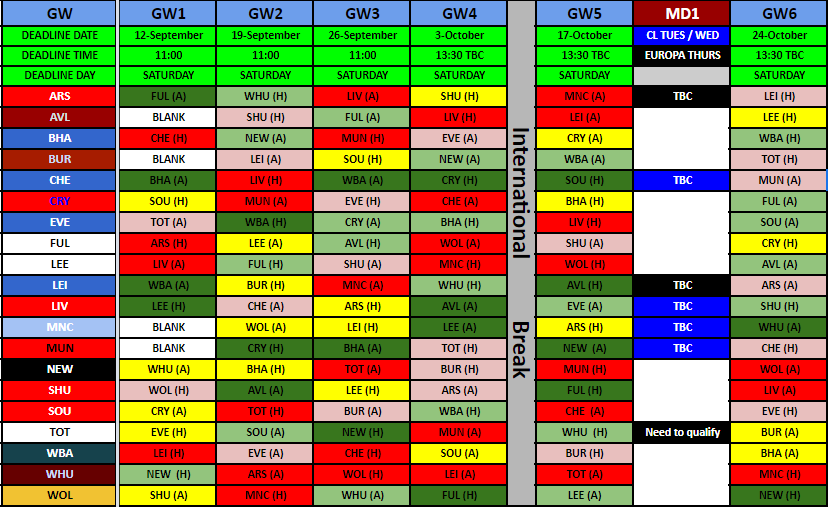 The Good
Arsenal – Fulham (A), West Ham (H), Liverpool (A)

As the first match of the season will be the Gunners versus the Cottagers, as the West London side makes its return to the Premier League after a one-year absence, it makes sense to mention Arsenal first. Before we even focus on their fixtures, you are reminded that Pierre-Emerick Aubameyang has been on fire in the preseason, as his two goals in the 3-2 defeat to Aston Villa were on the back of 70 scored in his first 109 appearances for the North Londoners. In addition, this will be the first full season Arteta has been at the helm. The Spaniard will be eager to properly make his mark and the new signings of Gabriel and Willian, along with seven others, will no doubt help that vision to finish higher than eighth as the Community Shield and FA Cup wins have been set as a foundation stone.
Scott Parker's side, meanwhile, have only made three signings ahead of the season this time, perhaps learning from the mistake of signing half the market and then wondering why the new personnel didn't gel when they were last promoted. Aston Villa almost had the same conclusion after doing the exact same thing. Ahead of this weekend's game, the lads in white have lost 39 of their 57 meetings with Arsenal, of which the last five have been straight defeats – conceding 15 in that time. The previous factors mentioned make you think that Saturday could be the sixth consecutive loss, with the average of three goals conceded also kept intact. Not quite the open-armed welcome to the Premier League Fulham would like. Not that open-armed welcomes are appropriate at the moment, I suppose.
Back to the Emirates, Arteta and his team will go for a fixture against West Ham, a team that appears to be in a bit of chaos if the Mark Noble tweet is anything to go by. Looking back over the last 10 games across all competitions, it's been two draws and one win for the Hammers as the Gunners have come away victorious in seven, netting 23 over the entire period. Liverpool will then be a tough challenge for Arsenal and so that could be a chance to decide if the Gunners assets are bringing in the points or may need to make way for someone else from the likes of Man United or Man City.
Spurs – Everton (H), Southampton (A), Newcastle (H)

Whilst I have a bit of a soft spot for this side, they've been off the radar for me over the various drafts of my FPL team. That was until I started to research in preparation for this article – whilst I was on holiday in Dorset – and, suffice to say, the latest version now has Son sat in midfield!
Before the season has begun, the North London side has had a mixed time of it recently, having lost 2-1 to Watford but also having beaten Ipswich, Reading and Birmingham City 3-0, 4-1 and 1-0 respectively. Their transfers have, as usual, been few and far between, as a load of players have been released and the trio of Matt Doherty, Pierre-Emile Hojbjerg and Joe Hart have been signed.
So, looking to the fixtures and it's Everton who first visit the Tottenham Hotspur Stadium this campaign, as the Toffees have also seen a whole load of players leave the club with just one signing so far made. As good as Carlo Ancelotti is as a manager, he will need fresh talent to at least offer competition for places, so their current situation isn't particularly great. The Merseysiders don't exactly have the best record when it comes to away days at Spurs either, as you have to look back to 30th November 2008 for the last time they travelled back up north with a win from there.
Southampton look to be a more formidable side nowadays, as they finished the last campaign 11th on the back of four wins and three draws. Spurs' record against them has also been quite mixed recently, however Newcastle's visit to the Tottenham Hotspur Stadium could bring in the goals as Mourinho's men will go into the match having scored 19 in the last 10 times they have faced the Magpies.
Chelsea – Brighton (A), Liverpool (H), West Brom (A)

Frank Lampard has been the most high-profile when it has come to signings before the new season has started, with Ben Chilwell, Thiago Silva, Malang Sarr, Hakim Ziyech, Kai Havertz and Timo Werner joining the ranks, as Pedro and Willian have been the most well-known departures. It's very much the feast after the famine of their transfer ban, you could say, while Christian Pulisic will also available once he has recovered from that hamstring injury. Indeed, Frank's team will need a turnaround from the losses in the FA Cup final and Champions League against Arsenal and Bayern Munich respectively, along with a 1-1 draw at Brighton.
Talking of the Seagulls, that is the very team the Blues will be facing in their first game of the new campaign. The south coast side has itself brought in a fair few players, and Adam Lallana is arguably the most high profile. As for their record against the West Londoners, it's not exactly a long one with just 14 to look through. Of the six of those that have been this century, the 1-1 tie on 1st January is the only game that hasn't been a loss, as 13 goals have been scored by Chelsea in the other five.
Liverpool's visit back at Stamford Bridge, meanwhile, will be a big tussle – especially as it will be so early in the season and there will be the new players to bed in. The previous round will have no doubt seen Leeds try to make a good account of themselves at Anfield in their first Premier League game in 16 years, however the Reds versus the Blues will, on paper, be Salah and co's first real challenge. It'll be interesting to see how Klopp and Lampard greet each other after their bit of bickering in the last encounter! After that, a trip to the Hawthorns beckons, as part of West Brom's baptism of fire into the Premier League. The Baggies will no doubt try to prevent a fifth straight defeat to Chelsea, with nine goals conceded across those four previous losses.
The Bad
Brighton – Chelsea (H), Newcastle (A), Man United (H)

Having mentioned their fixture against Frank Lampard's side, it's no doubt unsurprising that Brighton are within the 'bad' section. That's further compounded with trips to Newcastle and then a return to the Amex to face Man United who could well be as lethal as they were at the end of last season – Messrs Martial, Fernandes and Rashford, among others, are no doubt ready to hit the ground running from Gameweek 2.
Leeds – Liverpool (A), Fulham (H), Sheffield United (A)

Sport can be so cruel. Sixteen years Leeds have been out of the Premier League and their return is marked by a trip to Anfield in what is, arguably, one of the most difficult games a team could face. They have, however, been busy in the transfer market with new signings including Helder Costa, Rodrigo and Robin Koch no doubt keen to make their imprint, but Gameweek 1 may be something to write off. Fulham, having played Arsenal, may want to then kick start their own campaign in Gameweek 2 in what may just be a close encounter at Elland Road, whilst a trip to Sheffield United – if they are anything like they were before lockdown – could also be tricky.
The next team Leeds will face after they have travelled to Bramall Lane? Man City. Ouch.
West Ham – Newcastle (H), Arsenal (A), Wolves (H)

As previously mentioned, it seems the Grady Diang transfer to West Brom – who may not be a million miles from West Ham in the table, come the end of the season – has not been popular with the Hammers players, Mark Noble in particular. Whether this is a one off or, more likely, the tip of the iceberg when it comes to how happy the squad is, it could be interesting to say the least on how David Moyes' side begins the season.
Newcastle's visit in the curtain opener could be the 'easiest', as they also haven't been prolific in the transfer market yet at least, however it certainly doesn't get easier as Arsenal and Wolves are then waiting in the wings.
The Ugly
West Brom – Leicester (H), Everton (A), Chelsea (H)

Whilst Leeds and Fulham have tough first games to get past, the last of the trio of promoted teams, West Brom, have got a mountain to climb. First up will be a Leicester side who will be looking at Jamie Vardy to kick off the season in style and add to the five wins over the Baggies in as many years, whilst a trip to Goodison Park and then a return to the Hawthorns to face Chelsea will be ties that could well and truly test their resolve.
Worth the Wait
Not playing in Gameweek 1 has been very annoying for the likes of managers who want Man City and Man United assets in their squad! It's up to you if you want to have the players sat on your bench or if you have a plan to then bring them in later on, as it could be as soon as Gameweek 2 for Anthony Martial and co and Gameweek 3 for the likes of Kevin de Bruyne and Raheem Sterling. No doubt more will be covered when Jamesimmo sits in the fixtures hot seat next week.
Man United – BLANK, Crystal Palace (H), Brighton (A), Spurs (H)

Once the blank is out the way, it's then Crystal Palace – a side the Red Devils have only lost against on one occasion out of the last 15 meetings. You'll have also read that Brighton are not on the right side of the statistics in the game against Ole Gunnar Solskjær's men, whilst Spurs' visit to Old Trafford could be quite the indicator of how the two sides have progressed. Head to head, too, the last five encounters in Manchester between the two teams have seen four wins and one loss for the home side.
Man City – BLANK, Wolves (A), Leicester (H), Leeds (A)

As previously mentioned, the Wolves game could actually be one you wouldn't rush to bring in any Cityzens as their record against Nuno Espírito Santo's men in recent times has been rather eye opening, with two defeats in the last duo of Premier League games, going down 2-0 and then 3-2. Leicester and, in particular, Leeds in Gameweeks 3 and 4 could, however, see Pep's men show their teeth. We may even have a better idea of who will be in their starting XI as well!
Thanks for reading Fantasy Football Fixture Analysis Gameweek 1. This article was written by Swirly
VOTE ON THIS WEEK'S CAPTAIN POLL GW1
Fantasy Football 247 League Codes:
All prizes must be claimed within 30 days of the final GW.