Fantasy Football Fixture Analysis Gameweek 2
Welcome to Fantasy Football Fixture Analysis Gameweek 2
With a new season comes new challenges, new head to heads, new faces, new prospects. And VAR. In the case of the latter, that has already shaped a couple of matches, making the outcomes less predictable. Will it be an improvement or will it be another idea that gets consigned to the scrap heap? I'm sure Wolves' Leander Dendoncker has a stronger opinion on it now than he did before the weekend, as his winner was ruled out and gifted inverted commas to became a 'winner'. The technology has certainly split opinion since its inception, much like whether Jaffa Cakes are cakes or biscuits and whether black pudding is acceptable to have with your breakfast. Spoiler: it's not.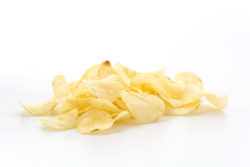 So, staying on the food theme, feel the hunger set in for both potato-based snacks and the rest of the season, as those who started well look to keep that up and reduce the number of their overall rank. If you've not had the best time when it has come to Gameweek 1, however, do not fear – we are just 2.63 per cent of the way through the season and your overall rank is just based on one single week. Those players who didn't do great over the weekend just gone could then smash it in the next match. And of course there's the small matter of the wildcard that you can rely on later on down the line.
Anyway, crisps: or chips if you're in the States and various other countries, patatine fritte in Italy and potetgull in Norway.
Flavourable Fixtures
Liverpool – Southampton (a), Arsenal (H), Burnley (a)


Liverpool are very much the Nice and Spicy Nik Naks when it comes to their fixtures coming up. No resemblance between the squad and the nobbly spicy snacks; just simply that they are top of the pile. The best. I'd go as far as saying that the only six-pack I'm likely to get is the orange multi-pack that stands out on the supermarket shelves almost as much as Roberto Firmino's teeth.
Having set aside Norwich 4-1 on the opening night of the season, Salah, Van Dijk and even Origi owners rejoiced as their players brought in the points, as Pukki's goal then slightly marred the celebrations to take out the clean sheet. Gameweek 2 for Klopp's men will be a trip to St Mary's to face a team that didn't exactly have the best start to the campaign, having gone down 3-0 away at Turf Moor. The last four meetings between the Saints and Reds have seen the latter victorious, scoring 11 in the process – of which a certain Egyptian was responsible for five.
Following on from that, it's a return to Anfield as the Gunners come to town, following on from their fixtures against Newcastle and Burnley. Depending how things go against The Clarets for Arsenal, the trip to the North West could be the real dose of reality the start of the season offers each team, especially when you consider the fact you have to look back to April 2015 for the last time they overcame the Merseysiders. That was back when Arsene Wenger and Brendan Rodgers were the managers. How times have changed.
Liverpool's fixture away at Burnley is one that always reminds me of my father in law as he recalls the funny story of climbing from one train to another via the windows on an away day and losing his shoe when one started to pull away from the other. Like that story, this one will probably finish in a happy ending – he still has all limbs intact to this day – if you are a supporter of the Reds; especially as they have only lost three times against the Lancashire side since that fateful day in 1975.
Man United – Wolves (a), Crystal Palace (H), Southampton (a)


Man United are getting the status of Monster Munch here. Perhaps misunderstood like the maize-based delight, the Red Devils certainly raised a few eyebrows in their 4-0 victory over Chelsea in the last match of Gameweek 1. They could easily have gone behind in the first half but then, with more of a cushion between them and the Blues, they started to play with a good deal of confidence. That said, Frank Lampard and his side could well find this season a slog, thanks to the loss of Hazard and their transfer ban that has now come to an end but will leave a legacy until the next deadline day. Hopefully Harry Redknapp's nephew will still be the boss at Stamford Bridge to see that.
Gameweek 2 could prove to be more of a challenge for Ole's men, more the beef flavour of Monster Munch. It's only earlier this year the lads in gold were triumphant twice over those in red attire, thanks to 2-1 and 2-0 wins in the league and FA Cup respectively, in which Jota scored in both. Those also followed on from a 1-1 draw at Old Trafford back in September last year.
After that, it's then the more favoured Flamin' Hot and Pickled Onion flavours to look forward to, as matches against Crystal Palace and the previously mentioned Southampton appear on the horizon. Roy Hodgson and co. make the trip to Old Trafford on the back of 13 straight games against the Red Devils without a win, having conceded 10 in the last four alone. Ralph Hasenhüttl will no doubt be aware of the fact his team has a less than desirable record against Man United too, as they have conceded an average of 1.57 goals in each match since the last time they defeated them back at the start of 2016.
Man City – Spurs (H), Bournemouth (a), Brighton (H)


The salt and vinegar crisps of the FPL world, Manchester City are definitely the popular favourite. Just like what you would find within a green-coloured packet, you know exactly what you'll get with the Cityzens and that's a great points potential. In Gameweek 1, Sterling went against his namesake in the currency markets and showed to be the strongest out of anyone, amassing a whopping 20 points in their 5-0 triumph. Indeed, the mixture of West Ham's poor play and the visitors' ruthlessness also helped Mahrez to 14 points, with Walker and even Ederson collecting eight and seven respectively. Aguero owners, meanwhile, had quite a mixed 90 minutes, it's fair to say.
Looking ahead, the Gameweek 2 opponents in the form of Spurs could be a slightly trickier task, as Harry Kane confirmed against Aston Villa what Rosco knew all along: there is no August curse. It's bad enough when a player scores two against your team; that's made worse when they're not in your FPL team either. I've definitely forgotten what life as a fan of a Premier League team is like. There are hopes for entertainment's sake, of course, there is a repeat of the time the two squads met in the second Champions League quarter final earlier this year, which featured five goals in the first 21 minutes and VAR to decide the goal by Llorente was OK and Sterling's at the bitter end, well, wasn't. That night was a part of a varied record over the past five years, with Man City winning seven, losing four and sharing the honours once.
Gameweeks 3 and 4 then present themselves to the lads from East Manchester, with a trip to Bournemouth and a home tie against Brighton. Both of these sides haven't exactly enjoyed playing against the Cityzens, as a look through the history books reveals The Cherries haven't ever won against them. Indeed, since Eddie Howe's men were first promoted to the Premier League, they have had to endure 25 goals conceded in eight games, of which Sterling has been responsible for eight. Brighton, meanwhile, will remember their home was the location the visitors won last year's title in a 4-1 win. That was the fifth time in a row Pep Guardiola's side has defeated the Seagulls and, with this match taking place at the Etihad, you have to fancy the home side in that one.
The Next Crisp Tier
Everton – Watford (H), Aston Villa (a), Wolves (H)


Prawn cocktail crisps seem to be a snack that people either love or hate. I'm certainly on the side of loving them, so this is where the Toffees are – based on their fixtures – and it's difficult not to see the potential for some FPL points from their players. That seems to be quite a popular consensus, as Lucas Digne appears in more than a quarter of FPL teams and Sigurdsson shows his face in around one in six.
Watford joined a few other Premier League teams in being the recipient of a good few goals on the opening day of the season and their trip to Goodison Park has the potential to be pretty tricky, too. Similarly to Everton, they failed to find the back of the net in Gameweek 1 and will need to turn some of the missed chances of that fixture against Brighton into goals in Gameweek 2, as Everton will no doubt be looking to beat the Hornets for the first time in three attempts.
A trip to Villa Park for the host's second home tie of the season is also the most-played fixture in English top-flight football. Another significant record Everton can rely on is that they have only lost two against the Villains in the last 10 years, with six wins and seven draws along the way. After that, it's another Midlands team to play, albeit back at Goodison Park. From Marco Silva and his squad's perspective, that's a fixture that will be on the back of three wins, five draws and two losses over the past 10 games between the two sides.
Unflavourable Fixtures
Southampton – Liverpool (H), Brighton (a), Man United (H)


After the optimism towards the end of last season as Ralph Hasenhüttl came in after Mark Hughes' departure, the Saints will be hoping they can revive that and improve on how the opener of the season went. Unfortunately, the games against Liverpool and Man United in particular are going to be very difficult, as much as they are going to be played at home. The middle tie against Brighton does offer the opportunity for some respite, along with the ties against Sheffield United and Bournemouth in Gameweeks 5 and 6. This does mean Southampton can be likened to Wotsits, of course, in that they're OK and you wouldn't want them all the time, but they can be great after a good while.
Burnley – Arsenal (a), Wolves (a), Liverpool (H)


Finally, there's the ready salted of the crisp world – a pretty unappealing option and with good reason when you look at all the other flavours in front of you in the crisp section. Nik Naks, they are definitely not. Whilst Sean Dyche and his men started their 2019/20 season in style by dispatching the aforementioned Southampton, life is going to get much tougher over the next three matches. Though we are in the early days of the season – and it does pay to keep an eye on players – I wouldn't be rushing to get any of the Burnley squad in your side until at least Gameweek 5.
Thanks for reading Fantasy Football Fixture Analysis Gameweek 2. This article was written by (a hungry) Swirly.
FPL FIXTURE TRACKER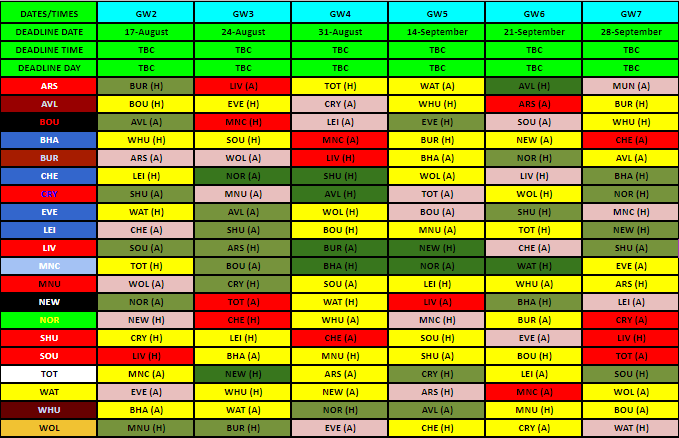 FIXTURE TRACKER LINK
Fantasy Football 247 League Codes: