Fantasy Football Fixture Analysis Gameweek 22
Happy New Year, everybody. Who would've thought that the first FPL article this decade would've been penned by a Yank? That's a nice piece of trivia to carry with you until 2030 when we look back at the Roaring 20's.
But it doesn't matter where the writers for these articles are from – what matters is that we all come together, at least once a week, and partake in a crazy game like FPL. Sure, we're starting a new decade, but the world at large is more of the same it seems. We have Australia on fire, WWIII memes are everywhere…it's crazy out there. But somewhere in the midst of all that craziness, we center ourselves in some hobby like this. We could all get bogged down with the bad news all over the TV, or we could collectively get together and agree that it's super annoying that Liverpool haven't lost a game yet. FPL brings us together, and it's an honor to kick off this new era here for you all.
Now that being said, this January period is just chalk. So you'll have to forgive me for including the top three teams in the table here to start things off. I take no pleasure in doing so – but c'mon, look at the fixtures table. It was unavoidable.
FPL FIXTURE TRACKER
But first up that all important Fixture Tracker itself…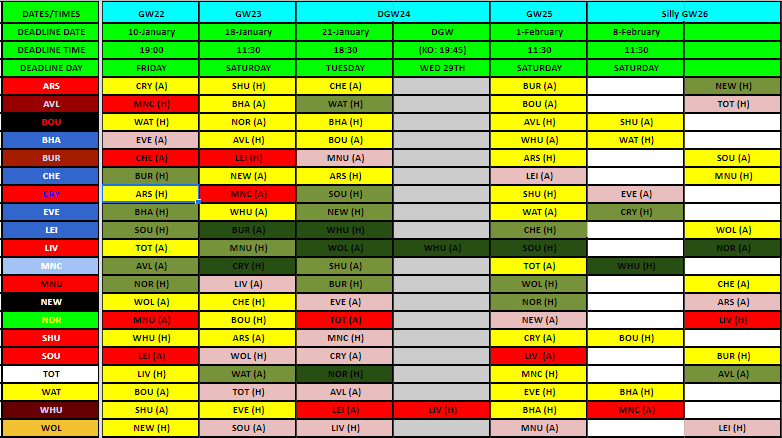 FIXTURE TRACKER LINK
Top 3 Picks
Leicester – SOU (H), BUR (A), WHU (H)

Leicester are the team to be focused on for this run, no question. Leicester won their last two games without Vardy up front (much to the supreme annoyment of many fantasy owners), and their form seems to have bounced back since falling against Liverpool. The silver lining to Vardy missing the last two games is that Vardy got to rest himself up during the busy holiday fixtures, and he should be in top form upon his return*. There really isn't a better setup for wins in the league right now – especially when you consider the competition that Leicester have on hand.
Southampton have had a bit of a resurgence here behind Ings, but nobody is seriously considering that Southampton, on the road, have the man-for-man capacity to take down Leicester in their current form. Burnley, who will be in the other half of the list just below, seem determined to inject themselves into the relegation conversation to start the new year; they've lost three straight, sit just four points above the drop line and have only scored a single goal over that losing streak. Finally, with West Ham, there shouldn't be much to worry about here. Yeah, Moyes came in and stopped the bleeding with a 4-0 win. But it was over fellow relegation fodder (Bournemouth), and those results won't be replicated against better competition.
Leicester shouldn't have any problem getting 9 points from this run – even if the points don't really matter anymore, 9 points are still 9 points.
*Most social media outlets are saying Vardy is good to go, but be aware the game does have him listed at 75% probable at the moment.
Liverpool – TOT (A), MNU (H), WOL(A)/WHU(A)

Any other year, this schedule, outside of the DGW, wouldn't look favourable to anybody. But Spurs are sputtering and will be without Kane for some time. United are equally up and down – but they're a little easier to predict as they tend to avoid extended winning streaks of any kind, and they fold up pretty quick when the opposition has a plan that they stick to. That might sound a bit harsh, but their results speak for themselves. And even with Wolves sitting up at 7th in the table, this is still favourable for Liverpool. Wolves are now on a two-game losing streak that began with a 0-1 loss to…Liverpool. So yeah, yay Liverpool.
In all honesty, Liverpool's fixtures will all be favourable until they've mathematically locked up the top spot so that they can rest key players for continental competition. But even then, they may have motivation to go for a near perfect season with no losses. The one thing that never changes is that I'm tired of writing about them, you're tired of reading about them, and yet here they are again. #shrug_emoji.
Manchester City – AVL (A), CRY (H), SHU (A)

And now, to complete the most chalky top three in the history of this article series, we have Manchester City. It's not like we want to say that the top three teams in the table are the best picks of the week – but sometimes the rich just get richer, and all of the top three had the best schedules on the board. For a moment I thought about putting Everton here. But then I watched them play Liverpool…and we'll have to give King Carlo a bit of time to sort those boys out before I can recommend them fully.
So that leaves me with City. And City are just the most frustrating side this year. It's like they're good…but not that good. Does that make sense? They still score more than any other team in the division, Liverpool included, but they've managed to lose 5 of their 21 games to this point. No team with the budget that City have should be losing nearly a quarter of their games, but somehow they have. They're consistently inconsistent. But even with that said, City know how to put the hammer down on lower teams, and that's what they get here.
Villa have been scrappier than anybody thought they'd be, but they're still just a hair off of relegation, and they're third worst this year for goals allowed (37) – so the most scoring side in the land should have a field day here. Palace are second worst in goals scored this year (19), so that should help Pep out some since City sometimes look like they were never trained how to defend. And finally Sheffield, even though they're the darlings of value fantasy picks, have already lost 2-0 to City this year, and I expect a bit more of the same in this spot.
Teams to Avoid
Burnley – CHE (A), LEI (H), MNU (A)
This is a series of games that doesn't even have to be looked at from a stats perspective. Burnley are spending a total payroll (prior to any January business) of about £37,000,000 per year on their players. Chelsea are up around £104,000,000, Leicester (though still remarkably "cheap" for their sitting in the table) are double Burnley at £70,000,000. And United are double Leicester at £140,000,000.
It's the way sports are these days. You have to spend your way to a title, or you try to spend just enough to stay in the division. Burnley are trying for the latter. They're level of spending means that they're trying to finish in spots 13-17 in the table, and fair play to them, that's exactly what they've done thus far. The problem is that they've already lost three in a row heading into this series of games, and they're only 4 points clear of relegation. If Burnley do manage to stay up this year, their salary paid out to players will have been a bargain. If they don't right the ship soon, they'll have paid a supremely hefty price for a ticket to the Championship with nothing to show for it.
Long story short, Burnley have built a team that is not built to win these types of games, and they'll lose all of them.
Southampton – LEI (A), WOL (H), CRY (A)

I think that the Premier League as a whole slept on Danny Ings this year. There was nothing in his history that suggested that he'd be as prolific as he's been to this point. His 13 goals this season have him tied for second in the Golden Boot race, and he's already scored more goals this season for himself than he's scored in any other full season in the division. The problem for Southampton is that Ings is their only threat, and that lack of creativity in other parts of the pitch is about to catch up with them.
Southampton as a whole have only scored 25 goals through 21 matches – and Ings has over half of those. The big problem is that Southampton are second worst in the league in goals conceded (38) – only bottom of the bin Norwich have allowed more goals with 41. I'll concede that Southampton have deservedly fought their way to 12th position, but it doesn't take next level analytics to suggest that the key to beating Southampton is to devote additional priority to Ings and have your way with the porous Southampton defence. If Ings is taken out of the game plan, Southampton don't have a Plan B. If Ings isn't bought up by a rival club this month, expect teams to defend him more heavily and force this team into tactics for which they haven't prepared.
Southampton may get a total of 3 points from this run, but I'm personally looking for Ings to be slowed down from the breakneck pace he's been on.
PS, everybody over here across the pond still calls them 'Southy' behind your backs.
Thanks for reading Fantasy Football Fixture Analysis Gameweek 22. This article was written by Guy.
Fantasy Football 247 League Codes: