Fantasy Football Fixture Analysis Gameweek 23
Well hello there! My first article proper of 2020. I find myself in an optimistic frame of mind despite my FPL woes of late. This week I'm tasked with surveying the fixtures and telling you who, in my humble opinion, you should be focusing your attention on. However, like the million or so VAR decisions that dominated (ruined) the fixtures in GW22, you should take such things as favourable fixtures with a pinch of salt. For every Man U v Norwich, there's a Leicester v Southampton just waiting to upset the apple cart. I digress.
By proxy Liverpool and West Ham are the two teams with the best fixtures given that they both have an extra fixture over the next 3 game weeks. Liverpool has the best fixtures regardless of opposition, and outside DGW24 the Hammers have on paper good fixtures themselves. However, we're all acutely aware of DGW24 and when I say acutely I mean it's pretty much all anyone seems to be talking about. So, let's assume we know both the above have good fixtures, and even if they didn't, the allure of a double game-week means such discussions are somewhat moot. I could pen an entire article dedicated to the merits of double attack vs double defence (we're taking Salah, TAA etc and not so much Haller and Zabaleta etc of course) but to do so would be pointless. Do I know who will score the most points in the double? No. Do you? No, again. Come the conclusion of DGW24 there'll be plenty of 'I knew that double defence/ attack* (*delete where appropriate) was the way to go.' Aye canny mate, you got next weeks lottery numbers? So, let's push The Reds and the Hammers to one side, for this week at least, and see who else is worthy of your precious thinking time. Or not, as the case may be.
FPL FIXTURE TRACKER
But first up that all important Fixture Tracker itself…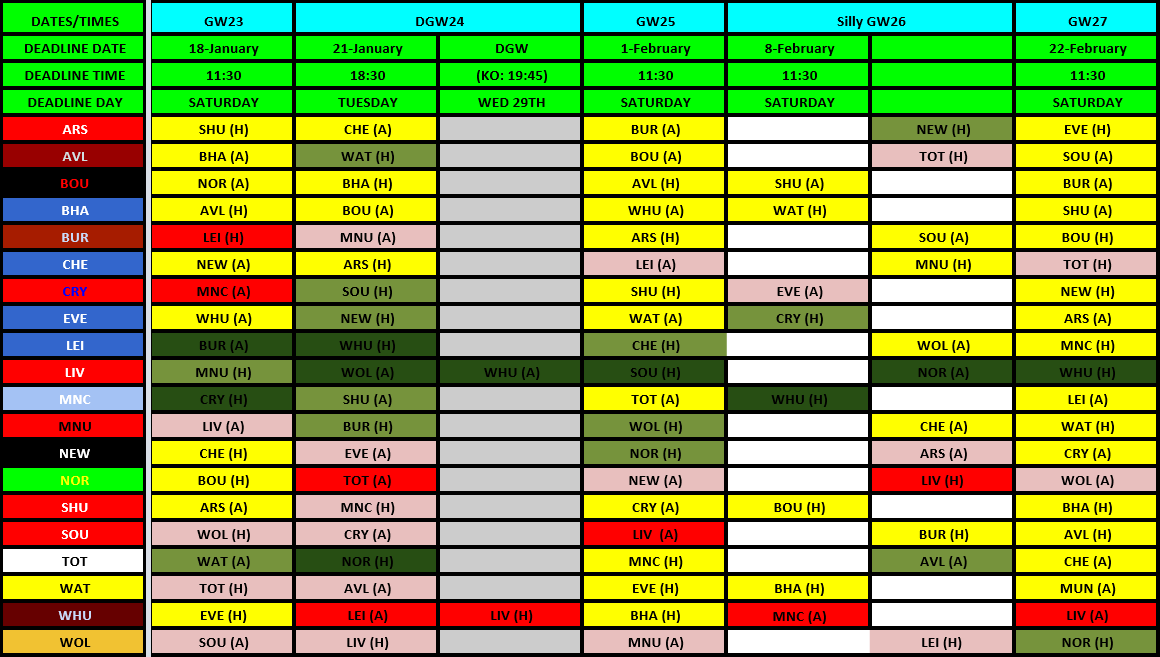 FIXTURE TRACKER LINK
Bournemouth – Norwich (A), Brighton (H), Villa (H)
Oh, dear. Where has it all gone wrong for Eddie Howe and his Bournemouth side? A 0-3 home loss to Watford at the weekend means it now three defeats on the trot, 9 goals conceded without reply. Fortunately, they have 'on paper' the best fixtures in the league over the next 3. If they are to pull themselves from the drop zone they'll need to pick up points in these fixtures, and whilst it would be a brave FPL manager to actively court their players, you have to hope there will be some kind of response from the cherries in the coming weeks.
First up it's a trip to Carrow Road to face bottom of the table Norwich. Surely if Bournemouth are to turn the tide then this is where they should focus their efforts. Whilst the Canaries have been marginally better at home this season, they still have the worst home record in the league. They don't have a problem scoring (17), but it's at the other end of the pitch where the problems lie, having let in 25 goals in their 11 fixtures on home soil thus far – the worst in the league.
In GW24 Brighton are the visitors and have just 8 points from a possible 33 away from the Amex this season. You have to go back to GW17 for the last time they picked up points on the road, with just 2 clean sheets, the last one way back in GW6.
Finally, it's another match with (hopefully) home advantage, this time with Aston Villa the visitors. The Villians slipped into the drop zone at the weekend, in part thanks to a 1-6 drubbing at home to Manchester City, but mainly due to their inability to pick up points away from Villa Park (just 7 from a possible 33). To add insult to injury no team has conceded more than the 23 that Dean Smith's side have shipped and they're yet to keep a clean sheet on the road this season. Relegation beckons. (Sorry Swirly – love you hun).
Brighton – Villa (H), Bournemouth (A), West Ham (A)
Maybe I should have stuck with Liverpool and West Ham after all, as next up we have Brighton. Whilst I have already touched upon their struggles away from home they thankfully start with what is surely a winnable game as they welcome Aston Villa to the Amex. I really feel like I'm shortchanging you this week, but for a trio of fixtures to be classified as favourable, they need to avoid top-six opposition, it is what it is.
Hold up you've just told us that Bournemouth have favourable fixtures and now you're telling us Brighton do… and they face Bournemouth. Well yeah, you have a point. The flip side of what I wrote with regards to this fixture above, is pointing out the obvious – Bournemouth have the worst form in the league, 4 defeats and a draw in their last 5, and whilst Brighton's are only marginally better (replace one defeat with a win in the same period), better is urm, well better. I am not even convincing myself here.
In GW25 Brighton travel to the London Stadium for a fixture that is actually not all that favourable. This may seem somewhat contradictory to the entire premise of this article, but I say to you, find me another team (who is not Aston Villa) who does not face at least one of the 'Top six' in the next three – you couldn't? Well, no, me either. So let's just say this one will be tricky and leave it at that yeah?
Everton – West Ham (A), Newcastle (H), Watford (A)
Everton rounds off our favourable fixtures with new manager Carlo Ancelotti picking up 3 wins in his 4 games in charge, the defeat away defeat to City an understandable blot on an otherwise impressive copybook. A quick look at their defence stats show that they are still conceding a fair amount of shots (51 in their last 4 which is 5th worst in the league), however, outside of the City game, they have conceded just 3 goals stretching back pre-Ancelotti to their 5-2 defeat in the GW15 Derby away to the reds.
First up it's a trip to the London Stadium to face a Hammers side who will be hoping to bounce back from defeat at Bramall Lane in GW22. Former Toffees gaffa David Moyes led his side to a 4-0 victory over Bournemouth in GW21 after which he proclaimed that he could not take credit for the win, does that mean he does take credit for the defeat the following week? Who knows. In fairness, the defeat was a harsh one, with VAR once again the focal point; a spurious handball decision denying what probably should have been a late equaliser.
In GW24 we see the reverse of the GW20 fixture with my lot heading down to Goodison. Everton were good value for their win at St James (1-2) and I expect a similar result in 2 weeks. Our draw at Molineux at the weekend ended a run of three successive defeats, and whilst that's encouraging, we picked up a further two injuries to add to the ever-growing list which has shown the fragility of our wafer-thin squad.
Finally, it's a trip to Vicarage Road to play a resurgent Watford, who under the stewardship of Nigel Pearson, have now climbed out of the bottom three following their 0-3 win away to Bournemouth (who themselves slip into the relegation mire). It's now three league wins on the bounce for the Hornets, which should make for an interesting encounter come GW25.
Honourable (Manchester) mentions
Manchester United – Liverpool (A), Burnley (H), Wolves (H)
Manchester United failed to make it into the top three as they face league leaders Liverpool this coming game week. Beyond that, they have two favourable home ties that make the decision to let go of their assets in favour of Pool players all the more difficult.
Manchester City – Palace (H), Sheffield Utd (A), Spurs (A)
Just when they were starting to look ordinary they turn up and stick 6 past the Villa. Ignore them at your peril, if only we knew who would start week to week. Annoying? Very.
Grim
Burnley – Leicester (H), Man Utd (A), Arsenal (H)
I'll keep this brief, nobody is buying Burnley players any time soon.
Wolves – Southampton (A), Liverpool (H), Man Utd (A)
If Wolves pick up any points in their next 3 it will be considered a result. As it is I don't think they will. Avoid.
That's your lot, a new year, new hopes, the same disappointment, but they, it could be worse, you could be a Mackem*.
(*all views and opinions are those of the writer and not of FF247!).
Thanks for reading Fantasy Football Fixture Analysis Gameweek 23. This article was written by Rosco.
Fantasy Football 247 League Codes: