Fantasy Football Fixture Analysis Gameweek 3
Batman & Robin, Ant & Dec, Simon & Garfunkel, Goldman & Sachs, Hale & Pace, Carragher & Neville, Morecambe & Wise, Salt & Vinegar, Laurel & Hardy…..
Init & Cookie.
Whenever you see this duo on Fixtures duty it usually means that someone has let us down at the last minute. And that is the case here. We are nice people though and don't name and shame the guilty.
On another completely and unrelated note we'd just like to wish AT all the best on his last minute holiday. We sincerely hope your plane doesn't crash in a ball of flames.
Most great double acts have a strange yet strong bond… Irreverent, yet distinguished, site member Raz (pretty sure he will read that as 'irrelevant', if you do too then either is good, crack on) noted such a bond between the writers on Saturday on Live Match Chat and started out by mocking it and ended up by being jealous of it. All within the space of 15 minutes of speaking to himself. Funny that because it was in response to the weekly ritual of Cookie wishing everyone good luck and me responding by saying 'thanks'. And yet we were in dispute over it behind the scenes because he'd forgotten about it and missed the deadline to do it. He was trying to see the positive and suggesting it would still count, I was less understanding. Let's call it furious! Somehow we overcame it like Pep and Kun, and kissed and made up. But then 'incestuous' people always do (see Raz!).
Anyway, there's no VAR controversy here; whether we intended to write it or not is now irrelevant. Over to Cookie to look at the positives, back to me for the negatives.
FAVOURABLE FIXTURES
Oh he's insufferable that Init, so hormonal. I'd been at work since 6.30am, clocked in 5 hours of overtime and rushed back to take William to a birthday party.
Back home and parked, I got out of the car for a quick turnaround, had a look at my phone and saw I had a WhatsApp message from Init. It read '?'. Yep that was it. All because Arsenal had kicked off and I hadn't wished everyone (him) good luck.
Heaven only knows what happens to Mrs Init if his dinner isn't on the table when he gets home from work.
I digress. On to fixtures and it's the City and Liverpool show again, sorry…
Man City – Bournemouth (a), Brighton (H), Norwich (a)


City travel down to Bournemouth in GW3 to start a run of matches that will have Pep rubbing his bald head with excitement and anticipation, even if he is able to publicly control himself and maintain that 'every game in the Premier League is tough' blah blah blah. You see, City have a 100% Premier League record over Bournemouth, eight wins out of eight, 25 goals for, 3 against. Even when City were a normal club they played Bournemouth six times in the various forms of Division 2 and won four and drew the other two out of six played. You see, there is nothing to fear for Pep here.
And nor is there the week after either when Brighton visit the Etihad for City also have a 100% Premier League record over the Seagulls either, albeit in just four meetings – 11 goals for, just 2 against. You get the picture here – don't be short City coverage. I won't, nor should I need to waffle any longer.
GW5 sees a cross-country trip to Norfolk to face the Canaries – two birds conquered in two weeks, ah takes me back. Now City's PL record vs Norwich is not quite as impressive for they have drawn the last two league meetings at Carrow Road with both matches ending 0-0, well how about that. Previously to those two bore-draws, City did spank 4, then 6 then 3 and with Norwich promising to play attacking football and with Pukki taking to PL life like a duck (see, another bird) to water, my thoughts are to expect goals rather than clean sheets.
This is a terrific little run of games for Man City and they follow it with the visit of Watford. Poor ol' Pep could have a hat-trick of titles wrapped up by Christmas at this rate!
Liverpool – Arsenal (H), Burnley (a), Newcastle (H)


Liverpool will of course still cling onto dreams of toppling City and securing their first ever Premier League title and one look at their up and coming fixtures suggests their dreams may extend a tad longer, especially if they can topple Arsenal at Anfield in GW3.
Liverpool have never lost at home to the Gunners under the management of Klopp, in fact they've won the last three scoring 12 goals in the process. I can't begin to attempt to kid you that this season will be any different, it's a fixture that produces goals and with Salah, Mane and Firmino lining up vs Aubayemang, Lacazette & Pepe it promises to be a cracker, especially with Klopp having discovered another clown to play in goal.
A trip to Burnley follows for Klopp's men and while for some the fixture may look tricky, for Liverpool it's pretty routine as they've won the last two there and were so confident that they benched Salah and Firmino for last season's victory.
GW5 sees the Toon come to town, say that after a few Newcie Browns. With Rafa in charge, Newcastle were apparently tight and tough to break down – Liverpool beat them 4-0 in the corresponding fixture last season and haven't lost at home in the league to Newcastle since 1994 when Andy Cole was still appearing for the Magpies, Ronnie Whelan was still parading around in a red shirt and Bruce Grobbelaar was on the bench. Liverpool just don't not win this fixture and given that Norwich just tanked three past Newcastle, this could get ugly.
Man Utd – Crystal Palace (H), Southampton (a), Leicester (H)


Now United should really be winning all three of their next matches but that all depends of course on which United turn up. Will it be the swashbuckling, counter-attacking side that swept past Chelsea so easily in GW1 or the United team that couldn't buy a win come the end of last season?
Time will only tell us the answers, but the fixtures are at least there for the Red Devils.
Palace visit first up and recorded a 0-0 draw at Old Trafford last season – quite how Zaha and co couldn't score past Smalling, Young and Darmian is beyond me but fair play to the Eagles as that was the only time they have avoided defeat to United in the last eight meetings. In fact, Palace have never beaten United in the Premier League and Solskjaer will be hoping his young, pacy dynamos can continue that sequence.
United then travel to Southampton for a fixture that has seen United win one and draw the other two in the last visits to St. Mary's. Southampton may be confident having just managed to score past the best defence the world has ever seen, but they'll soon realise they won't be playing vs Adrian every week.
The visit of Leicester in GW5 should be tougher given that Leicester should offer more offensively but with Slabhead gearing up to face his old team mates, he'll be doubly focused on grabbing the win and avoid the ribbing from his old buddies. Given how shite United have been since Fergie left, they have a surprisingly impressive record vs The Foxes, losing just once and winning five of the last six. If Maguire can tame Vardy then United should record yet another win.
Spurs – Newcastle (H), Arsenal (a), Crystal Palace (H)


Bear with me here. You may argue that Spurs struggled past Villa in GW1 and were outplayed by City in GW2, but anyone about to host Newcastle and Crystal Palace in the next three gameweeks deserves some consideration.
Sandwiched in the middle of those two is a short trip to the Emirates and whereas Arsenal will likely score can you seriously try and argue that Spurs won't penetrate a defence led by David Luiz?
I thought not – so whether it's Kane or Moura, Eriksen, Lamela or the returning Son, ensure you have some Spurs coverage for the weeks ahead.
If you're still not convinced bear in mind that Spurs' four Fixtures following the three mentioned are vs Leicester, Southampton, Brighton and Watford.
UNFAVOURABLE FIXTURES
Not quite sure how one loses track of time when you know you start work at 6.30am and do a 5 hour shift. Surely 11.30am is ingrained as your 'release' time. And then you have 1 job. 1 job! Wish everyone 'good luck'. End of. And one has an hour to do it. And one has been doing it for over 5 years. Maybe it's senility.
(Editor's note: FFS!!! What a pair of drama queens)
I digress, over to the unfavourable ones…
Norwich – Chelsea (H), West Ham (a), Man City (H)


Now I don't mean to completely piss on your Pukki noodles here but Norwich's Finnish Messi may have a job on his hands to keep all his new fantasy suitors happy. A hat-trick does that you see. It means you become hot fantasy property because people see that and assume you must do that every week. Now of course they aren't all expecting a hat-trick every week (some are!) but they are following form, which is great but fixtures also come in to play here. And his aint great.
Chelsea may still be finding their Lampard shaped feet but they do look like they are getting there. West Ham away is a lottery so they could be ok there but then Man City anywhere is a nightmare.
Arsenal – Liverpool (a), Spurs (H), Watford (a)

After a kind opening 2 fixtures, which they just about laboured through with a couple of wins, the heat is suddenly on. A visit to Anfield is never on anybody's wish list and then it's a North London derby. Both games could produce goals though so we aren't opposing any Gunners inclusion completely. Watford away won't be easy either, your writer can attest to that having just sat through an attritional afternoon with them!
Bournemouth – Man City (H), Leicester (a), Everton (H)

Bournemouth assets were bought in abundance at the start of the season but most came with a warning label: 'Expires 23.8.19'.
Good luck if you keep after that date; they won't get much against Man city, could be used at Leicester and again at home to Everton but don't expect any fireworks in either.
Crystal Palace – Man United (a), Aston Villa (H), Spurs (a)

Zero goals and 1 point doesn't suggest any type of form and so we would suggest you stay away from the Eagles for a bit. Their fixtures do too. An away trip to Old Trafford isn't what they need right now, a home game vs Villa may be a trap, and an away trip to whatever Spurs call their stadium these days is never great.
Newcastle – Spurs (a), Watford (H), Liverpool (a)

The honeymoon is well and truly over. 'What honeymoon' the Toon fans may well ask! We agree. It promised much but it pissed it down for a month and the groom failed to get a stiffie once. Ah well, just remember that victory over Hibs in July… And all that excitement over signing an unknown £40m Brazilian in August.
To cheer you up you won't get anything at Spurs, Watford will bore you to death and probably still beat you and then you go to Anfield….
Doherty & Barat…
Thanks for reading Fantasy Football Fixture Analysis Gameweek 3. This article was written by Cookie and Inittowinit.
Follow @SteveCook9
Follow @AdamalcockFF247
FPL FIXTURE TRACKER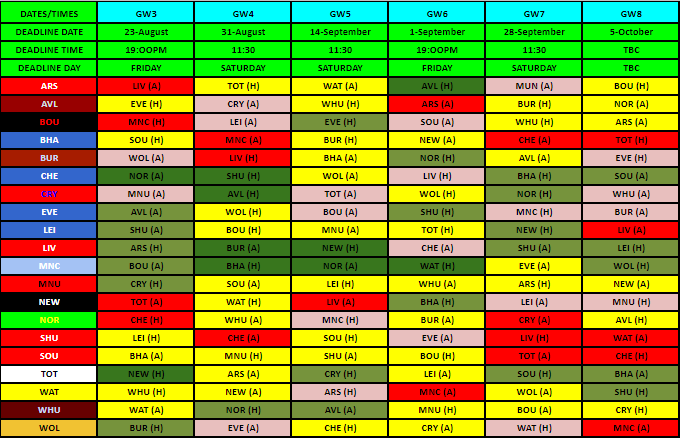 FIXTURE TRACKER LINK
Fantasy Football 247 League Codes: