Fantasy Football Fixture Analysis Gameweek 35
Welcome to Fantasy Football 247 Fixtures Gameweek 35.
The finish line for the season is so close, and I can tell that the season is nearly over for a few reasons. First, there is just a general sense of fatigue around this point in the year. Unless your personal team is one of the two fighting for the title, you've probably fallen into the malaise of watching your team settle into their final (unsexy) zone of the league table. Let's face it, watching your team fight for 8th or 9th place isn't really 'must see TV'. And I can also tell the season is nearly over because Spring is here. Baseball is in full swing, grass is growing and gardens are coming to life. And, as the resident Mexican here on this site, I'm also responsible for mowing many lawns – so my schedule is quite full.
In all seriousness, my landscaping is top notch and my lawn at my house is good enough to be used at the finest golf course.
But if we're really being serious, this is the where the toughest stretch in the FPL season begins, because this is when many people start to see their mini leagues as lost causes and there aren't any more chips left to turn things around. Now, most of us are just playing for a respectable final ranking. And in order to help you out with that, I've done the Fixtures a bit differently this time around.
The problem in the PL right now is the same problem your mini leagues are having – a lot of teams aren't playing for anything. A bunch of teams in the middle of the table will be trotting out some younger players to see how they handle the big stage; the same could probably be said of the already relegated teams. So I figured the only fair way to write this article was to include just the teams that are still playing for something meaningful – specifically, I focused on the teams that are still fighting for the title and the teams that are still fighting against relegation. If any set of teams are going to be playing their A Team down the stretch, it'll be from these two groups. And then at the end, because it's a DGW, I included a couple of those teams as well… because people just love a DGW. Ugh.
The Title Race Teams
Liverpool – CAR (A), HUD (H), NEW (A)


Honestly, just put your rabid, DGW fanboy, back in the box for a minute – this is the most favourable, easy, ripe-for-the-picking schedule that you're going to get. It doesn't get any better than this. And now that Salah is back on the goals, there's really no telling how badly Liverpool will beat these teams in their attempt to leave zero doubt on their claim for the title. When you consider that Man City have a game in hand over Liverpool that could see City claim the title should they win the remainder of their schedule, you just can't see Liverpool taking any chances here that would see them potentially drop a point or two in any of their last four matches. They'll have to hope that City can't stay perfect against better competition whilst they themselves have a real shot at staying perfect against teams that are currently sitting 18th, 20th, 15th and 19th in the table respectively.
We'll get into City more here in a minute, but put the ranks of Liverpool's opponents up against what City have left in their last five matches: 3rd, 5th, 14th, 7th and 17th (again, as results are currently). City's schedule is no cake walk, and Liverpool know that they have the upper hand here, even despite not having that crucial game in hand. Maybe I can't guide your hand for team selection and captaincy picks… but if we're just looking at Fixtures and the context of those games, you still have to consider Liverpool your first stop for stocking your FPL side.
Manchester City – TOT (H) / MNU (A), BUR (A), LEI (H)


Now that I, an Everton fan through and through, have sung Liverpool's praises and seemingly predicted City's doom, let me redeem myself by saying that City still have the goods to win their schedule outright. City are better, on their day, than both Spurs and United. I don't think there are many out there that could dispute that. So even though I tip Liverpool to crush their remaining opponents and win the title, there's still a very real possibility that City could spoil all of that and win another five games in a row.
It's just, mathematically speaking, City are going to have a harder time of it – there's no denying it. Spurs are a bit depleted right now, but they aren't impotent. United are motivated to catch that Champion's League spot for next year, and they certainly won't be rolling over for the Derby. And even if City do make it out of their DGW perfectly intact, the Leicester game isn't exactly a gimme; Jamie Vardy is always three Red Bulls and a pack of Skittles away from losing his mind and scoring a brace against any team.
Speaking from a Fixtures point of view, you have to love the motivation that City will carry into these games. Whether or not they'll rotate themselves out of contention… that's somebody else's headache to solve for another article.
The Relegation Candidates
We know that Fulham and Huddersfield are already going down to the Championship next season, but that last spot is still up for grabs between a few teams – so if any teams are hyper-motivated to get a win at this stage of the year, it's these listed below. It's important to note that this was written prior to the final Cardiff v Brighton game to round out GW34, so the context for these teams may change slightly based on the outcome of that game.
Cardiff – LIV (H), FUL (A), CRY (H)


It looks like Cardiff really are going to need a miracle to stay up at this point. Even if they manage to get a result against Brighton, the Liverpool game has to be chalked up as a loss right out of the gate. Could they beat Fulham and Palace? Actually, they probably could – but will they still have enough in the tank to finish strong? It's doubtful. Rarely do you see a team's position in the table and think that it's undeserved. Teams usually end up right where they should be – and as such I'd treat Cardiff as if they're already a Championship side and avoid them completely.
Brighton and Hove Albion – WOL (A) / TOT (A), NEW (H), ARS (A)


This is not an easy schedule for Brighton, but they've got to have a point total in their mind that they think they'll need to close out the year. I have zero faith in Cardiff, but Brighton's current* 5 point cushion over Cardiff isn't insurmountable should Cardiff get lucky in a few places. Three away games in this stretch isn't doing this team any favours, so you have to assume they're looking for draws and looking to keep the games as low scoring as possible. If ever there were a team about to park the bus and hope for a bunch of nil-nil results, this is that team. It's not going to be sexy football, but they're not looking to impress now. A sneaky GK or D pickup from Brighton might not be the worst thing in the world if they play to script here to wind things down.
The DGW teams
I know that despite what anybody else says, Liverpool's title race be damned, there will be people that have 11 players in their team exclusively on a DGW. First, you should feel bad about yourselves – it's such a very MLS thing to do. Secondly, you know that somebody (probably Salah or Mane), will score more in a single game than the majority of your DGW roster. And that makes the rest of us sensible folks giggle when that happens. Don't be offended then when we point and laugh. But because 'some' DGW coverage is sensible, I'll include a couple of those teams here. Just don't go getting carried away with it.
Wolverhampton – BHA (H) / ARS (H), WAT (A), FUL (H)


If you're 'going to play the odds' and stack up on so much DGW nonsense, then at least have the good sense to stack as much as possible from the only team that has two home games for the round. Wolves have seen some glimpses of brilliance this year, and they're certainly deserving of their top half status at the moment – so having them back to back at home is probably going to net you some decent points. Will they be Salah-like points against vastly inferior competition? Probably not. But there will be some points here that make having a couple Wolves in your squad worthwhile. And holding onto them won't be the worst thing in the world with Watford and Fulham still to come on the horizon.
Watford – HUD (A) / SOU (H), WOL (H), CHE (A)


Watford aren't a great team, and yet they're not terrible. Like I said, most teams deserve their ranking at the end of the year, and seeing Watford sitting squarely in 10th place at the moment makes perfect sense. Look at their last five games: they lost horribly against Liverpool, City and United, but they managed to beat Leicester and Fulham. And lost against Arsenal tonight for good measure, although Troy didn't really help that matter, or indeed anyone who brought him in this week on their WC! For a 10th place team, you expect them to lose against the top half and win against the bottom. So seeing them go up against Huddersfield and Southampton could see some positive gains for owners here. They'll probably lose against Wolves and Chelsea, but you DGW players don't care about that as much. It's all about the bounty today, let tomorrow sort itself out.
Ok, I've beaten up on you DGW players enough for now. Barring somebody needing a substitute writer down the stretch here, I think this is the last FPL article I'm scheduled for this season. Let me say, personally, I love writing here. I will work harder on contributing more in the comments in the future – but trust me when I say that my job doesn't allow for as much free time as I used to have. I'll work on changing that before next season (fingers crossed). Good luck rounding out the year, everybody. We'll see you again next season.
Bonus Section – Champions League Fantasy Football


As if you didn't have enough to contend with the Champions League returns again tomorrow.
This section is simply a reminder that you need to make your changes and of a few key points;
The deadline is Tuesday 16th April at 8pm
You have 3 free transfers ahead of the deadline.
The fixtures this week are as follows;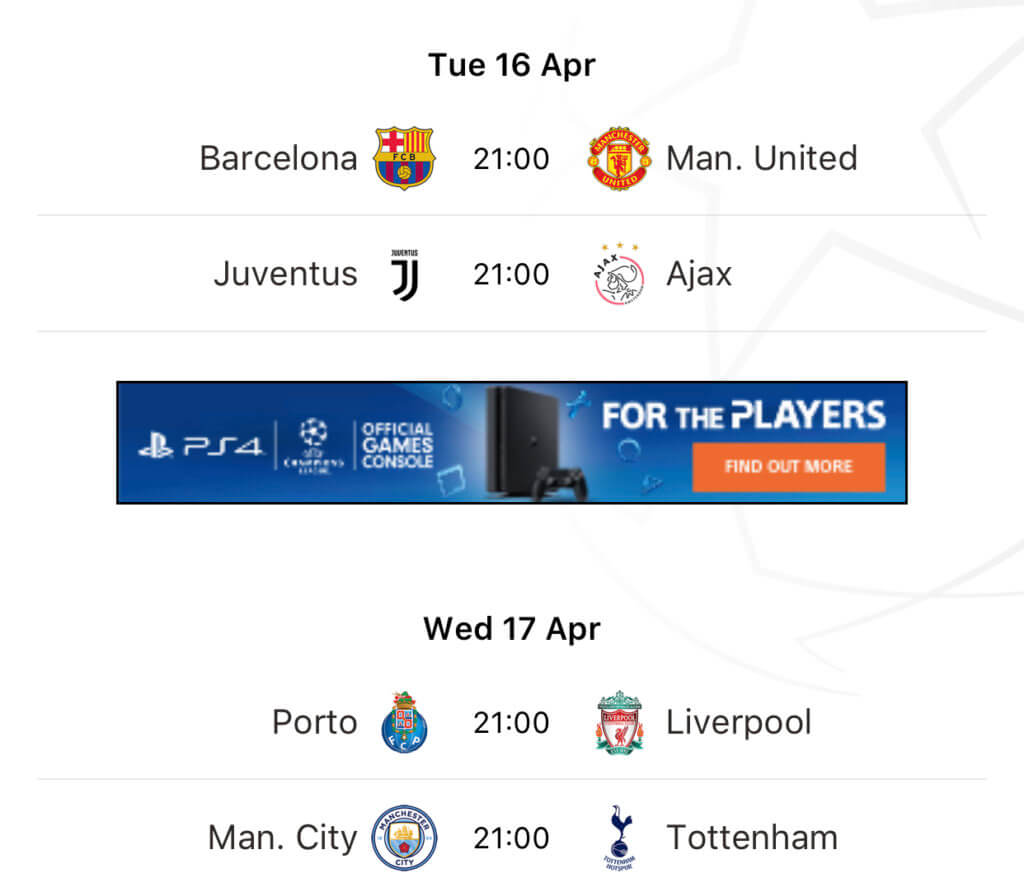 FPL FIXTURE TRACKER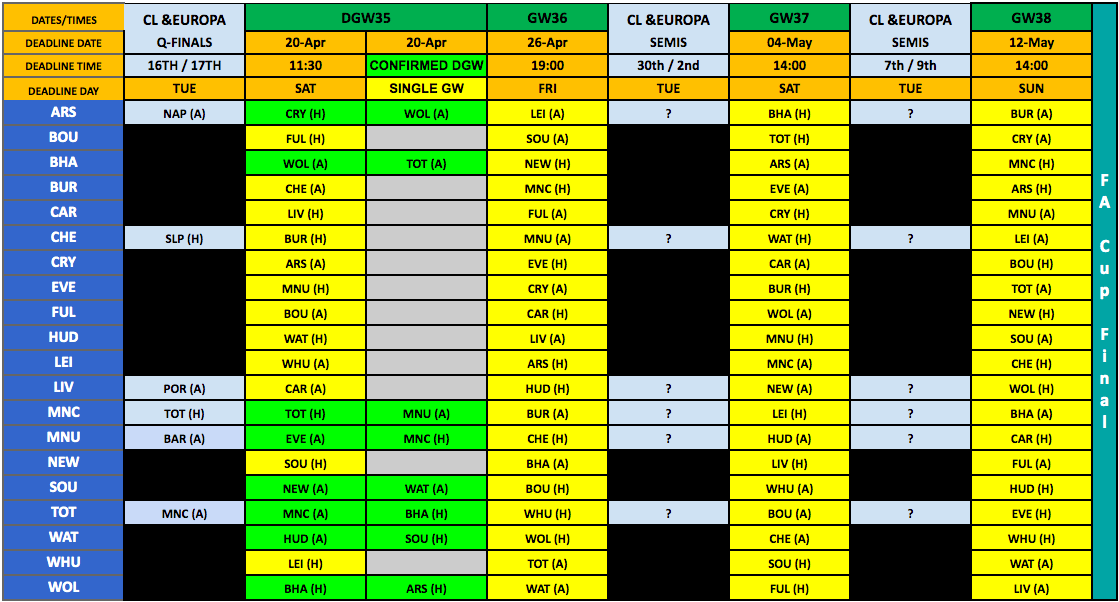 FIXTURE TRACKER LINK
Thanks for reading Fantasy Football Fixture Analysis Gameweek 35. This article was written by Guy Sanchez.
Welcome to our Fantasy Football leagues section.
The League Codes for FF247 for the 2018/19 season are as follows –