Welcome to Fantasy Football Fixture Analysis Gameweek 36. We are back with regular articles again. Well, probably for two weeks. Or maybe just this one. I just do as I am told. Writing articles at this time of the year is a bit strange; almost anyone could be playing in Gameweek 38. I would not be surprised to see Wenger dust off his boots for his farewell, so the focus of this article is really on Double Gameweek 37 and transfer planning from now until then. Wenger's decision to part ways with Arsenal was probably overdue, but I cannot wait for Robbie and co pining for him to come back and replace Brendan Rodgers after a 6-0 hammering at the hands of Wolves in Gameweek 1 of the 2018/2019 campaign.
To be fair to Arsene, his squad lacks depth. When Manchester City need to change things up, Guardiola brings on Bernardo Silva or Jesus. When Manchester United need to change things up, Mourinho brings on Anthony Martial or Marcus Rashford. When Liverpool need to change things up, Klopp brings on, umm, well, one of the trio he benched after needlessly exhausting them in the Champions' League. When Arsenal need to change things up, Wenger brings on Welbeck or Iwobi. To be fair to the frustrated fans, that is probably (definitely) Wenger's fault. Heck, he has begun to start them!
Manchester City steamrolled Swansea, but that was unsurprising. It was a bit like that game the U11's play against their parents where the parents could win by 20 but feel bad. Gabriel Jesus celebrated like he intended to fire his penalty into the post to set up Bernardo. That nice 50% penalty record is struggling to brag about your effectively one-point assist, mate.
Looking ahead to this weekend there are several teams to choose from with seemingly good fixtures, although once you go beyond Manchester City, Manchester United and Tottenham, backing sides for the double gameweek creates a bit of a headache.
Having dabbled in fantasy football Twitter recently (no shameless plugs here, surprisingly) I have realised that the community is crying out for a humorous side to articles. Unfortunately, this article would probably get booed off stage. My go-to plan B is to splurge a load of facts. At this point of the season that is probably unnecessary though. You are all aware that Manchester City are a just a bit better than anyone else, and that half the table sucks (seriously though, how many sides suck in the Premier League this year? It's like Serie A!). Plan C was to waffle my way through the article. I went for Plan C.
The All Important Fixture Tracker…
Gameweek Tracker GW36-38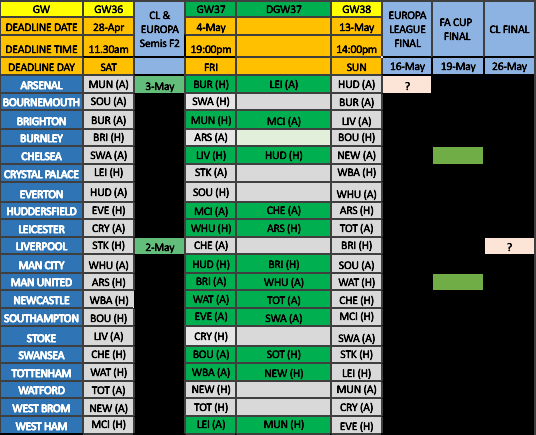 FAVOURABLE FIXTURES


Manchester City – WHU (A) HUD (H) BHA (H) SOT (A)
It probably doesn't really need saying, but Manchester City have a good run in. They have already lifted the Premier League title but Pep Guardiola has his sights set on breaking records and becoming the first side to reach 100 points in a Premier League season. I guess you need some sort of goal when the Premier League title was wrapped up in August.
City have scored 2+ in 12 away games this season. Whilst West Ham have only conceded 2+ on six occasions in 16 home games, although City don't really align themselves with the statistics of other sides. Do be warned though that Southampton have only conceded 2+ in four home games this season, not that that would put you off filling your side with City players this weekend in preparation for the double gameweek.
Their double gameweek consists of two home games against two promoted sides: Huddersfield and Brighton. City have scored 2+ in 15/17 home games and have averaged 3.4 goals per game at home. Huddersfield and Brighton have both conceded 2+ in nine away games this season. A case of when, not if. If the Swansea game was anything to go by, probably 30 minutes!
Despite only keeping six clean sheets at home all season, their double gameweek fixtures are almost perfect, coming up against the joint worst goalscorers away from home in Brighton (9) and the third worst in Huddersfield (11). Collectively, Huddersfield and Brighton have not managed to score away from home on 22 occasions.

Manchester United – ARS (H) BHA (A) WHU (A) WAT (H)
Although they have a hurdle to begin with, Mourinho's boys face a very winnable set of fixtures post Arsenal. Mind you, Arsenal themselves have conceded 2+ in nine out of 16 away games this season though, which makes United attackers look very tempting with a goal-scoring tally of 2+ in 11 out of 17 home games. This is followed by Brighton and West Ham away. Although United has managed to score 2+ away from home on ten out of 17 occasions, Brighton has only conceded 2+ on six occasions, and West Ham on five, so be warned.
Their clean sheet prospects are not much better either to be honest, with Brighton only failing to score on five occasions at home, with West Ham only failing to score three times. United's defensive record away from home is average at best, with just six away clean sheets all season. I have realised that this is my tactic when writing articles; if I write everything pessimistically, I can brag when I'm right and slide under the radar when I am wrong. I'm over here, Arsenal Fan TV.
I usually boringly make a bus joke about Manchester United at this point, although I can't see a double-decker coming out for these fixtures.

Leicester – CRY (A) WHU (H) ARS (H) TOT (A)
Leicester's next three fixtures look worth a pop. Crystal Palace has conceded 2+ on nine occasions at home and West Ham has conceded a staggering 42 in 18 away from home. Leicester has scored 2+ on seven occasions, home and away, so there is every chance that this next string of fixtures is worth a punt, including Arsenal who has conceded 2+ in nine away games.
It is unlikely that Leicester will manage to keep a clean sheet against Crystal Palace, having only kept three clean sheets away from home all season and Crystal Palace has only failed to score twice at home since September last year. West Ham has also managed to score in their last nine away games, and Arsenal, despite their poor away record, has still managed to score in all bar two of their away games since September last year. Don't expect Morgan and Chilwell to be anything more than fillers. Cookie liked the look of Maguire this week. I suppose he might be a more expensive filler.

Tottenham – WAT (H) WBA (A) NEW (H) LEI (H)
With three home games Spurs should be right up there. Despite taking a while to settle into Wembley, Pochettino's men have managed to score 2+ in six of their last nine home games, only coming up short against West Ham (1), Arsenal (1), and Manchester City (1). Watford and Leicester have conceded 2+ in nine of their away games this season, and Newcastle eight. Tottenham has also scored 2+ in ten of its away games, and West Brom has conceded 2+ in ten of its home games this season.
Eight home clean sheets stand them in good stead against a Watford side that has not managed to score in their last six away games, although Newcastle has only blanked five times on the road and Leicester has scored in their last nine away games. Perhaps deceptively, West Brom has managed to score in their last eight home games too.

Swansea – CHE (H) BOU (A) SOT (H) STK (H)
After a tricky home tie against Chelsea, Init's favourite manager, Carlos Carvalhal, has three decent fixtures, facing two sides in the relegation spots.
Don't expect much from your Swansea assets in the Bournemouth game: they've scored just 2+ on two occasions away from home all season and kept just one away clean sheet since September. Whilst they have only scored more than one goal at home on three occasions this season, two of those have come in their last four and Southampton and Stoke have both conceded 2+ on nine occasions away from home.
UNFAVOURABLE FIXTURES

West Ham – MCI (H) LEI (A) MNU (H) EVE (H)
Home draws against the top two in the league offers a small glimmer of hope for West Ham. They have only managed to score 2+ in six home games, keeping four clean sheets in the process, which looks rather bleak against a City side that has scored 2+ in 13/17 away games and a United side that has scored 2+ in 10/17 away games. Everton has failed to register a goal in six away games, but did I mention that West Ham has the two Manchester clubs beforehand?
A clean sheet against Leicester looks unlikely too, with just two away clean sheets all season. Realistically though, I know you are only bothered about Arnautovic. West Ham has only scored 2+ six times at home and five times away. City has nine away clean sheets and United six and Leicester has six home clean sheets. Everton only has two away from home though, so perhaps he is one to bring in for Gameweek 38.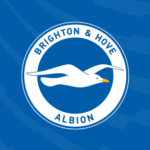 Brighton – BUR (A) MUN (H) MNC (A) LIV (A)
For those with Pascal Gross, now might be a time to get rid. Brighton have a horrible run-in with fixtures against the sides with the second (Liverpool), fourth (Manchester City) and fifth (Burnley) best home defensive records in the league as well as a trip to Manchester United in between who boast the third best defensive away record. Chris Hughton's men have managed to score more than one on the road just twice this season such that this trio of away games looks less than appealing.

Arsenal – MUN (A) BUR (H) LEI (A) HUD (A)
Those fixtures don't look that bad, right? I agree, and it might be that the Arsenal side we see totally demolishes three of those teams. The issue is trying to predict when they can be bothered. Without a point away from home in 2018, that there are three out of four away games is instantly a red flag. Further, with Arsene's attention turning to the Europa League (we all know it's a crap cup, you aren't fooling anyone, pal), there is a real risk that their league campaign could suffer as a result. They have scored 2+ on just two occasions away from home, conceding in all bar three games in the process.
Their home game against Burnley is not much better. Although they are second only to City in terms of goals scored at home this season, coming up against Burnley, who has the second best defensive record away from home this season hardly compensates for the three away games they have to contend with.
There is also the issue of 'Who the hell is playing?', which sounds like a naff gameshow on ITV. No one is safe with Wenger fixated on the Europa League; a player can either be in need of a rest or in need of some practice ahead of the Atletico ties, without any real reason for choosing between the two.
In characteristic fashion, I feel like this article has confused more than it has helped. In short, try and ask @OfficialFPl if you can have a few extra City players.
Thanks for reading Fantasy Football Fixture Analysis GW36. This article was written by AT.
The League Codes for FF247 for the 2017/18 season are as follows: