Welcome to Fantasy Football Fixture Analysis Gameweek 38.
The usual purpose of this article is to try and give a heads up as to which teams may be worth jumping on and which ones may be worth avoiding in the weeks ahead. The obvious problem this week is that there are no longer any 'weeks ahead'! We are at the final hurdle. As such we could have been forgiven for simply saying "what's the point" and leaving it at that but that's not our style. In for a penny, in for a pound and all that, we've decided to give you a quick rundown on all 10 remaining fixtures as we see them.
But in all honesty that's not the real point of the article. The real point is to say thanks to all those who have written a Fixtures piece this season. And there have been many! It's a bit of a bugger of an article to write as it involves a lot of thinking and a lot of planning ahead. Once upon a time it was solely under the ownership of Init. He then passed the baton to Guy. Guy then decided to have something of a mid-life crisis! And so the baton was passed around and AT, Bry, Cookie, Matt, Pancho and Rosco have all pitched in this season and brought their own views each week. We may even have missed someone out and if we did we apologise! And we would like to thank them all most sincerely.
But while we are here we would actually like to thank our entire team, not just the Fixtures set. What the readers don't see is the hours spent by these guys researching the article they are about to write. What they eventually publish is very well researched, to say the least. They take themselves away to a dark room and plan the article, and 'hey presto' out come a load of words of wisdom. The point being that the words are never stumbled upon. We probably don't thank them enough during the course of it all, but we just want them to know that it isn't taken for granted and we know that it's a thankless task. And we thank them all. We have a core writing team and those guys know who they are (it's the above plus Kop, GP, Jamesimmo, Mito and Swirly) but we also have a 'fringe' team who pitch in when they can – DMC, Ki and Pancho and Smash jump to mind immediately, there's probably a good few others who have contributed too, so again apologies if you haven't been name checked. We also have support staff to thank such as Floydeth who runs IT and Elle who looks after the leagues and cups. It's a complex machine and everyone plays their part and everyone takes up their own valuable free time to do so.
And on behalf of all we would like to say a massive thanks to our readers and site members. From those who comment daily and get involved in the ongoing chat to those who simply read, it's massively appreciated and what keeps us all going.
Basically then, to all –
Anyway, enough of the glad handing, we all have mini-league's to win (or lose!) so here are this weeks fixtures with a quick rundown on how Cookie and Init think they may pan out, who still has something to play for and who is well and truly in beach mode…
The Fixture Tracker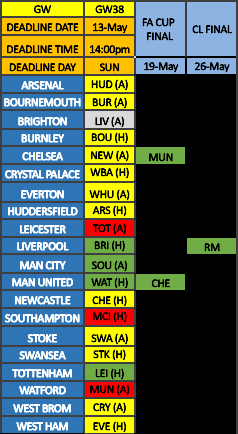 Burnley vs Bournemouth


Having taken a proper spanking on Arsene's last hurrah at the Emirates, Burnley return to the home comforts of Turf Moor hoping to end the season on a positive note. Bournemouth are the guests in what should hopefully be a reasonably open game with neither side having anything substantial to play for bar a bit of personal pride and a win bonus.
For the record, Burnley won the reverse fixture in November and also last season's meeting at Turf Moor.
Last weekend's win over Swansea halted a run of three consecutive losses for the Cherries but they are unlikely to relish a pointless trip up north on the final day and Burnley will be favorites to take the win.
Prediction: Burnley 1-0 Bournemouth

Crystal Palace vs West Brom


The Baggies relegation was confirmed on Tuesday when Southampton won at Swansea. Bit of a shame in the end as after being almost as unpopular as Stoke for most of the season, Darren Moore had brought belief and fight into the side which had resulted in some good wishes that somehow a miracle could happen. Sadly not. Moore will be missed, though I'm not sure West Brom will!
While West Brom's form under the stewardship of Moore is well known, Palace are on a nice run themselves – unbeaten in five, winning three of those. The Eagles will want to finish off the season in style and with the Baggies' fate now confirmed you'd likely expect Woy's men to send the Selhurst fans home happy for the summer.
Prediction: Palace 2-0 West Brom

Huddersfield vs Arsenal


Huddersfield will go the final day unsure of their fate unless they are able to avoid defeat at Chelsea in midweek. That is of course unlikely – but then who predicted they would come away from the Etihad with a point and stop the Champions scoring?
Arsenal are doing what Arsenal do. When the going gets tough Ozil and co go missing and when the season is shot to pieces and the pressure is off they attack with gay abandon and look half decent. Sunday will be Wenger's final match in charge and knowing the Gooners they will see off the Terriers and leave their fans to wonder what could have been. The Gooners have won on the last day on each of the last six seasons, scoring at least two goals on all but one of those occasions.
Where that will leave Huddersfield will depend on results elsewhere if they cannot secure their own destiny. One win in their last eight suggests a squeaky bum last day.
Prediction: Huddersfield 1-3 Arsenal

Liverpool vs Brighton


If Chelsea and Spurs win in midweek then Liverpool will likely have to do something they haven't managed in three matches… win a game! With the Seagulls top flight status now secured, Liverpool's job may well be made somewhat easier, though Chris Hughton would love to add the scalp of Liverpool to the one of Man United his team managed on Friday night.
Klopp will of course rather rest some of his flock ahead of their Champions League final but it may well be that Salah and co need to be called upon to get the scousers over the line.
The meeting in December at Brighton ended in a 5-1 victory for Liverpool – a repeat of that would see Champions League qualification secured and ensure the preparation for Kiev is more upbeat.
Prediction: Liverpool 3-0 Brighton

Man Utd vs Watford


With the Cup Final just a week after the season ends, Mourinho may well decide to rest some of his crew. The Reds are not exactly in flying form ahead of Wembley with the loss at Brighton indicating that those selected are either scared of getting injured ahead of the Cup Final or are anticipating their MUFC P45s.
This United apathy could open the game for a better or more bothered team than Watford. Last weekend's win over Newcastle was their first victory in eight matches and they have failed to win on the road since November….at Newcastle!
End of season fixtures can sometimes throw up some surprises, but the Hornets would have to record their first ever win at Old Trafford to create more misery for Mourinho ahead of Wembley.
Prediction: Man Utd 2-0 Watford

Newcastle vs Chelsea


Chelsea will probably go full tilt here, they can probably still finish top 4, depending on how they fare tonight of course. Assuming they take care of Huddersfield then all they can do is win and hope the other results go their way. Newcastle did what they usually do and secured safety and headed off to the beach no less than 10 minutes later! They were of course the subject of one of the most recent surprising last day results when they somehow beat Spurs 5-1 at home having spent a month sunbathing, having already been relegated back in 2016! If Chelsea absolutely need to win though they usually do and probably will.
Prediction: Newcastle 0-2 Chelsea

Southampton vs Man City


Oh for crying out loud! Seriously?! This is your beleaguered Saints reporter from Team News 'fame' checking in. Whilst simultaneously googling ways to move house / change email address / disappear / seek witness protection / Switzerland's laws on euthanasia. Not a chance in hell I'm covering this bell-end for a full season next time. Any or all of the above would be preferable! Ok so it's not quite all done and dusted but barring some monumental last day collapse to Man City then it more or less is. We're looking at a 10 goal swing or something to stand any chance, and that would mean Huddersfield losing both of their games. We can but hope…
Despite Pep's insistence that City would continue with their intensity to the end you couldn't help but think that maybe one or eleven of his players had different ideas against Huddersfield with an eye or 22 on their World Cup participation. He may well whip them back into shape for this evening's game with Brighton so let's see but it's probably parade and cruise time for the majority of them in all honesty, especially when he starts rolling out the likes of Yaya just for posterity's sake.
Prediction: Saints 0 – 11 Man City

Spurs vs Leicester


Regardless of Spurs' result on Wednesday there's a good chance they'll still need a win against Leicester to be absolutely sure of CL qualification. And they won't want to be screwed over in that particular 'axis of evil' again… Surely they won't freeze again. Or will they? As for Leicester they've not been playing for the new manager for weeks now and seem to be doing their best to ensure he isn't there next season. We can't envisage that there will be any final fling to prove us otherwise either. A high octane team managed by the least high octane manager ever? Yeah ok, that's going to work out!
Prediction: Spurs 2-0 Leicester

Swansea vs Stoke


This one depends on Huddersfield's result against Chelsea. Assuming they lose it, which they probably will, then Swansea still have a chance and will desperately need to win. That said, they desperately needed to win some and many of their previous games and failed to do so, hence their current predicament. On the plus side Stoke have already gone down and so may not put up the fight that they may have. Well, we say 'may not', they won't. There's a possible clean sheet on the cards for Swansea here, if you own any of their defenders.
Prediction: Swansea 1-0 Stoke

West Ham vs Everton


Poor Sam had been eyeing this one all season knowing full well that he could have the fairy tale to end all fairy tales by relegating his arch enemy West Ham. But, as per most of the rest of his season, or perhaps most of the rest of his career, it wasn't quite to be. This one literally has no consequence then, and could just as easily peter out to be 1-1 as it could 4-4.
Prediction: Everton 2-2 West Ham
Thanks for reading Fantasy Football Fixture Analysis GW38. This article was written by Init & Cookie.
The League Codes for FF247 for the 2017/18 season are as follows: